Point to Ponder (a very special guest this month)

On getting older...
Thought I'd managed to get away with it, but no, too many people reminding me that it's my birthday. There's all that 'twaddle' that says, "Don't feel bad about growing older, it's a privilege denied to many."and "Youth is wasted on the young." but frankly when you get up and the bones creak and various parts don't work quite as well as they once did - it just sucks!
I could think of it like my husband Bob does - as my "Personal New Year" - and that's a kind of cool idea, but that requires a little thought re-wiring. Frankly, re-wiring old structures has always seems a bit of a risky proposition to me. Never know what sort of a mess you might run into when you expose the foundation!
But, to tell the truth though, I can't think of any other age I'd rather be right now - cause then I'd have to give back all this hard-won knowledge and experience!
Wouldn't want to be 16 - no way - too much going on, too many life decisions to make, too many hormones! Wouldn't want to be 21 - with all that worry - will I get a job, should I get married, should I have kids? And as much as I love my kids, wouldn't want to be any age with small kids or, heaven forbid, teenagers - because it was just way too tough, especially as a single mom. I wouldn't give back any of those times, but neither would I want to relive them!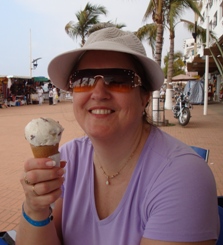 So, I guess that leaves me here - and to tell the truth,it's a pretty good here. I have two wonderful children who mean the world to me. I have a wonderful husband who is also my best friend. I have wonderful, special friends, and a few close family members who enrich my life and occasionally give me that 'kick in the butt' when I need it! I still have both my parents who constantly remind me of who I am and what is important. I have a husband who demonstrates his love and care for me and challenges me to move outside of my comfort zone. (Actually, he is sometimes just a challenge...lol.) I have a career that I love and a web-design business that excites me.
I guess that is what a personal new year is about - you take stock of your life, find the good, resolve to work on the 'not as good as I would like' and move forward.
Robert Browning has always said it best: "Grow old along with me! The best is yet to be, the last of life, for which the first was made.Our times are in his hand who saith, 'A whole I planned, youth shows but half; Trust God: See all, nor be afraid!'"
Irene Gaudet Hooey
PS: Irene pictured here enjoying an ice cream in Puerto Vallarta early in March '09.

Note from Irene's husband: Very smart woman I married! And very well said.
I do take my birthday as a Personal New Year as that makes so much more sense than January 1st. A time to reflect:
on how well I lived up to my intentions during the previous year;

on how well I accomplished my business, life, and career goals;
on where I have grown and the lessons I've learned along the way;
on the many friends, clients and colleagues who have blessed me;
on what I want to accomplish during the next year;
on what updated intentions will create my focus;
on how I can enhance my abilities and skills to better serve my clients, and more profitably build my business;

on how I can be a better friend and encourager to my friends, colleagues, and family;

and, on how I can be a better friend, lover, encourager, and husband to my wife.

"Grow old along with me! The best is yet to be..."

is on a antiqued wall plaque, Charlene (one of Irene's closest friends from work) gave us for a wedding present. It hangs above Irene's work area just to the right of mine, and catches my eye on many occasions.




...enough said!


Have a great month... I know I will!




(c) 2009 Bob 'Idea Man' Hooey, All rights reserved.

---
Nelson Scott's Wisdom
Finding a Link Between Recognition and Longevity
When Kate Winslet and Sean Penn collected their Academy Awards in Hollywood earlier this year, they may have received more than a golden statuette. They may have also received the gift of four more years.
Researchers at the University of Toronto medical school found that Oscar winners live an average of 3.9 years longer than non-winners...79.7 years versus 75.8 years. And the benefits seem even greater for multiple winners, who lived an average of six years longer. Four-time winner Katharine Hepburn lived to age 96.
Dr. Donald Redelmeier suggests that this recognition has a powerful impact on a person's health."Once you've got that statuette on your mantel place, it's an uncontested sign of peer approval that nobody can take away from you...it leaves you more resilient. The normal stresses and strains of everyday life do not drag you down," he told CBS news.
What does this mean for the rest of us?
It could be that being recognized is good for one's health. Staff members who are told regularly that they are appreciated for what they do may be more able to deal with the stresses of everyday work and be more resilient when faced with challenges than others who work in an environment characterized by an abundance of negative feedback.
Or, suppose for a moment that the researchers got it wrong. It's not that the winners live longer; it's that those who are not recognized die sooner. Staff members
who go for weeks, months . . . even years . . . without receiving any positive feedback or no feedback at all may be uncertain about whether or not they are meeting expectations. They may interpret a lack of feedback as evidence that they are failing and that it is only a matter of time until their supervisors overcome any reluctance to deliver the bad news. They become preoccupied with not knowing how they are doing. Their productivity drops. Stress-related absences increase. They worry themselves into early graves.
It doesn't matter which of these interpretations we apply to this data. The message is the same: well delivered recognition is likely one factor in extending a person's lifespan. Recognition may also increase how much of those longer lives people spend working for your organization.
© Nelson Scott, 2009. Reprinted with permission from
Briefly Noted by Nelson Scott
, a monthly Internet newsletter. For your own subscription, go to
www.seaconsultingonline.com
.
---
Celebrate the Power of Peer Recognition
What every workplace needs is more of the most powerful recognition of all...peer recognition.
You can unleash the power of peer recognition in your workplace by joining the movement to observe the third Tuesday of each month as Peer Recognition Day. Use this day to remind staff of the importance of recognizing co-workers... on this day and as well every other day of the month.
No one understands better what's involved in doing a job well than another who does the same job. Co-workers know what skills are required and the challenges that must be met to be successful. Knowing that peers understand adds credibility to their positive comments about a co-worker's contributions and achievements. Peers trust peers. This is what makes peer recognition work.Clearly peer recognition is important enough that it deserves its own day... at least once a month.
---
Last Minute News and Thoughts
March has been an 'extremely' productive month starting with a relaxing week in Puerto Vallarta doing some sailing, reading, relaxing with a good book, and generally enjoying spending time with my wife in a warm climate.
Upon our return I did more filming to increase our video series for Secret Selling Tips and cleaned up our various Speaker joint promotional sites. We also worked on the Foundational Success e-book for a projected release later in April.
April will be a wonderful month, starting with a week end vision, strategic planning retreat with the staff and council from Bon Accord, dog sitting for my sister in St. Albert (will be able to have coffee with friends to get out of the house), back in the studio (morning of April 30th) to do some more filming, and finishing up Foundational Success. ...and then off to Cuba for my birthday. On my return co-hosting a Wild Rose Advanced Toastmasters meeting (30th) with my friend Audrey Kotelniski entitled, "So, What's your story?" The theme of the meeting is signature stories and keynotes.
I did an educational session for CAPS Edmonton Chapter in March sharing some stories of recent travels to India and Iran. I created a webpage with some of the travel pictures as well as two video clips. One of the clips shares my commitment to 'not' participating in 'this' recession. The second is an 8 minute clip from the beginning of my keynote in Mumbai, India.
We also just put them on YouTube:
Mumbai
;
Recession
. We have quite a few videos in our collection. Irene is going to upload at least one a week to YouTube.
---
Late breaking news
I believe in learning as an on-going life activity. When Irene and I were in Paris this January for her birthday, she told me it as a 'Ukrainian tradition to celebrate for a week'. We did and it was great! (Irene's note: "I figured traditional Ukrainian weddings last a week, so why not a birthday, especially a significant one.")
So, I turn 60 on April 18th this year. I know many of you would say I don't look a day over 58; but hey, would I lie about being this age?
So, taking a lesson from my wife, Irene and I plan to celebrate my 60th birthday for a whole week enjoying the sun and surf.
We leave early (6:30AM) on the 18th to Toronto and later that day, south to the Blau Costa Verde Beach Resort in Holquin, Cuba. We'll be able to have a '
late
' birthday supper when we arrive.
These two pictures were taken recently by a tourist from their magnificent beach. I can already picture myself sitting there enjoying this view. And my floaty is still packed.(
www.floatybob.com
)
Now, where is my snorkel stuff?
---
Thanks for reading

Bob 'Idea Man' Hooey
would be pleased to be a part of your success team and to work with you to help make your conference, meeting, or training event a success. For more information about customized keynotes, professional and personal leadership training and coaching, or seminars/retreats, please visit
www.ideaman.net
or call our Creative Office at: (780) 736-0009.
PS: Photo was taken aboard the Elias Mann, off the coast of Mexico March 2009

Ask about a customized conference, coaching or training package to suit your specific career, company, or organizational needs.

Ask about our innovative leadership and/or sales leaders' motivational training programs.

*****
If you are new to our Ideas At Work! family, welcome aboard. We publish this monthly e-zine to share ideas and keep in touch with our friends, readers and audience members who wanted to remain in contact and share in the lessons we acquire along the way.
You are receiving this E-zine because someone (we hope you) subscribed. At any time, simply follow the To unsubscribe or change subscriber options visit: link at the end of this email. Please pass this issue along to anyone you think will gain some benefit from reading it. If you want to continue getting this on a monthly basis, simply do nothing.
If you have gotten this copy as a forward from one of your friends and want a copy of your own, simply follow this link and give us your email address. Our service - aweber - automatically does the rest. You will need to confirm your subscription though a link from aweber to activate your subscription.
---
Follow link for Privacy, Copyright and Policies