Point to Ponder

Passion + Pride = Performance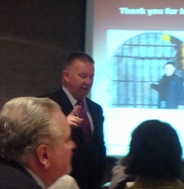 Interesting equation! Bet you are wondering what it means? Bet you figured out I will share that idea with you as you continue to read. Correct!

I think all of us, regardless of what role or roles we play in our lives, want to succeed. I have met very few people who consciously decide they want to live a life of failure or disappointment. Success is one of the words we use to rate our performance. So is failure. Both are subjective and all to often, used in comparison to the performance, or lack thereof, of someone else.

Life is challenge enough without setting ourselves up for grief as we observe someone else's life or performance and use it to criticize our own. During the recent 23rd Winter Olympics hosted by Canada in British Columbia, there were 14 Gold medals won by Canada. Now that is quite a feat (a record actually) and one we can own. There were also Golds, Silvers, and Bronze medals won by many athletes, including Canadians, from around the world. While I applaud the accomplishments of those athletes who earned medals (and I have to admit once in awhile I got real patriotic when we did well), I wonder if we missed the point somehow?

In so many ways each of the athletes did well in representing their county by showing up ready to compete and giving 'their' best as they competed. Many finished their Olympic experience with a personal best. Too many went home thinking they had failed or at worst, wishing they had succeeded.

We do that in our personal and professional lives all too often. Miss a sale or a deadline. Make a mistake at work. Forget your spouse's special day. Every day we have opportunities to celebrate our performance, learn from experience, and to live our lives as an adventure.

Ok, so here is the rationale behind the above equation.

Passion: When we live our lives with passion we bring something more to each day. When we live our lives with passion we enhance what we bring to the table in our business dealings and how we treat our clients. When we live our lives with passion we love those we care about just a bit more vividly and 'passionately' too. I tap into and focus my passion when I am on stage to challenge my audiences to think, to act, to live, and to move outside their comfort zone. I am, myself, challenged to do likewise.


Pride: When we take pride in what we do, we stretch and create a higher standard in our work and our interaction with our colleagues, our clients, and our competitors. When we take pride in what we do, we put that little something extra into our ordinary day to day tasks and make every endeavour and activity count. I take pride in being a professional and seek to deliver 'extra' value to each client, into each article, and into each product I produce.

Performance: When we tap into our passion and express pride in a job well done or a life well lived, we perform at our 'personal' best. Wouldn't that be a life worth living? Live every day with a goal of making it your 'personal best', so far. Wow!

I look forward to sharing more ideas with you in May as we move into Year 6 of our Ideas @ Work.


Bob 'Idea Man' Hooey (Pictured above during Detroit presentation)




Archives of past issues are available on our www.ideaman.net website.

---
Let me share this poem with you. You might even recognize it as it has been shared around the world. It was written by my long time friend, mentor, and fellow speaker, Bill Clennan. Bill shared how it came to be with us years ago when he gave us a personal copy. I have mine mounted and framed in my bedroom out in our country home.
He was golfing in the US a number of years ago (ok, quite awhile back) and was asked if a couple of other gentlemen could join him. He said yes, and enjoyed a wonderful round of golf. Bill loves to golf...that is one of his passions... he tells me, "If I can golf and give a speech, it's my greatest day."
One of the golfers was former Olympic gold medalist, Jesse Owens who did so well in the 1936 Summer Berlin Olympics. He showed the world that Hitler was totally wrong about the passion, pride, and performance of people of color. Hitler left in a fit of anger when he won, again and again.
Jesse told Bill the most interesting thing about his performance was no one even remembers who came in second, or third...
Here is what Bill captured in thought following that impactful conversation. Please keep its message to mind when you are talking with your teams, your families, and especially your kids. It is about Passion + Pride = Performance and doing your 'Personal Best' in life, not just about winning.
"The contest lasts for moments
Though the training's taken years.
"It wasn't the winning alone that
Was worth the work and the tears.


"The applause will be forgotten
The prize will be misplaced.


"But the long hard hours of practice
Will never be a waste.


"For in trying to win
You build a skill.

"You learn that winning
Depends on will.


"You never grow by how much you win
You'll only grow by how much you put in.
"So any new challenge
You've just begun.
"Put forth your best
And you've already won."
(c) W.A. Clennan, All rights reserved.
Thanks again Bill... you continue to inspire me, my friend.

---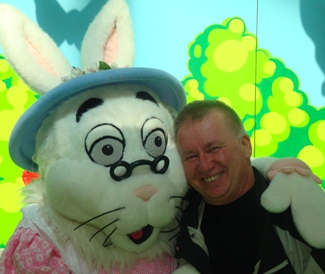 Easter has just passed and I hope it was a time to reflect and to spend time with those you love. Remember there is more to this holiday than bunnies and Easter egg hunts.
I ran into Hester, the Easter Bunny's wife, in Detroit and she wanted to say hello.
---
Last Minute News
April looks to be a busy month catching up after my exploration of Amsterdam. We launched the Art Van Secret Selling Tips on April 5th. Also have an executive coaching client to work with, working on a couple of programs coming up for clients, and getting my travel and visa organized for my trip to Russia in June.
April looks like a good writing month as well. Have an article coming out in the Spring Issue of Speaking for Impact and have just been asked for articles for the Canadian Manager and the HRIA Network Magazines (summer issues).
April is a birthday month for me. I take time on my birthday to pause and reflect on the year gone by... and to refocus my intentions for the year ahead. Who knows, we might go away like we did last year to celebrate in Cuba. Update April 1st: Irene told me she is almost out of 'real' Vanilla... so we are going to Puerto Vallarta on the 15th. Will see if we can do some writing and celebrate my birthday while we are there. Truth is, I want some beach and sailing time too. Back on the 22nd.

May starts fast with a presentation on 'In the Company of Leaders' at the District 42 Spring convention on May 1st, and an afternoon session for a client on 'The Power of One' on May 6th. May will be marvelous... actually get to stay home, work close to home and take breaks to work on the yard in Egremont. Perhaps do some prep work for re-finishing the top deck and connecting it to the ground level 'Mojito' one we built last year. We'll be expanding the flower beds on the north side of the house and garage this summer... which will drastically reduce the amount of grass needed to be cut.
---
Late breaking news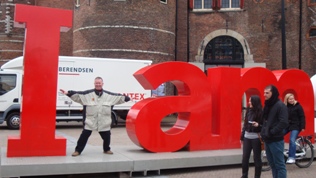 Got back safely from my trip to Amsterdam (March 27th) where I had the privilege of sharing the platform with some amazing speakers from around the globe.
My keynote was well received and we had fun with the audience.
I had my friend, Sandy Dumont,The Image Architect come on stage during the first part of my presentation to straighten my tie. We caught the audience's attention. One of the points I was making was "We create sustained success when we ask help or are open to allow people to help us." My experience, "People are more willing to help than we are to ask."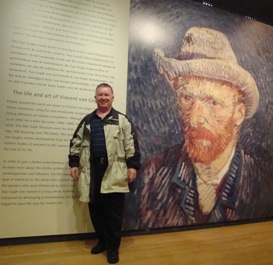 We created a very captivating, audience participation close where I acted out losing my place and forgetting my 'prepared' close. I asked for help, looking embarrased and had pre-arranged for a dozen speakers come on stage to
premiere
a new theme song,
"Speakers of The World"
which had been written by two of my fellow speakers.That closed my presentation with the audience fully engaged.
We closed the convention with all of us coming back on stage to lead the audience in singing it again.
I dropped in to see my amazing friend,
Kim Yost
, who is now the CEO for
Art Van Furniture
based in Detroit on the way home. I had the privilege of being given a hour with all of their leaders and managers at their bi-monthly managers meeting. I outlined their new
Secret Selling Tips
series which has now launched (April 5th). They are doing well, in spite of the tough economic times in Michigan (think car manufacturers and their suppliers and spin offs). They are forging ahead and investing in their sales teams' skills. Kim and Donna spoiled me with a quiet dinner at their new house on Thursday and then took me and some of their Art Van management team out for dinner on Friday evening. It was great to see them again. Have to admit I've missed their friendship since they moved south.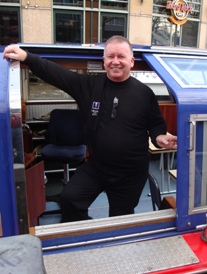 Here are some of the pics
(uploaded on Facebook) of my time in Amsterdam and my stop over in Detroit. I still have to go through them and do some edits and add comments, but thought you might want to see them. Enjoy.
Pictures top to bottom: 1) I AMSTERDAM sculpture; 2) just inside the Van Gogh Museum; 3) Blue Boat Canal tours

---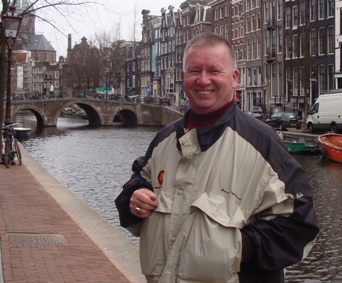 Bob 'Idea Man' Hooey
would be pleased to be a part of your success
team
and to work with you to help make your conference, meeting, or training event a success. For more information about customized keynotes, professional and personal leadership training and coaching, or seminars/retreats, please visit
http://www.ideaman.net
or call our Creative Office at:
(780) 736-0009
for availability.
Pictured here along one of the numerous canals in Amsterdam.
Ask about a customized conference, coaching or training package to suit your specific career, company, or organizational needs.
Ask about our innovative leadership and/or sales leaders' motivational training programs.

Thanks for reading
*****
If you are new to our Ideas At Work! family, welcome aboard. We publish this monthly e-zine to share ideas and keep in touch with our friends, readers and audience members who wanted to remain in contact and share in the lessons we acquire along the way.
You are receiving this E-zine because someone (we hope you) subscribed. At any time, simply follow the To unsubscribe or change subscriber options visit: link at the end of this email. Please pass this issue along to anyone you think will gain some benefit from reading it. If you want to continue getting this on a monthly basis, simply do nothing.
If you have gotten this copy as a forward from one of your friends and want a copy of your own, simply follow this link and give us your email address. Our service - aweber - automatically does the rest. You will need to confirm your subscription though a link from aweber to activate your subscription.
---
Follow link for Privacy, Copyright and Policies

Jessie B. Rittenhouse in The Door of Dreams shared the following lines:
"I bargained with Life for a penny, And Life would pay no more, However I begged at evening, When I counted my scanty store.
For Life is just an employer, He gives you what you ask, But once you have set the wages,
Why, you must bear the task.
I worked for a menial's hire, Only to learn, dismayed, That any way I had asked of Life, Life would have willingly paid."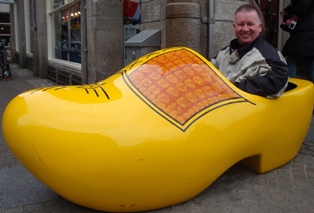 Ask for what you deserve and then work hard to deliver more than you are paid... deliver value.
---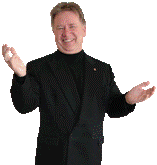 About Bob

Bob is a professional speaker, author, leadership, sales, and business success expert




He is proud to be an active professional member of these amazing groups of people dedicated to polishing their craft and to better serving their clients and audiences.

Bob is the co-founder and a past president of CAPS Vancouver, an honorary founding member of CAPS Sask., an honorary member of CAPS Halifax, as well as being an active member of CAPS Edmonton. He served as CAPS National Director (2000-2002).

He would be happy to discuss how he can work with you to equip and motivate your leaders, their teams, sales teams, or volunteers to grow and to succeed.

Call him today at 1-780-736-0009 to explore leveraging his innovativeIdeas At Work with your organization.

Ideas At Work!
10 Creativity Corner
Egremont, Alberta T0A 0Z0, CANADA