Point to Ponder
So, What is your story?
I get people asking me how I continually come up with stories for my presentations and my writing. One thing is simply to keep an open mind and capture observations of activities and things that happen as you go through each day. Guess this has helped as I have done 36 publications in various formats from print to EPUB. Wow!
One of the other things you can do is create a story using a 'TIP' as a foundation or starting point.
For example (taken from Speaking for Success 7th Edition)

The number one principle for success is:
2 ways of approaching:

3 questions to ask when:
4 cornerstones of:
5 key elements of:
6 steps to creating:
7 ways to:
8 secrets of:
9 lies of myths in the:
10 tips when using: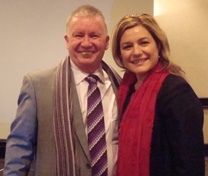 Using stories
allows you to build bridges with your audience (written or oral) and allow you to share information, ideas, dialogue, concepts, or perhaps even stir up some creative controversy to engage them.
Using stories helps start conversations and build relationships which can lead to successful interactions and collaborations.
Using stories helps your audience relate to you as a 'real live person' which helps foster good will and better understanding.
Pictured here: CAPS Edmonton President Bob with MPI Edmonton President Milena Santoro at the Speaking for Success boot camp.

Stories help add interest and personality to your writing, presentations and conversations. Stories are everywhere, just collect them.
Until next month
Bob 'Idea Man' Hooey
Archives of past issues are available on our www.ideaman.net website.

---
April 4th, 2012... the beach wedding of Amanda and Michael... will put pictures up on our Facebook pages as we can.




---
Last Minute News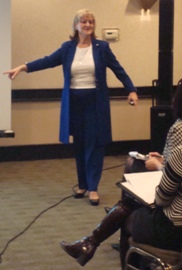 April will be a month of global movement.
When you get this ezine Irene and I will have flown to Vancouver, then on to Hong Kong where we over nighted and did some wedding shopping. Then we flew over to Perth, WA and have now driven north to Geraldton where Amanda lives with her fiancee Michael. The day you receive this (April 3rd) we will have travelled a bit further north to Kalbarri where Amanda and Michael will be getting married tomorrow (April 4th) on the beach.
April 14th will be a great day as well. I will be presenting an afternoon session of Speaking for Success in Perth. Back home in Canada, CAPS Vancouver will be celebrating their 15th anniversary. I was one of the co-founders of this chapter and served as its president for 1999 and 2000. I'll be sending a video to congratulate them on 15 years of serving their fellow speaking colleagues.
Pictured here: My amazing friend and fellow Accredited Speaker,
Sheryl Roush
who was kind enough to fly in a day early to help me create the Speaking for Success boot camp. She spoke the following day for our
CAPS Edmonton chapter
and shared her brilliance over the day.
May will be one of movement as well. I will be doing sessions for our CAPS chapters in Montreal (10th) and Ottawa (12th) on product development.

---
Thanks for reading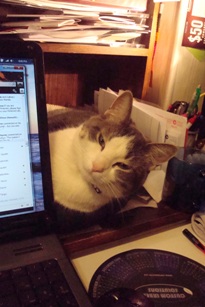 Bob 'Idea Man' Hooey
would be pleased to be a part of your success team and to work with you to help make your conference, meeting, or training event a larger success. For more information about customized keynotes, professional and personal leadership training and coaching, or seminars/retreats, please visit
http://www.ideaman.net
or call our Creative Office at: (780) 736-0009
Ask about a customized conference, coaching or training package to suit your specific career, company, or organizational needs.


Ask about our innovative leadership and/or sales leaders' motivational training programs.
PS: Jasmine likes to check in on my work

*****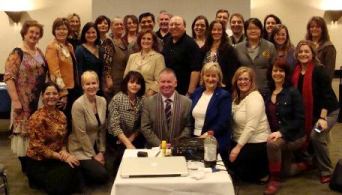 Most of our amazing grads from the 1st Speaking for Success boot camp.

If you are new to our Ideas At Work! family, welcome aboard. We publish this monthly e-zine to share ideas and keep in touch with our friends, readers and audience members who wanted to remain in contact and share in the lessons we acquire along the way.
You are receiving this E-zine because someone (we hope you) subscribed. At any time, simply follow the To unsubscribe or change subscriber options visit: link at the end of this email. Please pass this issue along to anyone you think will gain some benefit from reading it. If you want to continue getting this on a monthly basis, simply do nothing.
If you have gotten this copy as a forward from one of your friends and want a copy of your own, simply follow this link and give us your email address. Our service - aweber - automatically does the rest. You will need to confirm your subscription though a link from aweber to activate your subscription.
---
Follow link for Privacy, Copyright and Policies
What's New!
Bob will be presenting Speaking for Success in Perth, WA on April 14th
Our Speaking for Success boot camp (March 9th) was a great success.
Ordered more copies of Speaking for Success - being well received.

Happy 15th anniversary to CAPS Vancouver
Our May 2012 issue will be the beginning of our 8th year in publishing Ideas @ Work!
Bob on LinkedIn
Bob on Facebook
Bob on Plaxo
Watch Bob on YOUTube
---
About Bob

Bob is a professional speaker, author, leadership, sales, and business success expert




He is proud to be an active professional member of these amazing groups of people dedicated to polishing their craft and to better serving their clients and audiences.

Bob is the co-founder and a past president of CAPS Vancouver, an honorary founding member of CAPS Sask., an honorary member of CAPS Halifax, as well as serviing as the 2012 President of CAPS Edmonton. He served as CAPS National Director (2000-2002).

He would be happy to discuss how he can work with you to equip and motivate your leaders, their teams, sales teams, or volunteers to grow and to succeed.

Call him today at 1-780-736-0009 to explore leveraging his innovative Ideas At Work with your organization.

Ideas At Work!
10 Creativity Corner
Egremont, Alberta T0A 0Z0, CANADA