Point to Ponder

Where have all the leaders gone? asks Lee Iacocca...

I have just finished reading this very provocative and pleasingly candid book by a leader who has more than earned the right to speak... and has no shyness in honestly speaking his mind. Bravo! This is one book that should be on your reading list this summer, along with our In The Company of Leaders, of course.

Lee says, "The best part of my life these days is my ability to make a difference in the world and to give something back."

I agree and would take it even further to say, "The best part of your life (period) is harnessing your abilities and skills to make a difference and to strive to live a life that gives back." Frankly, that has been my major motivation over the past 10 years and it has been very satisfying to see those Ideas At Work!

According to Lee, "Leadership is about managing change - whether you are leading a company or a country." He outlines his 9 C's needed in leadership. I include them here in point form. Buy his book for the full version and see where they fit in your quest to take increased personal leadership in your own life and career.

Curiosity
Creative
Communicate
Character
Courage
Conviction
Charisma
Competent
Common sense
Lee wrote this provocative book, last year at age 82, as a call to arms for leaders. A much needed call to arms I would say. We need more leaders who will step up and claim their place in the world. (He updated it for 2008... so buy one soon and read it.)

I love what he says later in the book, "In a race to determine who will own the twenty-first century, I'll place my bets on the givers, not the takers." Amen to that! thanks Lee...



I do have an answer to his question,


"Where have all the leaders gone?"



Many of us haven't gone anywhere; we are still here and we are still working to equip and motivate those we seek to lead in their growth and success. Many of us are working quietly to pass along our insights to emerging leaders and offering guidance and encouragement in their own leadership success growth and paths.


I've had the privilege of working along-side some amazing leaders in Toastmasters, NSA, CAPS, and many other organizations over the past two decades.

I've coached executives from Canada's 50 Best Managed Companies in setting and achieving higher leadership standards and goals.
I've worked to support leaders who are enduring challenges and in helping them assist their teams to more effectively dealing with those obstacles to their success.
Each experience has taught me and helped me in my own leadership journey.

On Friday August 15th, I will have the personal privilege of sharing from my own leadership insights and experiences with Toastmasters leaders from around the world at their annual International convention, being held this year in Calgary, Alberta.

My The Power of One! keynote at their annual Leadership Luncheon is to celebrate 'their' leadership success over the past year. I fully intend to tell them that 'they' are the answer to Lee's question, "Where have all the leaders gone?" One very enthusiastic answer is: to Toastmasters and to their companies, communities, and countries, better equipped to speak up and step up.

Personal leadership - The Power of One! leads to engaging the passion of many and allows you to walk In The Company of Leaders. I consider myself privileged to walk in their company, and yours!

© 2008 Bob 'Idea Man' Hooey
www.InTheCompanyOfLeaders.com


---
Four Ways to Avoid the Gas Station and Still Make the Sale
With gas prices in Canada and the U.S. hitting all-time highs and continuing to climb, it seems like each time you get in you get in your car you can actually feel your wallet getting lighter. I know I do!

The rising gas prices are a burden for all, particularly sales professionals who travel to meet with clients and close the deal. You can't exactly stop seeing customers, so what do you do to maintain your sales results without the cost of gas taking a huge chunk of your paycheck?

"There is good news," says Jeb Blount, author of PowerPriniciples. "The silver lining to the fuel crisis is the high cost of fuel is teaching us to use our resources wisely, to plan better, and to become more efficient and effective with out most precious resource, our time." (Editor's note: this applies on a personal as well as a professional basis.)

"Driving around for a weekend showing houses to a client only to find out that they can't qualify for a loan is too expensive," continues Blount. "Driving two hours to meet with a customer who is a no-show is no longer acceptable. Making a call on one side of your territory and then driving to the other side of your territory to close a "sure thing" isn't worth filling up for twice a day. Setting appointments with prospects who are not in the buying window costs too much. And jumping through hoops for low margin customers has become intolerable."

Four PowerPrinciples for using precious resources wisely:

Qualify the Ability to Buy: One of my mentors taught me to only spend time with prospects and customers who have "the ability to buy." He said you must be willing to ask the right questions up front to make sure that you are spending your time with the right people and the right companies at the right time. Ask the hard questions first, then spend your gas money.

Territory Planning: Few things are more inefficient and expensive than driving (or flying) from one side of your territory to another. One of the sure fire ways to maximize your results is to develop a territory plan and stick to it. First grid your territory by geography and day of the week. Next, only set appointments in each geographic grid on the days you will be there. Finally, schedule all other activities around those appointments in that area of your territory.

Technology: Use technology to reduce drive time. There are dozens of new services on the market that allow you to spend time with your customers without being face to face. From video conferencing to webinars, you can complete many of your sales process tasks without ever leaving your office.

Prioritize: You can only do so many things in a day. You can choose to spend your time (and gas money) on high value tasks that make you money or low value tasks that waste your resources. The most successful people and top sales professionals take 10-15 minutes every evening to make a list of the top three to five tasks that must be accomplished the next day. This process ensures that when they wake up the next morning they are focused, energized, and using all of their resources wisely.

© 2008 Jeb Blount, All rights reserved. Used with permission of the author.

Jeb Blount, author of PowerPrinciples and CEO of Sales Gravy, has over 20 years experience in sales and marketing. Jeb is a sought after seminar leader and keynote speaker known for his ability to inspire his audiences to action. Learn more by visiting his profile at www.salesgravy.com
---
Last Minute News and Notes
July was a very productive month: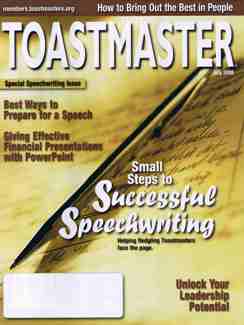 Toastmasters International published my leadership article which should help in setting the stage for my keynote at their upcoming convention. Toastmaster magazine goes out monthly to some 170,000 Toastmasters around the world. Here is the article, if you'd like to read it.

The Power of One! - Pocket Wisdom for Leaders is back from the printers. Looks good. Thanks to the generosity of my friends at The Brick, each person who attends my keynote next week will get their own complimentary copy.

Enjoyed a family and friends, country bar-b-que and, in-spite of the rain, it was a great afternoon and evening.

Finally pulled together the draft for our e-publication, In The Company of Leaders with 40 guest authors and leadership experts offering the gift of their insights and wisdom. Now it is in Irene's capable hands for final edit, layout, and creation of the final pdf version. It will be given to each of our attendees in Calgary as an e-publication via a special leadership resource webpage we created just for them.

We will be making it available on-line for general purchase following that presentation on the 15th.

Spent two days with a group of sales directors, customer service agents, and support staff with some very open and candid discussion about the serious challenges and obstacles they face and how they might best prepare themselves to more effectively deal with them. Some very nice folks dealing with increasingly challenging internal and corporate dynamics. I have to admit, this is one of the few times I walked out of my session with a heavy heart, scratching my head as to whether I was able to help them as much as I wanted to... very difficult for them to move ahead on a positive note. Sometimes, even your best doesn't seem to be enough. Going to see what I can provide for follow up to give them a bit of an assist over the next year.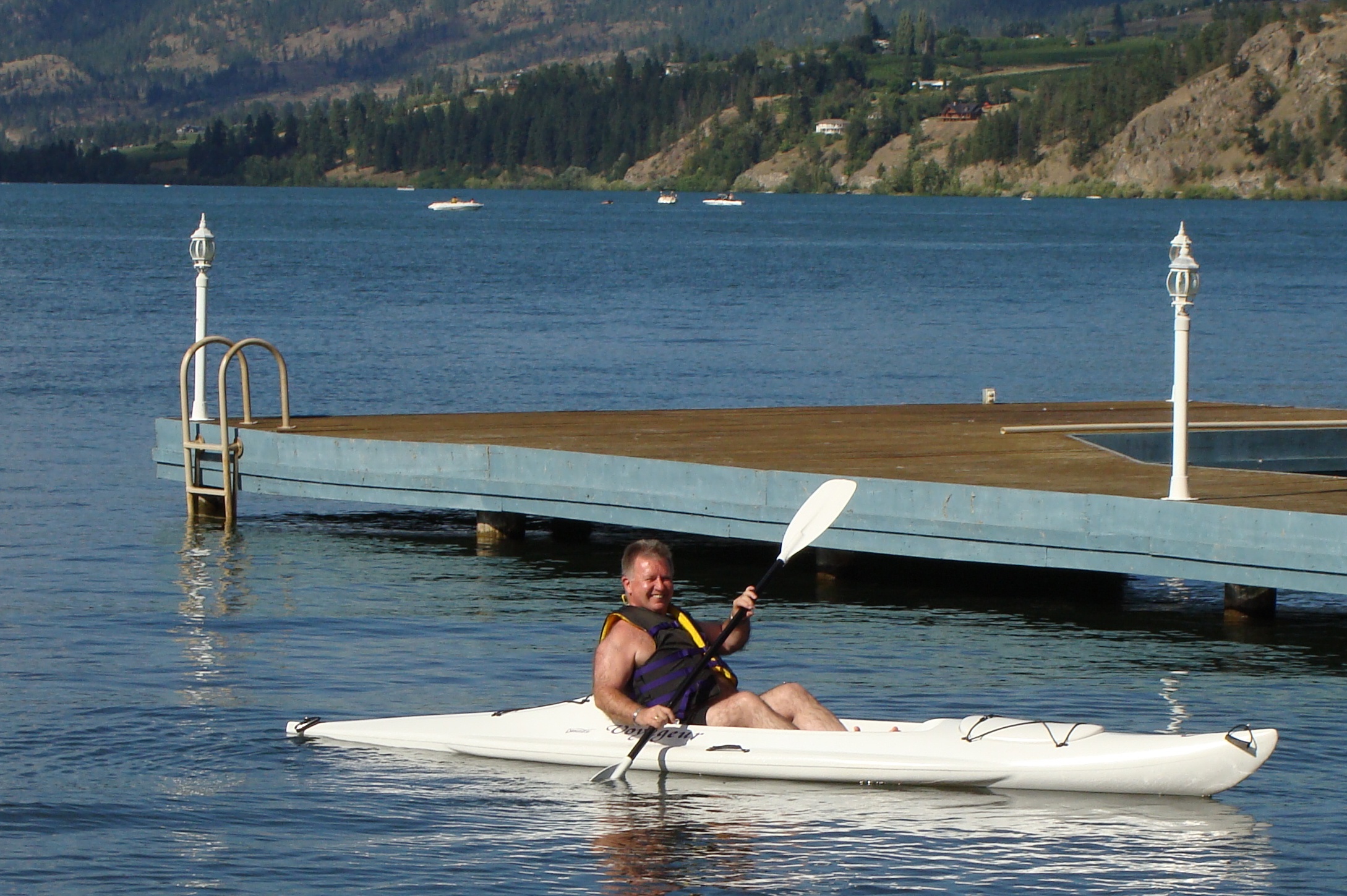 Spent the 19-20th weekend (3 days actually) with friends, Wayne and Brenda in BC's Lake Country.

They have a place right on Wood Lake and are enjoying it this year as they are not renting it out, as normally done.

Floating on the lake, visiting farmer's markets, attending open air concerts, and reluctantly doing some right-side-up-kayaking (another story) sharing business ideas and catching up, lots of laughs, and sipping port by the fire pit on the sand... ahhhhhhhh! Always a privilege and a pleasure, as they are two of my favorite people. I have been blessed with a few friends on this level and I cherish them and the times I spend with them.

Found a couple of other activities that motivate me: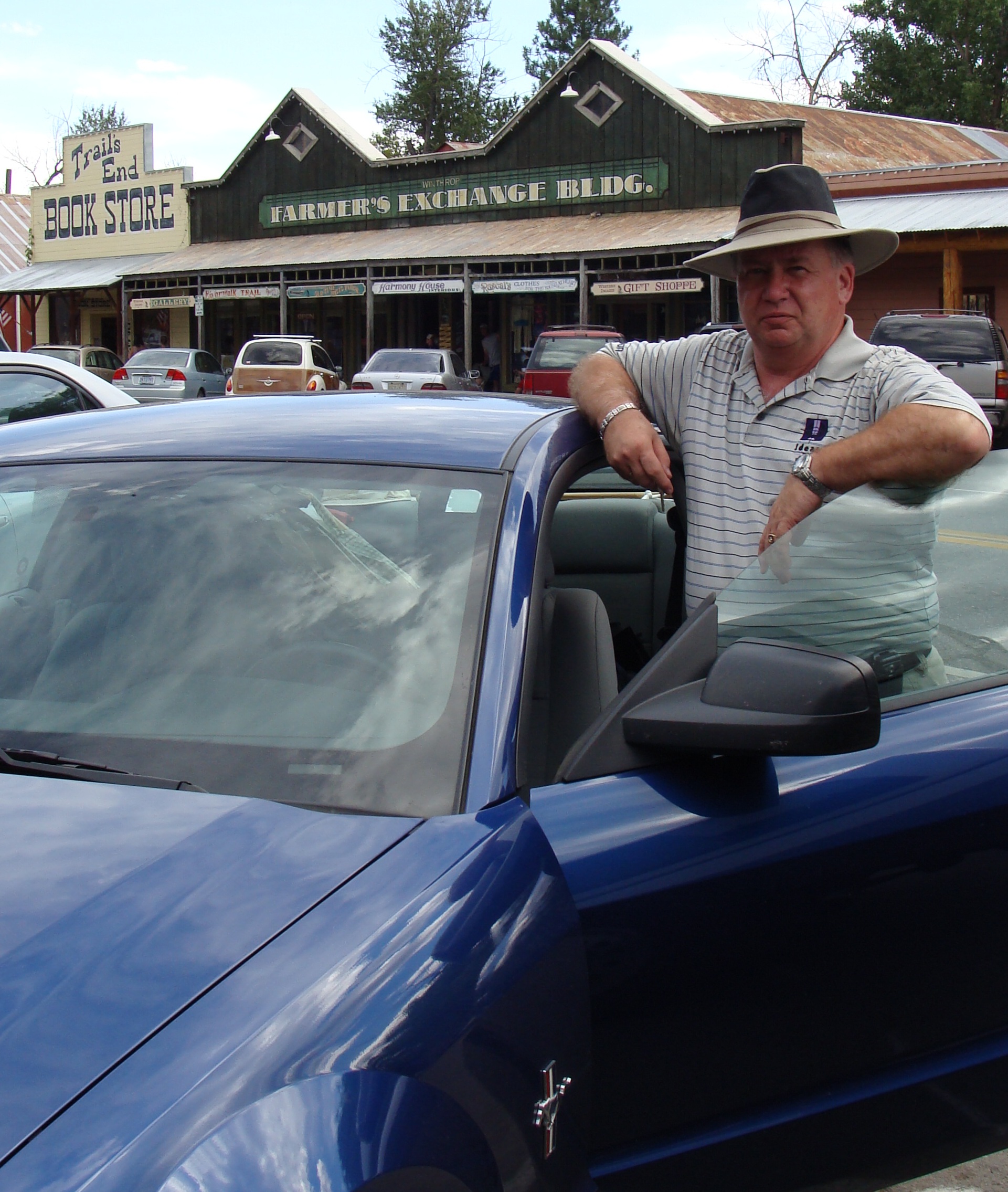 Took the southern scenic route via Winthrop, WA. on the way to Seattle to do some shopping at the Pike Place Market and a bit of sailing... yeah! This little town is amazing in its early pioneer/western theme and every single storekeeper has gotten on-board. Worth the extra miles to make this side trip. Even recorded a video clip for Secret Selling Tips.

Along the way a flying visit with my long-time friend, cheerleader, and fellow speaker, Bonnie Dean in Bellingham.

A weekend with family and friends in the Vancouver area, working on last minute proofs for CofL manuscript and then back home on Wednesday to catch up, work on a few other projects, and prepare for Calgary.

Did a couple of fun video clips along the way, including "What motivates the motivator - Part III and IV". Some will show up on Secret Selling Tips or Secret Leadership Tips over the next year.
August will be an amazing month:

For the next week I will be in a total Toastmasters focus in preparation for my leadership keynote in Calgary. An amazing amount of work to complete all the pieces for this event, but it will be worth every minute. A chance to give back to these wonderful people who have meant so much to me over the years.

August 12-16th: Calgary for the Toastmasters International Convention.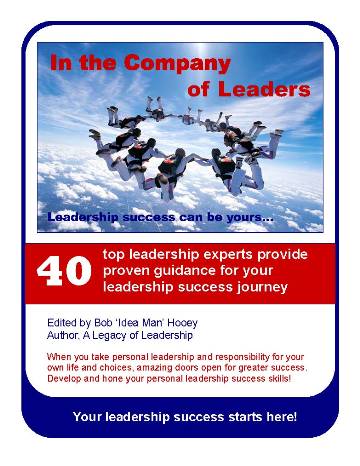 Announcing a new guide to enhance your leadership skills and equip you to lead for increased team success.

Available online after
August 15th, 2008

40 top leadership experts including Mark Sanborn, Marshall Goldsmith, Jack Trout, and Brian Tracy share proven guidance and insights for your leadership success.

Our Toastmasters audience will be given complimentary access to this new e-publication as our investment in their continued leadership growth and success.

We will be offering our Ideas At Work! readers a special launch price of only $20. A portion of each sale will be donated to charity.
August 30-Sept 6th:
Off to Puerto Vallarta, Mexico for a break, some sailing (like last year) and filming a few new clips for various projects and websites; but mostly enjoying a much deserved and needed break.
---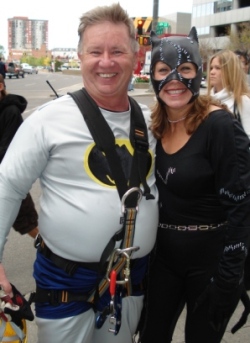 September 8th: I need your help!
I will be rappelling down the outside of the 27 story Sutton Place Hotel in Edmonton in support of Easter Seals. This is my second year in dealing with this fear and in helping out this very important organization with all they do.
Please help me as I
confront
my fear of heights to help disabled adults and kids have a better quality of life. The minimum donation level to be able to rappel is $1500.
You can safely donate online
, as many of you did last year to help raise $3200.
Follow this link to donate.
Thanks in advance for your help.
This year I would like to surpass that goal.
With your help I will be able to do so.
Frankly, I need your help. Been a tad busy with other projects and need to get this going.
Visit:
DropZoneBob
to see video clips and other pieces from last year's rappel and make a donation to help the kids... Thanks.
---
Thanks for reading

Bob 'Idea Man' Hooey would be pleased to be a part of your success team and to work with you to help make your conference, meeting or training event a success. For more information about customized keynotes, professional and personal leadership training and coaching, seminars/retreats, please visit www.ideaman.net or call our Creative Office at: (780) 736-0009 for availability. Archives of past issues are still available on our www.ideaman.net website.

Ask about a customized conference, coaching or training package to suit your specific career, company, or organizational needs.

Ask about our innovative leadership and/or sales leaders' motivational training programs.

*****
© 2008 Bob 'Idea Man' Hooey, and Ideas At Work!, All rights reserved world-wide.

If you are new to our Ideas At Work! family, welcome aboard. We publish this e-zine to share ideas and keep in touch with our friends, readers and audience members who wanted to remain in contact and share in the lessons we acquire along the way.
You are receiving this E-zine because someone (we hope you) subscribed. At any time, if you want, follow the To unsubscribe or change subscriber options visit: link at the end of this email. Please pass this issue along to anyone you think will gain some benefit from reading it. If you want to continue getting this on a monthly basis, simply do nothing.
If you have gotten this copy as a forward from one of your friends and want a copy of your own, simply follow this link and give us your email address. Our service - aweber - automatically does the rest. You will need to confirm your subscription through a link from aweber to activate your subscription.
---
Follow link for Privacy, Copyright and Policies

Company of Leaders is ready. It will be available on August 15th following Bob's Leadership Keynote.
The Power of One! - Pocket Wisdom for Leaders is now available.
Toastmasters published a leadership article by Bob in July '08 issue.
Bob has been invited to speak at two conferences in Tehran, Iran in early November 2008 and will be speaking in India at the end of January 2009
---

About Bob

Bob is a professional speaker, author, leadership, sales, and business success expert



Bob is a long time leader and professional member of Canadian Association of Professional Speakers, a member of NSA-Arizona, as well as the International Federation for Professional Speakers.

He is proud to be an active professional member of these amazing groups of people dedicated to polishing their craft and to better serving their clients and audiences.

Bob is the co-founder and a past president of CAPS Vancouver, an honorary founding member of CAPS Sask., an honorary member of CAPS Halifax, as well as being an active member of CAPS Edmonton. He served as CAPS National Director (2000-2002.)

He would be happy to discuss how he can work with you to equip and motivate your leaders, their teams, sales teams, or volunteers to grow and to succeed.

Call him today at 1-780-736-0009 to explore leveraging his innovative Ideas At Work with your organization.
Or, email him at bob@ideaman.net


Ideas At Work!
10 Creativity Corner
Egremont, Alberta T0A 0Z0, CANADA