What is holding you back?

"Until one is committed, there is hesitancy, the chance to draw back.
Concerning all acts of initiative (and creation) there is one elementary truth,
the ignorance of which kills countless ideas and splendid plans: that the moment one definitely commits oneself, then Providence moves too.

All sorts of things occur to help one that would otherwise never have occurred.
A whole stream of events issues from the decision, raising in one's favor all matters of unforeseen incidents and meetings and material assistance, which no man could have dreamt would have come his way."

- W. H. Murray (The Scottish Himalayan Expedition)
The only way to successfully climb a mountain is to start; to take that first step.
Yes, it is important to make sure you have a plan, that you've taken care to ensure you have competent guides and a team to make sure your climb is successful. Of course it is important to train yourself and to make sure you are in shape for the challenge ahead.
But, somewhere along the line, you must choose to make that first step and then, once committed, continue to make all the steps necessary to safely and successfully reach the summit. Planning and thinking about the climb are important, but you must begin.
Often you will find the actual climb to be more challenging than you could have imagined. I remember (one summer about 25 years back) hiking, what would be considered a small height, up a 4500 foot vertical peak in the BC interior. I went along with the encouragement of 3 of my friends who were in much better shape and more experienced than myself. But, I thought, if they can do it so can I.
I practiced walking around my apartment with my 40 pound pack and took long walks around the city where I lived to 'get in shape', and at last I thought I was ready. Boy was I mistaken. That 40 pound pack would soon feel like 400 and my legs would make me cry out in pain.

We started off very early and the 1st part of our journey went very well. In fact, we found ourselves where we had planned to stop the 1st night just after lunch. This was the more gentle part of the trip. They decided to push on to the summit that same day. Being a 'guy' I choose to follow in spite of my already sore body. It was excrutiating. I remember the last couple of hours staggering 50 or 100 feet at a time and then slumping to catch my breath or leaning against a rock or scrub tree. Then I would take a deep breath, shift my pack, and stagger some more.
When at last, I reached the summit... it was truly amazing. We were above the cloud line and looking down saw other peaks appearing like islands in the clouds.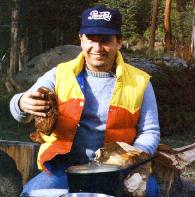 We cooked dinner on the summit and I have to admit it tasted better than anything I had ever eaten. The next day, I stayed at the camp to let my body heal while they went off in search of something else to hike. I enjoyed the solitude of the day and the vision of being above the clouds.
I also reflected on my not fully understanding what I was preparing for in taking on this arduous quest.
I also marveled that I had successfully climbed this peak and reflected that I had done it one agonizing step at a time.
"Until one is committed, there is hesitancy, the chance to draw back."
What is holding you back from making your dreams a reality? What is holding you back from starting? When will you take the first step to climb your mountain?

Until next month,
Archives of past issues are available on our www.ideaman.net website.

---
My friend George Torok is also a Creativity Catalyst from Toronto... perhaps that is why we are friends. He is a very creative man and someone whose friendship and insights I value. Here is something he shared with me that I feel is appropriate for this issue where we are challenging you to set new goals and bravely move ahead into your fall.We are also challenging you to look at what you have done and see if, perhaps, it is not working for you. If not, painful as it may sound, CHANGE IT!

---
But We've Always Done it This Way: Top Ten List
George Torok
What does that really mean?
Perhaps you just asked a question at a committee meeting. The room went silent and at least one person pointedly explained to you that "We've always done it this way". The rest of the group either chimed in or nodded their heads in arrogant approval. Some might even have glanced at you with that dismissive look of lost causes.
For many people change is painful. It doesn't matter how silly their current path or how promising the opportunity of other possibilities. Change hurts. It is also painful to admit that what you have been doing needs to be changed. Accepting change means accepting the possibility that you are not currently doing things the best way.
While you bite your tongue or fume at that response consider this Top Ten List of the Real Meanings of "But we've always done it this way".
What might people be thinking as they state that lame defense?
10. I haven't got a clue why we do it this way and I never thought about it before. But I'm not going to admit that to you.
9. Your question is a good one. But I never asked it and wish that I had. As much as your question disturbs me I won't admit that out loud.
8. You're new aren't you? You new people just want to change our perfect little world. We like it the way it is. We can outlast you.
7. How dare you question the wisdom of your predecessors? It was good enough for them why isn't it good enough for you? Have you no blind respect and subservience to those who were here before you?
6. You clearly don't know how we do things around here. It has nothing to do with logic, fairness and openness.
5. If you are a team player you will go along with us without asking embarrassing questions like that.
4. We don't like questions like that. And right now I don't like you for asking it.
3. Perhaps you believe that you have the right to ask questions... but you're wrong. Shut up and go with the flow.
2. It's working the way it is. Leave it alone. Can we go now?
1. Despite what you were told, this is not a democracy. We don't care about your ideas. Just do what you are told to do. And do it the way that you are told to do it.
When you try to change things you will hear the response "But we've always done it this way." Don't hate people for that response. Consider the list above to understand what they might be feeling. Recognize that your questions might be disturbing them and they might not be ready to give you an honest and thoughtful answer.
"But we've always done it this way" is likely the response of a person who feels threatened.
When faced with this challenge you will need to find a less threatening way to make change. The other alternative is to expose the status quo as the bigger threat.
© George Torok is a Creativity Catalyst. He helps teams make productive creative change. Find more creative ideas and tools at www.Creative-Problem-Solving.org To arrange a presentation on Creativity or training program on Creative Problem Solving visit www.Torok.com or call 905-335-1997
---
Last Minute News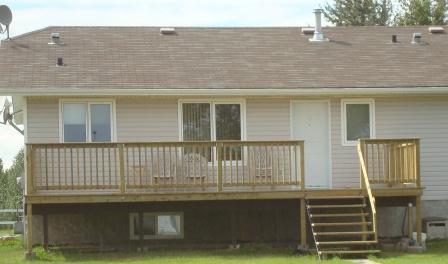 In our Mid-monthly Musings I mentioned the deck we fevorishly worked on to allow us to host everyone at Kelly and Christine's place following Steve's funeral. Here it is in all of its glory. It simply requires us to replace the temporary hand rails.
With any project it takes leadership and teamwork. This project was no different. Kelly took the lead with me helping him; and we had a host of eager helpers who helped make this project flow and allowed us to complete it on time.
Special thanks to: Kelly and Christine, Stephen, Peter and Diane, Russel, Ryan, and Norman, and of course Alexa who cheered us on.

August will find Irene and I taking a bit of a break. We'll head out to the Okanagan Lake Country to spend the weekend with our friends Wayne and Brenda (we love hanging out with these delightful folks), then over to Castlegar to visit Charlene and Randy who just retired out there (Charlene worked with Irene). Then we will head to the coast to spend some time with Irene's Aunt Eva who we love. Eva is fighting cancer so we want to ensure we are there to support her.
Otherwise, finishing outside projects (providing the rain holds off) doing some work on websites, radio interview on the 9th, CAPS on the 13th, and writing and recruiting a 2012 leadership team for CAPS Edmonton as I will serve as President.

---
Thanks for reading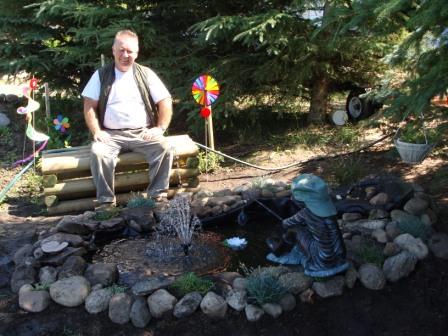 Pictured here with the finished pond. We still have some landscaping to do around it, but it is finally done.

Bob 'Idea Man' Hooey
would be pleased to be a part of your success team and to work with you to help make your conference, meeting, or training event a larger success. For more information about customized keynotes, professional and personal leadership training and coaching, or seminars/retreats, please visit
http://www.ideaman.net
or call our Creative Office at: (780) 736-0009
Ask about a customized conference, coaching or training package to suit your specific career, company, or organizational needs.


Ask about our innovative leadership and/or sales leaders' motivational training programs.
*****
If you are new to our Ideas At Work! family, welcome aboard. We publish this monthly e-zine to share ideas and keep in touch with our friends, readers and audience members who wanted to remain in contact and share in the lessons we acquire along the way.
You are receiving this E-zine because someone (we hope you) subscribed. At any time, simply follow the To unsubscribe or change subscriber options visit: link at the end of this email. Please pass this issue along to anyone you think will gain some benefit from reading it. If you want to continue getting this on a monthly basis, simply do nothing.
If you have gotten this copy as a forward from one of your friends and want a copy of your own, simply follow this link and give us your email address. Our service - aweber - automatically does the rest. You will need to confirm your subscription though a link from aweber to activate your subscription.
---
Follow link for Privacy, Copyright and Policies