Point to Ponder

As the TV sets of the world tune into London, England I thought it would be appropriate to touch on the Olympics being hosted there. Lots of excitement, energy, and the work of thousands of volunteers and staff to make it come together and to make it run smoothly.
I'd like to focus on the spirit of the games...

The Olympic Spirit
"...not to win but to take part"

The Olympic spirit is best expressed in the Olympic Creed:
"The most important thing in the Olympic Games is not to win but to take part, just as the most important thing in life is not the triumph but the struggle. The essential thing is not to have conquered but to have fought well."
All too often the Olympics devolves into politics which cheapens them and the hard work of all the athletes, their coaches, their families, and their supportive communities from their respective countries. Becoming an Olympian can be the highlight of an athlete's life or it can be the continuation of their dream to draw from inside to bring out the best of themselves and test themselves in competition with the world's best.
We salute those who created the arenas where these Olympians can test themselves and see what they are fully capable of doing; their coaches, their families, and their supportive communities. Each plays a part in the on-going success of the athletes who take part.
Let me ask you, "Do you have the heart and spirit of an Olympian?"
In the arena's of your daily life, your career, your business, and your relationships - do you strive to fight well, struggle, and maximize your potential success in each arena?
Struggle is a part of life; a valued part. It helps make us stronger, proves our desires and commitments, and keeps us focused on what is truly important in our lives. Struggles are inevitable - and how we deal with them reveals whether we have the heart and spirit of an Olympian or just a dream with no dedication to make it a reality.
Until next month, keep struggling.
Bob 'Idea Man' Hooey, SoC, A/S

---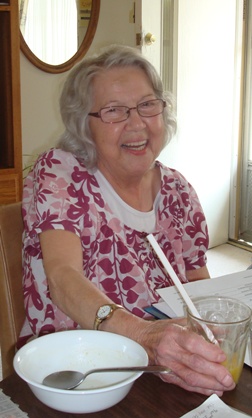 This is a picture of our Aunt Eva during our visit last month. This is Eva, with a big smile and a positive attitude. It is how I will always remember her.

She inspires me... she lives the Olympic spirit. In spite of her struggles with cancer she remains positive and she fights the good fight.
We were fortunate to have spent a week with her in her home. Sadly, a couple of days after we headed home she was taken back to the hospital and is now residing in a hospice for the rest of her journey.
We still hope to visit with her again next month (Sept) when I fly out to speak in Harrision Hot Springs. At this point we don't know if she will still be with us. That remains outside of our hands, although we can hope to be able to visit her one more time.
Aunt Eva has played an important role in Irene's life. She has been a champion, a cheerleader, and a coach. Most importantly, she has been a friend and a source of love and support. When I entered the picture she welcomed me with open arms and made me a part of her family as well. I treasure the visits and laughs we have shared. I hope to have at least one more.
This month's e-zine is dedicated to Aunt Eva and her amazing spirit.
---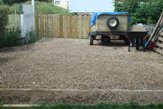 Just had to include this shot of our completed raised parking pad and the rebuilt utility trailer.
As some of you know from previous e-zines I had this bright idea last year to kill off some grass by building a raised parking pad in our backyard so we could have a place to park a couple of our cars when not in use.
Well, 18 tonnes later it is done.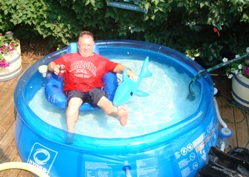 Not sure how many shovels or wheelbarrows that was, but it was a lot of work. And I struggled to find places for the extra gravel by the pond, by the culverts, on the driveway. It was finally done last week. Interesting how something so physical can hurt and stress your muscles and yet give you a sense of satisfaction. Similar to rebuilding a little utility trailer we got from Irene's dad. I ended up stripping it right down to the frame as the deck had rotted through and building a nice little trailer we can use to take things to the dump or other adventures.
Sometimes, life provides success, one shovel at a time.
PS: As a bonus, I have worked off 15 pounds and am down a pant size!

---
Last Minute News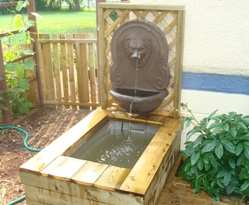 July was primarily a time to work on our place here in the country. Irene is working from home (sadly, she has a sick building) doing data analysis so she can work from here too.
Having her working from home has allowed me to clean up and catch up on a few projects.
Got the two front decks cleaned; sprayed and waterproofed; completed rebuilding the pond; rebuilt the trailer; finished the parking pad; built a nice little deck pond; and got the deck pool up and 'tested', repeatedly.
Along the way I have been working on client presentations for September. September will be a very busy month with flights to Toronto, Vancouver, London. ON and a 2nd visit to TO, as well as speaking close to home in Edmonton.
We had a great CAPS Edmonton bbq, with time to chat and share ideas and catch up.
Just signed an agreement this week to be the closing keynote for a national conference in Ottawa next Feb. 2013.

Working on an email promotion for August to Associations and have a couple of writing projects on the back burners as well.

---
Thanks for reading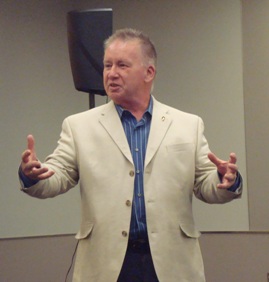 Bob 'Idea Man' Hooey
would be pleased to be a part of your success team and to work with you to help make your conference, meeting, or training event a larger success. For more information about customized keynotes, professional and personal leadership training and coaching, or seminars/retreats, please visit
http://www.ideaman.net
or call our Creative Office at: (780) 736-0009
Ask about a customized conference, coaching or training package to suit your specific career, company, or organizational needs.


Ask about our innovative leadership and/or sales leaders' motivational training programs.
PS: Pictured here doing my second icebreaker at Wild Rose advanced TM club 21 years to the week of my 1st one back in 1991. Take Two!

*****
If you are new to our Ideas At Work! family, welcome aboard. We publish this monthly e-zine to share ideas and keep in touch with our friends, readers and audience members who wanted to remain in contact and share in the lessons we acquire along the way.
You are receiving this E-zine because someone (we hope you) subscribed. At any time, simply follow the To unsubscribe or change subscriber options visit: link at the end of this email. Please pass this issue along to anyone you think will gain some benefit from reading it. If you want to continue getting this on a monthly basis, simply do nothing.
If you have gotten this copy as a forward from one of your friends and want a copy of your own, simply follow this link and give us your email address. Our service - aweber - automatically does the rest. You will need to confirm your subscription though a link from aweber to activate your subscription.
---
Follow link for Privacy, Copyright and Policies
What's New!

My friend Kim Yost included me in his 2nd book. He introduced me in the beginning and included a story from my Next Million Dollar Idea Book.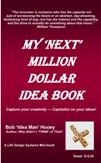 Thanks Kim and Donna

Bob on LinkedIn
Bob on Facebook
Bob on Plaxo
Watch Bob on YOUTube
---
About Bob

Bob is a professional speaker, author, leadership, sales, and business success expert




He is proud to be an active professional member of these amazing groups of people dedicated to polishing their craft and to better serving their clients and audiences.

Bob is the co-founder and a past president of CAPS Vancouver, an honorary founding member of CAPS Sask., an honorary member of CAPS Halifax, as well as being an active member of CAPS Edmonton. He served as CAPS National Director (2000-2002).

He would be happy to discuss how he can work with you to equip and motivate your leaders, their teams, sales teams, or volunteers to grow and to succeed.

Call him today at 1-780-736-0009 to explore leveraging his innovative Ideas At Work with your organization.

Ideas At Work!
10 Creativity Corner
Egremont, Alberta T0A 0Z0, CANADA