I

Point to Ponder - Whew!

I celebrated with a Pepsi (I know I need to watch my sugars and my calories, but it was worth it) as I sat on our front deck and realized it was 'finally' finished.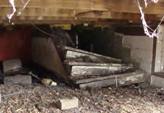 Once again I played
Bob-the-builder
; and once again it was a major lesson in patience and progress. I had planned to simply redo the deck surface in preparation for redesigning the rails; a similar project to what we did for our front deck.However, when I tore off the siding on the north and south sides so I could see how it was supported...boy was I in for a surprise.A big, scary surprise.
Our mudroom addition (built by one of the previous owners) was not at all well supported. Under-statement! So the project became a larger one.
Tore out the old steps and supports that were rotten and dug out the dirt and junk. Put in a load of sand and gravel in preparation for using two railway ties for support of two new pony walls to support the mudroom.
Then, with the help of a neighbor, we jacked up the mudroom addition two inches at the front and installed the two new pony walls I'd built...whew!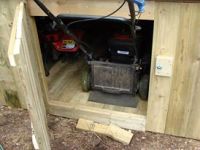 I decided to use the space beneath the mudroom for storage and proceeded to build a nice dry storage shed to house my rototiller and mower in the winter, as well as what ever else that will fit. This clears out the back storage shed for storage.
It took 3 weeks of digging, crawling, crouching (in a 36 inch high space) and it was finished today! So, I had a Pepsi to celebrate and let my body relax.
Small victories are important too! Often they bring us the same satisfactions as larger ones and maybe even a lesson or two along the way.
Now, I know I could have hired someone to do this for us, and it would have been much easier on my body; but I had the time this summer and I am learning to be a handy guy around the house. Building something with my hands brings a whole new source of satisfaction and learning.
What have you done lately to stretch and to build? What have you done lately to build your business or enhance your career?
Until next month
Bob 'Idea Man' Hooey
Now on to building and installing the 10 x 20 portable garage on the parking pad I built last year. Next year I will return to the back deck and do what I had originally wanted to do last month.

Archives of past issues are available on our www.ideaman.net website.

---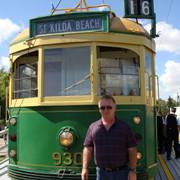 With all the
work around the house and the kids coming up for 3 weeks from Australia, we really haven't had much time to get away. But we are taking short breaks to visit places I haven't been to and in some cases neither has Irene.
Last month it was a visit to the Ukranian Village. This past weekend we did something I have been talking about for a few years; took the tram ride over Edmonton's high level bridge. This was a blast from the past going across this 100 year old bridge.
Even more fun was doing it in a tram from Melbourne, Australia that I might have actually ridden in on my first trip there back in the early '90s.
We also drove out to the Victoria Settlement north of where we live which has the oldest building still standing in its original location here in Alberta. This settlement played a great role in the settlement and expansion of Alberta.
We are also booked to take a cruise on Edmonton's River Queen with some fellow CAPS colleagues. With the river so high it should be a great couple of hours of fellowship, food, and fun.
We are planning a brief trip to the BC interior later this month...just for a break and to pick up some BC peaches. Irene makes a great peach pie.
---

In addition to being Bob-the-Builder I have been working on our newly redesigned Accredited Speaker website featuring some of my fellow AS from across North America. My goal is to have it up and populated before the Toastmasters International convention later this month. Irene redesigned it and I am helping to populate it with profiles and other value-added materials.
Toastmasters has really ramped up their support and positioning for the Accredited Speaker professional level designation and will be helping us promote this site.
Actually have some other writing and web projects to work on... we'll fit them in before fall.
---
Thanks for reading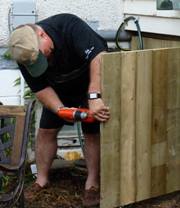 Bob 'Idea Man' Hooey
would be pleased to be a part of your success team and to work with you to help make your conference, meeting, or training event a larger success. For more information about customized keynotes, professional and personal leadership training and coaching, or seminars/retreats, please visit
http://www.ideaman.net
or call our Creative Office at: (780) 736-0009
Ask about a customized conference, coaching or training package to suit your specific career, company, or organizational needs.


Ask about our innovative leadership and/or sales leaders' motivational training programs.
*****
If you are new to our Ideas At Work! family, welcome aboard. We publish this monthly e-zine to share ideas and keep in touch with our friends, readers and audience members who wanted to remain in contact and share in the lessons we acquire along the way.
You are receiving this E-zine because someone (we hope you) subscribed. At any time, simply follow the To unsubscribe or change subscriber options visit: link at the end of this email. Please pass this issue along to anyone you think will gain some benefit from reading it. If you want to continue getting this on a monthly basis, simply do nothing.
If you have gotten this copy as a forward from one of your friends and want a copy of your own, simply follow this link and give us your email address. Our service - aweber - automatically does the rest. You will need to confirm your subscription though a link from aweber to activate your subscription.
---
Follow link for Privacy, Copyright and Policies
What's New!
Our newly redesigned Accredited Speakers site is live and we are adding AS colleagues as we continue to build.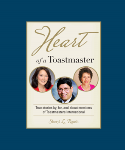 iPump by Kim Yost should be out soon with a chapter lead in by Bob

Bob on LinkedIn
Bob on Facebook
Watch Bob on YOUTube
---
About Bob

Bob is a professional speaker, author, leadership, sales, and business success expert
He is proud to be an active professional member of these amazing groups of people dedicated to polishing their craft and to better serving their clients and audiences.
Bob is the co-founder and a past president of CAPS Vancouver, an honorary founding member of CAPS Sask., an honorary member of CAPS Atlantic, as well as being an active member of CAPS Edmonton. He served as CAPS National Director (2000-2002) and has served as a trustee for the CAPS Foundation for the past 5 years.

Bob Hooey, DTM, AS, is one of only 65 speakers to earn this professional level accreditation from Toastmasters International; one of 5 in Canada. Visit our new Accredited Speakers website.


He would be happy to discuss how he can work with you to equip and motivate your leaders, their teams, sales teams, or volunteers to grow and to succeed.

Call him today at 1-780-736-0009 to explore leveraging his innovative Ideas At Work with your organization.

Ideas At Work!
10 Creativity Corner
Egremont, Alberta T0A 0Z0, CANADA