"Friends are worth the distance!
I used these words in a Facebook posting to refer to our recent trip to Vancouver with two small detours to visit friends.Someone commented on it and it got me thinking.
Irene and I just came back from a trip to Langley to see her aunt who is battling cancer. We had such a great time with Eva; you'd never know she was doing chemo and dealing with a short time line. Her attitude was so positive and she had decided to return home and live as normally as she could for whatever time remains to her. We hope that will be a long time, but realize it may not.
While we were making plans we heard from our friends Wayne and Brenda who live on Wood Lake and Irene's long time friend from work, Charlene and her husband Randy, who had just retired to Castlegar last month. Both invited us to visit and we said yes.
Irene was able to change things at work so we could leave on the Thursday morning and we were able to spend most of the weekend with Wayne and Brenda. Wayne is a very brilliant man and I've had the privilege of his friendship and consul for many years. When I was first relocated to Alberta and still teaching I would detour to his area on my way home so we could spend part of the evening chatting and laughing. His amazing wife, Brenda made me feel welcome when I would visit. I looked forward to my visits with them. When Irene and I became a couple, I introduced her and they welcomed her with open arms. Visiting with Wayne and Brenda, whether for a day or a lunch became one of our favorite stops along the way.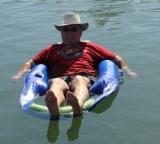 This trip we were able to enjoy time with them on their floaties, shopping, and Wayne and I took a trip to Vernon for an un-believable classic car street show. Some amazing cars; boy would I love to go car shopping there one year! We even had movie night on the deck. What a blessing they are in our lives.
This picture (right) is me on Wood Lake enjoying my first float of the day. Picture (below) is Irene and Charlene.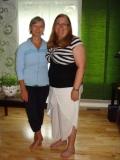 Charlene worked with Irene at the Research Council for close to 30 years and they have a very close friendship. When I entered the scene Charlene and Randy welcomed me as a friend. Many dinners and a few outings were spent laughing and chatting. I think Charlene misses everyone at work and was overjoyed that we would detour down and back to Castlegar to visit. So was Irene, I think she missed Charlene too. We had a chance to see their new home, did the art walk downtown, and went for a visit to the beach along the Columbia River behind the dam. Even though it was a short visit, it was great to see them.
But, as I said on my FB posting, "Friends are worth the distance!" When you have good friends you don't mind a detour or two to see them. In fact, you look forward to doing so because you enjoy the privilege of their friendship.
Our jaunt to BC took us about 3500 km, about 1100 more than just driving direct and back. Those extra km were worth the distance because the friends we visited were were the distance.
How far are you willing to go for your friends? Who would go the distance for you?
See you in September.
Bob 'Idea Man' Hooey


Archives of past issues of Ideas @ Work! are available on our www.ideaman.net website. We will be adding archives of Bob's Mid-month Musings as well.

---
Summer is almost over and with fall, perhaps your thoughts are turning to work. Actually, I hope you have taken some time this summer to work on your business, not just in your business or career. Summer is a slower time for me as far as speaking and training. I use my summers to work on new projects, new books, update websites etc. I am working through some changes in how I present myself to better position and attract the clients I want to work with in the fall.
---
Here's another dress for success tip for you.
Co-ordinate your wardrobe to add variety on the job or on the platform, without breaking your budget. I travel quite a bit in my speaking. So, that's what I have done to allow me to create several outfits without having to carry too much.
Please notice what I am wearing today. Your budget might not be able to handle an Italian tailored worsted wool jacket and slacks like these. But...
For our male professionals, you can easily go to Men's Warehouse or Moore's and put together a similar look at a fraction of the cost. Select a well made, basic black or navy blazer or suit and have it tailored to fit.
Add a co-ordinated pair of dress slacks, or two, a couple of dress shirts, and a few different colored ties and you have several complimentary outfits for work. Invest in a good pair of shoes and keep them well shined.
Helps keep you fresh and builds your credibility as a professional at the same time. Then, from time to time, add another jacket, a pair of slacks, shirts, and ties.
For our female professionals, you can take a similar approach in selecting a tailored wardrobe of co-ordinated jackets, skirts, slacks, and blouses.
---
Last Minute News
I am working on an update to our In the Company of Leaders e-book to reinforce the new branding that Toastmasters International will be announcing on the 17th. More to follow, but we want to make it available to every Toastmaster leader around the world as our investment or gift to support their willingness to step up and take a leadership role.
We'll be uploading our first couple of books (reader format) to Smashmouth this month. They take care of submitting and formatting for Amazon and other distributors. We'll let you know so you can try one of them and tell us what you think. You'll find they are very well priced in this format. I just downloaded a book for my Kobo that retails (print version) for $21.00 and it cost me just $7.99. Once we have the format correct for submissions, my intention is to revise at least one more book each month.
Contributed to a friend's new book which will be coming out this fall and will have one of my articles featured in the 2nd issue of a brand new e-magazine next month.
Also working on recruiting a leadership team for our CAPS Edmonton Chapter to work with when I am President in 2012. Our AGM and elections are next month, so want to get as much in place as I can. Have been working on speaker selection for 2012 to allow whoever takes on my role to hit the road running.

Bob 'Idea Man' Hooey
would be pleased to be a part of your success team and to work with you to help make your conference, meeting, or training event a larger success. For more information about customized keynotes, professional and personal leadership training and coaching, or seminars/retreats, please visit
http://www.ideaman.net
or call our Creative Office at: (780) 736-0009 for availability.
Ask about a customized conference, coaching or training package to suit your specific career, company, or organizational needs.


Ask about our innovative leadership and/or sales leaders' motivational training programs.
*****
If you are new to our Ideas At Work! family, welcome aboard. We publish this monthly e-zine to share ideas and keep in touch with our friends, readers and audience members who wanted to remain in contact and share in the lessons we acquire along the way.
You are receiving this E-zine because someone (we hope you) subscribed. At any time, simply follow the To unsubscribe or change subscriber options visit: link at the end of this email. Please pass this issue along to anyone you think will gain some benefit from reading it. If you want to continue getting this on a monthly basis, simply do nothing.
If you have gotten this copy as a forward from one of your friends and want a copy of your own, simply follow this link and give us your email address. Our service - aweber - automatically does the rest. You will need to confirm your subscription though a link from aweber to activate your subscription.
---
Follow link for Privacy, Copyright and Policies