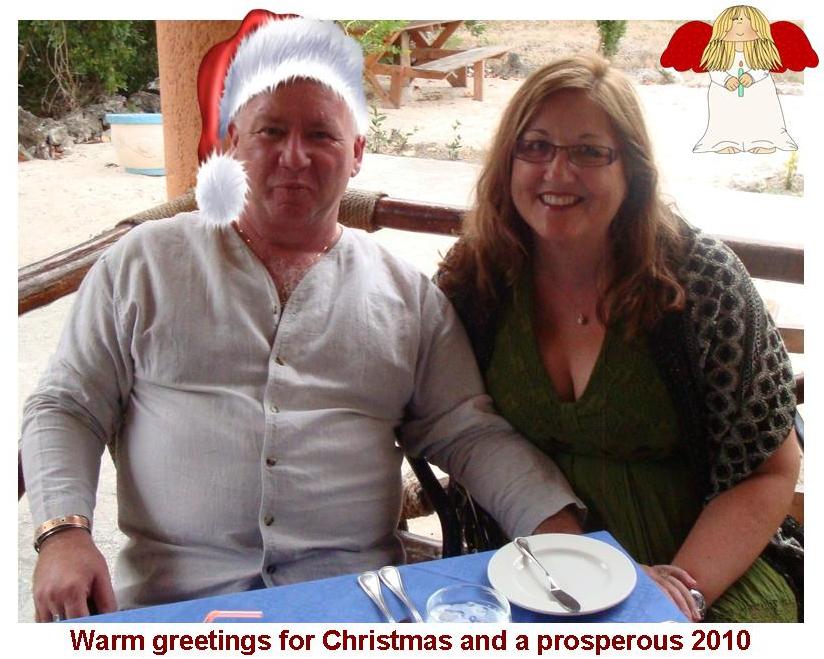 Hello from the Holiday Hooey's;
Christmas is a special time of year filled with wonderment and excitement for young and old alike.
Christmas is also a hectic time with frantic gift shopping, travel, and trying to fit in all the family and friends.
Remember the reason for the season and stop long enough to take a breath once in awhile and hug those you love.
We wanted to send a quick note to our friends, family, colleagues and clients we've been able to connect with over this past year.Thanks to each of you for the gift you've been in our lives and our business adventures.

2009 has been a year mixed with success, challenges, meeting new friends, saying goodbye to some clients and welcoming new ones.
Irene and I have done a fair amount of traveling since this time last year. We met in Paris when I was returning from speaking in Mumbai, last January. We had our 'official' honeymoon in Mexico in March and celebrated my 60th in Cuba last April (that is actually white sand in the background of the picture... smile). We worked together building a big deck and creating an outside garden at our place in Egremont.
We saw Irene expand her Vitrak Creative web design business and added new products and services to my Ideas At Work!. We celebrated our 2nd honeymoon in Vegas in October the day after our 1st anniversary. In two weeks we'll be heading south for January to visit our daughter, Amanda, who is teaching in Australia. Whew! Along the way we shared laughs, love and even a tear or two.
In spite of a challenge or two along the way and the odd business disappointment, this has been a wonderful year together. And we have been able to share it in part with each of you. That is a blessing in itself.

We wanted to send our warmest Christmas greetings to you, your families and co-workers and best wishes for a prosperous 2010 for each of us.
I sent this out to a few of you on my email list, so accept this second one as a double helping of best wishes.

Bob & Irene Hooey
My friend, Robert sent this along and I wanted to share it with you.

Archives of past issues are available on our www.ideaman.net website.

---
Thanks for reading


Bob 'Idea Man' Hooey would be pleased to be a part of your success team and to work with you to help make your conference, meeting, or training event a success. For more information about customized keynotes, professional and personal leadership training and coaching, or seminars/retreats, please visit http://www.ideaman.net or call our Creative Office at: (780) 736-0009 for availability.

Ask about a customized conference, coaching or training package to suit your specific career, company, or organizational needs.

Ask about our innovative leadership and/or sales leaders' motivational training programs.

*****
If you are new to our Ideas At Work! family, welcome aboard. We publish this monthly e-zine to share ideas and keep in touch with our friends, readers and audience members who wanted to remain in contact and share in the lessons we acquire along the way.
You are receiving this E-zine because someone (we hope you) subscribed. At any time, simply follow the To unsubscribe or change subscriber options visit: link at the end of this email. Please pass this issue along to anyone you think will gain some benefit from reading it. If you want to continue getting this on a monthly basis, simply do nothing.
If you have gotten this copy as a forward from one of your friends and want a copy of your own, simply follow this link and give us your email address. Our service - aweber - automatically does the rest. You will need to confirm your subscription though a link from aweber to activate your subscription.
---
Follow link for Privacy, Copyright and Policies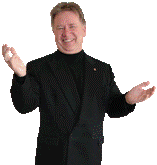 About Bob

Bob is a professional speaker, author, leadership, sales, and business success expert
He is proud to be an active professional member of these amazing groups of people dedicated to polishing their craft and to better serving their clients and audiences.
Bob is the co-founder and a past president of CAPS Vancouver, an honorary founding member of CAPS Sask., an honorary member of CAPS Halifax, as well as being an active member of CAPS Edmonton. He served as CAPS National Director (2000-2002).
He would be happy to discuss how he can work with you to equip and motivate your leaders, their teams, sales teams, or volunteers to grow and to succeed.
Call him today at 1-780-736-0009 to explore leveraging his innovative Ideas At Work with your organization.
Ideas At Work!
10 Creativity Corner
Egremont, Alberta T0A 0Z0, CANADA