Point to Ponder and a Merry Christmas to all...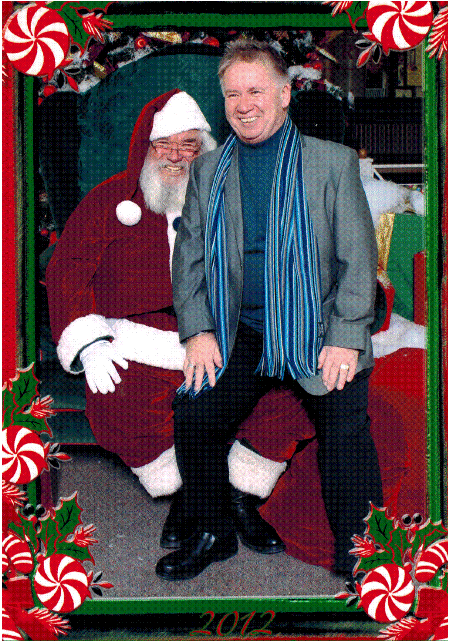 Just a quick note to extend out very best wishes to you and your family during this Christmas season. Whether you celebrate Christmas or not, I wanted to remind you that the most precious gift we can share is ourselves and our time. Please hug someone today and wish them well.
Christmas is a time for reflection amidst the hustle and the hassle of the commercial side of this holiday. It is a time for families no matter how dysfunctional. It is a time for friends and colleagues. It is time for you!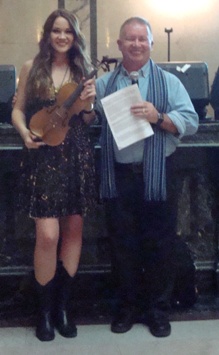 Most of all it is a time for gratitude for being here another year;
to celebrate your wins and successes or, at least, the lessons learned along the path this last year.
I am grateful for having the privilege of coming into your mailboxes every month with a few ideas, words and news.
Thanks for your contribution to my life and my career . Irene and I send our best regards and my long-time buddy (pictured here) says see you in a few days.
Until 2013
Bob 'Idea Man' Hooey
Bob pictured here with the very talented Sierra Noble who performed at our CAPS Foundation evening in Winnipeg. She is only 22 and has already taken the music world by storm.

---
2012 was a tremendous year.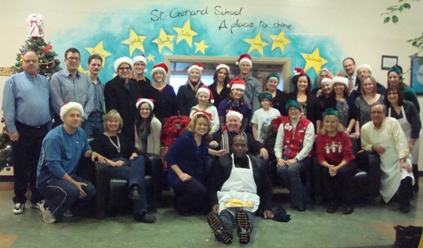 One of the highpoints of this year was joining some of Santa's elves and making breakfast and delivering presents for 160 Kindergaten to Grade 6 Students. This Christmas Shoebox project was started by my amazing friends Steve and Debra Kasowski. I am honored to be able to be there and see their faces as Santa arrives in the gym and they open their presents (Sadly, for some the only one they will get this year.).
Remembering:

A fair amount of travel including our five weeks in Australia and Hong Kong.

Printing our 7th edition of Speaking for Success and creating our 2 DVD set.

Being there as Irene's daughter Amanda married Michael.

Serving as 2012 CAPS Edmonton President.
Leaving CAPS Edmonton in the very capable hands of my friend Lorn Stanners and a great 2013 board.
Seeing CAPS Edmonton honored for the highest percentage of membership retention in Winnipeg.

Visiting Aunt Eva before she passed away.
Speaking for 4 of our CAPS Chapters across Canada this year.
Having a fairly successful CAPS Foundation auction in Winnipeg.
Sharing in the process of several of my friends reaching Best Selling Author Status. One of them I contributed to the book, so I guess technically I am now a two time best selling author....lol
Seeing our furry kids grow and enjoy lots more time in our Egremont home.
Spending more time with Irene as she worked from home due to a sick building. And, we still like and love each other in spite of being so close every day.
Finished de-cluttering the basement and building and lighting Irene's new work area.

Finished the parking pad and finished moving 18 tonnes of gravel by hand. End result - down to 200lbs and down two pant sizes.

Pictured here: The delightful and stylish Irene Gaudet heading into to Edmonton.

---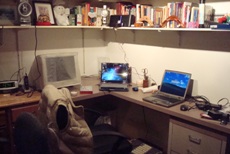 Now that I finished Irene's new workspace (left) I have my creative office back. Over the next few weeks I will return to finishing the edits to A Legacy of Leadership enroute to updating it (wrote it in 2006) and converting from an ebook to a soft cover.
I also have one more Pocket Wisdom book to complete before I head to Ottawa.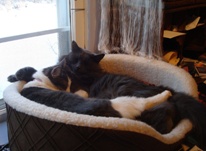 So, guess that will keep me busy in addition to promoting and delivering
S4S Boot Camps
. I have a very special project in mind to support the CAPS Foundation and will be using some of the proceeds from my Boot Camps to fund a part of it.
If you know anyone in either Edmonton or Grande Prairie, let them know about these two Boot Camps. Follow the links to learn more and to register.
Pictured here: Jazz and Dusty our furry kids who split their time between our two work areas. This one is in mine. They have brought more love and joy into our home.
---
Last Minute News
2013 looks to be another great year.
Speaking for Success Boot Camp in Edmonton Jan 12th, 2013
Speaking in Grande Prairie Feb 12th and doing a S4S Boot Camp on the 13th.
Closing keynote for a national Food and Beverage conference in Ottawa on Feb. 26th. Doing a S4S Boot Camp on the Monday Feb. 25th.
Speaking for my friends at CAPS Atlantic in Halifax, May 23-24th... two days and I am working on doing a S4S Boot Camp on the Saturday May 25th before flying home.
Taking the lead in creating and delivering our Global Speakers Summit Foundation evening on Dec 9th in Vancouver, BC. More about that later.
Amanda and Michael are coming for a visit next summer.
Looking forward to travelling some place 'warm' next month with Irene.
Looking forward to expanding and fine tuning what we are doing within our business next year.

---
Thanks for reading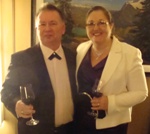 Bob 'Idea Man' Hooey
would be pleased to be a part of your success team and to work with you to help make your conference, meeting, or training event a larger success. For more information about customized keynotes, professional and personal leadership training and coaching, or seminars/retreats, please visit
http://www.ideaman.net
or call our Creative Office at: (780) 736-0009.
Irene and I wish you the very best for 2013
Ask about a customized conference, coaching or training package to suit your specific career, company, or organizational needs.
Ask about our innovative leadership and/or sales leaders' motivational training programs.
*****
If you are new to our Ideas At Work! family, welcome aboard. We publish this monthly e-zine to share ideas and keep in touch with our friends, readers and audience members who wanted to remain in contact and share in the lessons we acquire along the way.
You are receiving this E-zine because someone (we hope you) subscribed. At any time, simply follow the To unsubscribe or change subscriber options visit: link at the end of this email. Please pass this issue along to anyone you think will gain some benefit from reading it. If you want to continue getting this on a monthly basis, simply do nothing.
If you have gotten this copy as a forward from one of your friends and want a copy of your own, simply follow this link and give us your email address. Our service - aweber - automatically does the rest. You will need to confirm your subscription though a link from aweber to activate your subscription.
---
Follow link for Privacy, Copyright and Policies
What's New!
Global Speakers Summit Dec 8-10, 2013 in Vancouver, BC
A Legacy of Leadership is in edits for re-release as a soft cover book.
A new Pocket Wisdom book is in the works.
Bob is now the Immediate Past President of CAPS Edmonton.

Bob on LinkedIn
Bob on Facebook
Bob on Plaxo
Watch Bob on YOUTube
---
About Bob

Bob is a professional speaker, author, leadership, sales, and business success expert




He is proud to be an active professional member of these amazing groups of people dedicated to polishing their craft and to better serving their clients and audiences.

Bob is the co-founder and a past president of CAPS Vancouver, an honorary founding member of CAPS Sask., an honorary member of CAPS Halifax, as well as being an active member of CAPS Edmonton. He served as CAPS National Director (2000-2002).

He would be happy to discuss how he can work with you to equip and motivate your leaders, their teams, sales teams, or volunteers to grow and to succeed.

Call him today at 1-780-736-0009 to explore leveraging his innovative Ideas At Work with your organization.

Ideas At Work!
10 Creativity Corner
Egremont, Alberta T0A 0Z0, CANADA