I challenge you to Ponder the reason behind the season and to allow your life to be a gift to all you encounter this next year.
May 2012 be your most profitable year yet, in friendships, in business and in making a difference by being you.

Archives of past issues of Ideas @ Work! are available on our www.ideaman.net website. We will be adding archives of Bob's Mid-month Musings as well.

---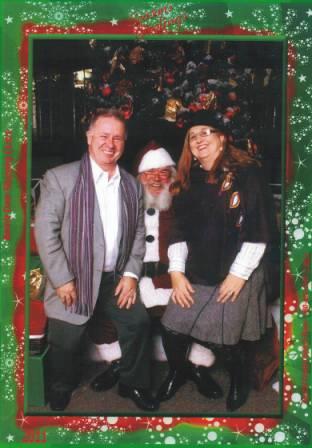 Christmas is a time for reflection, recreation, and re-connection.
Christmas is also a time to spend with family, friends, and colleagues as well as a time to share gifts.
As I reflect on the year just winding down I am reminded of some of the some of the more valuable gifts I have enjoyed...
The gift of trust with my clients across the globe.
The gift of friendship and support from my colleagues, friends and family.

The continued gift of a patient, loving woman to share it with.
The gift of being surprised in Toronto with The Spirit of CAPS award for 2011.
And, most importantly, the gift of each of you being a part of my life and my business.
To each of you I wish the very best of Christmas wishes. May your hearts be overflowing with joy and gratitude for those who care. May you be comforted for those you have lost. May you and your families be blessed and enjoy your time together. May you and you co-workers or employees see this next year be a prosperous one for all.
See you next year.
Bob 'Idea Man' Hooey
Irene and I pictured with an old friend of ours, who also wishes you a Merry Christmas.

---
Thanks for reading
Bob 'Idea Man' Hooey
would be pleased to be a part of your success team and to work with you to help make your conference, meeting, or training event a larger success. For more information about customized keynotes, professional and personal leadership training and coaching, or seminars/retreats, please visit
http://www.ideaman.net
or call our Creative Office at: (780) 736-0009 for availability.
Ask about a customized conference, coaching or training package to suit your specific career, company, or organizational needs.


Ask about our innovative leadership and/or sales leaders' motivational training programs.
*****
If you are new to our Ideas At Work! family, welcome aboard. We publish this monthly e-zine to share ideas and keep in touch with our friends, readers and audience members who wanted to remain in contact and share in the lessons we acquire along the way.
You are receiving this E-zine because someone (we hope you) subscribed. At any time, simply follow the To unsubscribe or change subscriber options visit: link at the end of this email. Please pass this issue along to anyone you think will gain some benefit from reading it. If you want to continue getting this on a monthly basis, simply do nothing.
If you have gotten this copy as a forward from one of your friends and want a copy of your own, simply follow this link and give us your email address. Our service - aweber - automatically does the rest. You will need to confirm your subscription though a link from aweber to activate your subscription.
---
Follow link for Privacy, Copyright and Policies
December 2011
Merry Christmas

---
We have added this new Mid-month Musings for 2011. Often Bob has ideas or motivational thoughts that just can't wait. So we decided to add a shorter message mid month.
---
Connect with Bob:

---
About Bob

Bob is a professional speaker, author, leadership, sales, and business success expert




He is proud to be an active professional member of these amazing groups of people dedicated to polishing their craft and to better serving their clients and audiences.

Bob is the co-founder and a past president of CAPS Vancouver, an honorary founding member of CAPS Sask., an honorary member of CAPS Halifax, as well as being an active member of CAPS Edmonton. He served as CAPS National Director (2000-2002).

He would be happy to discuss how he can work with you to equip and motivate your leaders, their teams, sales teams, or volunteers to grow and to succeed.

Call him today at 1-780-736-0009 to explore leveraging his innovative Ideas At Work with your organization.

Ideas At Work!
10 Creativity Corner
Egremont, Alberta T0A 0Z0, CANADA