Point to Ponder
Her name is Nala and she allowed me to LOVE her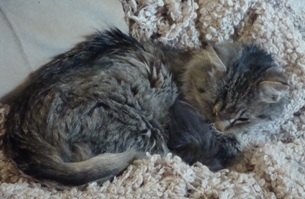 Nala started her life 13 years ago as an abandoned barn kitten who was rescued by Irene's son, Alex. Nala was originally named Simba, of the Lion King fame, until 'she' was discovered to be a female. She became a fuzzy welcome member of the Gaudet family and was loved by all.
She lost a front leg in a freak accident but learned to live without it and lived well.

Nala on our couch a week prior to her passing away.
She entered my life when Irene and I started dating about 6 years ago... and she was not open to sharing with a man, any man. Initially she would hiss and scratch or bite when I attempted to pet her. Normally, I find animals easy to connect with and so I was challenged. As I spent more time with Irene; and Nala, I took deliberate steps to befriend and to spoil her. She wanted to trust me, I could see it. But it took time, a lot of time for her to come around.
She allowed me to love her, and I did. I found myself talking to her when she was sleeping on the couch and would see her little tail wag in response. Irene and I would laugh when she would approach her snack dish under the coffee table and then look at me, if it was empty. And, I would get up and give her some snacks. I'd look over when I was sitting at my computer in the Mundare office and there she was keeping me company. After Irene and were married, I loved that she would come up on the couch and snuggle behind my knees... as she fell asleep, a small paw would reach out to gently rest on my leg. I loved her as I loved her mom...smile.
She passed away peacefully, on my lap on Sunday (Nov. 22nd), while Irene and I talked with her and petted her, tears running down our cheeks. She had been sick in the last week or so and we found her lying on the floor, too weak to even get on the couch, when we returned from visiting our CAPS Calgary friends.
We will miss her, alot. We'll 'even' miss Irene's frustration with her when she got underfoot. Or, when she would decide it was time for us to be awake and climb on us early each morning to let us know. I'll miss her stretched on the bed across my arm when Irene was up early and off to work. Amazing how these warm little balls of fur can worm their ways into our hearts, by allowing us to love them.
We often encounter those who, initially, resist us, our friendships, our service or our attempts to build a relationship. Like Nala, they allow us to earn the right to love them or to serve them in our professional roles. I remember going through a similar exercise with Missy, one of my sister's dogs. I am now Uncle Bob and they love me to death whenever I visit her and her husband. (PS: I love it!)
We can continue doing what we can to earn their trust, or we can quit and move on. The choice is ours, but, from experience, the extra work is so worth it!
Christmas is coming and this is a great time to express our love for those who have allowed us to love them. Whether Christmas is just a nice story to you or a time to celebrate the reason behind the season, it is a great time to reach out and express your love, affection, and appreciation for the important people in your life.
Perhaps the perfect Christmas gift we can give is to love and allow ourselves to be loved in return.
Her name was Nala and she allowed me to LOVE her.
A very 'Merry Christmas' and a prosperous 2010 to each of you.
Archives of past issues are available on our www.ideaman.net website.
---
"Do not save your loving speeches for your friends till they are dead. Do not write them on their tombstones, speak them rather now instead." Anna Cummins
Bob's note: My friend Chris Widner shared this action point with me, and I pass it along for your reflection. Perhaps at this time of year, the best gift would be to acknowledge those who have impacted your life. If you can't meet in person, call them, or write them.
Chris Widener's Action Point:
Of course your friends assume that you must like them, otherwise you wouldn't spend so much time with them, right? But isn't it interesting how if that friend has a serious accident or illness, we are all of the sudden compelled to tell them how much we appreciate them? Sometimes they are gone before we know it and we don't have the chance to say as much, except to others who gather together to tell each other how much we all miss our friend.
We can be proactive though! We can make sure that our friends know now how much we appreciate them and what we admire about them. We must simply choose to tell them.
Action Point: Think of a friend you think highly of. Now pick up the phone and invite them to lunch or coffee. When you get there, enjoy the time, talk about all the fun things you normally do, but be sure to take the time to let them know how much their friendship means to you. They will appreciate it and your friendship will deepen!
(c) 2009 Chris Widner
---
Last Minute News
November
November was a a hectic month working with clients, speaking, visiting our CAPS Calgary Family and working on new articles and website updates...(guess the updates never end.) Just updated my
www.BobHooey.com
site completely, after creating a bureau friendly site for use by a bureau in Alberta and in preperation for my keynote for the PSA convention in Amsterdam next March. Decided I liked it and reworked it to replace the existing one page site with a more extensive 2 pager.
Working with an executive coaching client over the next couple of months. Great guy and I am enjoying our times together and his willingness to stretch and hone his leadership skills.
I've had the privilege of speaking around the world to a vast variety of audiences, which I love.Once in awhile I get the privilege to address a very special audience as I did last week.
I was invited to address Ms. Sorensen's Grade 9 Leadership class at McKernan School last week. What a great audience and an even greater experience.I have to admit working to keep a younger audience engaged pushes me, but I love it. I shared some ideas on personal leadership and effective communication. I also told them about the benefits of being a Toastmaster. I asked them if I could have my picture taken with them and they graciously obliged me. Someday I will be able to look at their picture and see some amazing leaders who stepped up and took personal responsibilty and leadership and started changing their worlds, and mine for the better. (We'll share it with you when we get the permission slips back from the parents.)

December
Dec. 5th: Irene's staff Christmas Party...great food and spending time with some of her coworkers I've gotten to know over the year when I dropped in for a coffee.
Dec. 6-8th: Off to our CAPS National convention in Calgary. Should be lots of fun with a western theme and dress code. Doing a session at the Meet the Experts on Tuesday.
Dec 7th: Amanda's birthday.
Dec 8th: Patti's birthday
Dec. 16th: I love that we are having a meeting of our CAPS Edmonton chapter in December.... bravo!
Dec 19th: Back to Calgary if the schedule works to attend CAPS Calgary meeting and attend their silent auction.
Working on year 4 issues of Secret Selling Tips for one client and year 3 issues for one of our US clients. I love it when an idea grows legs and more so when those legs are helping other people. What a privilege!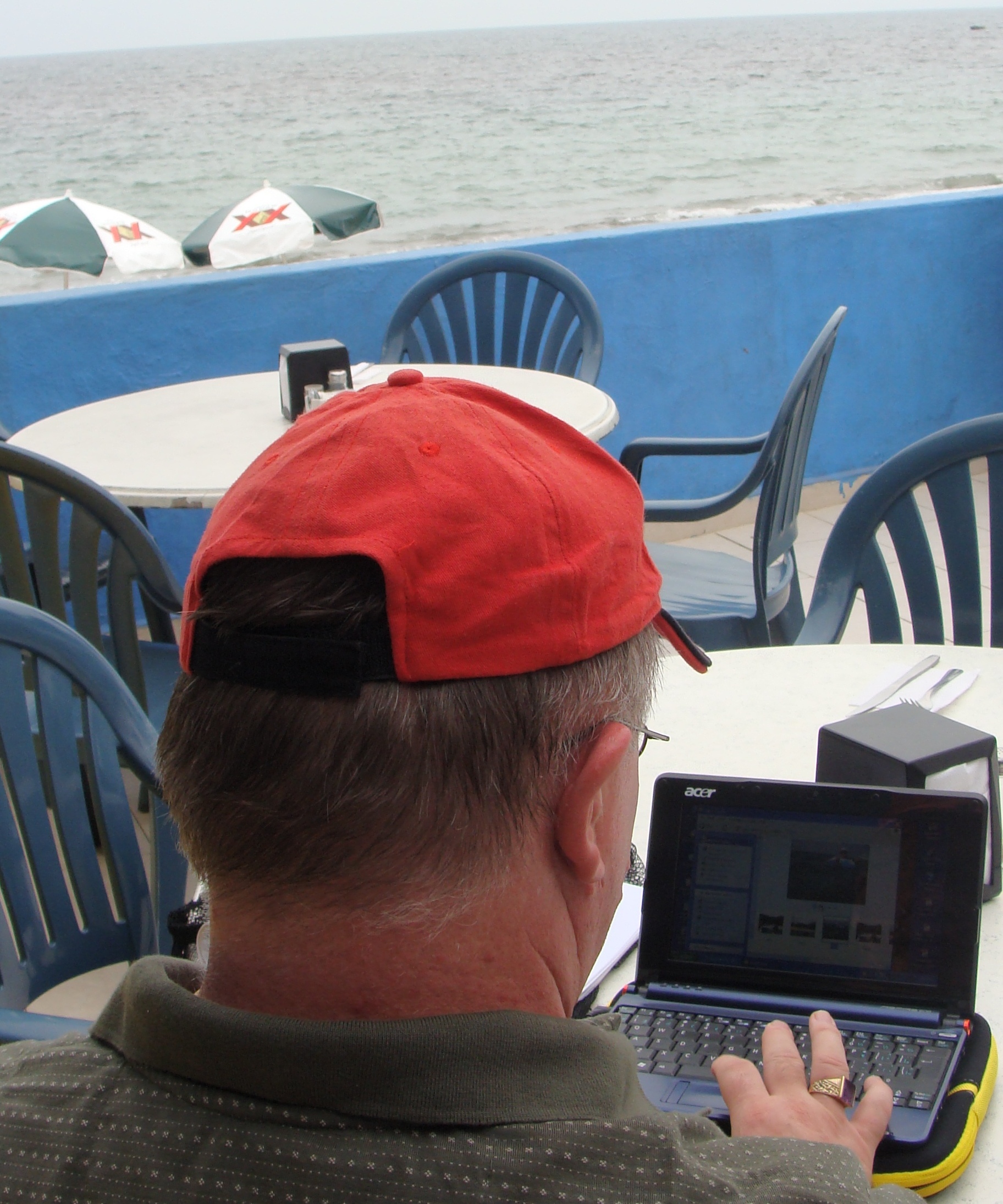 In addition to the above, as well as Christmas with Irene, Alex, her parents, and my sister Patti and Jerry; December is going be a '
very'
hectic month getting everything cleared up, articles written, ezines roughed out for Jan. and Feb., SST issues ready, so we can head to Australia in early January (8th) to visit our daughter,Amanda, who is teaching in Geraldon (2 hours north of Perth).
Not sure who is more excited, Irene or Amanda, but it will be great to see her again. Plus, I never got to that side of the country on my last visit and it will be great to visit and take my trusty
floaty
for a ride or two off Australia's various coasts.
Until next month... may I wish each of you many blessings for this Christmas season. Remember the reason for the season and take time to share with those you love and serve. May God continue to bless each of you.
PS; this picture was taken this past March in Mexico... I will take my notebook with us to Australia... you never know when you get an idea for an article, a new domain name, or an idea tweak to a website while sitting next to the ocean.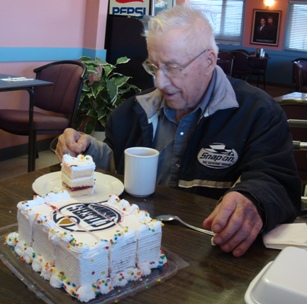 November had some fun experiences like my visit with the Grade 9 Leadership Class...
One of them was surprising my friend and next door neighbor, Steve, with an Oilers cake on his 97th birthday. We went for lunch like normal and the wait staff came out with the cake I dropped off earlier. I loved seeing the shocked look on his face and the joy (much like a very much younger man) when he reached out for his piece.
Evidently it was well received as his grand-daughter, Christine told me later he went on and on about his Oilers birthday cake.
I have been blessed to have Steve in my life, and through him another extended family. His grandson, Kelly, baby's our various cars and keeps them serviced so I can travel between Mundare and Egremont, and the airport. Kelly is a great guy and an amazing mechanic. Irene and I are please to have him and Christine as friends and neighbors. PS: Did I mention Steve is a long time Oilers fan... and then some!
Not surprising, but so are Irene, Alex, and Amanda in our family. Growing up in California, I never really learned to skate, so enjoy watching a game once in awhile, but not like these fanatics... smile.
---
Thanks for reading

Bob 'Idea Man' Hooey would be pleased to be a part of your success team and to work with you to help make your conference, meeting, or training event a success. For more information about customized keynotes, professional and personal leadership training and coaching, or seminars/retreats, please visit http://www.ideaman.net or call our Creative Office at: (780) 736-0009 for availability.

Ask about a customized conference, coaching or training package to suit your specific career, company, or organizational needs.

Ask about our innovative leadership and/or sales leaders' motivational training programs.

*****
If you are new to our Ideas At Work! family, welcome aboard. We publish this monthly e-zine to share ideas and keep in touch with our friends, readers and audience members who wanted to remain in contact and share in the lessons we acquire along the way.
You are receiving this E-zine because someone (we hope you) subscribed. At any time, simply follow the To unsubscribe or change subscriber options visit: link at the end of this email. Please pass this issue along to anyone you think will gain some benefit from reading it. If you want to continue getting this on a monthly basis, simply do nothing.
If you have gotten this copy as a forward from one of your friends and want a copy of your own, simply follow this link and give us your email address. Our service - aweber - automatically does the rest. You will need to confirm your subscription though a link from aweber to activate your subscription.
---
Follow link for Privacy, Copyright and Policies