Point to Ponder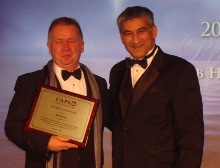 Have you ever been totally surprised at something? Surprised that you had done something that people noticed? Or talked about? Me too!

My trip to Toronto started with a hectic rush to make airline connections so I could arrive in time to help my friend Wayne Lee with the CAPS Foundation fundraising event we'd worked on for about 6 months.
It was an amazing success with us raising $35,083.00 over the evening. This was a great highlight for the year and for the work everyone put into this evening.

The next day we had our CAPS President's ball and awards banquet where I saw my friend Dave Rodwell go on stage as President of CAPS Edmonton when it was announced that we'd earned the top award for adding new Chapter members. Bravo!
Then, minutes later fellow CAPS executive members Dave Rodwell and Dune Nguyen were on stage as a part of a Strategic Partnerships committee given a Presidential award.
Following that, we had the Hall of Fame and I saw Colleen Francis inducted. Wow!
Then, at the end of the meeting, 2011 CAPS President Ravi Tangri (pictured above) came on stage to present the last award of the evening.
The Spirit of CAPS is the highest award we present within the Canadian Association of Professional Speakers. We do so to 'recognize one member's contribution to excellence in the speaking profession and their commitment to the ideals and values of the Canadian Association of Professional Speakers.' We have given it to only 10 speakers in our 15 year history.
I was listening as Ravi started introducing this person... when he mentioned this person was the 1st Canadian to attend CAMP NSA, I realized he was talking about me. I couldn't believe what I was hearing. I was shocked and deeply touched at the same time.

As I wiped the tears from my eyes on the way to the stage to accept this amazing award, I wondered what I would say. Evidently, what I said was pretty good as I have gotten lots of positive comments on it. I have contacted the company who was filming the evening to see if I can get a copy. I will share it with you when I get to hear it myself.
From what people said, I shared this award with the hundreds of people who said yes when I asked for help: even though I was singled out for this honor, I did not achieve it alone.
We don't work for the honors and the recognition, but it sure is nice to find out someone noticed and appreciated our efforts. I think that, in itself, spurs us on to find other ways to serve. It does me!
Until next year...
Bob 'Idea Man' Hooey
2012 CAPS Edmonton President

Archives of past issues are available on our www.ideaman.net website.

---
Santa Claus 'n Grandma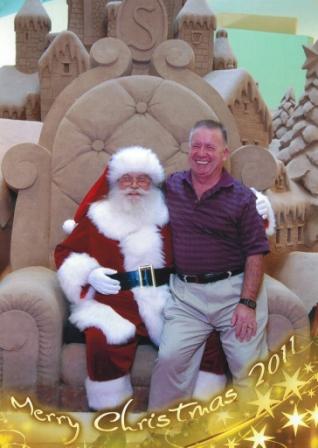 I remember my first Christmas adventure with Grandma...I was just a kid. I remember tearing across town on my bike to visit her. On the way,
my big sister dropped the bomb: "There is no Santa Claus," she jeered."Even dummies know that!"

My Grandma was not the gushy kind, never had been. I fled to her that day because I knew she would be straight with me. I knew Grandma always told the truth, and I knew that the truth always went down a whole lot easier when swallowed with one of her "world-famous" cinnamon buns. I knew they were world-famous, because Grandma said so. It had to be true.


Grandma was home, and the buns were still warm. Between bites, I told her everything. She was ready for me...

"No Santa Claus?" she snorted..."Ridiculous! Don't you believe it! That rumor has been going around for years, and it makes me mad, plain mad!! Now, put on your coat, and let's go."

"Go? Go where Grandma?" I asked. I hadn't even finished my 2nd world famous cinnamon cinnamon bun...

"Where" turned out to be Kerby's General Store, the one store in town that had a little bit of just about everything.

As we walked through its doors, Grandma handed me ten dollars. That was a bundle in those days. "Take this money," she said, "and buy something for someone who needs it. I'll wait for you in the car." Then she turned and walked out of Kerby's.

I was only eight years old. I'd often gone shopping with my mother, but never had I shopped for anything all by myself.

The store seemed big and crowded, full of people scrambling to finish their Christmas shopping. For a few moments I just stood there, confused, clutching that ten-dollar bill, wondering what to buy, and who on earth to buy it for...

I thought of everybody I knew: my family, my friends, my neighbors, the kids at school, the people who went to my church. I was just about thought out, when I suddenly thought of Bobby Decker. He was a kid with bad breath and messy hair, and he sat right behind me in Mrs. Pollock's grade-two class.

Bobby Decker didn't have a coat. I knew that because he never went out at recess during the cold weather. His mother always wrote a note telling the teacher that he had a bad cough but all us kids knew Bobby Decker didn't have a cough, he didn't have a good coat.

I fingered the ten-dollar bill with growing excitement. I would buy Bobby Decker a coat! I settled on a red corduroy one that had a hood to it. It looked real warm and he would like that.

"Is this a Christmas present for someone?" the lady behind the counter asked kindly, as I laid my ten dollars down.

"Yes ma'am," I replied shyly. "It's for Bobby." The nice lady smiled at me, as I told her about how Bobby really needed a good winter coat. I didn't get any change, but she put the coat in a bag, smiled again, and wished me a Merry Christmas.

That evening, Grandma helped me wrap the coat (a little tag fell out of the coat, and Grandma tucked it in her Bible) in Christmas paper and ribbons and wrote, "To Bobby, From Santa Claus" on it...

Grandma said that Santa always insisted on secrecy. Then she drove me over to Bobby Decker's house, explaining as we went that I was now and forever officially, one of Santa's helpers.

Grandma parked down the street from Bobby's house, and she and I crept noiselessly and hid in the bushes by his front walk. Then Grandma gave me a nudge. "All right, Santa Claus," she whispered, "get going."

I took a deep breath, dashed for his front door, threw the present down on his step, pounded his door and flew back to the safety of the bushes and Grandma.

Together we waited breathlessly in the darkness for the front door to open. Finally it did, and there stood Bobby.

Fifty years haven't dimmed the thrill of those moments spent shivering, beside my Grandma, in Bobby Decker's bushes.

That night, I realized that those awful rumors about Santa Claus were just what Grandma said they were: ridiculous... Santa was alive and well, and we were on his team.

I still have the Bible, with the coat tag tucked inside: $19.95.
May you always have LOVE to share, HEALTH to spare and FRIENDS that care... and may you always believe in the magic of Santa Claus.
Anonymous
Irene shared this note with me earlier this year with a suggestion it might be appropriate for our Dec. issue. It is!

PS: This visit with my long-time Christmas buddy was taken in Phoenix, AZ while I was presenting and attending CAMP NSA. Obviously he begins his tour early and has the sense to stay warm.
---
Last Minute News
It has been a busy month in November and December is starting to fill as well.
My trip to CAMP NSA last month was a special one with 8 of my fellow Canadian leaders attending alongside their American counterparts. CAMP NSA was started in 1998 as an investment in preparing the incoming NSA Chapter Presidents to better serve and be successful in their roles. I snuck in as the 1st Canadian in 1999. The following year they opened their doors and officially invited our Canadian leaders to attend, and they have each year since.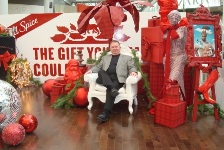 Did two sessions for The Business Link here in Edmonton. They now have it set up so folks can log in from home and view speakers. Great idea on leveraging technology to teach and reach.
Follow this link to see one of them.
Pictured here in Eaton Center in the Old Spice Man's chair - hey, my wife Irene loves their commercials.

We had what might have been our best attended CAPS Edmonton meeting with Jane Atkinson in November. What a great way to finish up our series. Am looking forward to our Dec 10th Christmas meeting. Looking forward to acknowledging my friend Dave Rodwell's leadership contribution over close to two years.
Working on projects and client presentations for the New Year. Also moving into my role as 2012 President of CAPS Edmonton. Have a great team and it will be an amazing year together.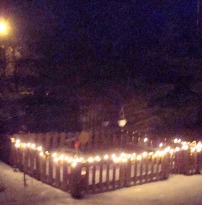 Bob 'Idea Man' Hooey
would be pleased to be a part of your success team and to work with you to help make your conference, meeting, or training event a larger success. For more information about customized keynotes, professional and personal leadership training and coaching, or seminars/retreats, please visit
http://www.ideaman.net
or call our Creative Office at: (780) 736-0009
Ask about a customized conference, coaching or training package to suit your specific career, company, or organizational needs.
PS: This is a shot of the Pond at which I ponder, in the winter time.

Ask about our innovative leadership and/or sales leaders' motivational training programs.
*****
If you are new to our Ideas At Work! family, welcome aboard. We publish this monthly e-zine to share ideas and keep in touch with our friends, readers and audience members who wanted to remain in contact and share in the lessons we acquire along the way.
You are receiving this E-zine because someone (we hope you) subscribed. At any time, simply follow the To unsubscribe or change subscriber options visit: link at the end of this email. Please pass this issue along to anyone you think will gain some benefit from reading it. If you want to continue getting this on a monthly basis, simply do nothing.
If you have gotten this copy as a forward from one of your friends and want a copy of your own, simply follow this link and give us your email address. Our service - aweber - automatically does the rest. You will need to confirm your subscription though a link from aweber to activate your subscription.
---
Follow link for Privacy, Copyright and Policies
What's New!
CAPS Edmonton gets New Members award
CAPS Foundation event raises $35,083 in Toronto
Bob on LinkedIn
Bob on Facebook
Bob on Plaxo
Watch Bob on YOUTube
---
About Bob

Bob is a professional speaker, author, leadership, sales, and business success expert




He is proud to be an active professional member of these amazing groups of people dedicated to polishing their craft and to better serving their clients and audiences.

Bob is the co-founder and a past president of CAPS Vancouver, an honorary founding member of CAPS Sask., an honorary member of CAPS Halifax, as well as being an active member of CAPS Edmonton. He served as CAPS National Director (2000-2002).

He would be happy to discuss how he can work with you to equip and motivate your leaders, their teams, sales teams, or volunteers to grow and to succeed.

Call him today at 1-780-736-0009 to explore leveraging his innovative Ideas At Work with your organization.

Ideas At Work!
10 Creativity Corner
Egremont, Alberta T0A 0Z0, CANADA