Point to Ponder
Eleanor Roosevelt once wrote, "I have never given very deep thought to a philosophy of life, though I have a few ideas that I think are useful to me. One is that you do whatever comes your way to do as well as you can, and another is that you think as little as possible about yourself and as much as possible about other people and about things that are interesting. The third is that you get more joy out of giving joy to others and should put a good deal of thought into the happiness that you are able to give."
Interesting concept isn't it?
Focus on others and interesting things

Sounds like a recipe for a full and fulfilling life. Sounds like a recipe for a productive and profitable career or business too.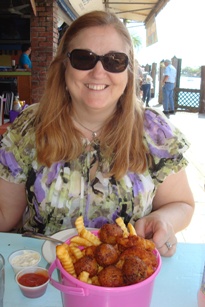 Too often we get bogged down, burnt out, and/or physically and mentally challenged with the day-to-day challenges of life. That is normal and something we need to be aware. It's ok to take a break to recharge, refocus and reframe our lives and our commitments. Give yourself permission to relax once in awhile.
At times I find I do need to step out of my own head and think about interesting things, or to refocus my energies on helping others (this feeds me). Although sometimes I just have to do my best with what I have.
Wishing you a productive and happy Feb.
Until next month,
Bob 'Idea Man' Hooey
PIC: Irene having lunch at Flip Flops in Ft. Lauderdale, FL.

Archives of past issues are available on our www.ideaman.net website.

---

February will be very productive month.
Hosting my friend Nabil Doss (2013 CAPS National President) on Feb 8th and 9th when he visits our CAPS Edmonton Chapter
Speaking in Grande Prairie the evening of Feb 12th.
Speaking for Success Boot Camp in Grande Prairie Wed. Feb. 13th
Working to revamp my "A Legacy of Leadership" for publication in March
Working on GSS - Foundation evening prep for Dec. 9th, 2013 in Vancouver
Speaking for Success Boot Camp in Ottawa on Monday Feb. 25th.
Closing keynote for a National Food and Beverage conference in Ottawa on Feb. 26th.
Revamping and updating some of our websites and promotions.

Pictured on the right: Bob and Nabil
---
Last Minute News
By the time this reaches you Irene and I will have successfully disembarked from her birthday cruise. We may even be enroute home to Edmonton.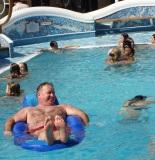 I
decided we needed to get warm and booked a 7 night birthday cruise from Miami which took us to Nassau, St. Thomas (her birthday), San Juan, and Grand Turks. We flew into Ft. Lauderdale, spent a few days touring and thawing out, then we moved over to Miami on the S aturday to join our cruise on the Sunday. The following Sunday we arrived back in Miami to spend a few days before flying home. It was a wonderful time.
More notes and pictures to follow.
Picture: Bob on-board his floaty. Did a lot of that on the ship and the 4 islands we visited as well as when we were in Florida.
Note from Florida City... we are having an amazing time... be back home on Wed afternoon. We are considering coming back here again next year.
---
Thanks for reading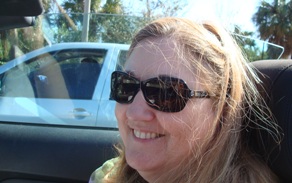 Bob 'Idea Man' Hooey
would be pleased to be a part of your success team and to work with you to help make your conference, meeting, or training event a larger success. For more information about customized keynotes, professional and personal leadership training and coaching, or seminars/retreats, please visit
http://www.ideaman.net
or call our Creative Office at: (780) 736-0009
Pic: Irene enjoying the top down in Florida.
Ask about a customized conference, coaching or training package to suit your specific career, company, or organizational needs.

Ask about our innovative leadership and/or sales leaders'

motivational training programs.
*****
Pictured: Bob's beach feet.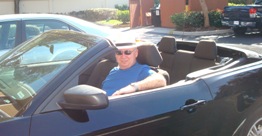 If you are new to our
Ideas At Work!
family, welcome aboard. We publish this monthly e-zine to share ideas and keep in touch with our friends, readers and audience members who wanted to remain in contact and share in the lessons we acquire along the way.
Pic: We decided we missed our Mustang... and got this topless optional one for the 2 weeks...
You are receiving this E-zine because someone (we hope you) subscribed. At any time, simply follow the To unsubscribe or change subscriber options visit: link at the end of this email. Please pass this issue along to anyone you think will gain some benefit from reading it. If you want to continue getting this on a monthly basis, simply do nothing.
If you have gotten this copy as a forward from one of your friends and want a copy of your own, simply follow this link and give us your email address. Our service - aweber - automatically does the rest. You will need to confirm your subscription though a link from aweber to activate your subscription.
---
Follow link for Privacy, Copyright and Policies
What's New!
Irene celebrated her Birthday (Jan 30th) on St. Thomas, USVI
Bob on LinkedIn
Bob on Facebook
Bob on Plaxo
Watch Bob on YOUTube
---
About Bob

Bob is a professional speaker, prolific author, leadership, sales, and business success expert




He is proud to be an active professional member of these amazing groups of people dedicated to polishing their craft and to better serving their clients and audiences.

Bob is the co-founder and a past president of CAPS Vancouver, an honorary founding member of CAPS Sask., an honorary member of CAPS Halifax, as well as being an active member of CAPS Edmonton. He served as CAPS National Director (2000-2002) and 2012 CAPS EDM. President. He is in his 5th year of a 3 year term as Trustee for the CAPS Foundation.


He is the 2011 Spirit of CAPS Recipient.

He would be happy to discuss how he can work with you to equip and motivate your leaders, their teams, sales teams, or volunteers to grow and to succeed.

Call him today at 1-780-736-0009 to explore leveraging his innovative Ideas At Work with your organization.

Ideas At Work!
10 Creativity Corner
Egremont, Alberta T0A 0Z0, CANADA