Point to Ponder
The following email message appears in my in box about every 7 days... it serves as a little reminder and helps me keep my focus.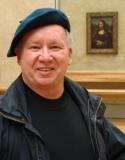 "Hi,This is a hassle to remind you to: 'Focus on appreciating and expressing my gratitude for the people, business opportunities, affluence, opportunities to touch people's lives, travel the world sharing my ideas, and to have so many people appreciate and purchase my writing and wisdom. I am so blessed!'
So get to it!"
Now, I admit I don't always open it to read, but simply seeing it appear reminds me to be grateful for the blessings in my life. I have many!

I love what I do and get paid very well for doing it. People buy and read or listen to what I have to say... pretty cool stuff. I have a network of real friends, colleagues (like my friend Kit), and readers, like you, who support and encourage me. I now have two homes, Egremont (in the country) and Mundare (in town) to take care of and enjoy... twice the snow, yeah.
I have the opportunity to travel the world sharing my ideas. I have an amazing woman by my side who inspires me to keep moving outside of my comfort zone and is such an amazing partner in what I do to serve you and my audiences. I could go on, but you get the picture.

I was out for lunch recently with my 96 year old (Egremont) neighbor Steve, who can be a bit crusty at times. I love the time I spend with him. He has a bad back and struggles to walk and the snow makes it even more of a challenge for him. He was complaining about all the stuff he couldn't do, anymore. (Boy, can I relate, as I did something to mine in India and it is still very sore.)
Ever find yourself doing that? Me too. I reminded him (and myself) that there were still a myriad of things he could do; and that, at 96, he was still inspiring me.
I thought, we could use a bit of a reminder of the blessings, the good stuff, and great people in our lives. We are working through a challenging economic time and it is easy to loose focus on the positive things and important people in our lives. Just a nudge from me this month.

All the best for February. I choose to make it a fabulous month, just as I choose to not participate in 'this' recession. What will you choose?
Bob


Archives of past issues are available on our www.ideaman.net website.

---
Michael has been encouraging and coaching me in my e-zine work over the past few years. He lives in a similar climate and had this wisdom to share this month. Thought I would send it along to you while you recover from shovelling the snow, yet again.
The Iceman Leave-ith



by Michael Katz


Here in New England we like to complain, especially about the weather.

Too hot in the summer, too cold in the winter, too damn dark at night. We don't much care what's wrong, frankly, just as long as something is.

This morning while buying my bagel and coffee, I actually overheard the guy in front of me complain about hypothetical weather: "Oh yeah, it's nice now, but they say we're due for some horrible stuff by the end of the weekend." Linguistically, this is what's known as a "future perfect" weather complaint, reserved for those times when there is nothing sufficiently miserable to point to at the moment.

Personally, I don't get involved in these discussions. I kind of like the unpredictability of weather (even in middle age, nothing quite compares to the thrill of a school snow day), and I enjoy the fact that after 25 years of living here, I've learned a thing or two about winter survival.

For example: Don't chip the ice off of a cold car.

Instead, start the car, turn on the defrost full blast, go inside and make a cup of coffee. When you return 10 minutes later, your car will be sweating like a pig on a treadmill (or whatever) and the ice will magically fall away.

Simple stuff, I know. And yet year after year, I see a fair number of my fellow citizens walk out into the cold and just start scraping.

Fools? Hardly. Just people who are working a lot harder than necessary. Instead of giving the warmth of the car a few minutes to melt the ice, they're impatiently chipping away.

I mention this today, because I also see a fair number of my fellow professional service providers (WARNING: abuse of "winter metaphor" coming) chipping away at the frozen exterior of un-warmed client prospects, rather than giving the cozy warmth of relationship marketing a chance to melt the glacial frost of frigid... ah, whatever.

You know what I mean: Selling to cold prospects is a lot harder than selling to warm ones.

But it's a new year. And the economy is in bad shape. And you need clients now. So you and your colleagues get together and agree to "stop all activities that don't directly contribute to sales."

To which I say, not so fast there, my mitten-wearing friend.

Because while it may seem all survival-mode-lean-and-mean-savvy to abandon all but the scraping - I mean selling - when times are tough, if you shut off the activities that keep your prospects nice and warm, you'll be out there in the snow, chipping away, a lot longer than necessary. They don't call them "cold calls" for nothing.

And so, to help the ice fall away easily this winter, I've got three suggestions.


Stay in touch with your friends. For many businesspeople, slow times lead to ignoring friends and colleagues. We cut back on networking meetings, we stop attending industry events, we forget to return phone calls, we give up on casual lunches. All in the name of "staying focused."

If you ask me, this is exactly the wrong time to become invisible. We need to be out there more than ever, and our long-time, existing relationships are the place to start.

Stay accessible to strangers. I've never met a professional service provider who didn't like visibility: Seeing your name in the paper, having your white paper downloaded and shared across the Internet, getting invited to speak at an industry event. And yet I've met plenty of professional service providers who, when that same visibility leads to inbound phone calls and e-mails from non-prospects, can't be bothered to respond to them.

I've got a better idea. The next time a stranger calls with a quick question in your area of expertise, or sends a comment related to your newsletter, or offers to buy you lunch in exchange for some career advice, make time for them - particularly if they have nothing of value (at the moment) to give you in return.

Believe me, it's the people who you help precisely at the time that they can't help you back who will remember you the longest. Treat them decently and they'll be out there keeping your car warm (i.e. spreading the word) for years to come.

Keep publishing your E-Newsletter. (You knew I'd get to this.) Your newsletter is like a big, warm, stay-in-touch hotplate - going out into the world month after month and keeping your relationships toasty. Shutting it down or putting it off so that you can focus on chipping more ice just doesn't make a lot of sense. (Editor's note: makes perfect sense to me.)


Here's the bottom line: You don't need 25 years of New England winters under your belt to know that when it comes to removing ice, the heat of the car matters at least as much as the tools you use and the effort you apply.

Spend more time on relationship temperature and less time on ice breaking tactics and cold selling skills, and make 2009 the best year you've ever had.

Copyright ©2009 Blue Penguin Development, Inc. All rights reserved. Included with the kind permission of my friend Michael Katz. You may reproduce this article by including this copyright and, if reproducing it electronically, including a link to

www.bluepenguindevelopment.com

. You must also make a loud penguin noise at noon (EST) each day while the article is in use (costume optional).

Just heard from Michael tonight (Feb 3rd) and it's snowing again in his area.
---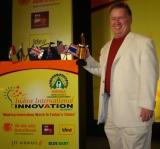 Mumbai, India and the 2nd Indira Innovation Summit and Excellence in Innovation awards
What an amazing experience and a chance to broaden my world perspective.
After a verrrrrrry long series of flights: Edmonton to Chicago, to Frankfurt, to Mumbai, India, I finally arrived about 2AM and checked into a little hotel near the Mumbai airport.
Woke to hear the street noise of local folks getting up and children walking to school. With their tremendous population they actually have to schedule two series of classes, the first starting at 7AM. Innovative way of using teaching staff and facilities.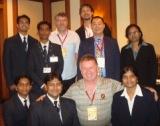 Certainly saw the gap between India's very poor and and the very wealthy between my two hotels.
The next day I moved to the conference hotel (Taj Lands End) which would be a 5 star anywhere in the world. I was totally spoiled by the hotel and conference staff.
I spoke for an hour in the afternoon, sharing personal insights and ideas on the people side of innovation to a very responsive audience of 350 or so, many of whom were students. Very responsive during the presentation and very kind in their remarks following it.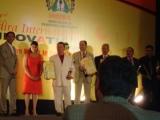 Later that evening I was again invited on the stage to receive my international
Excellence in Innovation Award
along with my fellow speakers (some of who are pictured above with a few of the college faculty and students).
The organizers went on to recognize local and national Indian award winners in front of a standing room only crowd in excess of 500.
What an amazing experience and very impressive work for such a small group of dedicated conference staff. And, a very innovative way to attract world class speakers, experts, and authors from around the world.
The amazing gentleman who ran this event, Dr. R.L. Bhatia, also does one for about 1500 HR professionals in February. We are talking about my returning for that one in 2010. In addition, the co-founder of the Indira Group of Institutes, Chetan Wakalkar, asked me to consider a return to work with their students at both campuses. Also talked with people from Malaysia and Thailand who are thinking about doing something similar in their locals.

I thoroughly enjoyed my first visit to India and look forward to working there again.

---
Last Minute News
February is going to be fabulous. It is, after all our choice.
Continuing writing and production work on Volume three of our Secret Selling Tips. I was actually laying out one of our French issues while in Paris.

Finishing off work so we can launch our Secret Leadership Tips series. Once series is launched for current subscribers, we will launch the website to support and promote it.

Updating our various speaker promotional sites once renewals are in.
Working on a new series of CDs for back of room sales.
Working on another series of shooting scripts as well as a new one entitled: STOP Whining and START Winning!

Working on a couple of new ideas I gleaned from my friend Kit Grant, for new product and revenue streams from leveraging existing materials.
Working on Foundational Success, an e-book fundraiser for CAPS foundation with a publication date in April. Focused for sure, and a short time span, but a great cause.
Working on at least one new Pocket Wisdom for our series. Perhaps, Selling, 'even' in tough times.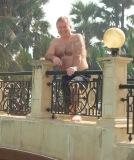 Feb 10th:
Back in the film studio to produce some more video clips for Secret Selling and Secret Leadership Tips and update a few for the website.
Feb 21st:
Sharing some ideas and stories drawn from my adventures in Iran and India with my fellow CAPS Edmonton colleagues at our February Business Development Meeting.
Feb 25: Speaking in Bonnyville, AB for their Real Estate Board AGM and again that evening at a special town wide, open event hosted jointly with the Chamber of Commerce.
Feb 28th: Schedule permitting, a quick visit to CAPS Calgary to see my friend Ian Percy who is speaking. Ian now lives in Arizona. Am planning a writing trip to Arizona this winter and want to ask him for some advice. My plan is to expand that writing week into a series of weeks over the next few years and eventually be a winter of writing.

Here are some links to Irene and my Facebook pages where we have uploaded some pictures from our trip.
---
Irene's **th birthday party in Paris France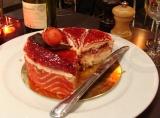 When I spent 4 days in London, England on my way home from speaking in Iran last November, I wished Irene could have been there to share it.
So, when I was working out my flights to Mumbai, I invited her to join me in Europe on my way home. I told her she could join me in Frankfurt, Germany, Zurich, Switzerland, or Paris. She verrrrry quickly chose Paris. Hmmm.
(Picture is a cake we got from a little bakery across the street from our boutique hotel.)

What a week we had playing tourist.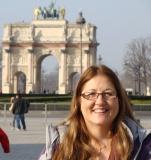 We visited all the main sights: Eiffel Tower, Notre Dame Cathedral, The Louvre, shopping, took an amazing boat cruise on the Seine river, shopping, touring on the bus and Metro... shopping, and getting to know the local shop keepers and brassieres (in England they would be called pubs). I was blown away by the buildings.

We toured museums, visited Le Bon Marche, visited lots of little shops including the West Bank area, and generally had a week of fun and creating great memories. Irene was smiling so much I thought she had swallowed a banana sideways.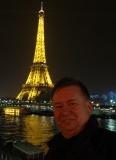 Friday, Jan. 30th
was her
'official'
birthday, so we planned a special meal at one of the restaurants we had found close to our hotel. What a wonderful evening... they decorated the place with little red candles, set a special table just for us and everyone in the place sang happy birthday to her in English and French. Following dinner we took one more ride on the Metro to see the Eiffel Tower at night and then returned to enjoy a few glasses of champaign. One of the patrons even bought Irene roses... A night and a week to remember. Irene will now be able to say the line from Casablanca (one of her favorite movies)...
"We'll always have Paris!"
PS: On the way home we had a longer stopover in Chicago and were able to connect with a fellow Accredited Speaker, Johnny Campbell who lives in the area.
One of the bonuses of this business is being able to visit friends around the world.

---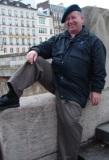 Thanks for reading... see you next month.

Bob 'Idea Man' Hooey would be pleased to be a part of your success team and to work with you to help make your conference, meeting, or training event a success. For more information about customized keynotes, professional and personal leadership success training and coaching, or seminars/retreats, please visit www.ideaman.net or call our Creative Office at: (780) 736-0009 for availability.

Ask about a customized conference, success coaching or training package to suit your specific career, company, or organizational needs.

Ask about our innovative leadership and/or sales leaders' motivational training programs.

*****
If you are new to our Ideas At Work! on-line family, welcome aboard. We publish this monthly e-zine to share ideas and keep in touch with our friends, readers, and audience members who wanted to remain in contact and share in the lessons we acquire along the way.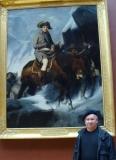 You are receiving this E-zine because someone (we hope you) at any time, simply follow the To unsubscribe or change subscriber options: visit the link at the end of this email. Please pass this issue along to anyone you think will gain some benefit from reading it. If you want to continue getting this on a monthly basis, simply do nothing. subscribed. A
If you have gotten this copy as a forward from one of your friends and want a copy of your own, simply
follow this link
and give us your email address. Our service -
Aweber - automatically
does the rest.
You will need to click to confirm your subscription though a link from Aweber to activate your subscription.
---
Follow link for Privacy, Copyright and Policies
What's New!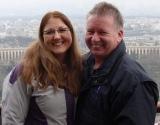 4 months and still very happily married.. is there a gift for the 1st quarter of an such amazing partnership? Hmm... "We'll always have Paris..."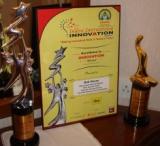 Bob just got back from speaking in Mumbai, India and accepting an Excellence in Innovation award.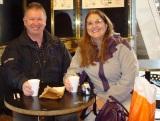 Bob and Irene just spent a week playing tourist in Paris for her milestone birthday and a bit of a delayed honeymoon. (Sharing a croissant and cafe on the Eiffel Tower)

---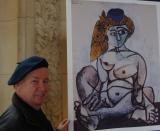 About Bob

Bob 'Idea Man' Hooey is a professional speaker, author, leadership, sales, and business success expert
He is proud to be an active professional member of these amazing groups of people dedicated to polishing their craft and to better serving their clients and audiences.
Bob is co-founder and a past president of CAPS Vancouver, an honorary founding member of CAPS Sask., an honorary member of CAPS Halifax, as well as being an active member of CAPS Edmonton. He served as CAPS National Director (2000-2002).
He would be happy to discuss how he can work with you to equip and motivate your leaders, their teams, sales teams, or their volunteers to grow and to succeed.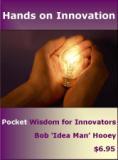 Call him today at: 1-780-736-0009 to explore leveraging his innovative Ideas At Work with you and your organization.

Ideas At Work!
10 Creativity Corner
Egremont, Alberta T0A 0Z0, CANADA