Point to Ponder

Putting the 'WE' back in POWER
By Bob 'Idea Man' Hooey, 2011 Spirit of CAPS Recipient
By now, many of you know I was blown away when CAPS President Ravi Tangri, CSP announced my name as the 2011 Spirit of CAPS recipient last November in Toronto. At least those in the audience saw the stunned look on my face when my name was announced and I choked back the tears on my way to the stage. I was madly thinking, "What do I say?" as I walked up to the stage. Thankfully, we took time to take pictures which allowed me to catch my breath and to collect my thoughts before speaking. I didn't remember what I said. I ordered the DVD so I could actually see what people heard. At the time, it felt warm and comfortable and focused as I talked. Guess that was truly being in the moment! One of the amazing things about this award was how many people from around the globe were so pleased that I received it, some even more so than myself. It was tweeted and on Facebook before I even left the stage.
Part of what was said in my acceptance speech was, "I cannot accept this award... by myself!" I went on to explain that many of Ravi's kind words on my accomplishments were directly related to asking for help and the successes were shared with those who said 'yes' when asked.
I believe the power in success is asking for help and knowing who to ask. We fail in isolation, but we seldom succeed there.
My friend David Gouthro, CSP picked 'Better Together' as his 2012 CAPS Presidential theme. He is right on the money in sharing this concept, as this is how we created CAPS and have both grown it and sustained it since our inception in 1997. For those who know him, he models this concept in his life.
One of the success secrets to the many areas where we made progress was in the 'ask'. I have found that people are more willing to help than I am to ask. People like being a part of 'WE' and that provides the power to change organizations, like ours, and lives through our members.
A few examples and gratitude:
To Jeff Mowatt,CSP (Past National President) flying out to Vancouver when we had our 1st meeting of what became CAPS Vancouver nearly 15 years ago. He will be there for their 15th anniversary this April.
To NSA allowing me to be the first Canadian to attend CAMP NSA for 'their' incoming Chapter Presidents (1999), and then opening their doors for our leaders every year since. This has been a part of their commitment to serve, not only us, but the other member organizations in the Global Speakers Federation.
To my wife, Irene, helping with our CAPS Edmonton team and website as well as my own web-work and in proofing and helping edit all the articles, newsletters and publications.
To my fellow speakers who have been supporting our joint venture promotion site, www.AlbertaSpeakers.com for the past 7 years.
To our chapters supporting each other and sharing ideas, speakers, and resources. This is a building block that helps CAPS grow as a successful National organization.
To the 85 Authors who were willing to contribute their wisdom when I was the creative lead in Quantum Success (2006) in support of Laura's Hope.
To the 40 authors who contributed to create In the Company of Leaders (2008) and the 30 authors who helped create Foundational Success (2009) in support of the CAPS Foundation. Sharing your wisdom was leading by example and coming together brought real power to our publications.
More recently, to the 11 people who bought a month in a CAPS calendar to support CAPS Edmonton as we rebuild and move into 2012.
To my friend Sheryl Roush (San Diego) who is coming in a day early to help me create and deliver a Speaking for Success speakers mini-boot camp as a fundraiser for CAPS Edmonton in March. To the 3 other speakers who will deliver 20 min TedX styled talks to add to the program.
I could go on, but hopefully you get the point. I have been fortunate to leverage the power of WE in my business and personal relationships as well. Being open to ask has allowed me the privilege to travel the world and see my Ideas At Work in the lives, publications, and organizations I am fortunate to serve.
I wish each of you a successful 2012. I wish too for each of you to experience more success than you can even ask for... but ask anyway! The power of WE is in the ask.
Talk with you next month.
Bob 'Idea Man' Hooey

Archives of past issues are available on our www.ideaman.net website.

---
7 years of Point to Ponder will be the resource for a new motivational book we have started work on... working title: Prepare Yourself to WIN!

My intent is to have it ready to publish in May when we return from Australia.

I am also working on an idea to collaborate with some of my fellow Accredited Speakers... with the formation of a joint website, perhaps a book, and other promotional ideas. I have had the website for many years:

www.AccreditedSpeakers.com

There will have several sections on the proposed joint venture site;
One will be as information on the designation and how to earn it.

One will be listing all who have earned it.

One will be a listing of those of us who are willing to offer complimentary advice or coaching to those seeking it.
In addition, some of us will be co-operating to create part of it as a promotional tool to let Districts know they can bring us in to do programs as well as corporate clients to encourage them to hire one of the Toastmasters professionals. We will most likely add a resource or store section as well.
A few of us have been talking about working together over the years. It looks like it will finally come to fruition. Yeah!

---
Last Minute News
January was a fairly busy and productive month moving into my role as President for our CAPS Edmonton chapter. Fortunately we have a good board who are willing to work (within their schedules) to take on the role of serving our members. I am confident that we will be successful in meeting and exceeding our goals this year.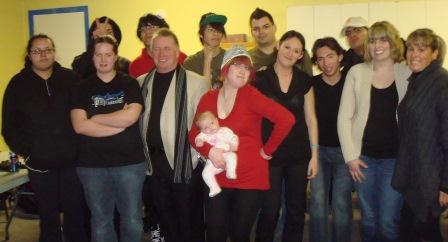 I had the pleasure of spending an evening with young people from Boys and Girls clubs (Big Brothers and Big Sisters) and sharing some tips and techniques to help them become better speakers. They had asked their co-ordinator for some training in this area and I was pleased to respond.

Irene was surprised with flowers from her daughter in Australia for her birthday; as well as a few trinkets from her loving hubby and dinner with her folks. All around, a great way to start her birthday week. Not Cuba or Paris, but still special.

Plans are coming together for our trip to Australia at the end of March with stop overs to play tourist in Hong Kong. Even have an afternoon session of Speaking for Success booked for Saturday April 14th in Perth, WA.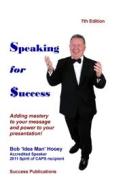 Finished my revamp and update of
Speaking for Success
and am waiting for the 2nd proof copy to return from Amazon's Print on Demand company next week. 1st proof came in and we are making some changes to the cover due to color bleed.
Doing a 1 hour tele-seminar for CAPS Toronto on Product development on Feb 7th. Will be doing a longer, 2 hour version in person for CAPS Ottawa in May.
Decided to revamp Speaking for Success primarily to see how the process worked so I could talk about it first-hand for these two seminars.
The bonus will be in creating something that can be offered for sale at three events, 2 of them in March and the 3rd in April while in Australia. I will also take it with me to Ottawa.
We are working to revamp our Speaking for Success CD/DVD set - re-packaging it as a companion piece for the book. We will be creating it as a part of a success package with the book, a 2 disc set, and a new (to be done in next month) on-line Speaking for Success series similar to what we've done with our Secret Selling Tips and our Secret Leadership Tips series.
Bob 'Idea Man' Hooey
would be pleased to be a part of your success team and to work with you to help make your conference, meeting, or training event a larger success. For more information about customized keynotes, professional and personal leadership training and coaching, or seminars/retreats, please visit
http://www.ideaman.net
or call our Creative Office at: (780) 736-0009
Ask about a customized conference, coaching or training package to suit your specific career, company, or organizational needs.


Ask about our innovative leadership and/or sales leaders' motivational training programs.
*****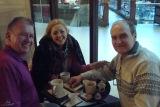 If you are new to our
Ideas At Work!
family, welcome aboard. We publish this monthly e-zine to share ideas and keep in touch with our friends, readers and audience members who wanted to remain in contact and share in the lessons we acquire along the way.
Pictured here with my Russian Rotarian friends Andrei and his wife Irena when they were in Edmonton last month. They are amazing folks. We are discussing how to get me back to Russia to speak at his convention when he is District Governor in 2013.
You are receiving this E-zine because someone (we hope you) subscribed. At any time, simply follow the To unsubscribe or change subscriber options visit: link at the end of this email. Please pass this issue along to anyone you think will gain some benefit from reading it. If you want to continue getting this on a monthly basis, simply do nothing.
If you have gotten this copy as a forward from one of your friends and want a copy of your own, simply follow this link and give us your email address. Our service - aweber - automatically does the rest. You will need to confirm your subscription though a link from aweber to activate your subscription.
---
Follow link for Privacy, Copyright and Policies