Point to Ponder

We often think of large multi-store chains as big and impersonal, driven only by market share and profits. This is not always the case. Here is a letter to the Editor that Irene noticed in a local paper shortly after Christmas that made her cry. It brought tears to my eyes too as well as admiration and inspiration.
This story shares a great example of the true spirit of Christmas. It also shares a living example of true Customer Service and a winning attitude in retail and business in general. I was inspired!
Letter to the Editor (Edmonton Sun, Dec. 24th, 2009):
I called my stepfather last evening from my home in Havelock, Ontario. Following his move to the St. Thomas Health Center (Edmonton, Alberta) earlier this year most of his possessions, other than the essentials, were discarded. That included the few Christmas decorations he had.
I should mention that he is a strapping five-foot-three and 92 years old.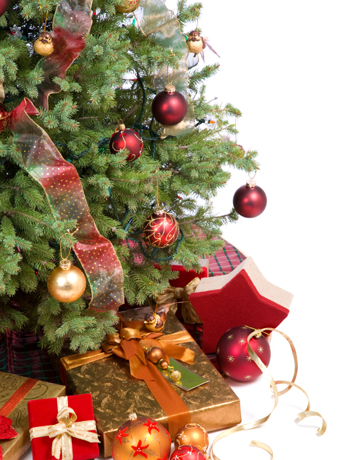 As he wished to decorate his room a bit, he went to a
Zellers in Edmonton
via a cab to get a $10 tree they advertised. The store was a bit much for him and he got lost. When he finally found someone to help, he was informed the trees on special were all gone.
I am not sure how, but they established how old he is and gave him a more expensive tree along with decorations for the sale price of $10. Then they proceeded to get him a cab and made sure he was driven back to the right address.
The story seems to lose a bit in print as I had a lump in my throat and a tear in my eye when he told me about how kind the staff was at this store. I have no idea which store it might be, but if the sales clerk sees this they will know who they are and realize they too have a heart 10 sizes too large.
What kind of stories are your clients telling about you?

What kind of stories would you like to have them tell?
Would your actions mirror the spirit of Christmas and the true spirit of customer service for your clients?

Your conscious actions to provide true customer service create ripples that can enhance your business and increase your longevity regardless of external pressures.
Bob
Ask for help in Australia and you'll often hear, 'No worries!'. That is a great attitude for customer service too.

---
Our Australian adventures: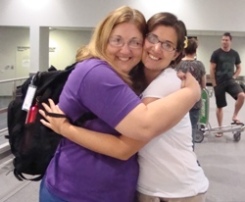 We headed southward to Sydney Australia on the 8th with a side trip to Hawaii due to a medical emergency enroute. That meant we were able to spend the entire day there due to crew rest restrictions.
Made use of it playing tourist as this was Irene's first visit to Hawaii. My 20th, so showed Irene as much of Waikiki as we could.
Met and had dinner with my friends Rauna and Bob May who now live in Hawaii.
When we finally reached Perth, Amanda was waiting with a big hug for her mom with tears on both sides.

We then proceeded to have a warm, fun filled time down under. It definitely was a bit warmer than home. In fact we had two days in Western Australia that were 46C. What an amazing trip!

Visit:
www.NoWorriesBob.com
to view more pictures and a bit more description of our trip. I'll be putting up a video of wild dolpins swimming right beside me and a clip or two from the Sydney 2010 Australia Days celebrations which were outstanding.
---
Three Keys to Greatness

by Jim Rohn

Eight years ago (1997) I went into the studio and recorded a 56-minute video for teenagers called "Three Keys To Greatness." Although my focus was for teenagers, the principles I shared certainly apply to adults as well.

Recently I was asked to list these three things using one to two sentences for each. Now for your benefit here they are again.

1) Setting Goals. I call it the view of the future. Most people, including kids, will pay the price if they can see the promise of the future. So we need to help our kids see a well-defined future, so they will be motivated to pay the price today to attain the rewards of tomorrow. Goals help them do this.

2) Personal Development. Simply making consistent investments in our self-education and knowledge banks pays major dividends throughout our lives. I suggest having a minimum amount of time set aside for reading books, listening to audio-cassettes, (CDs and DVDs), attending seminars, keeping a journal and spending time with other successful people. Charlie Tremendous Jones says you will be in five years the sum total of the books you read and the people you are around.

3) Financial Planning. I call it the 70/30 plan. After receiving your paycheck or paying yourself, simply setting aside 10% for saving, 10% for investing and 10% for giving, and over time this will guarantee financial independence for a teenager.

If a young person, or for that matter an adult, focused on doing these three simple things over a long period of time I believe they will be assured success!


To Your Success,
Jim Rohn

This article was given to us by the late Jim Rohn, America's Foremost Business Philosopher. Jim was always generous with his time, his encouragement and his wisdom. He has given us articles to include in our pubications and on some of our sites. I had the pleasure of working with him when we co-authored Quantum Success. To subscribe to the Free Jim Rohn Weekly E-zine go to www.jimrohn.com or send a blank email to subscribe@jimrohn.com Copyright © 2005-2010 Jim Rohn International.

---
Last Minute News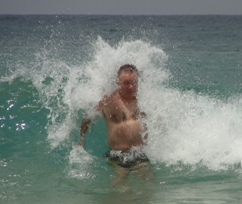 February will be a mixed month working on projects and catching up following my vacation. Working with coaching clients, working on new websites, updating our speaker websites, writing articles for
Speaking for Impact
and several other on-line publications.I need another vacation.
Follow up on a couple of meetings and working on my program for PSA Holland for March. Also some work on my trip to Russia for this June.
Pictured here in the Tasman Sea off Bondi Beach, NSW

---
Thanks for reading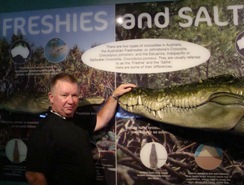 Bob 'Idea Man' Hooey
would be pleased to be a part of your success team and to work with you to help make your conference, meeting, or training event a success. For more information about customized keynotes, professional and personal leadership training and coaching, or seminars/retreats, please visit
http://www.ideaman.net
or call our Creative Office at:
(780) 736-0009
for availability.
Pictured here at the Sydney Aquarium, NSW.
Ask about a customized conference, coaching or training package to suit your specific career, company, or organizational needs.
Ask about our innovative leadership and/or sales leaders' motivational training programs.

*****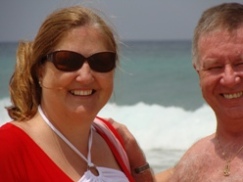 If you are new to our Ideas At Work! family, welcome aboard. We publish this monthly e-zine to share ideas and keep in touch with our friends, readers and audience members who wanted to remain in contact and share in the lessons we acquire along the way.
You are receiving this E-zine because someone (we hope you) subscribed. At any time, simply follow the To unsubscribe or change subscriber options visit: link at the end of this email. Please pass this issue along to anyone you think will gain some benefit from reading it. If you want to continue getting this on a monthly basis, simply do nothing.
If you have gotten this copy as a forward from one of your friends and want a copy of your own, simply
follow this link
and give us your email address. Our service -
aweber - automatically
does the rest.
You will need to confirm your subscription though a link from aweber to activate your subscription.
Bob and Irene caught off Bondi Beach, NSW

---
Follow link for Privacy, Copyright and Policies
Feb. 2010


What's New!
Our trip to Australia was a much needed time off to recharge and relax.
We spent time with Amanda and Michael visiting nature spots as well as time on the beach and boating and floating on the water. We swam with the wild dolphins in Monkey Mia, WA.

Even came up with another small project for my spare time. Going to create a Pocket Wisdom for Backpackers edition.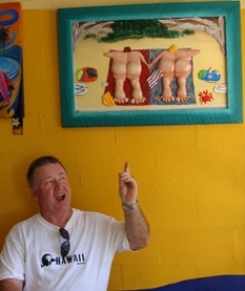 Bob, caught having a beverage at Chuckle's (where the bums hang out) in Noosa Heads following a visit to the weekly farmer's market.
---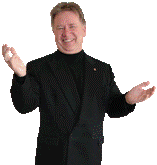 About Bob

Bob is a professional speaker, author, leadership, sales, and business success expert




He is proud to be an active professional member of these amazing groups of people dedicated to polishing their craft and to better serving their clients and audiences.

Bob is the co-founder and a past president of CAPS Vancouver, an honorary founding member of CAPS Sask., an honorary member of CAPS Halifax, as well as being an active member of CAPS Edmonton. He served as CAPS National Director (2000-2002).

He would be happy to discuss how he can work with you to equip and motivate your leaders, their teams, sales teams, or volunteers to grow and to succeed.

Call him today at 1-780-736-0009 to explore leveraging his innovative Ideas At Work with your organization.

Ideas At Work!
10 Creativity Corner
Egremont, Alberta T0A 0Z0, CANADA