Commitment

"Until one is committed, there is hesitancy, the chance to draw back.

Concerning all acts of initiative (and creation), there is one elementary truth, the ignorance of which kills countless ideas and splendid plans; that the moment one definitely commits oneself, then Providence moves too.

All sorts of things occur to help one that would never otherwise have occurred.

A whole stream of events issues from the decision, raising in one's favor all manner of unforeseen incidents and meetings and material assistance, which no man could have dreamt would have come his way."

W.H. Murray - from "The Scottish Himalayan Expedition"
What are you committed to doing, changing, fine tuning, eliminating, or adding to your life this year?
The tides come in and washes away all that was built on sand, but what was built on a solid foundation endures.

Time and tide can also wash away the disappointments and tears over the losses and the mistakes over the past 12 months. Learn from the lessons and use them to powerful purpose in this new year. You have before you twelve brand new, never been used months to create the life, the business, the career, the relationships you've only dreamt of. Resolve to do them; make a commitment to yourself and live with wild adventure to amaze those who watch you grow.
Bob 'Idea Man' Hooey
Archives of past issues are available on our www.ideaman.net website.
---
''A poor man celebrates the New Year once a year. A rich man celebrates each day. But the richest man celebrates every moment.'' - Sri Sri Ravi Shankar
My friend Ravi Tangri shared this and it makes so much sense, just had to share it with you as you move into 2012.
Whether you made resolutions or not, whether you even stayed up late enough to watch the new year begin, you can start enjoying your riches today.
The riches in your life are so much more than just things and money - I consider myself rich in friends and extended family. I have been blessed with so many outstanding people in my life, like you, that I consider each day a wonder.
I have been blessed with talents and skills that I consider each day an opportunity to create something of value; of interest to share with my friends, clients, and colleagues.
May each moment of 2012 be one which enriches your lives and one in which you enrich those around you. Enjoy the journey.
---
Last Minute News
2012 is going to be a jam packed year.... working with new clients, launching new programs as well as exploring new ideas to promote and share our ideas.
I am now officially in my role as President for the CAPS Edmonton Chapter. This will be an interesting year and one of new learning curves I am sure. We have a good team and that will make all the difference.
Working on a rewrite of Speaking for Success with a publication date close to the end of February.Trying something new with a Print on Demand company in the US. If it works as well as it looks, we will be doing several other print publications this year. We'll be looking at some of the other workbook formated publications with an eye to re-doing them as a 5 x7 print book format. We will continue converting some of them to EPUB (reader format) like the 3 we have out already.Check them out on Barnes & Noble, Kobo, itunes, Disel, or Smashwords. Still waiting for them to be added to Amazon.
Am also working on creating a motivational publication drawing from the 7 years worth of Points to Ponder... might even be enough to do more than one.
Also going to do at least one more Pocket Wisdom book before we head to Australia in March. Want to have a 6 pack to share when I am speaking on product development for the CAPS Ottawa chapter in May.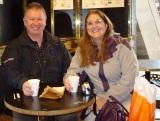 Irene and I will be heading to Australia toward the end of March for her daughter's beach wedding on April 4th. We'll stick around for a few days and then play tourist around Australia and Hong Kong (for a few days) on the way home for May.
Pictured here in Paris for Irene's birthday a few years ago... but it was a great memory for both of us.
Bob 'Idea Man' Hooey
would be pleased to be a part of your success team and to work with you to help make your conference, meeting, or training event a larger success. For more information about customized keynotes, professional and personal leadership training and coaching, or seminars/retreats, please visit
http://www.ideaman.net
or call our Creative Office at: (780) 736-0009
Ask about a customized conference, coaching or training package to suit your specific career, company, or organizational needs.


Ask about our innovative leadership and/or sales leaders' motivational training programs.
*****
If you are new to our Ideas At Work! family, welcome aboard. We publish this monthly e-zine to share ideas and keep in touch with our friends, readers and audience members who wanted to remain in contact and share in the lessons we acquire along the way.
You are receiving this E-zine because someone (we hope you) subscribed. At any time, simply follow the To unsubscribe or change subscriber options visit: link at the end of this email. Please pass this issue along to anyone you think will gain some benefit from reading it. If you want to continue getting this on a monthly basis, simply do nothing.
If you have gotten this copy as a forward from one of your friends and want a copy of your own, simply follow this link and give us your email address. Our service - aweber - automatically does the rest. You will need to confirm your subscription though a link from aweber to activate your subscription.
---
Follow link for Privacy, Copyright and Policies
Happy New Year January 2012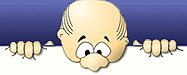 What's New!
Watch for several new publications this year.
Amanda and Micheal get married April 4th on the beach in Kalbarri, Western Australia
Bob on LinkedIn
Bob on Facebook
Bob on Plaxo
Watch Bob on YOUTube
---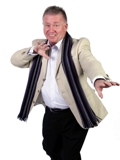 About Bob

Bob is a professional speaker, author, leadership, sales, and business success expert
He is proud to be an active professional member of these amazing groups of people dedicated to polishing their craft and to better serving their clients and audiences.
Bob is the co-founder and a past president of CAPS Vancouver, an honorary founding member of CAPS Sask., an honorary member of CAPS Halifax, as well as being an active member of CAPS Edmonton. He served as CAPS National Director (2000-2002).
He would be happy to discuss how he can work with you to equip and motivate your leaders, their teams, sales teams, or volunteers to grow and to succeed.
Call him today at 1-780-736-0009 to explore leveraging his innovative Ideas At Work with your organization.
Ideas At Work!
10 Creativity Corner
Egremont, Alberta T0A 0Z0, CANADA