Point to Ponder
"Dream as though you will live forever, live as though you'll die today." James Dean
Perhaps you've heard of the recent deaths of veteran entertainers Ed McMahn, Farah Fawcett, Billy May, and Michael Jackson? Unless you were trekking out of electronic touch, of course you have... their passing has been all over the media of late.
While I am saddened to hear of their deaths, I find it a bit strange to see the media hype and the hysteria that follows the death of a celebrity. Are their deaths of so much more importance that the death of a loved one or a close friend?
NO!, just more newsworthy... and therein lies the real sadness.
I understand their passing creates pain in the lives of their immediate families and close friends... but, frankly in light of other, more impactful news items I am a bit at a loss to all the hype. With people in Iran being beaten and killed for simply standing up for their rights and in search of democracy... media attention on the death of celebrities seems somewhat misplaced and inappropriate to me.

Don't get me wrong... I've appreciated their talent and the entertainment value each provided by the use of their skills over the years. I just think there are more important things we should think about.
Some of those things are closer to home:
Telling those we hold close that we love and appreciate them for the 'gifts' they are in our lives.

Letting our clients know we are 'still' here to serve them and appreciate their support and trust during this time of turmoil.

Investing in our personal and professional development by adding to and honing our skills.
Celebrating life and enjoying the laughter and love of our families and friends.
Leveraging our outreach by working with colleagues to enhance what we offer our clients.

Being involved in our communities and in the lives of those around us by 'investing' our time, our skills, and at times our finances.
Investing time challenging our brains by reading, listening to CDs, and listening to experts who can help us move out of our comfort zones.
I sincerely hope when my time comes that a few might mourn my passing. Frankly, I am more focused on what impact my life makes while I live it than my death. It is our life and what we do with it that really matters.


Life is at 'best' a short time on this earth. Each day is an adventure to be lived and loved. Treat each day as the 'present' it is and give of yourself.

Warm summer wishes, until next month.

Bob 'Idea Man' Hooey




Archives of past issues are available on our www.ideaman.net website.

---
You always get paid... sometimes it is cash - sometimes it is cookies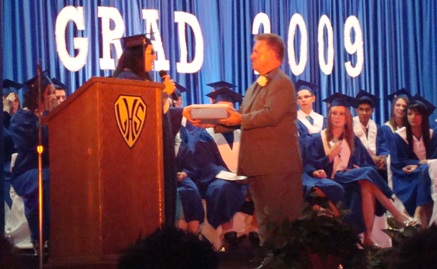 Had an interesting and challenging presentation last month... I was invited to keynote the Lamont High 2009 Graduation on June 12th.
Very interesting evening and presentation. Had the 36 capped and gowned grads sitting on a very hot raised stage behind me with their parents, families and school staff in the more traditional location out front. Definitely a work out swiveling to speak to both groups as I sought the words to share respectively.
Part of my payment was a box of homemade chocolate chip cookies baked by Meghan Guglich (pictured here), who was also the class valedictorian.
The real payment was in being able to share a few ideas I trust will be of benefit when they leave their protected High School environment and travel into the real world of work and additional education.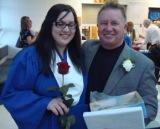 I shared with them that now was the perfect time for them to be entering the real world, as we needed their fresh ideas and enthusiasm. One of the local politicians had
'cliched'
them with ...
You are our future!
I told them I wasn't going to say 'that' as I felt that put unfair pressure on them. We are, each of us, responsible for our own future and what we invest today impacts our tomorrows. I told them I planned on being around for awhile and was busy working on my own future.
---
"The treacherous, unexplored areas of the world are not in continents or the seas; they are in the hearts and minds of men." Allen E. Claxton

Chris Widener's Action Point:
Many of us would be excited to take a journey, an exploration, into unknown areas of the world where the potential for new found discoveries was great! I know that I would! But have you ever thought about how much potential there is as you explore your own heart and mind?
Don't neglect the possibilities that can arise from within you as you take the time to train, explore and cultivate your inner life. You have tremendous potential, in many ways more exciting than any new found area of the world could ever be!
Action Point: Commit to taking the time to explore your inner life. This will require being quiet and allow yourself to hear your thoughts and dreams. Read good material that will foster your inward growth and then pursue the potential you find in your heart and mind!
My friend Chris is generous with his thoughts and his actions. He continues to inspire me.
---
Last Minute News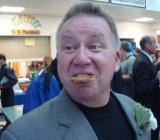 Very productive month.
Keynoted the Toastmasters Regional conference in Winnipeg and spoke for the Winnipeg CAPS Chapter. Visited with two of the magazines we advertise our Alberta Speakers in. Spoke for a local real estate appraisal company with offices in Edmonton and Calgary; Lamont Grad for cookies - yummy (pictured here); attended our Wild Rose Advanced Toastmasters Club 25th anniversary, and a last minute drive to visit CAPS Calgary.
Attended a delightful milestone birthday my friend Kim threw for his wife Donna. He booked a little Italian restaurant in St. Albert for the evening. The food just kept coming and it was amazing. Could hardly eat the next morning when we took Irene's dad out for father's day.

Irene had a fun time in Toronto where she was invited to officiate the Canadian Senior National Track and Field event. Working on next level in certification which would allow her to officiate at the Olympics. That would be cool... told her I would carry her bags.
Special congrats to my fellow D42 Toastmasters and our leaders. District 42 reached Distinguished status for the 2008-2009 year and will be honored in August at our International convention. Way to go team, I am so pleased to see your hard work bring the results you wanted.
July will be jumping for sure.
July 1st: Celebrated Canada Day by helping our daughter Amanda move her stuff back from Calgary in preparation for a move to Australia on the 11th, to teach down under for a year. We drove down on the 30th to start packing and cleaning. Other than a few very sore muscles, we laughed and had a good time working together.
July 2nd: Chiro this afternoon for much a needed appointment...smile

July 3rd:
Back in the studio to film more video clips and segments. Dinner with a friend and his wife later in the day. Irene created and maintains his
websites
and he wants to expand what he is doing.
July 4th: Sending warm greetings to my American friends, readers, and colleagues in celebration of July 4th.
July 6th: Driving up to Peace River. Hope to see my cousin Trudy, in Slave Lake, who is recovering from some medical challenges.
July 7th: In Peace River working with a group of leaders and supervisors at a large Pulp Plant. We're using my Speaking for Success program as the basis for a confidence building day.
July 11th: Driving Amanda to Calgary to catch her flight to Australia.
July 17-22: In Phoenix, AZ for the annual National Speakers Association convention. Be great to reconnect with colleagues and friends and to share ideas and best practices.
Lots to do at our Egremont place: finish planting and gardening; building a ground level deck and putting stairs up to the existing one; sanding and repainting the storm windows; running electricity out to the front deck; etc. Some cleaning, organizing and gardening at our Mundare place too.

And of course, as always, continue working on the business as well as in the business: Update and redesign some of our webpages; create entirely new websites; finish aweber version of our SST Vol. 3 for our US clients; etc.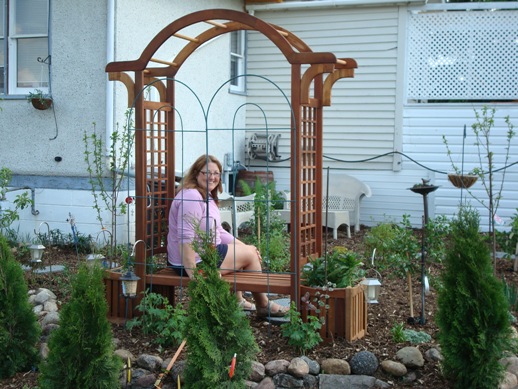 Our garden is growing... I shared a picture with you last year of another of my 'great' ideas. I decided to dig up this raised grassed area and convert it to a garden. Well, we are making progress as you can see by the pictures. Brought in a 3 ton truck of mulch/chips and have spread about 1/3 so far. (Irene sitting in the arbor we built for our raised garden.)
Lots of fruit trees and plants to be watered, which will grow and make it a delightful conversation place to relax and actually enjoy our place in the country.
My summer work will be building a 12' x 32' ground level deck this summer, mulch around it, install a gazebo. Then, time permitting, I will refinish the upper 12' x20' deck and build stairs to join the two. Then it is mojitos on the deck (we planted mint in the raised garden... smile). Following that, finish the paths connecting the front deck on north and south side of the house, and another arbour to connect my yard with my 96 yr old neighbor Steve's... and relax. (Ok, after I sand down and repaint all of the storm windows and repaint the trim.) Gives me something to work on outside the office as a break from regular focus.

Just as building a business, a successful sales career or a sustaining life... we make plans and then work to bring them into reality.

---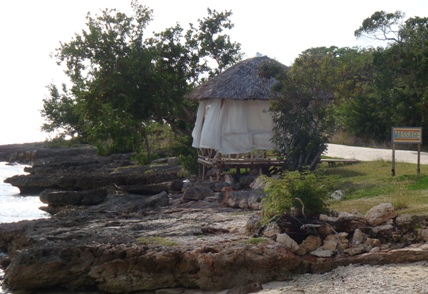 (Picture: Massage shack by the ocean in Cuba... my inspiration for the opening paragraph of an article coming out in a national magazine this summer. I go to great lengths to research my writing... smile.)

Bob 'Idea Man' Hooey
would be pleased to be a part of your success team and to work with you to help make your conference, meeting, or training event a success. For more information about customized keynotes, professional and personal leadership training and coaching, or seminars/retreats, please visit
http://www.ideaman.net
or call our Creative Office at:
(780) 736-0009
for availability.
Ask about a customized conference, coaching or training package to suit your specific career, company, or organizational needs.

Ask about our innovative leadership and/or sales leaders' motivational training programs.

Thanks for reading
*****
If you are new to our Ideas At Work! family, welcome aboard. We publish this monthly e-zine to share ideas and keep in touch with our friends, readers and audience members who wanted to remain in contact and share in the lessons we acquire along the way.
You are receiving this E-zine because someone (we hope you) subscribed. At any time, simply follow the To unsubscribe or change subscriber options visit: link at the end of this email. Please pass this issue along to anyone you think will gain some benefit from reading it. If you want to continue getting this on a monthly basis, simply do nothing.
If you have gotten this copy as a forward from one of your friends and want a copy of your own, simply follow this link and give us your email address. Our service - aweber - automatically does the rest. You will need to confirm your subscription though a link from aweber to activate your subscription.
---
Follow link for Privacy, Copyright and Policies