What is your GAP?
If you are like me:
Perhaps there is a GAP between what you say and what you do?

Perhaps there is a GAP between what you believe and what is true?
Perhaps there is a GAP between your dreams and your reality?
Perhaps there is a GAP between your intentions and your actions?
That is, for the most part, a normal situation in each of our lives. Each of us needs to work on reducing the GAPS in our lives or in filling them if we are truly committed to growing and becoming more productive in our lives and careers.
For example, people do see and often judge the GAPS in our lives. When what we do is far removed from what we say, our credibility suffers. When what we believe and what we see (true) are separated, we can undermine our confidence. When our actions fall far short of our intentions or our dreams are so much more than our reality we can find ourselves a bit frustrated, disappointed, and disillusioned.

At times the GAPS can seem to be insurmountable or impassable. And, for a time they can be. Here are a few ideas that might help you close the GAPS in your life.
Refocus your beliefs, dreams, and intentions. Are they really aligned with who you are and who you want to become? Are they worth the investment in time, money, and effort to bring into reality?
Resolve to make changes. Changes in your efforts, your investment, and your commitments. Changes in what you say and do. Changes in what you share with others.
Perhaps you, like me, need to learn to be a bit less vocal about what you are going to do and just do it. When I first joined Toastmasters (1991) telling everyone I had the grand intentions to be an international keynote motivational speaker (and that really was my goal). However, my skills were very 'basic' at that point and the statements seemed to be unrealistic and perhaps egotistical. Somewhere during that first year, I stopped talking about what I was going to do and started digging in on my presentations and I began to slowly improve.
As I did, people came along to encourage and to guide me with solid, usable tips and techniques that helped me hone my skills. It took a few years but I eventually moved into the realm of professional speaking and again dug in... and again saw some improvement. And then, one day I realized I was living my dream... and guess what? It still needed work. Smile!

Resolve to allow people into your lives who can help fill the GAPS or perhaps provide bridges to allow you to cross them. I have been fortunate to have quite a few people; fellow Toastmasters, fellow CAPS and NSA Members who chose to invest in my life and leadership. My wife, Irene was one of the best GAP fillers in my life. She has helped and supported me and I am a better man, a better husband, and a better speaker and coach because of her. They stood in the GAP for me and helped me in ways I will never be able to repay.

I find myself still learning, still looking to close the GAPS in my life. But I am still moving towards my dreams, intentions, and actions.
Where are the GAPS in your life? What are you committed to do to fill them or at least make them smaller? Life is full of challenges, but is made better when you keep focused on the goals and take steps in the right direction.

Until next month.
Bob 'Idea Man' Hooey


Archives of past issues are available on our www.ideaman.net website.

---
Interesting how things evolve.
I have been active in leadership with CAPS since we started the Vancouver chapter back in April of 1997. Vancouver was one of the 1st three that comprised CAPS National when we became a country wide organization with the creation of what is now called the Global Speakers Federation later that summer. I've served as a CAPS National Director and on several of our (CAPS and NSA) boards and national committees. I've served as a director and president of the CAPS Vancouver chapter and have been a director twice for the
CAPS Edmonton Chapter.
At our CAPS Edmonton executive meeting on June 28th, I was almost unanimously elected as President elect. (I didn't vote for me...figured I was out numbered.) I will serve as CAPS Edmonton President for 2012.
We are going through some growing pains as a Chapter and I want to continue what we have been doing this year to serve our fellow members and find a way to engage more of them in what we are doing and creating in 'our' chapter.
It will be an adventure for sure.

---
Attitude Makes All the Difference

By, Alan W. Goff
"If you realized how powerful your thoughts are, you would never think a negative thought."
Sometimes enlightenment comes at unexpected times. A while ago I had a very bad experience while visiting a national fast-food restaurant. The eating area was very dirty, desperately in need of a thorough cleaning. The restaurant staff seemed indifferent and unfriendly, and I found myself wondering, "What is wrong with this place?"

Without question, the owners of the establishment had paid the same franchise fee as those at other stores, and the personnel had received the same training that workers at other franchises were given. The store offered the same products, and procedures were identical to any other restaurant in the chain. I felt certain that inept management must have been an issue, but was not convinced that it was the only factor in the restaurant's poor overall performance.
Then it occurred to me: The core problem was attitude. For whatever reason, this restaurant and its staff seemed afflicted with a negative attitude and a defeated spirit. Imagine being raised in an environment where you were always told you were stupid. By the time you reach the workforce, you would become convinced that you are stupid and incompetent; all you want to do is survive. This restaurant seemed filled with people like that - mere survivors, not achievers. Convinced they were incapable of success; their only goal was to make it through another day with as little struggle as possible.
It is amazing the difference our attitude makes in how we approach each day and what we are able to accomplish. The book of Proverbs says, "As a man thinks in his heart, so is he". The perspective you maintain about yourself - and your circumstances - can have a tremendous impact on what you do, how you do it, and how it is evaluated by others.
Are you a survivor who would really like to become an achiever? Do you harbor negative, even destructive, thoughts from the past? Make an effort to transform your mind, adopting a new attitude toward yourself and the situation in which you find yourself. You can start by focusing on truth. Philippians 4:8 says, "whatever is true, whatever is noble, whatever is right, whatever is pure, whatever is lovely, whatever is admirable - If anything is excellent or praiseworthy - think about such things."
Years ago, and even to this day, business consultants and motivational speakers often speak about "the power of positive thinking." This "power" does have its limits - it takes more than just thinking positively to become a world-class athlete, top-producing salesperson, or highly respected top executive. But a negative attitude will undoubtedly keep you from achieving lofty goals.
The story is often told about the two stonecutters who were asked what they were doing. The first answered, "I am cutting this stone into blocks." The second offered a very different reply. He said, "I am part of a team that is building a great cathedral." As you approach your own job today, what will you be doing: Simply cutting stone into blocks - or participating in building a cathedral?
---
Last Minute News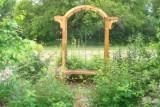 This has been a very different year compared to the one just past. By this time last year I'd had the privilege of traveling to Hawaii, Australia, Holland, Mexico, Korea, and Russia (with some Canadian and US trips along the way.)
This year promised Irene I'd stay home unless it was 'paid' business travel. I often have opportunities to travel which are not paid; although some of them cover off the expenses. It has been a challenge. Other than a trip to Cuba for Irene's birthday in January I've been good. But it will be worth it when we go to Australia next year for Amanda and Micheal's wedding.
There are some amazing changes happening at our place in Egremont. The gardens are growing and it is becoming our own private retreat and a place we can invite friends for a drink or a bar-b-que like we did this weekend. We had Kelly and Christine and a very lovely young lady named Alexa over for dinner on Sunday. It is amazing how Alexa is growing. Hard to believe she only came into our lives last September. It is so much fun watching her grow.

In between working on the carpentry and garden projects I'm doing some writing and working on a few other marketing pieces for the fall. So, keeping my brain active as well.
Had a call from a friend (and client) of mine who now heads a large US furniture retail chain. He wanted to catch up and to remind me to not be a stranger. He is working on his first book and says he has included some of my crazy adventures or projects we worked on in the book... how cool is that!

---
Thanks for reading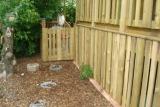 Bob 'Idea Man' Hooey
would be pleased to be a part of your success team and to work with you to help make your conference, meeting, or training event a larger success. For more information about customized keynotes, professional and personal leadership training and coaching, or seminars/retreats, please visit
http://www.ideaman.net
or call our Creative Office at: (780) 736-0009
Ask about a customized conference, coaching or training package to suit your specific career, company, or organizational needs. Ask about our innovative leadership and/or sales leaders' motivational training programs.
Picture is the gate we just built to finish off the twin decks project this June. Had to finish one part of the fence and replace the north end of the skirting with wood so it matched the remainder of the decks.

*****
If you are new to our Ideas At Work! family, welcome aboard. We publish this monthly e-zine to share ideas and keep in touch with our friends, readers and audience members who wanted to remain in contact and share in the lessons we acquire along the way.
You are receiving this E-zine because someone (we hope you) subscribed. At any time, simply follow the To unsubscribe or change subscriber options visit: link at the end of this email. Please pass this issue along to anyone you think will gain some benefit from reading it. If you want to continue getting this on a monthly basis, simply do nothing.
If you have gotten this copy as a forward from one of your friends and want a copy of your own, simply follow this link and give us your email address. Our service - aweber - automatically does the rest. You will need to confirm your subscription though a link from aweber to activate your subscription.
---
Follow link for Privacy, Copyright and Policies