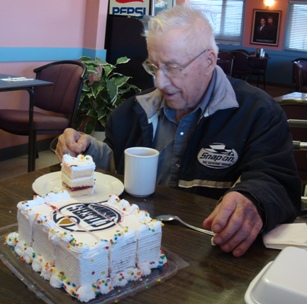 This issue is dedicated to my buddy Steve Bigoray who passed away last Friday at 98.
As many of you may know, he was my next door neighbor until he had a stroke last September and was not able to live by himself any more. He was much more than a neighbor. He was my friend and he allowed me to be a part of his extended family.
We spent a lot of time together over the past almost eleven years.
I will miss his kind words, his gentle heart and his crusty exterior. He made me laugh and he added so much to my life as well as Irene's.
His funeral was yesterday afternoon and I had the rare privilege of saying a few words at the request of his family. I also had the privilege of being one of his pall bearers in escorting him to his final resting place. The Legion sent an honor guard to be a part of his funeral. They added a respectful touch to their fallen comrade that was truly inspiring. Kelly, Christine, and Alexa hosted a friends and family gathering on the new deck we were working on over the past few days. It was a great time to gather, tell stories and share our respects.
This picture was taken on his 97th birthday.
---
"Imagine... Here you are, on the high peak of a mountain. You can choose to wing your way toward the clouds, or you can simply walk the usual, ordinary paths that lead to the valley below.
Which choice will you make - the well-worn paths or rising above it all? Beautiful things await you if you can reach the heights."
George Sand
Each day we have a choice: we can choose to fly or walk. Either is fine, but it is good to remember we have made a choice either way. At times, we choose to walk the familiar path and perhaps that is fine when we need to rest or let the routine things of life take a lead.But that is not the choice of those who would make their lives provide a difference.

Do you remember a time when you saw something so exciting that it inspired you to spread your wings and fly? How did that feel?
Was it scary?

Was it exciting?

Was it amazing and a time when you truly felt alive?
Our biggest learning experiences often start with setting our vision higher than we are comfortable with and then, inspite of that discomfort, deciding to push off in pursuit of making them a reality.
During this summer season, why not carve out some time to dream and to envision where you could fly if you believed you could and were willing to learn what you needed to make your flight a successful one. Then, as you move into the fall, spread your wings and let yourself fly to greater success, overcoming greater challenges and to leveraged service.

Until next month.
Archives of past issues of Ideas @ Work! are available on our www.ideaman.net website. We have added archives of Bob's Mid-month Musings as well.

---
In our inagural January 2011 issue we gave you five tips to help you be more effective in your presentations. Here are another 5 for your use. I've found them valuable in my speaking around the world.

If your career or success depends on your ability to persuade an audience or buyer, these five tips on effective sales and business presentations will help you understand how to structure your presentation for maximum effect.

· Keep it short: Time is precious and more so as you move up the leadership chain. So too with your clients in a sales situation. Value their time and keep your presentation simple, short, and to the point.

· Know your audience: Do your homework in advance so you can tailor or customize your presentation (sales, informative, interview, etc) to your client audience and get and keep their interest.

· Use visuals to add interest: Pictures, props, visuals help your client or audience get the point in a shorter period of time.

· Get them involved: Client or audience involvement and interaction is essential in this very competitive arena. If there are figures to be worked out, ask them to do so. Remember, if it is their data, they trust it and give it more credibility.

· Start and end on time! I can't emphasize this one enough. If you ask for 15 minutes of someone's time you'd better be closing your mouth and your briefcase on or before the 15-minute mark. This is what separates the professionals from the mediocre performers.

Remember, your clients and business leaders are busy. You need to be clear and concise to win and keep their attention. Start strong, present value, and conclude with impact.
---
Last Minute News
Working on projects out in Egremont this week. Also, helping my friend Kelly rebuild his decks.
Looking forward to a CAPS Edmonton Bar-b-que on Sat.
---
Thanks for reading


Bob 'Idea Man' Hooey
would be pleased to be a part of your success team and to work with you to help make your conference, meeting, or training event a larger success. For more information about customized keynotes, professional and personal leadership training and coaching, or seminars/retreats, please visit
http://www.ideaman.net
or call our Creative Office at: (780) 736-0009 for availability.
Ask about a customized conference, coaching or training package to suit your specific career, company, or organizational needs.


Ask about our innovative leadership and/or sales leaders' motivational training programs.
*****
If you are new to our Ideas At Work! family, welcome aboard. We publish this monthly e-zine to share ideas and keep in touch with our friends, readers and audience members who wanted to remain in contact and share in the lessons we acquire along the way.
You are receiving this E-zine because someone (we hope you) subscribed. At any time, simply follow the To unsubscribe or change subscriber options visit: link at the end of this email. Please pass this issue along to anyone you think will gain some benefit from reading it. If you want to continue getting this on a monthly basis, simply do nothing.
If you have gotten this copy as a forward from one of your friends and want a copy of your own, simply follow this link and give us your email address. Our service - aweber - automatically does the rest. You will need to confirm your subscription though a link from aweber to activate your subscription.
---
Follow link for Privacy, Copyright and Policies