"Your mind will answer most questions if you learn to relax and wait for the answer." William S. Burroughs
I'm not sure about you, but this can be my biggest challenge - to consciously decide to relax. Sure, I can do it for awhile when I am on holidays sitting by a beach or on a boat; but otherwise my mind whirls with ideas and lists.
My friend, Robert Stack shared this picture recently on Facebook with the question, "When was the last time your relaxed?"
I had to admit, it has been awhile! Perhaps when we were touring Australia and Hong Kong.
I've been a tad busy since we came home. Trips to Montreal and Ottawa. Working on other programs and, even, here at our place in the country, I've been keeping busy. Yes, it has been productive, but lately I have felt a bit burned out. Hmmmm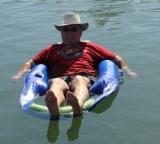 So, while Irene and I are away to BC this month, I am going to
consciously
take time to relax, to read a book, to nap, to spend time chatting with Irene. Just because!
Irene was the Chief official (Throws) at the Canadian Nationals (Track and Field) in Calgary at the end of June. I drove down to pick her up on the 30th and we headed to BC on Saturday evening. We stopped in to spend the afternoon and evening with two of our favorite people, Wayne and Brenda, and then continued to Langley on Monday to visit with her aunt.
Wayne is a long-time friend and is a brilliant 3C colleague. Cheerleader, Coach and Champion. I used to detour out of my way to spend some time with him and Brenda when I was still commuting between Edmonton and Vancouver to teach. It has always been worth the journey. Now that Irene and Brenda have connected, it is even more fun. Irene and I love spending time, however brief, with these two friends.We had such a great time catching up on the deck. Weather was wonderful. After a delicious b-b-q Wayne drove us into Kelowna to see the fireworks. Thanks again Cotton's... smile.

Irene's aunt Eva is such a positive lady and a joy in our lives, in spite of battling cancer. We are moving up our visit to her, just in case.
We hope to spend a few days camping, vegging, and relaxing on the way home.
Either way, it will be good to let ourselves relax and spend some much needed time doing nothing... smile. I'm packing a few books to help me enjoy my time off.

"When was the last time your relaxed?"
Talk to you in August.

Bob 'Idea Man' Hooey

---
Been a while since I visited my friends at CAPS Calgary. Drove down for their meeting last month and had the opportunity to be a part of unique 9 person TedX styled program on publishing and product development. It was a hoot and I learned a few tips I can use for our own publishing efforts.
Irene is now working from home (still having health issues due to a sick building) doing data analysis. Positive side of this is she can work from Egremont just as easily as from Mundare. She is able to enjoy her 'official' coffee breaks on the Margarita deck. I am amazed at her discipline. On Friday, I heard her say, "Time for a coffee" (at 10AM) and she went back to work at 10:15... wow! Disciplined, or what! Having her work from Egremont also means I can get more projects done out here.
---
Last Minute News
Getting lots down out here at our place in Egremont... hope to be able to enjoy more this year as I am not planning any major building projects, other than working on Irene's office area downstairs. Will tackle that when we get home.

Have the little utility trailer we got from her dad rebuilt. I had to take it right down to the frame as the deck had rotted out. But with a newly rebuilt deck and 2 foot sides it is ready to take stuff to the dump and get some mulch or wood chips.
Just had a call (June 26th) from my amazing friend, fellow author, and champion
Kim Yost
. Kim and I worked together on several projects when he was CEO of The Brick and as well as when he moved to Michigan to take on the CEO duties for Art Van Furniture.
You may remember me mentioning my friend Kim along the road in various contexts. He was instrumental in the inspiration to start, and then expand,
www.SecretSellingTips.com
and other adventures like creating
The Brick Way!
.
Kim has just published his second book, and according to him I am in it. He is sending me two copies to review and wouldn't tell me where he has me in the book... he wants that to be a surprise. I trust it will be a good one. smile!

He published Pumptitude last year and it was very well received. This is the sequel. Pumptitude was a great read. I can hardly wait to read Maximum Pumptitude.
I am blessed to have someone like Kim in my life. He is also a true '3C' colleague and friend. Cheerleader, Coach and Champion. Thanks my friend.

---
Thanks for reading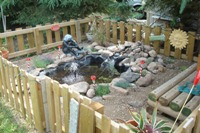 Bob 'Idea Man' Hooey
would be pleased to be a part of your success team and to work with you to help make your conference, meeting, or training event a larger success. For more information about customized keynotes, professional and personal leadership training and coaching, or seminars/retreats, please visit
http://www.ideaman.net
or call our Creative Office at: (780) 736-0009
Pictured here:
Our newly rebuilt
Point to Ponder pond
here in Egremont. Another place created where people can sit, reflex, and relax. Irene is going to add fish when we get home.
Ask about a customized conference, coaching or training package to suit your specific career, company, or organizational needs.

Ask about our innovative leadership and/or sales leaders' motivational training programs.
*****
If you are new to our Ideas At Work! family, welcome aboard. We publish this monthly e-zine to share ideas and keep in touch with our friends, readers and audience members who wanted to remain in contact and share in the lessons we acquire along the way.
You are receiving this E-zine because someone (we hope you) subscribed. At any time, simply follow the To unsubscribe or change subscriber options visit: link at the end of this email. Please pass this issue along to anyone you think will gain some benefit from reading it. If you want to continue getting this on a monthly basis, simply do nothing.
If you have gotten this copy as a forward from one of your friends and want a copy of your own, simply follow this link and give us your email address. Our service - aweber - automatically does the rest. You will need to confirm your subscription though a link from aweber to activate your subscription.
---
Follow link for Privacy, Copyright and Policies
What's New!
Bob is actually going to take some time to relax, refresh and refocus.
More to share in August.

Bob on LinkedIn
Bob on Facebook
Bob on Plaxo
Watch Bob on YOUTube
---
About Bob
Bob is a professional speaker, author, leadership, sales, and business success expert




He is proud to be an active professional member of these amazing groups of people dedicated to polishing their craft and to better serving their clients and audiences.

Bob is the co-founder and a past president of CAPS Vancouver, an honorary founding member of CAPS Sask., an honorary member of CAPS Atlantic (Halifax), as well as being an active member and 2012 President of CAPS Edmonton. He served as CAPS National Director (2000-2002).

He would be happy to discuss how he can work with you to equip and motivate your leaders, their teams, sales teams, or volunteers to grow and to succeed.

Call him today at 1-780-736-0009 to explore leveraging his innovative Ideas At Work with your organization.

Ideas At Work!
10 Creativity Corner
Egremont, Alberta T0A 0Z0, CANADA