If you are wondering why you got the Template 2013... I think I clicked on the wrong line and that is what was sent... this is scheduled for this morning.... Thanks for letting me know.
Bob

Have you ever wondered about something you observed?
I was sitting on our front deck last week having lunch when I noticed some blurred action in one of our evergreens. I saw something on one branch, drop down to a second one, turn upside down, and fall to a third one.
A minute or so later I saw this very young robin fly up and settle on one of the branches in our lilac hedge. And, there he sat. Despite his parents calls, encouragement, and eventually coming close to him, there he sat, and sat, and sat.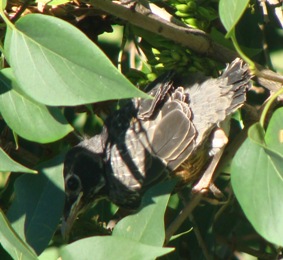 I remarked to Irene about this young bird and wondered out loud if he continued to sit because he was scared from his fall, embarrased (guy thing) or was just waiting to get his energy and his courage up to try again.
We have two nesting pairs of robins and one of the nests is in the upper part of the tree next to this one. The branches overlap and perhaps he simply fell out of the nest.
Not sure what happened as I finished lunch and went back in to get some more work done.
He wasn't there the next time I came out so perhaps he made up his mind and flew back home. Or, perhaps he jumped down to the deck and just walked back.
Made me think about you and me when we encounter something like this. It doesn't work like we planned or it takes us by surprise. What we do then, defines how we live and how well we live.
Do we let our fears control us?
Do we let our fear of being embarrassed stop us?
Do we catch our breath, refocus on the sky, and fly again?
In each case the choice is ours.There are people in your life who are there to encourage you and to coach you, if you will let them.
Until next month,
Bob 'Idea Man' Hooey

---
A guest post from my friend Randy G. Pennington. His new book release is July 15th


The Problem and Opportunity with Change

Another post about change? Really? The thousands of other books, blogs, and articles on the subject aren't enough?

I am with you. I don't need to hear another message that changes are coming and I need to get on board. And yet, we are confronted with this reality: Most of our efforts to make change work don't work as well as we had hoped ... or even at all.

Need proof?

Research published by John Kotter in 1995 stated that 70 percent of change efforts fail to achieve their desired goal. Since that time, there has been an explosion in books, articles, training videos, seminars, and speeches about change.

So what impact did we achieve from all of our focus on change?

In 2013, eighteen years after Kotter's study, every indication is that the vast majority of change efforts --as high as 70 percent by some reports--fail to achieve their desired goal.

That's right. There has been basically a whopping 0 percent improvement in our collective ability to effectively initiate and implement change.

We can now conclude that all of our attention and focus on change hasn't really changed our ability to successfully implement change in organizations.

But, you knew that already.

Think of all the changes you have experienced within the organizations for which you have worked. Don't you think we would be better at it by now?

Relentless competition, advancing technology, and the struggle to remain relevant have made the ability to change a matter of survival for some industries and professions.

There is another story to be told, however. The ability to make change work is a strategic advantage.

Companies that can quickly identify, anticipate, and adapt to changing customer needs and wants are the winners in a world where the competitive landscape changes overnight. Leaders with the ability to build a nimble team that is engaged and focused on continually getting better will see their opportunities expand.

Ross Perot, founder of EDS and Perot Systems and former candidate for U.S. President, famously said: "You manage data and things. You lead people."

Too often, we have treated people like data and things to be managed rather than as human beings with dreams, aspirations, and choice. We won't make change work until we embrace the difference as an opportunity to make our organizations, our communities, and our lives better.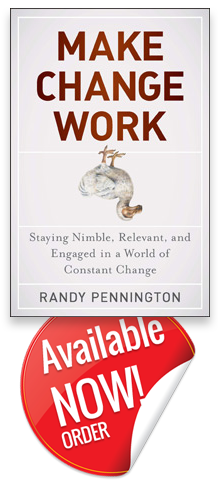 You can't do what you need to do and be what you need to be as a leader unless you can make change work. That begins when you acknowledge the problem and embrace the opportunity of change.
Randy Pennington is author of Make Change Work: Staying Nimble, Relevant, and Engaged in a World of Constant Change (Wiley, 2013) from which this article is adapted. For additional information or to schedule Randy for your organization: contact via telephone at 972.980.9857; e-mail at Mary@penningtongroup.com or on the Internet at http://www.penningtongroup.com/make-change-work/.
©2013 by Pennington Performance Group; Addison, TX. All rights reserved. This article may be downloaded for personal and professional development. Copies may be shared within an individual organization. All other uses of this material are strictly prohibited without written permission from the author.
---
Last Minute News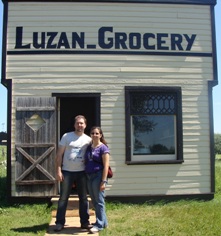 Irene's daughter Amanda and hubby Michael arrived on Sunday, June 30th. They are having lots of fun already. We went with them to the Ukrainian Village on Wed. and also to the Vegreville Pysanka Festival on Sat. They're off in the mountains for a week and then having a potluck bar-b-que next Sunday. They've invited Amanda's Canadian friends and family to come celebrate their wedding.
July is our chance to catch up and hopefully catch our breath. Irene is very busy with her work as well as her web design business. Nice to have a visit with Michael and Amanda too.

Pictured above: Michael and Amanda Burgess at Irene's great grandfather Alex's store at the Ukrainian Village
I'm working on some promotional work, a new book, and some website updates.
We have totally redesigned the
Accredited Speakers website
. Toastmasters did the masthead and we are working to have it align with theirs. We are populating it with those Accredited Speakers who want to speak at District events, be hired by clients, and/or are willing to act as guides or mentors to Toastmasters wanting to follow our footsteps for this professional level designation. And Toastmasters is going to promote our site; how cool is that!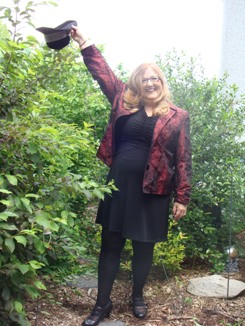 Irene had her first professional photo shoot for her inclusion in
Womanition Magazine
which comes out in November. She had her make up and hair done, so just had to catch a shot or two when she came home.
When we have some sunshine vs the rains we have been getting I am working on projects outside and creating space to store the stuff we brought from the other house. Built a tool shed for the garden tools which created space for shelves in the other larger shed behind the garage.
Working to rebuild one of our fences and will be seeing how I can level the back deck and the mudroom in prep for redoing the back deck.
Bob 'Idea Man' Hooey
would be pleased to be a part of your success team and to work with you to help make your conference, meeting, or training event a larger success. For more information about customized keynotes, professional and personal leadership training and coaching, or seminars/retreats, please visit
http://www.ideaman.net
or call our Creative Office at: (780) 736-0009
Ask about a customized conference, coaching or training package to suit your specific career, company, or organizational needs.Ask about our innovative leadership and/or sales leaders' motivational training programs.
*****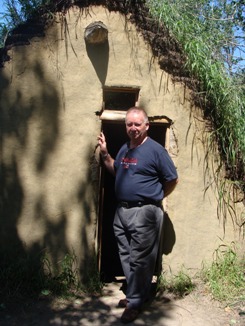 If you are new to our Ideas At Work! family, welcome aboard. We publish this monthly e-zine to share ideas and keep in touch with our friends, readers and audience members who wanted to remain in contact and share in the lessons we acquire along the way.
You are receiving this E-zine because someone (we hope you) subscribed. At any time, simply follow the To unsubscribe or change subscriber options visit: link at the end of this email. Please pass this issue along to anyone you think will gain some benefit from reading it. If you want to continue getting this on a monthly basis, simply do nothing.
Please note, we attempt to provide proper attribution and credits for materials, pics, and articles included in our e-zine.
If we have missed someone or have it incorrect, please let us know so we can correct it.
Bob pictured next to a sod house at the Ukrainian Village.
If you have gotten this copy as a forward from one of your friends and want a copy of your own, simply follow this link and give us your email address. Our service - aweber - automatically does the rest. You will need to confirm your subscription though a link from aweber to activate your subscription.
---
Follow link for Privacy, Copyright and Policies