Point to Ponder
May was a momentous month in many ways...
Oprah had her last show completing a successful 25 year run.
My cousin and her husband escaped the Slave Lake fire with what they could throw into their 5th wheel and had their home burn to the ground.
My sister and her husband sold their house in St. Albert.

My 98 yr old neighbor Steve had his house demolished.
Life can be funny at times as we grow through 'passing' points and see things we have loved left in the dust of history.
Steve is now living in a Veterans home and has his good days. His home has been empty since last September when he had his heart attack. He hasn't been back since and it was becoming a liability. It was the place where he and his wife brought up their two sons after the war and visited with friends (including me) and family over the years. His grandson Kelly lives across the alley with his wife Christine and Steve's great granddaughter Alexa. Steve's family home had a good run. Perhaps, in the future, one of the boys will build something there and the cycle will continue.
Trudie and Doug were fortunate to get out with their 5th wheel and what they could pack. Their house was burned to the ground, while their daughter's house was spared. My cousin and her husband will likely rebuild and move back to Slave Lake... it has been their home for many years and they love the area. I'm sure they will make design changes in their new home to reflect their status as grandparents vs. parents when they originally moved in.
Patti and Jerry sold their place in St. Albert and are moving into a Sherwood Park condo for a year while both of them wait for surgeries. Then they will decide where they will retire. They are downsizing and lots of 'stuff' is being given away or sold so the remainder will fit in their new home. Irene and I will have to do this in a couple of years when we combine our two houses.
I watched a part of the last Oprah celebration show and was inspired. Not so much about all the guests or stars she helped to launch; not that she has become an amazing success and now has her own TV network; and not that she was on for 25 years. Each of these are worthy accomplishments.
Her greatest accomplishment was the education she paid for and helped provide for 64,688 young people around the world.
Now that is truly amazing.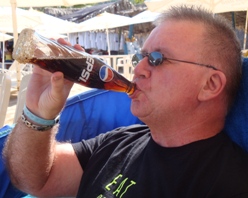 In our life we have points at which we have a choice to let go and continue to grow. Letting go comes in various means; sometimes we chose it and sometimes it choses us.
But, in each case, we can make the choice on how we handle it and whether we stop or whether we move on.
Keep moving...
---
The Power of Asking for What YOU Want

By Debra Kasowski
"If you follow your bliss, doors will open for you that wouldn't have opened for anyone else." - Joseph Campbell.
Many people become paralyzed at the thought of asking for something that they want. They fear the answer may be no!
If you do not ask for what you want, the answer will always be no! The power of asking the right question helps us gain knowledge, clarify information, and get what we want.
Here are some simple steps that should be followed to getting what you want.

Know that You Can Ask for What You Want. You have the ability and the opportunity to ask for anything. You may have to ask more than once to get what you are asking for but never give up! There may be times that you get redirected and have to ask another person to help you get what you want. You may even have to rephrase your question. Persistence is the key!

Discover Why You Are Afraid to Ask. There are times when we must dig deep within ourselves to uncover our fears and learn to let them go. What is holding you back from asking for something that you want? Are you afraid to get what you want? Is it the fear of rejection? What is your payoff for not asking for what you want? What is the worse thing that can happen if they say no? If they did say no, remember the answer was no before you asked so you have not lost anything. Ask anyway!
Know What You Want. Clarity is the key. You must have a clear idea of what you are asking for and why. What does your end result look like? You are the one in control when you ask the question you wish to ask. How will the person you are asking benefit from your "ask"? Think about it. If you created an "ask" based on a win-win relationship, why would the answer be no?
Believe, it is possible and you deserve it. If you do not ask with confidence and
conviction, the person you are asking may wonder how important a "yes" would be to
your question. How bad do you want it? You may want to role-play with a colleague or practice in the mirror before you ask. You are meant to be, do, and have great things in your life. You need to BELIEVE IT!
Do your research. Before asking for what you want, think about the benefits and the
consequences both for you and the person or group you are asking. Do they have the
same values or mission as you? When your mission and values align, it is good business.
Focus on others. Ask for what you want by focusing on what you can do for the other
person.

Visualize the "YES". Take time to visualize yourself asking for what you want and how it would feel when the answer is yes. Think of how empowered you will feel.
Make a Habit of Asking. Make a list of all the things you would like to ask for. Get in the habit of asking by asking for at least one thing on your list everyday for the next 21 days. It is said that it takes 21 days to change or develop a habit. Write down one "Ask" in your day planner everyday.
No matter what you ask for the answer will be either a yes or a no. Graciously accept
the no. Find out why the answer was no. You may just have to ask another question to clarify information or ask a different person. There is always more than one route to getting what you want. Empower yourself and be grateful for a yes. Asking for what you want gets easier every time you ask. Just do it! ASK! and ASK AGAIN!
© 2010 Debra Kasowski ‐ All rights reserved. Included with permission of the author. Debra Kasowski is the Founder/CEO of The Millionaire Woman. She is a motivational speaker and personal and professional life consultant. Debra has become a cherished friend and I have been privileged to act as a mentor for her over the past couple of years.
---
Don't say 'NO!' - Take one for the CAPS Foundation
As you may know, last month I had the privilege of being the luncheon keynote for the CSSE NOASH conference and trade show in Calgary. I didn't get paid a nickel, and I was glad to do it. This story is worth repeating.

Often, as speakers, we get calls from groups looking for someone to present who unfortunately don't have a budget. I say yes to a few every year depending on who they are and what they do.
I was contacted by a very nice lady with CSSE who mentioned a fellow speaker had recommended me. She told me they didn't have a speaker budget but could make a donation on my behalf to a charity of my choice. I am in my third year serving as a trustee for the CAPS Foundation so gave that some thought. I agreed to drive down and present and they agreed to donate $1500 to the CAPS Foundation. I think this is a big win. It was a lovely drive down and their enthusiastic response to my words was all the payment I needed.

As I was driving down I though, what if even 10% of my fellow CAPS members said yes to an engagement on similar terms? Even at $500 each that would bring in well over $25,000 for the Foundation, each year...and perhaps more.
I plan to challenge my friends and colleagues to
Take one for the CAPS Foundation.
---
Last Minute News
Two events that might be of interest to you if you are within driving distance of Edmonton.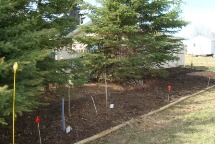 June will be a time to work on our place in the country so we can actually enjoy it this summer. We've agreed no major projects: finish up repainting the exterior and the decks. Going to do the back deck next year after we come back from Australia. Picture on the left is where the berry trees and strawberry plants are planted. We will be digging in a pond/fountain in this area as well.
To the right of the last tree is where Irene has planted her veg garden. Should be fun.
Have some ongoing writing projects and summer is a time to update and revamp our various websites.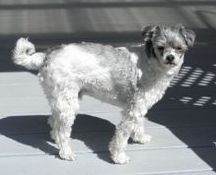 My sister is moving into a place that doesn't allow pets. She is looking for a home for Nikko, a 6 year old Maltese cross.... active, lovable little guy. They are moving on Friday and the new owners take possession of their old place in St. Albert on the 24th of June. So, Nikko needs a home fast.
If you can help or know some one call my sister at: 780-458-5296

---
Toastmasters International is doing the first re-branding in its history.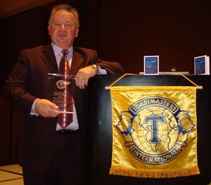 They recently appointed 300 Brand Ambassadors from around the globe; BAs include past international presidents, past international directors, 2010-2013 region advisors, 'active' accredited speakers and world champions of public speaking, 2010-2011 district governors (following completion of their terms) and other influencers in Toastmasters International.
I am privileged to be one of them. I owe this organization a debt that will never be repaid. I got my start in speaking here.

This new initiative will be launched on August 17th, 2011 at its international convention in Las Vegas.

---
Thanks for reading
Bob 'Idea Man' Hooey
would be pleased to be a part of your success team and to work with you to help make your conference, meeting, or training event a larger success. For more information about customized keynotes, professional and personal leadership training and coaching, or seminars/retreats, please visit
http://www.ideaman.net
or call our Creative Office at: (780) 736-0009 for availability.
Ask about a customized conference, coaching or training package to suit your specific career, company, or organizational needs.


Ask about our innovative leadership and/or sales leaders' motivational training programs.
*****
If you are new to our Ideas At Work! family, welcome aboard. We publish this monthly e-zine to share ideas and keep in touch with our friends, readers and audience members who wanted to remain in contact and share in the lessons we acquire along the way.
You are receiving this E-zine because someone (we hope you) subscribed. At any time, simply follow the To unsubscribe or change subscriber options visit: link at the end of this email. Please pass this issue along to anyone you think will gain some benefit from reading it. If you want to continue getting this on a monthly basis, simply do nothing.
If you have gotten this copy as a forward from one of your friends and want a copy of your own, simply follow this link and give us your email address. Our service - aweber - automatically does the rest. You will need to confirm your subscription though a link from aweber to activate your subscription.
---
Follow link for Privacy, Copyright and Policies