Point to Ponder

"The Seven Blunders of the World" is a list that Gandhi gave to his grandson Arun Gandhi, written on a piece of paper, on their final day together, shortly before his assassination.


The seven blunders he shared are:
Wealth without work.
Pleasure without conscience.
Knowledge without character.
Commerce without morality.
Science without humanity.
Worship without sacrifice.
Politics without principle.

People wonder where I get ideas for my point to ponder. Well, I got this from a friend on Facebook and thought I would save it to share with you this month. So often we are super busy in our lives, careers, and businesses.Too often we forget what is important to be a true success. We misplace or forget our core commitments and end up losing much more than just our reputation.
We lose ourselves and our dreams. That can be the saddest loss of all.
As we move into our summer months we, perhaps, have a bit more time to relax, refresh, or recharge. During this warmer time of the year I would challenge you to refine and redirect your energies and expertise to avoid these seven blunders on the road to your success. Invest some of your down time to thinking and dreaming again and then set some new goals for the fall and beyond.
We work hard; our
busy-ness
takes its toll. When we focus our energies in creating experiences and enterprises that provide solid value we move further ahead. Gandhi also said: "
An ounce of practice is worth more than tons of preaching."
Until next month,
---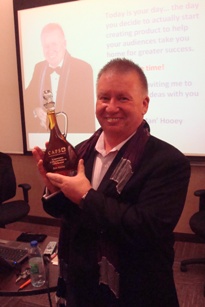 Had a great May after our return home from Australia and Hong Kong.

I had the distinct pleasure of delivering programs for both our CAPS Montreal and CAPS Ottawa chapters on product development earlier in the month. My visit with Montreal (May 10th) was small and intimate. We went for a solid 3 hours and then continued in the lounge afterwards. I had a chance the next morning to reconnect with a fellow past CAPS Vancouver President and friend, Lorne Kelton before taking Via Rail (a fun experience for me) over to Ottawa.

Did a full day in Ottawa (May 12th) with a very large energetic group on product development and then 18 people came for the afternoon to discuss some special building blocks for success.

Pictured here: I got the neatest present from CAPS Montreal - a personalized bottle of Maple Syrup. It tasted so good on the Sunday following my return. CAPS Ottawa gave me two delightful silver coasters... both remind me of my warm acceptance and the amazing people they represent.

---
Last Minute News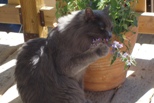 June is actually quite hectic with meetings and development projects for upcoming events I am engaged for in the fall. I am doing something unique this Saturday when I MC Irene's mom and dad's
60th wedding anniversary.
Her mom asked me to do it last year. Should be fun to give them this special day.
Lots of work on our place in Egremont getting the garden and lawns cleaned up and new plants in. Also rebuilding an older utility trailer I got from Irene's dad to help haul stuff around.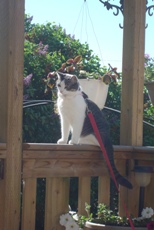 Our furry kids are certainly enjoying being able to be out on the deck with us for breakfast and during the day.
Irene is officiating lots of Track and Field meets around the country and will be doing the Canadian Nationals later this month. We'd hoped she would get the nod to go to London this year as she is qualified for international levels. Sigh!
We are working on heading out to the coast to see her Aunt Eva. Hope to leave at the end of the month and look forward to seeing our friends Wayne and Brenda enroute either way. We see them once a year and it is always worth the trip. Good friends are a treasure and we always have fun when we spend time together. Lots of laughs and good conversations.
During the summer I will be working on some new writing and marketing projects. Just bought access to the Canadian Associations lists when I was in Ottawa and will be selectively contacting some of them to remind them that I am here as are
CAPS Edmonton
and
www.AlbertaSpeakers.com
.
I am also enjoying connections with Edmonton Tourism. Sitting in on a program on how to be more effective with Social Media tomorrow (Wed.) that they have arranged. Be good to learn and to meet some new folks as well. Perhaps I will be able to promote CAPS Edmonton a bit as well.

Pictured here: Dusty found the live CAT-nip Irene bought for them.... he likes it. Jazz is the explorer.

---
Thanks for reading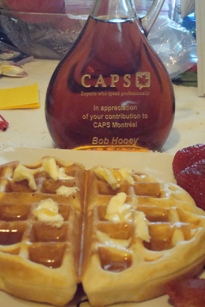 Bob 'Idea Man' Hooey
would be pleased to be a part of your success team and to work with you to help make your conference, meeting, or training event a larger success.
For more information about customized keynotes, professional and personal leadership training and coaching, or seminars/retreats, please visit
http://www.ideaman.net
or call our Creative Office at: (780) 736-0009
Ask about a customized conference, coaching or training package to suit your specific career, company, or organizational needs.
Ask about our innovative leadership and/or sales leaders' motivational training programs.
Pic: Sunday morning at the house of Hooey with waffles, my wife, and Maple Syrup. Sweet!

Sometimes you get to enjoy the fruits of your labor... or in this case the syrups.
*****
If you are new to our Ideas At Work! family, welcome aboard. We publish this monthly e-zine to share ideas and keep in touch with our friends, readers and audience members who wanted to remain in contact and share in the lessons we acquire along the way.
You are receiving this E-zine because someone (we hope you) subscribed. At any time, simply follow the To unsubscribe or change subscriber options visit: link at the end of this email. Please pass this issue along to anyone you think will gain some benefit from reading it. If you want to continue getting this on a monthly basis, simply do nothing.
If you have gotten this copy as a forward from one of your friends and want a copy of your own, simply follow this link and give us your email address. Our service - aweber - automatically does the rest. You will need to confirm your subscription though a link from aweber to activate your subscription.
---
Follow link for Privacy, Copyright and Policies
What's New!
Fall is getting booked!
September trips confirmed to Toronto for our CAPS leadership summit, Harrison Hot Springs, BC and London, ON to present as well as a nice keynote in Edmonton.
Interesting call for another one in Scottsdale, AZ for early October.

Bob on LinkedIn
Bob on Facebook
Bob on Plaxo
Watch Bob on YOUTube
---
About Bob

Bob is a professional speaker, author, leadership, sales, and business success expert




He is proud to be an active professional member of these amazing groups of people dedicated to polishing their craft and to better serving their clients and audiences.

Bob is the co-founder and a past president of CAPS Vancouver, an honorary founding member of CAPS Sask., an honorary member of CAPS Halifax, as well as being an active member of CAPS Edmonton. He served as CAPS National Director (2000-2002).

He would be happy to discuss how he can work with you to equip and motivate your leaders, their teams, sales teams, or volunteers to grow and to succeed.

Call him today at 1-780-736-0009 to explore leveraging his innovative Ideas At Work with your organization.

Ideas At Work!
10 Creativity Corner
Egremont, Alberta T0A 0Z0, CANADA