"The happiest people are those who think the most interesting thoughts. Interesting thoughts can only live in cultivated minds. Those who decide to use leisure as a means of mental development, who love good music, good books, good pictures, good plays at the theater, good company, good conversation - what are they? They are the happiest people in the world; and they are not only happy themselves, they are the cause of happiness in others." William Lyon Phelps
Are you happy? Are you a carrier?
This past month I encountered and engaged a wide range of people across Canada. Some were happy, some were sad, some were worried, and some were glad when their problems were solved.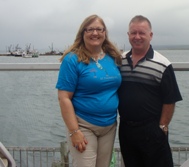 For example:
On our way home from speaking and exploring in Nova Scotia we encountered severe weather when we were attempting to land in Hamilton. We were just about there and had to divert to Ottawa to wait until the airline could assess a plan of action. It was very interesting listening to the reactions of our fellow travellors. Irene and I travel a bit so we simply took it as it came and hoped we would eventually get back into Hamilton and perhaps find our connecting flight to Edmonton there or hopefully coming in.
This is just what happened.... end result, we were 3 hours late getting into Edmonton and a bit more tired the next day. Pictured here: Irene and Bob in Digby, NS.

On Saturday we met Yvonne (the human vitamin) at our Speaking for Success Boot Camp. Yvonne is a fitness trainer who wants to be a better speaker. She blew us away with her very first speech. She was happiness in motion and brought her vibrant energy to the room. At the end of her presentation we all felt better.
Are you happy? Are you a carrier?
The choice is yours!
See you next month.
Bob 'Idea Man' Hooey


Archives of past issues are available on our www.ideaman.net website.

---
I am glad we finally have some nice weather. Glad too that we are going to be around to enjoy it. Other than a trip to Calgary I get to stay home. Lots of projects to do at our 'only' place now that we have downsized. Downsizing was both mentally and physically draining for both of us. But we are here, with too much 'stuff', but we love it. Over the summer we will continue to sort and selectively get rid of more un-needed 'stuff'. The Year of the EDIT continues.
---
What a delightfully productive month of May.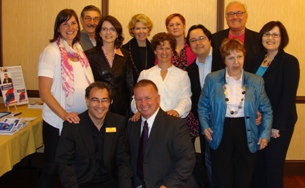 I had the privilege of being the final instructor for CAPS Atlantic's 1st Fast Track program.
We spent the afternoon talking about this industry and how sales is an essential part of building and sustaining a speaking and training career. Here I am with Peter Chapman and our FT team.

Visited my friends at CAPS Calgary on the 11th
Finished our move from Mundare on the 20th (whew) Weather cooperated so we could get it all packed, cleaned, and moved before we flew east.

Irene and I flew to Halifax on the 22nd. Nice that she could take the time off to come along and spend time exploring.

Spoke twice on the 23rd. I did an afternoon workshop on sales and then spoke for CAPS Atlantic that evening.

Did my product and publishing workshop on the 24th
Played tourist all weekend. Irene got her fill of seafood.
Spoke for Halifax MoMonday's on the 27th and flew home on the 28th.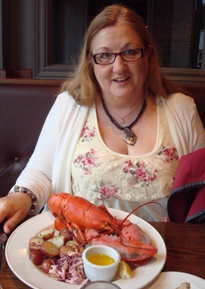 Irene has been working from home for the last year due to the building where she worked making her sick - literally. We kept the place in Mundare with the expectation that she would be able to return to work in the building once the remodeling was complete - or at least try to come back.
When she was told at the end of March that she would be working from home indefinitely, we decided to downsize to one home. Which is now done, other than finding places and sorting what we brought over. That is our challenge for the summer so we can regain the garage before winter.
Here is Irene and her new friend... yummmmm!

---
Last Minute News
June started with a jump with our Speaking for Success Boot Camp completed on the 1st. This one was done in support of Kiva, a micro-financing project. What an amazing group of fellow learners. I simply love what I do. This one found Irene speaking about creating more powerful powerpoint; Greg Gazin shared some new gadgets for us to look at; Shirley Borrelli taught us more about how to dress for our presentations; and Dianna Bowes shared her passion and her involvement with Kiva.
Bob will be part of a panel on publishing hosted by CAPS Edmonton on Sat. June 8th.

He'll be a guest on an internet Radio show on Sun. the 9th
Attending the MPI awards evening on the 12th
CAPS Calgary on Sat. 16th
Attending the 1st CAPS Edmonton Masters series on the 17th
Fabulous @ 50 5th birthday party on Sun. the 23rd
This as well as catching up and working to find places for all the 'stuff' we brought from Mundare when we closed down that house. And of course, complete my 6th in our Pocket Wisdom series: Expect Greatness, Pocket Wisdom for Success.
Looking forward to the arrival of Amanda and Michael at the end of the month. They are flying up from Australia for 3 weeks. It will be great to see them and spend time with them next month.
Bob pictured here at one of the museums in Halifax
---
Thanks for reading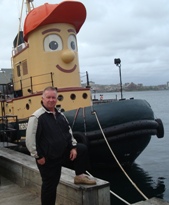 Bob 'Idea Man' Hooey
would be pleased to be a part of your success team and to work with you to help make your conference, meeting, or training event a larger success. For more information about customized keynotes, professional and personal leadership training and coaching, or seminars/retreats, please visit
http://www.ideaman.net
or call our Creative Office at: (780) 736-0009
Ask about a customized conference, coaching or training package to suit your specific career, company, or organizational needs.
Bob and Theodore the Tugboat.

Ask about our innovative leadership and/or sales leaders' motivational training programs.
*****
If you are new to our Ideas At Work! family, welcome aboard. We publish this monthly e-zine to share ideas and keep in touch with our friends, readers and audience members who wanted to remain in contact and share in the lessons we acquire along the way.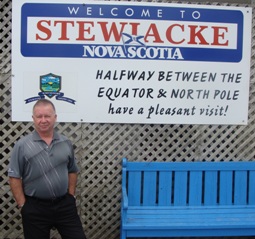 You are receiving this E-zine because someone (we hope you) subscribed. At any time, simply follow the To unsubscribe or change subscriber options visit: link at the end of this email. Please pass this issue along to anyone you think will gain some benefit from reading it. If you want to continue getting this on a monthly basis, simply do nothing. Please note, we attempt to provide proper attribution and credits for materials and articles included in our e-zine. If we have missed someone or have it incorrect, please let us know so we can correct it.
If you have gotten this copy as a forward from one of your friends and want a copy of your own, simply follow this link and give us your email address. Our service - aweber - automatically does the rest. You will need to confirm your subscription though a link from aweber to activate your subscription.
---
Follow link for Privacy, Copyright and Policies
What's New!
Bob will be part of a panel on Publishing hosted by CAPS Edmonton this Sat. June 8th. Visit www.capsedmonton.ca
Bob is working on the 6th in his six pack of Pocket Wisdom.
Expect Greatness: Pocket Wisdom for Success is scheduled for publication in July.
Bob will be featured in 'iPump' third in a series by Kim Yost due out sometime this month.
Bob on LinkedIn
Bob on Facebook
Bob on Plaxo
Watch Bob on YOUTube
---
About Bob

Bob is a professional speaker, author, leadership, sales, and business success expert




He is a long time leader in Toastmasters International and is the 48th speaker in the world to earn their covetted, professional level Accredited Speaker designation.


He is proud to be an active professional member of these amazing groups of people dedicated to polishing their craft and to better serving their clients and audiences.

Bob is the co-founder and a past president of CAPS Vancouver, an honorary founding member of CAPS Sask., an honorary member of CAPS Atlantic, as well as being a Past President of CAPS Edmonton. He served as CAPS National Director (2000-2002). He currently serves as a trustee of the CAPS Foundation.

He would be happy to discuss how he can work with you to equip and motivate your leaders, their teams, sales teams, or volunteers to grow and to succeed.

Call him today at 1-780-736-0009 to explore leveraging his innovative Ideas At Work with your organization.

Ideas At Work!
10 Creativity Corner
Egremont, Alberta T0A 0Z0, CANADA