Some wise person once said,
"Most people are as happy as they make up their minds to be!" Not sure who said it, but it makes sense to me.
As you know I just celebrated my 60th birthday, twice. Spent a week with Irene at a resort outside of Holguin, Cuba relaxing, reflecting, and generally enjoying the sun and fun. We had a wonderful time and were very well treated by the resort staff as well as the folks in a small town close by. I was impressed at how genuinely happy these folks were, in-spite of their not having a standard of living any of us would envy. They smiled, they laughed, and they shared their joy with those around them. I loved it. Not like the complaining too often seen in our northern neighborhoods.
On the bus enroute to the airport for our return trip, our guide told us stories of what had been happening in Cuba. He told us they had recently shut down half of their sugar factories as the machinery wasn't working well enough to justify the expense of production. He told us about the dark time in their history when the Soviet empire imploded and pulled out of Cuba. Over-night their country's income dropped by 72%.
How would you react if you lost nearly 3/4 of your income in one blow? How would you live? I can relate, as I went through something like that following 9-11. That was a dark time in my business and yet, looking back, it forced me to re-evaluate my business and make some foundational changes that have helped in our success over the past 5 or 6 years. Often, in hindsight, challenges can be our greatest teachers.
Overnight there was literally no money for workers. People were sent home to wait until the Government came up with a solution and what little income was radically reduced. Our guide told us it was a tough time and many people got angry... angry at the Soviets, angry at the Government, angry at... well, you get the idea.
Then he said something very insightful:
"Many of us decided we could either be out of work and angry... or be out of work and play domino's ..." followed by a big smile and a laugh which was shared by most of us on the bus.
His insightful comments shared a glimpse into the spirits of so many of the Cuban people who philosophically adjusted to the challenges and realities and decided to make the best of it.
Following that challenge the Cubans began looking at tourism as a viable source of revenue and employment. In fact, in order to work at the resorts and in the tourism industry, Cubans go to school for extensive training.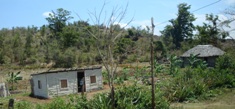 One of the crew on a 'cat' cruise we took mid week told us he had lost his 'complete' house and everything in it during the recent hurricane. He was working to rebuild while his wife and baby son lived at her mothers. He told me he figured it would take about 2 years to earn enough to buy the basic materials to reconstruct a very basic shelter for his family. His home was destroyed and, yet, you'd never know it by his demeanor and genuine smile. (Pictured here are examples of very basic homes in rural Cuba.)
Interestingly enough I found myself listening to the 'minor' complaints of my fellow Canadians as we flew home and in the airport in Toronto and later, Edmonton. Guess they didn't see what I saw or perhaps they were just 'tourists' and along for the ride.
I celebrated my birthday, again, on May 15th when my amazing friends at The Brick decided to host a birthday lunch for myself and Irene. I am so blessed to have such wonderful friends and colleagues in my life. I love working with them and I love spending time with them. In-spite very demanding, hectic work schedules and being impacted by some of the same harsh economic challenges we all face, they still make time to have fun to be happy, and to encourage others. That is one of the reasons they are a 'great' company and I am confident they will weather this storm and come out even stronger. As Warren Buffet teaches, invest in the people who create value for the company.
Many people quizzically comment on my age... many can't believe I am 'actually' 60 years old. They think I am quite a bit younger... But, as I tell them, "Think about it? Would I lie about being this age?" I was thinking about that and other than good genes I think one of the reasons I don't look my age is my attitude towards life.
Overall, I am a pretty happy guy and for the most part a pretty positive, pro-active one as well. I love what I do, I find a sense of satisfaction in tackling challenges, and in giving encouragement and innovative ideas to others. That un-doubtedly has an impact on how I look. I bet my big smile makes my face look younger too... These wrinkles are love and laugh lines and I cherish each one.
All the best until next month.
---
May you have Happiness
May your joys be as bright as the morning and your shadows merely shadows that fade in the sunlight of love.
May you have enough happiness to keep you sweet
Enough trials to keep you strong
Enough sorrow to keep you human
Enough failure to keep you humble
Enough success to keep you eager
Enough friends to give you comfort
Enough faith and courage in yourself to banish sadness
Enough wealth to meet your needs
And one thing more:
Enough determination to make each day a more wonderful day that the one before.
An old Irish blessing... I wanted to share its wisdom with you.
---
An enterprising person is one who comes across a pile of scrap metal and sees the making of a wonderful sculpture. An enterprising person is one who drives through an old decrepit part of town and sees a new housing development. An enterprising person is one who sees opportunity in all areas of life.
To be enterprising is to keep your eyes open and your mind active. It's to be skilled enough, confident enough, creative enough, and disciplined enough to seize opportunities that present themselves... regardless of the economy.
A person with an enterprising attitude says, "Find out what you can before action is taken." Do your homework. Do the research. Be prepared. Be resourceful. Do all you can in preparation of what's to come.
Enterprising people always see the future in the present.

Enterprising people always find a way to take advantage of a situation, not be burdened by it.

And enterprising people aren't lazy. They don't wait for opportunities to come to them, they go after the opportunities.
Enterprise means always finding a way to keep yourself actively working toward your ambition.
Enterprise is two things. The first is creativity. You need creativity to see what's out there and to shape it to your advantage. You need creativity to look at the world a little differently. You need creativity to take a different approach; to be different.
What goes hand-in-hand with the creativity of enterprise is the second requirement: the courage to be creative. You need courage to see things differently, courage to go against the crowd, courage to take a different approach, courage to stand alone if you have to, courage to choose activity over inactivity.
And lastly, being enterprising doesn't just relate to the ability to make money. Being enterprising also means feeling good enough about yourself, having enough self worth to want to seek advantages and opportunities that will make a difference in your future. By doing so you will increase your confidence, your courage, your creativity, and your self-worth; your enterprising nature.
Jim has been inspiring audiences and fellow speakers, like myself, for decades and challenging us to think and to act. He is a gracious man who shares his wisdom generously. He was one of my
Quantum Success
co-authors in support of Laura's Hope which is dedicate to funding research for a cure for Huntington's disease.
---
Last Minute News
May was marvelous:
Keynoted the Trans Canada Yellowhead Highway Association 62nd annual general meeting with civic leaders from Manitoba, Saskatchewan, Alberta, and BC in attendance.
Lunch speaker for the Christ Centered Professionals Club in Edmonton hosted by the folks who publish The Shepherd's Guide, a Christian Yellow Pages.
Launched www.FoundationalSuccess.com - please click through and purchase your personal copy.
Back in the film studio to do a few more clips for Secret Selling Tips, as well as some creativity and leadership ones.
Had a very pleasurable 60th birthday party with my friends from The Brick. I am blessed to have folks like this as friends and clients.
1st of two keynotes for Fortis Alberta in Red Deer on May 27th.
Two articles of mine were recently published: 1) Connections West, a Meeting Planner's International magazine serving Western Canada, and 2) Software Sales Journal's May issue, where I am still listed as one of their most read writer's a year after my last piece was published in May 2008. Amazing that I would turn out to be a writer. My English teaching mom must be looking down from heaven and shaking her head. SMILE!
Created a special DVD to take for Back Of Room sales in Winnipeg which includes live and unedited videos from my keynote in Mumbai, India as well as the Toastmasters International convention last August.
Speaking of Impact, our CAPS Magazine, used one of my articles in their Spring 2009 issue and have slated another one to run in their Summer 2009 issue.
June will be extremely productive and a tad hectic.
Who says there is a recession on? Of course, I know there is, and people are suffering. But, I decided I was not going to participate in 'this' one.
In tough times people need hope and they need help. I am privileged to be equipped and able to provide both.
Check out this video clip
.
June 3rd: 2nd of two keynotes for Fortis Alberta in Red Deer at their training facility.
June 4th: Going to Winnipeg... just like the Fountain Tire TV Adv.
June 5th: Friday morning - Opening keynote at the Toastmasters International Region IV conference entitled - "Throw another log on the fire! - Fuel the Flames of Your Success."
June 6th: Saturday morning - Presenting for my CAPS family at our Winnipeg Chapter, entitled, "Have MOUTH will travel - The amazing mis-adventures of Canadian Ideaman, Bob Hooey."
June 12th: Keynoting for the graduating class of 2009 at Lamont High School. This one will be a lot of fun and I am being paid with a plate of cookies. mmm!
June 19th: Afternoon session on productivity and enhanced time management skills for a real estate valuation group in Edmonton. In the evening, our Wild Rose Advanced Toastmasters Club's 25th anniversary.
Going to complete and launch our Secret Leadership Tips series to service some folks who have already subscribed and will then make it available for online subscriptions.
Hope to be working on year three Secret Selling Tips series for our Striver's clients stateside.
Looking forward to finishing the raised 'mini-orchard', sitting garden area at our place in the country and getting a start on building a ground level addition to the front deck for a gazebo. Almost done, a few more trees to plant, and the wood chips to place and it is done. I'll include a picture soon.
As always, we'll have work on web sites, some other writing projects, and some new ideas I have germinating. By now, most of you know I love to be working 'on' something creative. Summer is no different, in fact it has been a great time to work 'on' the business, not just 'in' the business.
July will be a great month
July 7th: conducting a Speaking for Success workshop as a building confidence program for their leaders and supervisors at a large Pulp Mill in Peace River.
July 11th: Our daughter Amanda heads to Australia to take a teaching job. She's been teaching in Calgary and decided to garner some international experience. Hmmm...perhaps we'll have to go for a visit.
July 17th-22nd: Going to Phoenix for the annual NSA convention. Be great to see some of my speaker friends from around the world. My NSA-AZ is host chapter so will be helping out here and there.
More later...
---
Late breaking news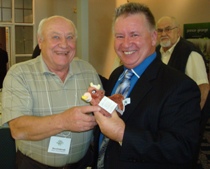 Bob gets the bull...
well, a small one anyway.
Following my presentation for the Trans Canada Yellowhead Hwy Association, Mayor Merril Kiliwnik from Russell, MB presented me with my very own "Arthur", the red bull.
Arthur is their town mascot and according to other officials (who really wanted one) getting an "Arthur" is an honor (no bull).
Since 1973 the Beef & Barley Festival has been a major event in the community of Russell, Manitoba. Beef & Barley was chosen for their celebration to honour the area's high quality of farm production, with special emphasis on the Beef Breeding industry and Barley growing.
In 1974, Mr. Art Kinney, along with a group of businessmen, developed a plan for a Town Mascot. A caricature of a bull, to represent not any one breed, but all breeds of cattle was developed. On October 5th, 2001, in honor of Mr. Art Kinney, their town bull was officially dubbed, "Arthur".
"Arthur" sits on a shelf above my desk as I write this...
---
Thanks for reading

Bob 'Idea Man' Hooey would be pleased to be a part of your success team and to work with you to help make your conference, meeting, or training event a success.For more information about customized keynotes, professional and personal leadership training and coaching, or seminars/retreats, please visit www.ideaman.net or call our Creative Office at: (780) 736-0009 for availability.

Ask about a customized conference, coaching or training package to suit your specific career, company, or organizational needs.

Ask about our innovative leadership and/or sales leaders' motivational training programs.
*****
If you are new to our Ideas At Work! family, welcome aboard. We publish this monthly e-zine to share ideas and keep in touch with our friends, readers and audience members who wanted to remain in contact and share in the lessons we acquire along the way.
You are receiving this E-zine because someone (we hope you) subscribed. At any time, simply follow the To unsubscribe or change subscriber options visit: link at the end of this email. Please pass this issue along to anyone you think will gain some benefit from reading it. If you want to continue getting this on a monthly basis, simply do nothing.
If you have gotten this copy as a forward from one of your friends and want a copy of your own, simply follow this link and give us your email address. Our service - aweber - automatically does the rest. You will need to confirm your subscription though a link from aweber to activate your subscription.
---
Follow link for Privacy, Copyright and Policies



8 months and still having lots of fun together. Irene took a picture of my feet on the beach in Cuba.


Foundational Success - Building blocks for Personal and Professional Success, is now available. 30 top authors and experts invested their wisdom for this project in support of the CAPS Foundation.
Online price is only $20
Click here
to be one of the first to purchase this amazing collection of wisdom and to help our CAPS Foundation.
---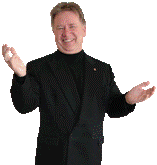 About Bob

Bob is a professional speaker, author, leadership, sales, and business success expert.
He is proud to be an active professional member of these amazing groups of people dedicated to polishing their craft and to better serving their clients and audiences.
Bob is the co-founder and a past president of CAPS Vancouver, an honorary founding member of CAPS Sask., an honorary member of CAPS Halifax, as well as being an active member of CAPS Edmonton. He served as CAPS National Director (2000-2002).
He would be happy to discuss how he can work with you to equip and motivate your leaders, their teams, sales teams, or volunteers to grow and to succeed.
Call him today at 1-780-736-0009 to explore leveraging his innovative Ideas At Work with your organization.
Ideas At Work!
10 Creativity Corner
Egremont, Alberta T0A 0Z0, CANADA