Point to Ponder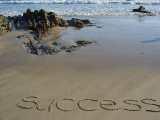 As I write this, I am sitting at our home in Mundare, AB. I'm getting ready to drive over to meet with a client to work out details and schedules for a two day (April weekend) strategic planning and visioning retreat for their town councillors and senior staff. We'll be talking about what is important for them in moving forward to becoming a more viable and sustainable community. I have facilitated similar meetings for a few other groups over the past few years. Each has its own challenges.
Facilitation in this kind of situation can be a challenge.
1) Getting people to talk and to share their input and ideas in a public forum,
2) Controlling those who like to talk a lot.
3) Keeping everyone focused and energized as we work for a common goal.

As I write this, I am drinking coffee from a mug that has this little inscription:
"NEVER LET YOUR MEMORIES BE GREATER THAN YOUR DREAMS"
Part of the visioning process leading up to strategic planning is getting people to dream, to see in their minds what could be... not what is or what used to be.
I remember sitting in a little fish and chips shop in Adelaide, Australia talking with my friend Peter J. Daniels when I first started speaking. Along with some advice and tips for sustained success in this business, Peter challenged me to dream bigger and to stretch myself. Good advice.
I challenge people to
dream big dreams
and then work to build solid foundations for success under those dreams. I challenge myself on this path as well. Some of our greatest advancements in history have come first as a dream. Many of those became realities when someone was diligent enough to begin crafting a plan to build them or make them work. Many of the joys and successes I have come to enjoy started as dreams. One of my dreams is to see our
Secret Selling Tips
triple in subscriptions, want to help?
What are your dreams?
Are they greater than your memories or are you living in the 'back in the old days I did...'?


Do you still remember them?

Are you still working on them?


Dust them off, polish them, hone them, refocus them, and then get working to make them a reality. Dreams along with strategic planning and action become the success stories that inspire others to dream too.
Talk to you next month.

Bob
---
NOTE from Bob: I continually read a variety of articles, magazines, books, blogs, and other on-line materials to keep my mental hopper full and my focus positive and creative. This reading also serves to challenge my viewpoint while continuing to grow myself, my ability to serve my audiences and readers, and of course my business.
I came across this blog (Jan. 31st) from one of my Facebook friends and liked what Tom had to say. He comes from a perspective of investing and those ideas work in the areas of investing in our growth, empowering our teams, and in expanding our business in this exciting and challenging time. I believe those of us who do not hide from the storm and actually invest in ourselves during this challenge will emerge not only stronger, but in better shape competitively from the experience. He was kind enough to allow me to share it with you.

---
How to Stay Positive in a Depressed Economy
Founder and CEO of ProVision Wealth Strategies
Every time I turn on the news or pick up a newspaper, there is article after article about the
sorry state
of our economy and how much people are hurting. It's so depressing I hate to even look. And it's just going to get worse over the next few years.
Yet, this is the Great Opportunity!
Never again will we see real estate, stock and business prices so low. But with all of the negative reinforcements, it's easy to sink into our own depression about the economy and worry about our own financial situation. These thoughts can easily prevent us from going out and doing something positive to take advantage of this Great Time to make positive changes.
So what do we do? How do we keep our thoughts and actions positive?
Here are three keys to positive thoughts and actions during this period.

1. Get out of the house and out of the office. And I'm not just talking about going to the grocery store. Go to a seminar or some other place where there are people who are talking positively about the future. I'm in Canada right now at Greg Hasbritt's Master Wealth real estate conference. 150 investors looking for opportunities. In Feb. '09 I was at the Rich Dad Annual Forum in Orlando. 1200 investors looking for opportunities. These are positive environments where the focus is entirely on opportunity.
2. Associate with people who see 'opportunity' in this time of change. This may require some serious changes in your life. A number of years ago, I had to make a change in a business partner. It was the most difficult choice I have ever made, since this partner was also my best friend. But while immensely painful (and, to be honest, still painful when I think about it), it was one of the best decisions I have ever made as it has made a huge improvement to my business and has greatly reduced the stress in my life. Think about your friends, your business partners and associates, and your advisors. Are your advisors constantly telling you to pull back and to protect what you have or are they advising you to take advantage of this time? If the former, it may be time for a change (your CPA, for example?).
3. Take time every day to thank God for all of your many blessings. And thank your family, your friends and everyone you meet who helps you in any way. Yesterday at the Master Wealth seminar, Greg invited the staff of the Hotel Arts where we are staying to come on stage so we could give them a round of applause. The energy in the room was amazing. I don't know who got more out of this show of appreciation, the staff or the seminar participants. I know it was very positive for my mental attitude.
4. Take time to serve others. (I know, I said 3 keys - just consider this a bonus). Serving gets us out of ourselves. We begin to see that our problems are not so big and we feel so good about the help we give others. This is my greatest reward when I teach, whether on stage in front of 1,000 people, or with my Sunday School class of 5 eleven-year olds. It is such a privilege to serve others.
It's easy to get sucked into the great negative that is being perpetrated on us by the government and the media. So get out and do something positive and take advantage of the chances to create your future! And be thankful. We have so much.
Warmest regards,
Tom
---

Last Minute News
February just flew by... seems like just a few days ago I was flying back from Paris (Jan. 31st) and this evening (Feb. 27th), we are packing to head south to Puerto Vallarta for 8 days.
It has been a productive month in scripting and shooting two dozen videos for use on our site, updating and republishing two of our mini-books, updating websites, writing articles and the normal challenges of taking care of two homes and offices. My office in Mundare, AB is coming along nicely and it is much easier to productively work here when I am home. I still spend a day or two in Egremont when my schedule allows. Enjoy spending time with my neighbor Steve and his friend Mike.

Spent Feb 25th in the town of Bonnyville, Alberta (close to Cold Lake, AB where we have a Canadian Forces Base). Spoke to the Northeastern Alberta Realtors (R) Association at their Annual General Meeting. Erwin Thompson (amazing man) organized my visit and took advantage of my being there to create a special evening jointly sponsored by the Ag Society and the Chamber of Commerce. He worked diligently to make sure the town knew about the event with posters, radio and print ads and even a sign on main street. The sub-arctic weather coming in (-27 when we started that evening and it went down to -35C later) didn't help much and he got less than his anticipated standing room only. Very nice group of people who braved the cold. I shared tips on how to " Unleash your business potential and Out-think, out-market, and out-perform your competition, even in tough times." Warm reception and definitely worth the trip and the cold weather.
March looks to be a good month to dig in and write. Have quite a few projects on the go including the "Foundational Success, Building blocks for personal and professional success" fund raising e-book in support of our CAPS Charitable Foundation. We have some pretty talented guest experts from around the globe who are contributing to add their wisdom. My schedule is to have it completed and available for purchase by early April.
Going back into the studio on March 18th to film a few more video clips. We've added a video archive for our paid subscribers to Secret Selling Tips and we will add them here as well as on the site.
March 21st I will share my rescheduled, "Have Mouth - Will Travel, the misadventures of the Canadian Ideaman on the road" presentation with my fellow CAPS Edmonton members at our business development meeting. Should be fun to reprise some of what I have learned in the last few months while travelling to Paris, London, Frankfurt, Zurich enroute to speaking in Tehran, Iran and Mumbai, India.

---
Late breaking news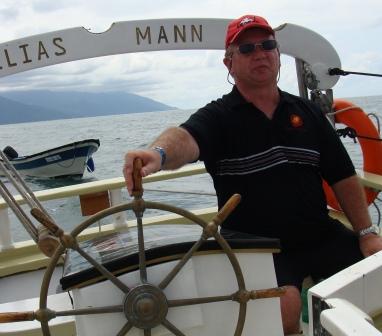 Not so much breaking news as sharing some good news. You'll be getting this March '09 issue while Irene and I are taking a break in sunny Puerto Vallarta, Mexico. Decided to take a
writing break
in a warm place. Have my notebook computer and reference materials packed and will do a bit of writing while recharging my creative energies.
This is something I tell other people to do, but don't always practice myself. Hope to get at least one day of sailing in, perhaps two...
Just got the dvds from one of the Iran events in the mail today. I will look forward to viewing them and pulling out a few clips for the website when we return from Mexico.

This shot was last August on the Elias Mann off the coast of Puerto Vallarta. Haven't heard back from the crew for the Gypsy Spirit, so not sure who we will go out with this trip. But, sail we will! Smile..Note: Gypsy Spirit is not chartering at this time so we went out for another day with the crew of the Elias Mann.
---
Thanks for reading

Bob 'Idea Man' Hooey would be pleased to be a part of your success team and to work with you to help make your conference, meeting, or training event a success. For more information about customized keynotes, professional and personal leadership training and coaching, or seminars/retreats, please visit www.ideaman.net or call our Creative Office at: (780) 736-0009 or call me on my cell: 780-707-0189 for availability.

Ask about a customized conference, coaching or training package to suit your specific career, company, or organizational needs.

Ask about our innovative leadership and/or sales leaders' motivational training programs.

*****
If you are new to our Ideas At Work! family, welcome aboard. We publish this monthly e-zine to share ideas and keep in touch with our friends, readers and audience members who wanted to remain in contact and share in the lessons we acquire along the way.
You are receiving this E-zine because someone (we hope you) subscribed. At any time, simply follow the To unsubscribe or change subscriber options visit: link at the end of this email. Please pass this issue along to anyone you think will gain some benefit from reading it. If you want to continue getting this on a monthly basis, simply do nothing.
If you have gotten this copy as a forward from one of your friends and want a copy of your own, simply follow this link and give us your email address. Our service - aweber - automatically does the rest. You will need to confirm your subscription though a link from aweber to activate your subscription.
---
Follow link for Privacy, Copyright and Policies

What's New!
5 months and still happily married...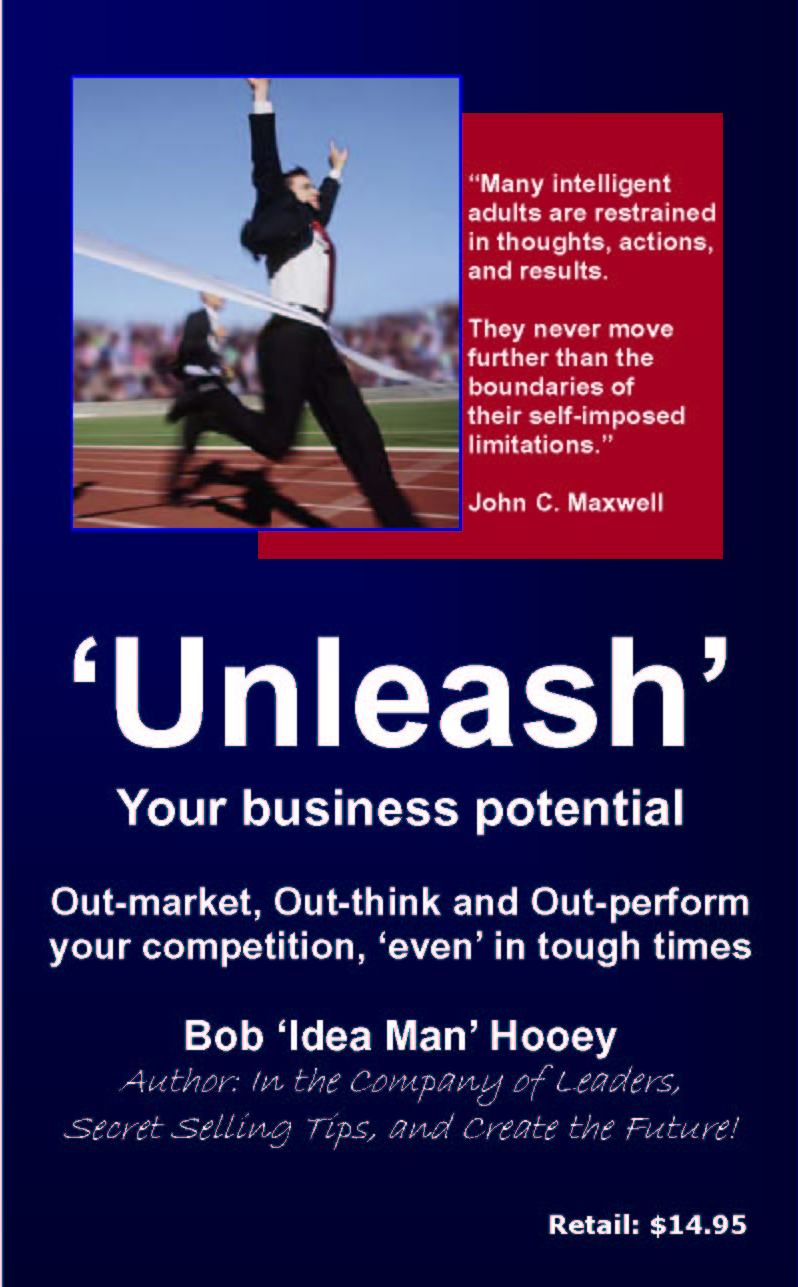 Updated 'Unleash' for 2009 with a focus on how to succeed, even in tough times.
"I chose to not participate in 'this' recession. Instead, I will lead by example and encourage people to stretch, to grow and to succeed, even in tough times."
Bob 'Idea Man' Hooey

---

About Bob

Bob is a professional speaker, author, leadership, sales, and business success expert




He is proud to be an active professional member of these amazing groups of people dedicated to polishing their craft and to better serving their clients and audiences.

Bob is the co-founder and a past president of CAPS Vancouver, an honorary founding member of CAPS Sask., an honorary member of CAPS Halifax, as well as being an active member of CAPS Edmonton. He served as CAPS National Director (2000-2002).

He would be happy to discuss how he can work with you to equip and motivate your leaders, their teams, sales teams, or volunteers to grow and to succeed.

Call him today at 1-780-736-0009 to explore leveraging his innovative Ideas At Work with your organization.

Ideas At Work!
10 Creativity Corner
Egremont, Alberta T0A 0Z0, CANADA