Point to Ponder
What is important to you?
With all the news of floods, earthquakes, and other disasters around the world and the devastation they've caused in people lives I wonder what is really important to you and me?
Thousands have lost their homes, their livelihoods, and even members of their family. In some areas many will be losing their jobs. In Cuba there will be 500,000 people who will be laid off in the tourism sector this May.
Here in North America there are many who are still out of work or under-employed, struggling to make ends meet. And, yet I hear many who are, in my opinion, blessed and spoiled who are complaining and whining about trivial things. Sad!

Makes me give my head a shake at times. I know full well what it is to go through rough patches and to be so close to loosing it all. I also know what it is like to be living in a life of blessing and abundance. Have to say, I prefer the abundance.
The real secret is how we look at what we are dealing with... good and bad.
Are we grateful for what we have?

Are we grateful for the challenges in our life?

Do we see them as important in making us who we are?
On the other side of the coin:
Irene's cousin is overjoyed her son came thru his open heart surgery. And my speaker friend Catherine Armstrong can hardly wait to fly to Australia to meet her grandbaby for the first time. And, as I write this my wife, who loves me is working at her computer not 4 feet from me, and our furry kids are laying in their respective baskets... so life is good!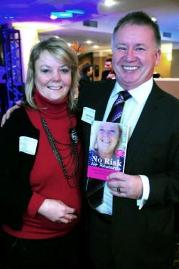 Irene and I were in Cuba early last month for her birthday and came away with an increased appreciation for what we have and what is important to us. Our new friends in Cuba taught us that you can have virtually nothing and still enjoy life if that is important to you.
What is important to you?

Who is important in your life?

What do you want to accomplish that is important as a legacy?
See you next month.
Bob
This is me with my friend and fellow author/speaker Kelly Falardeau who just published her 1st book. I had the privilege of being included in the book as well as endorsing it. She is an amazing young lady who has an important message to share. I am pleased to play a small part in her journey and am inspired by her energy and enthusiasm.

Archives of past issues are available on our www.ideaman.net website.

---
Alan is a speaker friend who is also a Toastmaster. He has been building his speaking business for several years and has been a partner on our www.AlbertaSpeakers.com promotional program. He is involved and challenges us to be as well. He just told me he is joining CAPS so will be a member soon.
---
Don't Be A Spectator

By Alan W. Goff

Dennis Waitley once said that perhaps the greatest torture that could be devised would be for us to be forced, in our later years, to watch a continuously repeating movie of the lives we could have led had we dared to believe in and pursue the dreams and goals that were available and attainable in our lifetimes.

DON'T BE A SPECTATOR

While we all say we don't have enough time to do justice to our goals and dreams, each of us has all the time there is. None of us really has a time-management problem. We really have a self-management or dream and goal-focus problem. We spend too much energy worrying about the things we want to do but can't, instead of concentrating on doing the things we can do but don't. It is the regret for something we did or didn't do yesterday and the apprehension of what we can't do tomorrow that is the biggest energy drain on our lives.

A dream is your creative vision for your life in the future. It is what you would like your life to become. A goal is what, specifically, you intend to make happen.

However, many individuals become spectators, resigned to experience success vicariously through others' accomplishments. They can see success for others, but they can't imagine it for themselves. Dreams and goals are previews of coming attractions in your life. You can be either the script writer, the star and the producer of an Oscar-winning epic life, or an extra in a "B" movie that someone else wrote and directed for you. Which is it to be?

STAY FOCUSED ON YOU

Make certain that your goals are not measured in comparison with others'. Avoid the tendency to measure your own progress by looking over the fence at greener pastures. There are many others who have started a little earlier than you, and you may become discouraged if you see them harvesting success when some of your seeds are barely in the ground. Comparison rarely benefits anyone. You'll always be able to find someone smarter, younger, older, wiser, richer, more clever, better looking, or working harder or more effectively than you are.

When you make comparisons in which you place yourself beneath others, you're in for a discouragement that will keep you procrastinating and perhaps even from seriously pursuing your life goals. You can also find others who don't measure up to what you have become or are aspiring to be. Avoid the tendency to compare yourself with them as well. You will lower your goals and settle for average when you could have excellence.

You may come to think that you deserve more success than others
or that success lies ahead for you no matter what you do. Both are false assumptions.
Success isn't a pie with a limited number of pieces. The success of others has very little bearing on your own success. You and everyone you know can become successful without anyone suffering setbacks, harm, or downturns. Neither is your success measured by what others say or accomplish. Only you can truly define your success, and only you can measure it.
(c) 2011 Alan Goff, All rights reserved. Article courtesy Alberta Speakers.

---
Last Minute News
As you know Irene and I had a great week in celebration of her birthday in Cuba. Always great to go somewhere warm for a few days each winter. Great month in Feburary with CAPS National President Ravi Tangri coming to visit our local Edmonton Chapter. Two good webinars for The Business Link. Two more webinars next month as well as a keynote for a Road Construction firm later in the month.

Working on a couple of publications: Revamping and expanding Thinking Beyond The FIRST Sale as an ebook for launch and sale this month. Already sold the first copy. I am also working on Talk, So People Will Listen for sale. It will be available in both paper and pdf formats.
I continue my work as the Director of Progamming and Development for the CAPS Edmonton chapter. Fun recruiting speakers to come and share their wisdom each month. Also, still having fun as a member of NSA's Chapter Leadership Council and have been asked to stay on for another year.
Our March
CAPS Edmonton
meeting (12th) has two of my long time friends Michel Neray from Toronto and Sarah Eaton from Calgary as speakers. Also looking forward to hosting an evening with my friend Peter Legge (March 22nd) who is flying in a day early just to spend the evening with our CAPS Edmonton Chapter.
B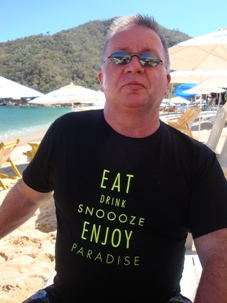 ob 'Idea Man' Hooey
would be pleased to be a part of your success team and to work with you to help make your conference, meeting, or training event a larger success. For more information about customized keynotes, professional and personal leadership training and coaching, or seminars/retreats, please visit
http://www.ideaman.net
or call our Creative Office at: (780) 736-0009 for availability.
Ask about a customized conference, coaching or training package to suit your specific career, company, or organizational needs.

Ask about our innovative leadership and/or sales leaders' motivational training programs.
*****
This shot was actually on the beach in Mexico last year, but I wanted to at least mentally be somewhere warm right now. I know we just came back from Cuba a few weeks ago, and I promised Irene I would be good and stay home this year so we can save up her holidays for next year in Australia... but I would still love to be gone today.
If you are new to our Ideas At Work! family, welcome aboard. We publish this monthly e-zine to share ideas and keep in touch with our friends, readers and audience members who wanted to remain in contact and share in the lessons we acquire along the way.
You are receiving this E-zine because someone (we hope you) subscribed. At any time, simply follow the To unsubscribe or change subscriber options visit: link at the end of this email. Please pass this issue along to anyone you think will gain some benefit from reading it. If you want to continue getting this on a monthly basis, simply do nothing.
If you have gotten this copy as a forward from one of your friends and want a copy of your own, simply follow this link and give us your email address. Our service - aweber - automatically does the rest. You will need to confirm your subscription though a link from aweber to activate your subscription.
---
Follow link for Privacy, Copyright and Policies