What are you going to do when you are bullied? Rise UP!
What are you going to do when you see someone being bullied? RISE Up!
What are you going to do when someone needs protection? RISE UP!
Can you begin to imagine the sound made by 3200 charged up grade 3 to grade 7 students when they stand up and shout at the top of their lungs - 'RISE UP!'? I can and it was unbelievable and humbling at the same time.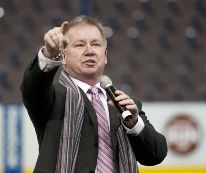 I waited in the team box at floor level at Rexall Place (where the Oilers or the Edmonton Rush sit during their home games) to be introduced, to walk on the field, and to turn and face these 3200 students.
It was a game changer for me!
Friday, Feb. 24th the Edmonton Rush lacrosse team hosted these kids for a first ever Rise UP against Bullying Rally. I had been asked to share a few words.
I told the students I had been a bit afraid of speaking to them. Why? Because this was not just a speech, this was to kids, and it was important. I told them I remembered being picked on when I was very young and how it made me feel.
I asked if they would allow me to share a few ideas with that 8 year old version of myself (Robert as I was called then). Would that be ok? They said yes!
Here is some of what I told my 8 year old self:
Get over the expectation that life is fair - it isn't! Things happen and they aren't always good. But you'll get through it because you believe in yourself.
Don't compare yourself with anyone else. Compare yourself with you from yesterday. How have you grown?

Celebrate every win, regardless of how small. Do your own happy dance.
Be somebody and make a difference.
Take personal leadership and responsibility for your life. Be a leader!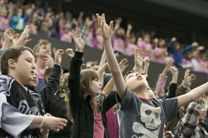 I ended with the questions used at the start of this article. They responded with an enthusiasm that gave me goosebumps and made my heart beat even faster.
I found myself speaking with a level of passion not felt for awhile. I found myself rising up and challenging them!
They stood up and declared that they would Rise UP! And, I believed them!
As I watch this video again I am struck with the thought that these ideas shared with the 8 year old me ring as true and valid today and are as needed by the soon to be 63 year old me. Perhaps they ring true for you as well? We need to Rise Up in support of who we are and who we still want to be, of what we want to accomplish in our lives.
Until next month
Bob 'Idea Man' Hooey

Archives of past issues are available on our www.ideaman.net website.

---
As this ezine goes out it will be two days until my long time friend and mentor Sheryl Roush flies into Edmonton. She is our feature speaker at the Sat. March 10th CAPS Edmonton Business Development session. Visit: www.capsedmonton.ca to register.

She is flying in early to be a part of the Speaking for Success boot camp we are doing on Friday. 6 speakers including Sheryl and myself offering a full day focused on helping people hone their speaking skills and moving their confidence to the next level. We still have a few seats open if you know anyone in the Edmonton area. Tell them to visit:

www.albertaspeakers.com/S4S.htm

for information and to register.

It will be an amazing day of fun and learning.
---
Last Minute News
March is going very fast as our March 26th departure to Hong Kong and Australia approaches.
Both Irene and I are scrambling to get caught up so we can get on that plane and let it go... taxes, planning presentations (here, Australia, Montreal, Ottawa). Working on CAPS Edmonton areas as well as doing some preliminary work on the Foundation part of the upcoming CAPS convention in Winnipeg.
But it will be worth the extra work to get caught up and prepared for a busy two weeks in May when we return. It will be worth it to see Irene's face when she sees her daughter again in Perth on the 31st, and to see Amanda and Michael get married on that beach in Kalbarri on April 4th... and to relax, do some sailing, swim with the dolphins and spend time together.
All the very best.

---
Thanks for reading


Bob 'Idea Man' Hooey
would be pleased to be a part of your success team and to work with you to help make your conference, meeting, or training event a larger success. For more information about customized keynotes, professional and personal leadership training and coaching, or seminars/retreats, please visit
http://www.ideaman.net
or call our Creative Office at: (780) 736-0009
Ask about a customized conference, coaching or training package to suit your specific career, company, or organizational needs.


Ask about our innovative leadership and/or sales leaders' motivational training programs.
*****
If you are new to our Ideas At Work! family, welcome aboard. We publish this monthly e-zine to share ideas and keep in touch with our friends, readers and audience members who wanted to remain in contact and share in the lessons we acquire along the way.
You are receiving this E-zine because someone (we hope you) subscribed. At any time, simply follow the To unsubscribe or change subscriber options visit: link at the end of this email. Please pass this issue along to anyone you think will gain some benefit from reading it. If you want to continue getting this on a monthly basis, simply do nothing.
If you have gotten this copy as a forward from one of your friends and want a copy of your own, simply follow this link and give us your email address. Our service - aweber - automatically does the rest. You will need to confirm your subscription though a link from aweber to activate your subscription.
---
Follow link for Privacy, Copyright and Policies
What's New!
Speaking for Success 7th Edition is here!
Our EPUBs are selling well on itunes.

Bob on LinkedIn
Bob on Facebook
Bob on Plaxo
Watch Bob on YOUTube
---
About Bob

Bob is a professional speaker, author, leadership, sales, and business success expert




Bob is the 2011 Spirit of CAPS recipient.

He is proud to be an active professional member of these amazing groups of people dedicated to polishing their craft and to better serving their clients and audiences.

Bob is the co-founder and a past president of CAPS Vancouver, an honorary founding member of CAPS Sask., an honorary member of CAPS Halifax, as well as being an active member of CAPS Edmonton. He served as CAPS National Director (2000-2002).

He would be happy to discuss how he can work with you to equip and motivate your leaders, their teams, sales teams, or volunteers to grow and to succeed.

Call him today at 1-780-736-0009 to explore leveraging his innovative Ideas At Work with your organization.

Ideas At Work!
10 Creativity Corner
Egremont, Alberta T0A 0Z0, CANADA