Welcome to Year Four: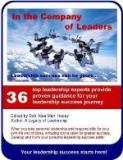 Where has the time flown?
Hard to believe just 4 years ago, we decided to take another plunge in publishing by starting a monthly e-zine. Here we are four years later still sharing ideas and thoughts with a loyal group of leaders and new subscribers along the way who tell us what we share has impacted them. I am humbled by their kind words.

We are committed to providing you with a monthly read of motivation, education, information, illumination, and sometimes even a bit of frustration (if we have challenged you to look at an area that might need a little tweak).

It is a privilege to share my thoughts in a conversational manner with you each month. I am grateful for being allowed into your mail box each month.

We look forward to many more years together. Thanks to my friend with the eagle eyes, Irene Gaudet who gently teaches me by proof reading each issue and making suggestions to make it read better. Thanks, too, to each of you who read it and pass it along to your friends, colleagues, and family to enjoy.

Please drop me a note from time to time. bob@ideaman.net


PS: Check out our newest creative leadership writing project.
Visit: www.inthecompanyofleaders.com Release date: August 15th, 2008

---
Point to Ponder


Observing and measuring performance - Keys to effective coaching

If you are truly dedicated to helping those you lead or supervise to improve their performance and productivity, it helps to actually watch them in action. Professional coaches in the athletic arena use on-site observation and film replays. This allows them to isolate and work on specific areas, techniques, or skills needing work. In the business world these 'instant replays' may be filtered or edited by the people reporting them to the coach/manager/leader. It is difficult to know how well people are doing without actually observing and/or tracking their performance. Better observation systems and relevant information will lead to a better result and better coaching.

Over the years, one of my bigger management challenges was to work with those who I supervised to be more productive on the job. I've had a fair amount of challenge and success as a small business owner and as a manager for larger firms in helping my employees succeed. I just love it when I see people grow and win!

Long before coaching became a 'buzz' word, I found myself using some of these 'management' techniques in coaching my staff, in helping them set goals for successful learning, and in moving their skill sets up the ladder so they could be promoted. In the 1970's I was hired to open a Big Boy's franchise in Edmonton Center. A year or so later, I was asked to go to Calgary and assist the franchiser there in re-energizing his staff at 3 stores. After my departure, my two assistants were promoted; one to take over my store and the second to take over the store in the east side of the city. Their leadership skills had been honed and they had the chance to shine. They each did very well.

I had a similar experience when I was head hunted as part of the management team to open the first two Home Depots in BC. Several of my staff were tapped to move up into management as new stores opened. I have found that coaching as part of the training and motivational process works very well.

It works well in the management of volunteers too. I could tell you many success stories of boards and those who responded well to these leadership coaching techniques.

One example was during my extended term as President of CAPS-Vancouver, (1999 & 2000). We had a serious organizational challenge as we had a low bank balance, low membership, and low energy in our meetings. It took recruiting and creating a motivated, success focused team to make it happen and to reverse the process. It took a leadership coach to call the plays, help set the goals, and continue helping our volunteer leaders grow to take on their respective roles and to serve our membership.

Did it work? You bet it did! At the end of our extended term, we had tripled our membership; had a healthy bank account; a reasonable budget for the next year; a 3-year succession of leaders (succeeding presidents did an awesome job); hosted the following national convention; a healthy, fully active board; the next year's meetings already booked; and a very relieved and tired Immediate Past President.

Canadian Association of Professional Speakers National recognized our growth in 2000 by awarding us Chapter of the Year and our CAPS National President, Patricia Katz awarded me a special CAPS President's Award 'for my energetic contribution to the advancement of CAPS and my living example of the power of one.' I was overwhelmed at this recognition, as I did not see it coming. Yes, Coaching works!

Successful managers (coaches) look at both the results and the process to find areas where they can assist their employee's or member's fine tune or tweak their success skills for enhanced performance and productivity.

Performance observation and measurements must be done on a regular, recurring basis to offer ongoing validity in your coaching efforts. A little feedback and instruction closer to the activity is the most effective. Performance reviews, as done in most businesses once or twice a year, are not effective and can at times be counter-productive.

Learning how to observe your employees or team members without making them feel intimidated or uncomfortable is a skill you'll need to acquire as you evolve your leadership and coaching expertise.

© 2008 Bob 'Idea Man' Hooey, www.ideaman.net

---
Put your Signature on Your Career
by Denis Waitley
No one exemplifies the concepts in this article better than Antonio Stradivari, an Italian violin maker who lived from 1644 to 1737. Stradivari died at the age of ninety-three, at a time when the average life expectancy was a little over thirty-five years. He taught himself his trade. His tools were primitive, and he usually worked alone until later in life, when his sons joined him. Stradivari had a passion. He put the best of himself into every violin and viola. When he was finished and was certain that his craftsmanship measured up to his personal standards, he signed his name on the instrument.
Nearly three hundred years later, his violins sell for hundreds of thousands and even millions of dollars, and Stradivarius is a synonym for quality throughout the world. But far from every man or woman with uncommon standards of excellence become celebrities. At this very moment, thousands or tens of thousands are working unknown and unsung in industry, the arts and the sciences. The public has never heard of them and probably never will; yet they refuse to turn out shoddy work. They are in the minority, but that's where they've always been - playing for a gallery of one, for their own inner applause. Remember, people who consistently do things well set their own standards and make themselves measure up. In so doing, they:
Build a kind of security that lasts a lifetime or beyond, because respect for quality always abides and will always command the highest price. If you accept nothing but excellence from yourself and feel entitled to put your name on your work, both will endure. The bitterness of poor quality lingers on long after the sweetness of low price.
Chase your passion, not your pension!

Reproduced with Denis' kind permission from Denis Waitley's Weekly Ezine. To subscribe to Denis Waitley's Weekly Ezine, go to www.deniswaitley.com Copyright © 2008 Denis Waitley International. All rights reserved worldwide

---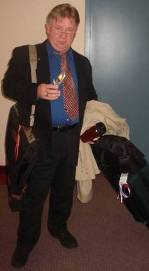 Last Minute News
April:

What an amazing month. Lots of new projects on the go, my trip to Las Vegas to visit friends (Robert and Christine) and attend the NSA Presentation and Performance lab was amazing. We even had veteran entertainer Rich Little drop in to share a few lessons from his successful career.

Celebrated my personal new year with an evening with my CAPS Edmonton Colleagues and a visit with my sister and her husband.

Was one of ten trainers from across North America at the 2nd Annual CPSA Corporate Sales Challenge in Calgary. Wow, what an action packed afternoon.

Spoke to 142 delightful ladies (and two gentlemen) for the Admin. Assistants Association annual professional development day. Great morning.

Then came home to unpack and get ready to head back to Calgary to sit in with my friend Mark Leblanc at his Achievers' Circle. He usually does this only in the US and is doing this one in Canada. What a thought provoking and success focused weekend. If you are an independent professional, check this out.

Then flew to to Philly on Monday (28th) at 6:05AM to facilitate a group of Sales Leaders in refocusing their efforts to help their sales teams in light of a slower market. Great team and some good ideas to take home to their respective sales teams and managers. And, hopefully a few new Secret Selling Tips sales team sign ups will come from this investment of time.

May:

Decided to attend the NSA Branding and Promotions Lab after learning so much in Las Vegas. So changed my flights and flew to Boston from Philly. Tell you about it next month.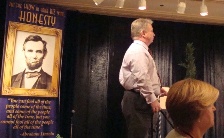 May is going to be a very busy and focused month with client coaching, writing, marketing and all of the new publishing projects on the go. More so with the three areas of forcus: Achievers' Circle, NSA Branding Lab, and my friend Michel Neray on Esstential Message at CAPS Edmonton. Good to rethink what you are doing and who you are doing it for, from time to time.

Still working on the two leadership publications; In The Company of Leaders, and The Power of One! - Pocket Wisdom for Leaders. These will be published for August.

PS: Pic is me on stage at The Golden Nugget in Las Vegas, preparing to help demonstrate the difference between a story line and a message line.


---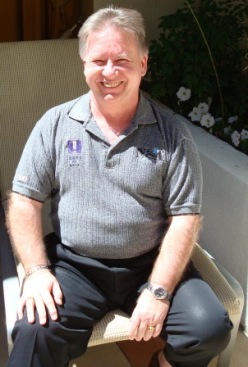 Thanks for reading

Bob 'Idea Man' Hooey would be pleased to be a part of your success team and to work with you to help make your conference, meeting or training event a success.

For more information about customized keynotes, professional and personal leadership training and coaching, seminars/retreats, please visit www.ideaman.net or call our Creative Office at: (780) 736-0009 for availability.

Ask about a customized conference, coaching or training package to suit your specific leadership, career, company, or organizational needs.

Ask about our innovative leadership and/or sales leaders' motivational training programs.

*****
PS: It was sunny and warm in Las Vegas.... soaking up a few rays to last me until spring finds us up north. We had so much snow mid April... wow!

If you are new to our Ideas At Work! family, welcome aboard. We publish this e-zine to share ideas and keep in touch with our friends, readers, and audience members who wanted to remain in contact and share in the lessons we acquire along the way.
You are receiving this E-zine because someone (we hope you) subscribed. At any time, if you no longer wish to receive this E-zine, simply follow the To unsubscribe or change subscriber options visit:link at the end of this email. Please pass this issue along to anyone you think will gain some benefit from reading it. If you want to continue getting this on a monthly basis, simply do nothing.
If you have gotten this copy as a forward from one of your friends and want a copy of your own, simply follow this link and give us your email address. Our service - aweber - automatically does the rest. You will need to confirm your subscription though a link from aweber to activate your subscription.
---
Follow link for Privacy, Copyright and Policies

Archives of past issues of Ideas @ Work are still available on www.ideaman.net

Motivational Sales Quotes available from Secret Selling Tips
Quite a few of Bob's articles coming in various publications and websites: eg; Toastmasters Magazine; So To Speak; Canada One.

In the Company of Leaders is being created for release mid August at the Toastmasters convention in Calgary where Bob is keynoting their Leadership Lunch.

---

About Bob

Bob is a professional speaker, author, leadership, sales, and business success expert.

"He works with innovative leaders who want their people to perform at their best. He also works with small business owners and sales teams who want to make more money."

Bob is a long time leader and professional member of Canadian Association of Professional Speakers, a member of NSA-Arizona, as well as the International Federation for Professional Speakers.

He is proud to be an active professional member of these amazing groups of people dedicated to polishing their craft and to better serving their clients and audiences.

Bob is the co-founder and a past president of CAPS Vancouver, an honorary founding member of CAPS Sask., an honorary member of CAPS Halifax, as well as being an active member of CAPS Edmonton. He served as CAPS National Director (2000-2002.)

He would be happy to discuss how he can work with you to equip and motivate your leaders, their teams, sales teams, or volunteers to grow and to succeed.

Call him today at 1-780-736-0009 to explore leveraging his innovative Ideas At Work with your organization.
Or, email him at bob@ideaman.net

Ideas At Work!
10 Creativity Corner
Egremont, Alberta T0A 0Z0, CANADA