Point to Ponder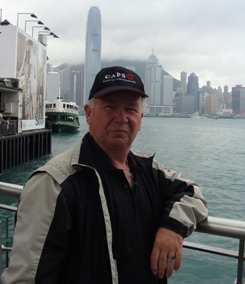 "Twenty years from now you will be more disappointed by the things you didn't do than by the ones you did do. So throw off the bowlines, sail away from the safe harbor. Catch the trade winds in your sails. Explore. Dream. Discover." Mark Twain
When I joined Toastmasters in April of 1991 (21 years ago) I was picking up the pieces from a devastating divorce that had left me battered, bruised and, perhaps, broken. I was rebuilding and this 'silly' dream of becoming a professional speaker re-emerged.
(Bob pictured here as the Star Ferry arrives on the Kowloon side of Victoria Harbour. The Hong Kong skyline is what you see in the background.)
It had long been suppressed and dormant. As I began to dream, it came back and called to me... follow your path, explore, dream, discover. Like this quote from Mark Twain, I began to move out of my comfort zone into the winner's zone.
I joined Toastmasters of Today back in mid-April of 1991 (21 years ago) and found a group of supportive people who encouraged me, educated me, engaged me, and helped me push past my fear into making my dream of 'Speaking my way around the world' a reality. Thanks seems so inadequate for where that journey has led.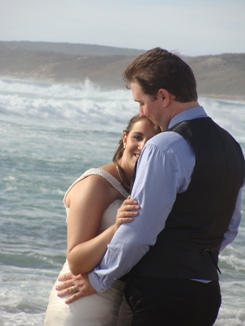 Irene and I just returned from 5 weeks of travel
that took us to Hong Kong twice (my 35th country) and a return visit to Australia (my 3rd, her 2nd) where we felt the sand between our toes.
We cried as her daughter Amanda and Michael exchanged vows (April 4th) on Blue Holes beach outside of Kalbarri, Western Australia. What an amazing backdrop for a wedding.

I also had the opportunity of presenting my Speaking for Success workshop in Perth on April 14th, where 71 people invested a Saturday afternoon to learn how to be more persuasive and powerful speakers. What an amazing and responsive audience.
Several of those who attended gave us an evening tour of Freo (Freemantle to the tourists) where we were staying following the event. We had drinks in one spot, dinner in another, coffee again on 'Cappuccino Row' and wine at another spot on the bay to finish the evening. Thanks guys!
The D17 incoming District Governor, Ross started a conversation as to how they could recruit sponsors to be able to cover the costs and have me come back next May to speak at their convention. I said, I would be open to coming back. So we will see.
We did some sailing, took a few cruises, lots of beach time, played tourist, saw the dolphins again in Monkey Mia, and even flew to a small island (part of the Abrolhos chain) 60 kms off the coast of Geraldton to spend part of a day exploring, snorkeling, and relaxing. That was a highlight for sure. I even got to fire the ceremonial one o'clock cannon at the Round House in Freo. Overall, we had a great time.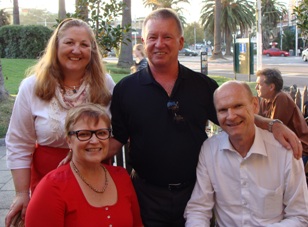 We also flew to Melbourne, Victoria to spend a couple of days with my friend Lindsay Adams and his wonderful wife Debby to celebrate my birthday. (pictured here)
I first met them when Lindsay was the 2009-2010 President of the Global Speakers Federation and we got to know each other better when we both spoke at PSA Holland. We had fun and built on that friendship.

It was wonderful to be away and to spend time with friends and family in Australia. But, I have to admit we were glad to come home too.
Hong Kong was amazing and is now on our 'let's go back' list.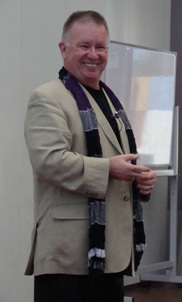 This past year has had its challenges as well as its very pleasant moments and successes. It has been an adventure we've been pleased to share with you.
Our May 2012 issue marks the beginning of our 8th year of publication. That amazes me. Who knew? We look forward to sharing more adventures as we grow and go over the next year.
See you in June.
"Travel is more than the seeing of sights; it is a change that goes on, deep and permanent, in the ideas of living." Miriam Beard
(Bob pictured above during his Speaking for Success program in Perth.)

Archives of past issues are available on our www.ideaman.net website.

---
Last Minute News
May will be amazing. Catching up on work and such after being away from the office for 5 weeks. This has been a great opportunity to break from the routine and start seeing how it will be when Irene is retired and we can take more time away, especially in the winter months. I made a conscious effort to minimize the time I thought about business and CAPS, other than the program in Perth and answering a few client enquiries. It was a nice break!
I'm off to Montreal on the10th to speak to our CAPS Chapter that evening and then taking the train over to Ottawa on Friday as I speak for our CAPS Ottawa Chapter on the 12th as well. Will be doing a program on product development called: Gee, I'm giving birth to a book - hope it isn't a hard cover, at both chapters. Will also be doing this program for our South Western Ontario CAPS Chapter in September. Sadly it means I miss a second month at our CAPS Edmonton chapter.

We're going to spend some time at our place in Egremont getting it set up for the season. Pull out all the lawn furniture, etc and rototil so Irene can plant her garden. Have some work for a couple of client events to fine tune and back to writing projects to fill the gaps.
---
Thanks for reading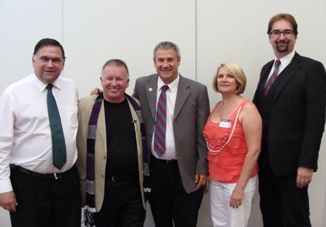 Bob and the D17 Toastmasters Leadership team in Perth, WA
Bob 'Idea Man' Hooey
would be pleased to be a part of your success team and to work with you to help make your conference, meeting, or training event a larger success. For more information about customized keynotes, professional and personal leadership training and coaching, or seminars/retreats, please visit
http://www.ideaman.net
or call our Creative Office at: (780) 736-0009
Ask about a customized conference, coaching or training package to suit your specific career, company, or organizational needs.


Ask about our innovative leadership and/or sales leaders' motivational training programs.
*****
If you are new to our Ideas At Work! family, welcome aboard. We publish this monthly e-zine to share ideas and keep in touch with our friends, readers and audience members who wanted to remain in contact and share in the lessons we acquire along the way.
You are receiving this E-zine because someone (we hope you) subscribed. At any time, simply follow the To unsubscribe or change subscriber options visit: link at the end of this email. Please pass this issue along to anyone you think will gain some benefit from reading it. If you want to continue getting this on a monthly basis, simply do nothing.
If you have gotten this copy as a forward from one of your friends and want a copy of your own, simply follow this link and give us your email address. Our service - aweber - automatically does the rest. You will need to confirm your subscription though a link from aweber to activate your subscription.
---
Follow link for Privacy, Copyright and Policies
What's New!
Had a wonderful visit and adventures in Hong Kong and Australia.
The Wedding was amazing and Bob's Speaking for Success program in Perth was ver well received.

Bob on LinkedIn
Bob on Facebook
Bob on Plaxo
Watch Bob on YOUTube
---
About Bob

Bob is a professional speaker, author, leadership, sales, and business success expert




He is proud to be an active professional member of these amazing groups of people dedicated to polishing their craft and to better serving their clients and audiences.

Bob is the co-founder and a past president of CAPS Vancouver, an honorary founding member of CAPS Sask., an honorary member of CAPS Halifax, as well as being an active member of CAPS Edmonton. He served as CAPS National Director (2000-2002).

He would be happy to discuss how he can work with you to equip and motivate your leaders, their teams, sales teams, or volunteers to grow and to succeed.

Call him today at 1-780-736-0009 to explore leveraging his innovative Ideas At Work with your organization.

Ideas At Work!
10 Creativity Corner
Egremont, Alberta T0A 0Z0, CANADA