Welcome: This issue begins our 9th year of publication. Wow! What a privilege to come into your in boxes each month. Thanks again for your support over the years.

I am often asked how I was able to create the amazing wins in my life. I simply state, "If I can do it, so can you!" In truth, if you have the dreams and the inner desire, and are willing to be disciplined and focus your energies and mindset, you can easily surpass what I have done, so far. Big dreams coupled with strategic steps lead to significant success!
One such dream was becoming a professional speaker who traveled the world offering help and hope to people who needed an inspirational nudge. I originally joined Toastmasters in 1991 to begin equipping myself to walk this adventurous path. Along the way I earned recognition for my leadership and speaking. I was the 48th speaker world-wide to earn their professional level Accredited Speaker designation and was inducted into their Hall of Fame. Later, I began successfully sharing my ideas and speeches with associations and companies. This was followed by publishing articles and; later, books that have found eager readers and leaders around the globe.
Along the way, I discovered an affinity for leaders. I've been privileged to offer them encouragement and work with them to productively equip and motivate their teams to profitably grow and win.
I'm also asked how I keep positive and focused. On home days I am often awakened by our furry kids. I get up, feed them, do a few stretches, read something positive, and reflect on the game plan set the night before. I choose to write prior to digging into other projects such as presentation prep for a client or one of my charity events. My 30 plus books were an act of desire and discipline. On road days my routine is similar without the furry alarm clocks. There are also days where I need a nudge or boost. This is where I touch base with a select group of friends like my cheerleader Kim Yost (who continues to challenge me), some of my Toastmasters or CAPS/NSA colleagues, or my wife Irene (who often quotes me to me) to be encouraged. Then I dig back into my work.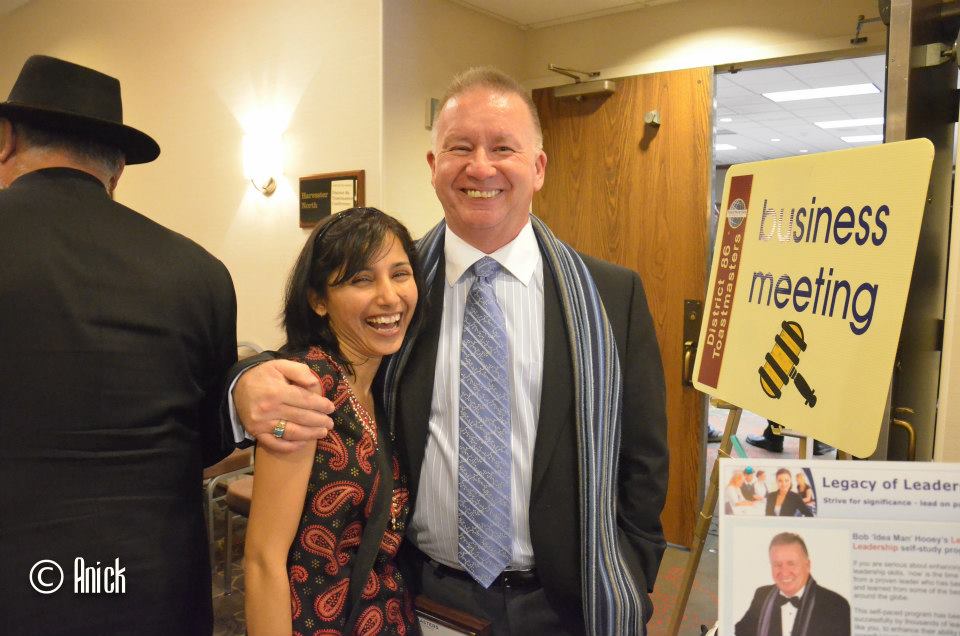 My greatest joy is seeing my Ideas At Work within an organization and seeing people take personal leadership, play to their strengths and thrive. I work diligently to create something significant to enhance my brand and ability to help people grow and win. I love what I do and plan on staying healthy to do it well into my 80's.Success is a choice you make each day. Each day you can choose to create BIG dreams and focus on the strategic steps that will make them a vivid reality. Each decision acted upon helps to create a lifetime of success and significance. Say YES, you can!
Bob 'Idea Man' Hooey
A shorter version of this point to ponder will be featured in my friend Kim Yost's new book iPump being released in June. It will start chapter two.
Pictured above: My pleasure to get a hug from D86 winner of the international speech contest, Sheetal Pundir, who will compete at the Toastmasters International convention this summer. She was delightful and captivated the audience, including me.

Archives of past issues are available on our www.ideaman.net website.

---
April was an interesting month with the successful publishing of Legacy of Leadership. We now have it up on Amazon in print and Kindle versions.
We also added Speaking for Success as a Kindle version on Amazon.
In addition to some client work, I had the privilege of spending my birthday weekend with 350 plus dedicated Toastmasters from D86 when I spoke at their convention in Burlington. They got 1st shot at purchasing Legacy of Leadership and it was well received. What a great group of people.They even sang happy birthday.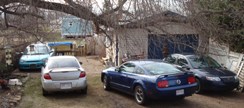 May 1st and we still have snow. We were snow free until last Monday. What a difference a day makes. (Left is Sunday afternoon; right is Monday afternoon.)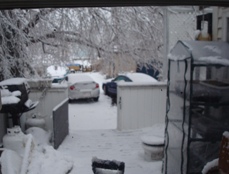 ---
Last Minute News
Irene and I are merging and purging our two houses a year earlier than planned. We were going to do this when she retired. Irene was told she would be working from home indefinitely. The building was making her sick.
So we decided to get rid of the place in Mundare. We had kept it when she was still able to work in Vegreville, but see no reason to keep it in light of this latest decision from work. So, we have been sorting and packing, and sorting and packing. Also taking many car loads to the recycle and back over here. We are bringing only what fits here in Egremont and the rest will be given away. Our objective is to have this done by mid May so we can relax when we fly east.
Irene will be flying out to Nova Scotia with me later this month when I speak for the CAPS Atlantic Chapter. I will be the last speaker in their 1st Fast Track program in the afternoon (May 23rd) and then speak at the chapter later that evening. I will be doing my Now is the Time! (the program on product development I did at 4 chapters last year) for them on the 24th as a full day workshop styled program.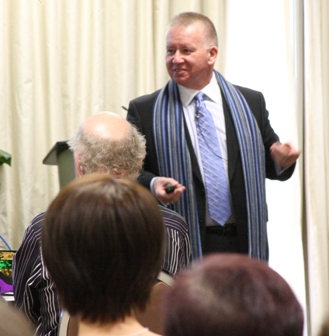 On Saturday (25th) we will be doing a
Speaking for Success Boot Camp
to raise funds for an idea I have in support of our CAPS Foundation.
Monday (27th) I will speak at the Halifax version of MoMondays. Should be fun. Did the one in Toronto last September.

I asked Irene if she wanted to come along as a break. We'll play tourist for a few days before flying home on Tuesday afternoon. We hope to do more of this mutual travel when she retires next year.
Bob pictured here during his Speaking for Success workshop at D86.

---
Thanks for reading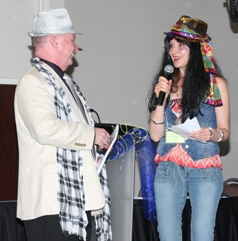 Bob 'Idea Man' Hooey
would be pleased to be a part of your success team and to work with you to help make your conference, meeting, or training event a larger success. For more information about customized keynotes, professional and personal leadership training and coaching, or seminars/retreats, please visit
http://www.ideaman.net
or call our Creative Office at: (780) 736-0009
Ask about a customized conference, coaching or training package to suit your specific career, company, or organizational needs.

This is Brenda Shaw, a new Toastmaster, who was Bob's introducer for the Friday night workshop on leadership. She was brilliant!
Ask about our innovative leadership and/or sales leaders' motivational training programs.
*****
If you are new to our Ideas At Work! family, welcome aboard. We publish this monthly e-zine to share ideas and keep in touch with our friends, readers and audience members who wanted to remain in contact and share in the lessons we acquire along the way.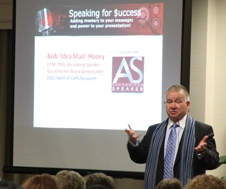 You are receiving this E-zine because someone (
we hope you)
subscribed. A
t any time
, simply follow the
To unsubscribe or change subscriber options visit:
link
at the end of this email. Please pass this issue along to anyone you think will gain some benefit from reading it. If you want to continue getting this on a monthly basis, simply do nothing.
We attempt to ensure that anything we publish offers correct attributions. If you see something we missed, please let us know so we can correct the oversight.
If you have gotten this copy as a forward from one of your friends and want a copy of your own, simply follow this link and give us your email address. Our service - aweber - automatically does the rest. You will need to confirm your subscription though a link from aweber to activate your subscription.
---
Follow link for Privacy, Copyright and Policies
What's New!
This is the 1st issue of Volume Nine in our series. Wow! 9 years!
Bob is being featured in iPump, the 3rd in a trilogy by Kim Yost. iPump will be released in June 2013

Bob on LinkedIn
Bob on Facebook
Bob on Plaxo
Watch Bob on YOUTube
---
About Bob

Bob is a professional speaker, author, leadership, sales, and business success expert




He is proud to be an active professional member of these amazing groups of people dedicated to polishing their craft and to better serving their clients and audiences.

Bob is the co-founder and a past president of CAPS Vancouver, an honorary founding member of CAPS Sask., an honorary member of CAPS Halifax, as well as being an active member of CAPS Edmonton. He served as CAPS National Director (2000-2002).

He would be happy to discuss how he can work with you to equip and motivate your leaders, their teams, sales teams, or volunteers to grow and to succeed.

Call him today at 1-780-736-0009 to explore leveraging his innovative Ideas At Work with your organization.

Ideas At Work!
10 Creativity Corner
Egremont, Alberta T0A 0Z0, CANADA