Point to Ponder
"Listen to that voice inside you that says you can accomplish anything. Trust that feeling that tells you, you can achieve all that you hope for. Believe that everything you want is waiting for you. Hold on to the knowledge that nothing is impossible. Remember that each person who has ever achieved a goal started out with only a dream." Jason Blume
Have you ever felt your spirit nudge you? Did you respond or did you tell yourself to grow up and deal with the facts? Did your fear stop you from moving?

Our intuition is an important part of our life and like other skills it can be nourished and honed. Try it on smaller nudges and check it out...then confidently move ahead to let your spirit lead you to greater success in life and business.
Life is much too short to live in doubt, to struggle needlessly, or to undervalue your own skills, experience, or expertise. Dream on and make those dreams come alive!
Ask those who have struggled and overcame obstacles to succeed:
They will tell you that they believed in themselves in spite of the obstacles.


They will tell you that they believed they would emerge victorious and they worked to make that belief a reality.

They would tell you it was worth the struggle.
I'm traveling to Tehran, Iran this month and I am confident that this trip will be beneficial for those in my various audiences and it will be profitable for me as well. One of the groups I'm addressing is composed of 150 Sales Managers who will be given the opportunity to join our
Secret Selling Tips
subscribers.
I told one of my audiences last month that there was increased talk of a recession and "I had decided not to participate." In fact, I told them I was working to make this challenging time one of my most productive.
In times of challenge, people need help. They also need hope and I can give them a hand with both of these areas.
Let me challenge you to listen again to your voice and then move confidently in the direction of your dreams.
Until next month...
Note: Watching the US presidential race and its amazing conclusion is one of those inspiring stories of struggle and overcoming. Yes, we can!
Here is a
link to one of the Iranian conference sites
as well as links to the pictures of the two billboard/banners in downtown Tehran. The organizer (Sepehr) told me 100,000 people a day drive past these two sites. Evidently the Strategic Management conference had promotional billboards out in Tehran as well. This is a new experience for me...
Archives of past issues are available on our www.ideaman.net website.

---
Customer Engagement and Honest Selling equals Customer Loyalty
The idea that customer satisfaction equals customer loyalty is a myth. Customer loyalty in selling relies on customer engagement and honest selling. Take a look at the following example.
There is a hardware store in my neighborhood that has been in business for over 50 years. They are not the biggest or least expensive, but they are one of the most successful. Yet, on the surface, they seem to break every rule regarding customer loyalty:
no sales, no frequent-buyer cards
no free coffee and doughnuts
dusty shelves, bad parking, opinionated salespeople
Customer Loyalty -- Are You Human or Machine? So why are they successful? Listen to this story. Once, I walked in looking for an extra-long drill bit, and the salesperson all but refused to sell it to me. "What do you want it for?" he asked. To be honest, at first, he was a bit cantankerous and his frankness offended me but I continued on and told him what I "thought" I needed. He then begrudgingly stated, "I could sell it to you... But it's not gonna work."
What followed was an honest explanation to why the product I wanted to purchase would not meet my needs. The salesperson did not follow a script. In the end, I purchased a different product that better fit my situation. The hardware store's frank, to-the-point, strongly human approach to selling helped me develop a level of trust that kept me a loyal customer. Honest selling equals customer loyalty.
These days, many salespeople do not practice honest selling. They are polite, efficient, and helpful - and utterly anonymous. It's not their fault; they've been trained that way. They sell from a script and never take a chance. You may as well be talking to a robot. Unlike the local hardware store, customer loyalty suffers; there is no real human connection, no level of trust, no degree of true honesty.
Building Customer Loyalty -- Customer Satisfaction Doesn't Matter. Lots of companies spend lots of money trying to unravel the secret of customer loyalty. They relentlessly measure customer satisfaction on every dimension imaginable: Was the service prompt? Was the salesperson helpful? Could anything have been done to make the buying experience better? The assumption is that most customers defect because they were dissatisfied in some way. So if you can keep customers satisfied, customer loyalty will benefit.
It turns out that assumption is dead wrong. Customers who say they're satisfied walk away all the time. In fact, a recent study from the Gallup Organization found that customer satisfaction, as it's traditionally measured, does nothing to boost repeat sales or customer loyalty.
The study found, for example, that "extremely satisfied" bank customers were just as likely to take their business elsewhere as less-satisfied customers. The same pattern emerged among customers of a major supermarket chain. The researchers concluded that customer satisfaction "has no real value. None at all." This means that all the money and energy that companies spend to measure and improve it - is wasted.
Not convinced? Take a look at Lincoln-Mercury. According to the American Customer Satisfaction Index, it has the highest customer-satisfaction ratings in the industry - ahead of Honda, BMW and Toyota. Yet in the past two years, customer loyalty is down, Lincoln Mercury sales have fallen by 26%.
Customer Engagement -- Customer Loyalty. The researchers did find something linked to repeat sales: customer engagement. In other words, a customer's emotional connection with you, your product or service, your company.
Think of it this way: Chances are, you're perfectly satisfied with the service you get from your local ATM. But you don't sing its praises to your friends. Or look forward to using it. And if you found another one half a block closer to your office, you wouldn't think twice about using it instead. No customer loyalty.
Compare that with a human teller who smiles and greets you by name, asks about your kids, and chats about the weather while your checks are being processed. Same level of service. Same degree of satisfaction. But the customer engagement factor is much higher. World of difference. Better customer loyalty.
In a bigger organization, the clerks at that hardware store would probably get whisked off to a little room somewhere to get intensive training on sales skills. They'd be reminded to say, "Have a nice day." They'd learn how to meet standards on 14 dimensions of customer service. If they couldn't get with the program, they'd be replaced - and six months later, a marketing analyst would be wondering why sales had taken a nosedive.
Yes, those hardware clerks are frank and cantankerous. But they know their stuff. They take pride in their work. And above all, they practice honest selling and customer engagement everyday, allowing customer loyalty to soar.
Editor's note: Paul Cherry
is one of our
In the Company of Leaders
co-authors and has 20 years experience as a sales training consultant with an emphasis placed on sales training, leadership development, sales coaching and leadership coaching. To date, Paul Cherry has trained and coached over 1,200 organizations in every major industry ranging from family-owned small businesses to leading Fortune 500 companies. 84% of clients report on average a 12:1 ROI from his training programs as the emphasis is on reinforcement and accountability. He is also one of the foremost experts on sales questioning methods and techniques. As a leading sales training consultant, Paul Cherry has written over 150 articles in leading sales publications, been guest speaker for webinars presented by Kiplinger.com and Business 21 Publishing, and has received media coverage in
Investor's Business Daily
and
Selling Power
. He is the author of the top-selling book,
Questions That Sell
and the soon-to-be-released Questions That Lead.
---
Bob's November Schedule
Nov. 1st: Saskatoon for CAPS Sask Chapter meeting with Michel Neray
Nov. 6th: Leave for London, UK via Calgary, AB
Nov. 7th: Leave London for Tehran, Iran
Nov. 10th: Keynote Strategic Management Conference in Tehran
Nov. 11th: Work with 150 Sales Managers from the Iranian Organization of Industrial Management
Nov. 12th & 13th: Present (3 sessions over 2 days) at Time, Stress, and Memory conference
Nov. 14th: Present at University of Tehran on Kish Island (in the Gulf)
Nov. 15th: Free day for touring and early shopping
Nov. 16th: Fly to London.
Nov. 20th: Fly home to Edmonton
Nov. 29th: Fly to Toronto for annual Canadian Association of Professional Speakers convention. Presenting at the Meet the Experts session again this year.
---
Last Minute News and Ideas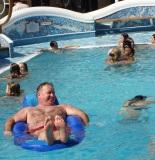 October was an amazing month.
Started off with a flight to Vancouver and spending the morning with Irene's son before boarding the Golden Princess for a "memorable" 3 day cruise down the coast to LA.
Then a short flight to Las Vegas for 4 days and a small wedding ceremony with friends Robert and Christine acting as our witnesses.
Back home to work... two presentations for Small Business Week. One in Devon and one in High Prairie. Great audiences. Work on new materials for sessions in Iran, work on Secret Leadership Tips. Receipt of our 3rd Pocket Wisdom book... Pocket Wisdom for Innovators... now we have a series of three and we will grow it over the next year to a dozen or so.
Working on a new speakers site to assist my CAPS friends in Toronto. www.TorontoSpeakers.com should be up and running by end of November.
October 25th had the pleasure of spending the evening with friends and family. Our friends Kim and Donna decided to host an intimate post wedding celebration and invited us and 3 other couples to dinner at the Hotel MacDonald. They even got us a suite for the evening. We are truly blessed by the love and friendship in our lives. Our friends and neighbors Kelly and Christine, along with speaker friends Linda and Lorn, and Irene's cousin Ann and her husband Fred joined us for this impromptu celebration of love and laughter.
We will be doing a small family gathering later this year when Irene's son moves back to Alberta and schedules work out. Am working to create a place to work in Mundare and getting organized so I can do that. I plan on being back in Egremont a couple of days a week to work in this office and to make sure my 96 year old neighbor is doing ok.
Oct. 30th: Invited Irene to attend my Wild Rose Toastmasters club where I was the Toastmaster (MC) for the evening. Introduced her to some of the folks she'd heard me talk about in the past.
Oct. 31st: Headed over to Saskatoon to attend the CAPS Sask. meeting on Sat. I'm an honorary founding member of this chapter that celebrates its 7th anniversary in November. My sister Patti came along as she has friends in Saskatoon to visit.
Going full tilt to get everything ready for my trip overseas. Have to make sure all of the handouts are created and sent, ppt's are created and anything that needs to be done in November is completed before I head out on the 6th. Exciting, but it is a lot of work... good thing I love this work. Flights to Iran are going to be very long. Leave here afternoon of the 6th and get into Tehran at 2:45AM on the 8th.
Picture is Bob enjoying his 'floaty' aboard the Golden Princess. Also launched in Las Vegas and hope to have some taken in London and Tehran this month. Watch for new action shots on
www.floatybob.com
---
Late breaking news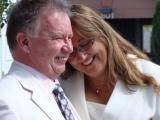 October 4th:
Irene and I got married in Las Vegas following our cruise from Vancouver to LA.
Collin McCarty wrote, "A friend (wife) can guide you, inspire you, comfort you, or light up your life with laughter. A friend (wife) is a gift that brings happiness, and a treasure that money can't buy."
I added the notation for (Wife) as Irene does all these things for me and much more... Some of you have asked who is 'my friend Irene' mentioned in earlier newsletters. Some of you know her and love her as much as I do.
Irene and I have known each other for many years, meeting the first time at my sister's wedding some 30 plus years ago. We met again at my brother-in-laws' brother's 50th anniversary. We rekindled our friendship and Irene started helping me with my websites, proofing my writing, and in so many ways. Our friendship grew as we worked together and spent time together. We found we had some solid common ground and the affection grew into love.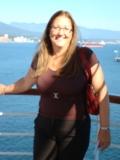 I surprised Irene with a proposal on the Golden Princess enroute to LA and we
spontaneously
got married in Las Vegas before flying home on the 4th. According to Irene,
"I still owe her a honeymoon."
And I look forward to living up to that responsibility.
I am so blessed to have Irene in my life, as my best friend, confidant, partner, and now, amazing wife... Amazing how many of our friends and colleagues were overjoyed at the news.
---
Thanks again for reading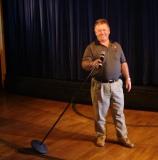 Bob 'Idea Man' Hooey would be pleased to be a part of your success team and to work with you to help make your conference, meeting or training event a success. For more information about customized keynotes, professional and personal leadership training and coaching, seminars/retreats, please visit www.ideaman.net or call our Creative Office at: (780) 736-0009 for availability.

Ask about a customized conference, coaching or training package to suit your specific career, company, or organizational needs.

Ask about our innovative leadership and/or sales leaders' motivational training programs.

*****
PS: Pic above is Bob fooling around on stage on the Golden Princess enroute to LA. One below is Bob with Whoopie in Las Vegas (wax museum)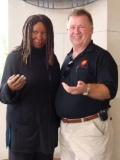 If you are new to our
Ideas At Work!
family, welcome aboard. We publish this e-zine to share ideas and keep in touch with our friends, readers and audience members who wanted to remain in contact and share in the lessons we acquire along the way.
You are receiving this E-zine because someone (we hope you) subscribed. At any time, simply follow the To unsubscribe or change subscriber options visit: link at the end of this email. Please pass this issue along to anyone you think will gain some benefit from reading it. If you want to continue getting this on a monthly basis, simply do nothing.
If you have gotten this copy as a forward from one of your friends and want a copy of your own, simply follow this link and give us your email address. Our service - aweber - automatically does the rest. You will need to confirm your subscription though a link from aweber to activate your subscription.
---
Follow link for Privacy, Copyright and Policies

What's New!
Bob and Irene got married in Las Vegas
Bob featured in two local papers
Bob is off to Iran via London on Nov 6th
DVD in Farsi created for sale in Iran
Publications...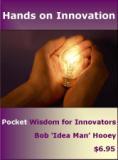 Newest Pocket Wisdom book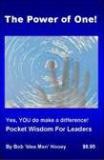 The Power of One available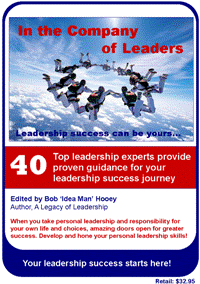 In the Company of Leaders selling well.
---

About Bob

Bob is a professional speaker, author, leadership, sales, and business success expert



Bob is a long time leader and professional member of Canadian Association of Professional Speakers, a member of NSA-Arizona, as well as the International Federation for Professional Speakers.

He is proud to be an active professional member of these amazing groups of people dedicated to polishing their craft and to better serving their clients and audiences.

Bob is the co-founder and a past president of CAPS Vancouver, an honorary founding member of CAPS Sask., an honorary member of CAPS Halifax, as well as being an active member of CAPS Edmonton. He served as CAPS National Director (2000-2002).

He would be happy to discuss how he can work with you to equip and motivate your leaders, their teams, sales teams, or volunteers to grow and to succeed.

Call him today at 1-780-7009 to explore leveraging his innovative Ideas At Work with your organization.
Or, email him at bob@ideaman.net

Ideas At Work!
10 Creativity Corner
Egremont, Alberta T0A 0Z0, CANADA