What is your 'NEXT' Million Dollar Idea?
"Today, creativity must go beyond mere idea generation; the light bulb that goes on over the head of the talented person. It must become an ongoing process, not just momentary and
isolated epiphanies. Creativity is also a process that is linked to how knowledge is managed, because it is inherently defined by quantum leaps in understanding that lead to the
realization of value." John Kao
Have you ever seen something and thought, "Hey, I thought of that first?" Then, mentally kicked yourself because you never did anything about it? Me too!
Join the 'Million Dollar Idea LOST Club.
I was working in a Seattle youth ministry, back in 1970, and while sitting around with another Canadian, came up with the idea of a drive through oil change business. We figured there might be a market for something faster than making an appointment and waiting at a dealership. I even went so far as to draft up a simple floor plan with a drive over pit; similar to what I 'now' see when I get my car serviced.
I went on to what I was doing and simply forgot about it. My friend went home and actually acted on the idea, one of the first of its kind, which grew into a large chain across Canada. Now, every time I drive in to get my oil changed, I am reminded that it is taking action on our ideas that makes them profitable - Ideas At Work!
Why do we do this? Is there a cure to help us? Can we move out of this club and into the "I acted on My Million Dollar Idea Club?" Well, the answer is simply, yes! This newest Pocket Wisdom book is designed to do just that. Using a very simple format, I want to challenge you to create or capture an 'idea-a-week' that will help to enhance your personal or leadership performance as well as your organization.
This newest Pocket Wisdom is going to the printer today! I finally got around to reformatting it from its current size to fit into our Pocket Wisdom series.The key in what I shared about is not just having the idea, but acting on the idea. Ideas At Work! which happens to be what we called our company.
Why not join the 'Million Dollar Acted On It' club instead?

My challenge for you this month is to take stock of the ideas you've got rambling around or written in journals and evaluate them from the perspective of DO or Not Do! Very often we are sitting on a potentially profitable idea or have been letting it gather mental dust while we are engaged in other less important activities. Someone once told me that, "the critical, productive activities are often at the mercy of the menial, less important ones." Too often we live our life in the shadow of what might have been instead of boldly stepping into the ring.
Does every idea pan out and make a million dollars? Nope, some fail miserably. Some create some nice streams of income, like our Secret Selling Tips. But, you will never know until you make the commitment to ACT and to move AHEAD on implementing them.

I've had some great ideas along the way. Some have been very productive. Some have added love and a partner I enjoy spending time with. Some have been detours which have created lessons I can use in the future. I have not always jumped, but I have had the courage to step out and work on them. You can too!
Like my friend, Kelly Falardeau, who just published her 2nd book this year, "Self Esteem Doesn't Come in a Bottle!" It hit the Amazon best seller lists just last week. I'll bet she'd say you can do it too. I have had the privilege of contributing to both of her books and stand in awe of what she is doing with her life and her career in this industry.
Like my friend Charmaine Hammond, also a best selling author, whose book "On Toby's Terms" is soon to be made into a movie. I'll bet she'd say you can do it too!
So, what is stopping you from reaching out, dusting off a dream or two, and moving ahead to make it a reality?
See you next month.
Bob 'Idea Man' Hooey

---
"Empty pockets never held anyone back. Only empty heads and empty hearts can do that!" Norman Vincent Peale
I had the privilege of working with Norman and meeting him and his lovely wife Ruth, when my partner and I hired him and other speakers to do a one day motivational program. I do remember this (at that time mid 60's) little old man shuffling out on the stage at the Jubilee Auditorium and holding the crowd mesmerized for over an hour.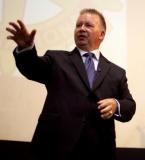 Back stage, I said to myself,
"Some day I want to do that!"
Well, it took 22 years before I acted on that idea, but it is one that has allowed me to literally travel the globe sharing ideas of hope and help with ten's of thousands.
If you've had a dream that just won't go away, perhaps now is the time to take it out, dust it off, and do something about it. Don't let your dream die within you.
PS: this picture was captured when I was speaking in Vladavostok, Far Eastern Russia last June (2010).

---
Last Minute News
November is going to be another busy month. Have a number of presentations to prep for: two in Phoenix and one here in Edmonton. Also, we are still working on the CAPS Foundation fundraising evening for our Toronto CAPS Convention at the end of the month.
Have been invited to present in Singapore in May (7,8) next year. Am working to see if I can adjust our Australian tour so we can come home via Singapore to make it fit. Amanda and Michael are getting married April 4th on the beach in Kalbarri, Western Australia. Should be lots of fun. I need to ensure I have another presentation ready for my return as I would be speaking in Ottawa on May 12th.

Our two furry kids, Jasmine, and Dusty have been part of our family now for a full year. They have added an element of love, adventure and sometimes,
'What the heck are they doing now?
' to our lives.
Continuing to work on our publications. 3 books in the pipeline as EPUB (reader styled) and more to follow. A new Pocket Wisdom for Business Builders gone to print. Nice to keep my brain actively occupied and focused.
Working on plans, budgets, team assignments and roles for our
2012 CAPS Edmonton
adventure. BTW: If you are anywhere near Edmonton on Sat. Nov. 12th, we have the fabulous Jane Atkinson as our special guest.
Irene,myself, and her cousin Annie will be attending
Fabulous at 50
this weekend. This is my 3rd visit and I look forward to it. Of course, being one of the few men in attendance at this event that caters to fabulous women is a perk too. So is supporting what they are doing and the women they are doing it for.
Check it out here
and get your tickets. See you on Saturday morning. It's at the Mayfield. Come early so you get one of the 500 Swag bags. My friend,
Charmaine Hammond
will be the MC and lots of my lady friends will be exhibiting as well as attending. Irene and I look forward to this each year, as she used to work with
Dianna Bowes
who created it.
---
Thanks for reading


Bob 'Idea Man' Hooey
would be pleased to be a part of your success team and to work with you to help make your conference, meeting, or training event a larger success. For more information about customized keynotes, professional and personal leadership training and coaching, or seminars/retreats, please visit
http://www.ideaman.net
or call our Creative Office at: (780) 736-0009
Ask about a customized conference, coaching or training package to suit your specific career, company, or organizational needs.
Ask about our innovative leadership and/or sales leaders' motivational training programs.
*****
If you are new to our Ideas At Work! family, welcome aboard. We publish this monthly e-zine to share ideas and keep in touch with our friends, readers and audience members who wanted to remain in contact and share in the lessons we acquire along the way.
You are receiving this E-zine because someone (we hope you) subscribed. At any time, simply follow the To unsubscribe or change subscriber options visit: link at the end of this email. Please pass this issue along to anyone you think will gain some benefit from reading it. If you want to continue getting this on a monthly basis, simply do nothing.
If you have gotten this copy as a forward from one of your friends and want a copy of your own, simply follow this link and give us your email address. Our service - aweber - automatically does the rest. You will need to confirm your subscription though a link from aweber to activate your subscription.
---
Follow link for Privacy, Copyright and Policies
What's New!
My Next Million Dollar Idea Pocket Wisdom edition goes to print.
Bob on LinkedIn
Bob on Facebook
Bob on Plaxo
Watch Bob on YOUTube
---
About Bob

Bob is a professional speaker, author, leadership, sales, and business success expert




He is proud to be an active professional member of these amazing groups of people dedicated to polishing their craft and to better serving their clients and audiences.

Bob is the co-founder and a past president of CAPS Vancouver, an honorary founding member of CAPS Sask., an honorary member of CAPS Halifax, as well as being an active member of CAPS Edmonton. He served as CAPS National Director (2000-2002).

He would be happy to discuss how he can work with you to equip and motivate your leaders, their teams, sales teams, or volunteers to grow and to succeed.

Call him today at 1-780-736-0009 to explore leveraging his innovative Ideas At Work with your organization.

Ideas At Work!
10 Creativity Corner
Egremont, Alberta T0A 0Z0, CANADA