Point to Ponder

Does one life make a difference?

This was the 'title' of my original Accredited Speaker audition presentation for entry into the Toastmasters International professional level program back in the mid 90's. It explored the concept that each of us already makes a difference by our choices, our actions, and our interactions with those around us - the choice was in what kind of difference (Positive or Negative). The judges passed me and I was accepted into the program. I went on to earn my Accredited Speaker designation in August of 1998 in Palm Dessert. Does your life make a positive difference? I trust it does!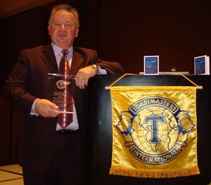 August 15th of this year (2008), I had the
rare
privilege of keynoting the Toastmasters International annual leadership lunch at their Calgary convention.
My keynote laid out the contention that Personal Leadership tapped into The Power of One which leads to engaging the passion of many and allows us to walk In the Company of Leaders. I further challenged those in attendance to step up and claim their leadership - that the world needed their willingness to lead and to make a positive difference.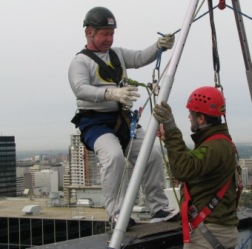 Last month (Sept. 8th, 2008) I joined 62 fellow Edmontonians in support of Alberta Easter Seals and stepped off the ledge of the 29 story Sutton Place Hotel as part of the 2008 Edmonton Drop Zone adventure.
Together, my fellow Superheroes and those who supported us, raised $98,730 to help adults and kids with disabilities here in Alberta. Across Canada other superheroes stepped up to do the same thing in their cities.
As I mentioned at the celebration dinner honoring my fellow Superheroes, "It takes personal leadership to do what we just did, to confront our fears and step up and step out. When we do that we become leaders, role models and we inspire others to follow in our footsteps... although perhaps they don't realize how far they will step." (Picture is me on the ledge 29 stories above 101st St...gulp)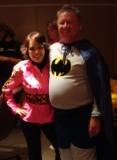 I went on to mention, "When I travel the globe talking about effective leadership, I remind audiences about the ripple effect of their personal leadership. One great example is my friend Catherine Vu. Catherine (pictured here) heard about my Drop Zone adventure last year and told me she was going to do it and recruit a team. Well, she did! She invited a few friends, who invited a few friends, and they created the Drop Zone Daredevils (9 people who raised in excess of $20,000). Each of us can inspire others to individual and team greatness. Each of us can be a leader and the world desperately needs more leaders and superheroes."

Superheroes are ordinary people who step up when needed and sometimes step out in support of their respective causes.

Thinking back over the past 17 years, I have seen a thread woven in my remarks that I trust has been worn in my actions and intentions. My icebreaker speech for Toastmasters (1st one back in 1991) was called 'One Small Candle' which contrasted the funerals of a young person taken early and an older person who had lived a rich life of service and significance. I shared with that audience of very supportive Toastmasters that my intention was to live my life in such a way that it would make a significant difference.

One way to make a significant difference is to be 'actively' involved in our respective 2008 national elections. Canada goes to the polls October 14th and the United States on November 4th.

Our respective countries are crying out for strong, effective, leadership and that starts with us. You and I can make a difference in living our lives in such a way that we inspire those around us to greater action and success.

And, of course get out to vote. My neighbor Steve (he will be 96 next month) was one of those who went to fight in WWII leaving behind a young son and wife. My dad and uncle both served in the Royal Canadian Air force, in service to this country and in support of democracy. Our vote is a remembrance of their willingness to risk their lives and the sacrifice of thousands who died to ensure our freedom of choice. We stop to remember them on November 11th; but we can ensure their memory is preserved each time we exercise what they fought to support - freedom to choose, freedom to lead, freedom to live, freedom to make a significant difference! And you can...


(c) 2008 Bob 'Idea Man' Hooey

Archives of past issues are available on our www.ideaman.net website.

---

I get notes from subscribers and friends with all sorts of interesting leads and ideas. Last month I got one with a link to my birth data. Check it out and see what it tells you about yourself based on when you were born. Here are a few highlights from mine: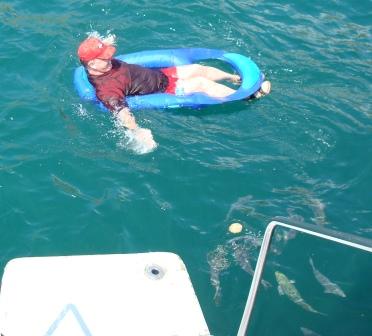 As of 9/11/2008 8:42:56 AM EDT
You are 713 months old.
You are 3,099 weeks old.
You are 21,696 days old.
You are 520,712 hours old.
You are 31,242,762 minutes old.
You are 1,874,565,776 seconds old.

Your fortune cookie reads: If you continually give, you will continually have.
Your birth tree is: Maple, Independence of Mind

Hmmm... Interesting facts no doubt; but what it reminds me is that I have lived and that I have invested that amount of time in creating my life and legacy. And, it inspires me to work more diligently to ensure that my legacy is a positive, lasting one. What does your information say about you? What does it inspire you to do?
PS: Picture is me testing my Swim Ways 'floaty' while feeding the fish while sailing in Mexico. Watch for a new fun website: FloatyBob.com coming soon to an internet near you...smile.

---
Choice: Privilege, Opportunity and Responsibility
Chris Widener
One of my absolute favorite quotes is from former President, Dwight D. Eisenhower. Eisenhower said that,"The history of free men is never written by chance, but by choice - their choice."
What a powerful truth. We can, and do, write our own history. That is, when our life is nearing the end, we can look back and see that the history we leave behind, the legacy that we leave for our children, is the accumulation of the choices we made all along the way.
As I think about this, I realize that some may view it from the back end and it may seem hopeless, but we can be proactive about it and decide now that we will begin to make choices that will bring us to our desired end.
Before I talk about privilege, opportunity, and responsibility, I want to make something perfectly clear, and it is something that you must embrace if you are going to see your life continually improve and change for the better. I believe that...
Anyone can have as much money as they choose to.
Anyone can weigh what they choose to.
Anyone can have the job they choose to have.
Anyone can have the level of peace that they choose to have.
Anyone can do anything they choose to do.
The ability for us humans to choose is incredible, but it also brings with it philosophical truths as well. Primarily the power to choose brings with it privilege, opportunity, and responsibility. When we see how all three of these play out in our lives, and when we discipline ourselves to make the choices that will bring us to our desired outcome - watch out - because you will be UNLEASHED!

The Ability to choose is a Privilege.

Dogs don't have it. Cows don't have it. Trees and flowers don't have it. The only living creatures that have the ability to choose are humans. All of the rest of living creatures live by instinct, or in the case of trees, flowers etc, they live wherever they are planted (I guess they must have to develop a great deal of contentment!).

Have you ever viewed your ability to choose as a privilege that you have been given? That is one of the more motivating factors in my life for being disciplined and making choices. Exercise your privilege today. Make choices today that will make you, your family and your community better off!

The Ability to choose is an Opportunity.

Every one of us has the opportunity to improve ourselves. There are too many stories of people who have lost 200 pounds, left behind fortunes while only earning $20,000 a year and multitudes of other success stories for me to believe otherwise. In fact, I myself have seen it in my own life. What an opportunity! Yet many believe that it is impossible - that they don't even have the opportunity. Not true at all. Take advantage of the opportunity you have every single day of your life to change - because you can!! Make choices today that will make you, your family and your community better off!

The Ability to choose is a Responsibility.

We do not live our lives in a vacuum. We live them in the context of our families, our communities, our businesses and the organizations we belong to. We have a responsibility to make right choices that will positively impact all of those around us!

I have four children. The choices I make each day, maybe even every moment, will affect them for the rest of their lives. Do I have a responsibility to them? You bet! I want to discipline my life in such a way that they become all that they can be and that our family and eventually the families that they will start, will become great!

When I think of choices that changed history, I think of Rosa Parks who made a choice that would bring her into the forefront of America's news of the day and eventually the history books. One day, Parks, an African-American, decided that she would not give up her seat on the bus to a white person. She made a choice. It was undoubtedly one she had thought of for sometime. It was her privilege as a human to make this choice, regardless of what others thought and regardless of what the outcome would be. It was an opportunity to make a statement and to stand up for what was right. It was her responsibility to generations of minorities who would come after her to make this choice. She did, and America changed.

Like Rosa Parks, and countless others who daily make choices that produce change, it is those who will dare to dream of a better life, those who will risk failure, those who will make the right choices who will change themselves, their families, their businesses and organizations and yes, even their world! The ability to choose is an incredible privilege, an outstanding opportunity, and an awesome responsibility! Use it!

(Editor's note: Check out an historical audio address in support of war bonds by General Eisenhower from Algeria on October 23rd, 1943)

Copyright 2008 Chris Widner, Made for Success. Used with permission of the author.

My friend, Chris Widener is a popular speaker and writer as well as the President of Made for Success and Extraordinary Leaders, two companies helping individuals and organizations turn their potential into performance, succeed in every area of their lives and achieve their dreams. Join subscribers in over 100 countries around the world! Get Chris' FREE weekly Made for Success Ezine by sending a blank email to success-on@mail-list.com. Visit his websites at http://www.madeforsuccess.com and http://www.extraordinaryleaders.com.

---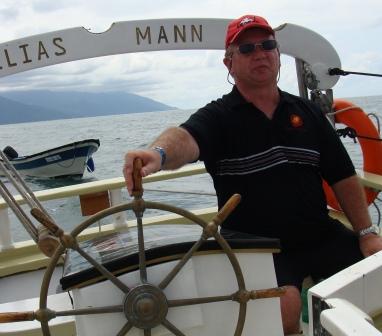 Last Minute News
September was super! Starting with time well spent in Puerto Vallarta, Mexico doing some sailing, filming a few mini-movies, testing my floaty prior to taking it on the high seas and to Iran and Rome, and generally relaxing and recharging my creative energies.
Successfully rappelled down the outside of the Sutton Place Hotel. Catching up with writing projects finished out the month and preparing for my Iran presentations.
October
will be a productive month as well. With a couple of presentations planned, launching
Secret Leadership Tips
, finishing up a couple of writing projects and new websites, as well as tweaks on current ones. Also enjoying a cruise (Sept 28-Oct 5th) from Vancouver to LA and a few days in Las Vegas to launch the month. (This month's issue will go out as we are docked in LA and enroute to the airport to fly to Las Vegas.)
PS: Bob pictured here at the helm of the Elias Mann off the coast of Puerto Vallarta.

The Gypsy Spirit and her wonderful crew were unavailable this year due to maintenance but we had a great time on the Elias Mann. If you travel to Puerto Vallarta visit the Gypsy Spirit team at: www.pacificdreamstours.com I met owners, Harold and Sandi Forman from New Orleans while on the beach in Yelapa. They wanted to meet me and came out by water taxi to say hi after hearing I was in town and unable to go out on their boat. What a great couple.

---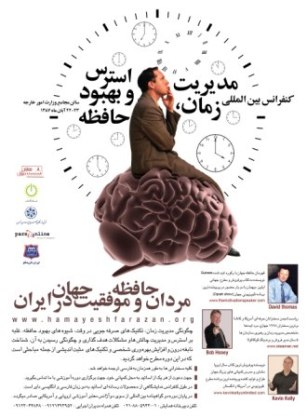 Late breaking news
We had a
glitch
last month so I am extending my invitation.
Purchase your personal, 'printable' copy of our new e-publication,
In the Company of Leaders
- at a special subscribers price only $20 CDN plus GST (e-book retails at $32.95).
Follow this link
to gain access this amazing new leadership publication.
Just got this designer proof from the client in Iran for a billboard going up in two downtown locations in Tehran, Iran from Oct. 10th to Nov. 10th.
I am excited about this adventure and my first trip to the middle east. I am speaking at a Strategic Management conference on the Monday prior to speaking at this 2nd conference later in the week.
Feel like a pin cushion after getting all my shots updated for my trips to Iran (Nov 2008) and India (Jan. 2009).
Just completed Powerpoint presentations for use in Iran. They will be included in the DVD for purchase at each session. Irene did a great job of adding music to them. Here is one that I might use for my intro as a part of the keynote for the Strategic Management conference. View my
Against The Storm!
pps here. Used the story of my sail to Japan and Typhoon and Shackleton's adventures to share a few leadership points. Perhaps someone knows how to send to Harper and Bush...smile.
---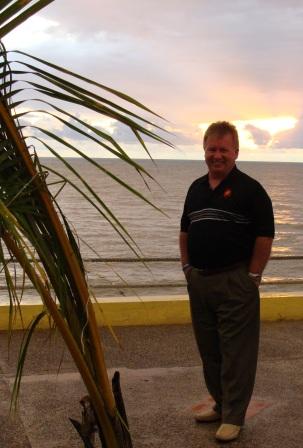 Thanks for reading

Bob 'Idea Man' Hooey would be pleased to be a part of your success team and to work with you to help make your conference, meeting or training event a success.

For more information about customized keynotes, professional and personal leadership training and coaching, seminars/retreats, please visit www.ideaman.net or call our Creative Office today at: (780) 736-0009 for Bob's availability.

Ask about a customized conference, coaching or training package to suit your specific career, company, or organizational needs.

Ask about our innovative leadership and/or creative sales leaders' motivational training programs.


PS: Picture is an early evening shot in Puerto Vallarta.

If you are new to our Ideas At Work! family, welcome aboard. We publish this e-zine to share ideas and keep in touch with our friends, readers and audience members who wanted to remain in contact and share in the lessons we acquire along the way.
You are receiving this E-zine because someone (we hope you) subscribed. At any time, simply follow the To unsubscribe or change subscriber options visit: link at the end of this email. Please pass this issue along to anyone you think will gain some benefit from reading it. If you want to continue getting this on a monthly basis, simply do nothing.
If you have gotten this copy as a forward from one of your friends and want a copy of your own, simply follow this link and give us your email address. Our service - aweber - automatically does the rest. You will need to confirm your subscription through a link from aweber to activate your subscription.
---
Follow link for Privacy, Copyright and Policies