Point to Ponder
"Surround yourself with those who believe in you and will help you achieve your goals." Lisa Marie Yost
When you are struggling, and that happens to each of us, remember to apply the wisdom in this quote. As someone once said, "the best time to dig a well is before you are thirsty."
Building a valued support network is a worthy activity if your desire is long term success and growth. These valued friends, coaches, cheerleaders, and champions will help you weather the storms and detours life puts in your way. Invest time along the way building your network and remember it works both ways. You have the responsibility of being there for them as well.
Life can be challenging at times. Careers and businesses go through dips and detours. Make sure to keep focused on your goals and dreams. Having a supportive network will help in this regard. It has for me; more often than I can count. I am so blessed with the amazing people in my life. My wife, my friends and colleagues, and my clients who invite me into their organizations.

"If people offer their help and wisdom as you go through life, accept it gratefully. You can learn much from those who have gone before you." Edmund O'Neill

Until November.
Bob 'Idea Man' Hooey


Archives of past issues of Ideas @ Work! are available on our www.ideaman.net website. We will be adding archives of Bob's Mid-month Musings as well.

---
"Life is too short to waste thinking of what might have been or what didn't work. Learn the lessons and leverage them to greater success!"
Bob 'Idea Man' Hooey

---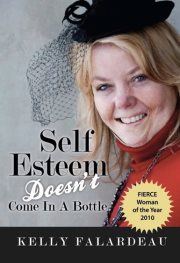 When you meet
Kelly Falardeau
for the first time all you see her radiant smile from across the room. Then as you get closer you see her smile get wider and her beautiful green eyes shine a special welcome at you. I've known Kelly Falardeau for some time now and contributed to her first book. Yes, frankly, I knew she had scars, but they never seemed to matter. The beauty that shines from within makes them pale and fade in the shadows. Kelly has an irrepressible spirit of joy and adventure and she makes you feel good when you are with her. In her case, for sure beauty does not come from a bottle, it comes from her heart. This book should be on every little girl's reading list. For that matter, on her mother's too and then the two of them should talk about how to apply its wisdom in their lives.
---
Last Minute News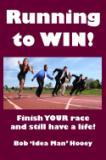 We are continuing to work on converting our books into EPUB (reader format) and offering them via Amazon, Apple, Kobo, Barnes & Noble etc. We actually sold our 1st copy of
Running to Win!
last week.
1 down and 10,000 to go!
Our objective is to revamp and upload at least one book a month. We have 3 uploaded now. Now that we have the system in place to ensure they are properly formatted, I have my work cut out.
It will be fun to rewrite and revamp both my thinking and my words.

Visited my CAPS Calgary family on the weekend. Reminded me how important they are in my life. Two of them offered to help me with my new role as 2012 President of CAPS Edmonton. I was touched with their generosity.

---
Thanks for reading


Bob 'Idea Man' Hooey
would be pleased to be a part of your success team and to work with you to help make your conference, meeting, or training event a larger success. For more information about customized keynotes, professional and personal leadership training and coaching, or seminars/retreats, please visit
http://www.ideaman.net
or call our Creative Office at: (780) 736-0009 for availability.
Ask about a customized conference, coaching or training package to suit your specific career, company, or organizational needs.


Ask about our innovative leadership and/or sales leaders' motivational training programs.
*****
If you are new to our Ideas At Work! family, welcome aboard. We publish this monthly e-zine to share ideas and keep in touch with our friends, readers and audience members who wanted to remain in contact and share in the lessons we acquire along the way.
You are receiving this E-zine because someone (we hope you) subscribed. At any time, simply follow the To unsubscribe or change subscriber options visit: link at the end of this email. Please pass this issue along to anyone you think will gain some benefit from reading it. If you want to continue getting this on a monthly basis, simply do nothing.
If you have gotten this copy as a forward from one of your friends and want a copy of your own, simply follow this link and give us your email address. Our service - aweber - automatically does the rest. You will need to confirm your subscription though a link from aweber to activate your subscription.
---
Follow link for Privacy, Copyright and Policies
What's New!
Bob's new EPUB books are selling.
2012 CAPS Edmonton leadership team is coming together well.

---
We have added this new Mid-month Musings for 2011. Often Bob has ideas or motivational thoughts that just can't wait. So we decided to add a shorter message mid month.
---
Connect with Bob:

---
About Bob

Bob is a professional speaker, author, leadership, sales, and business success expert




He is proud to be an active professional member of these amazing groups of people dedicated to polishing their craft and to better serving their clients and audiences.

Bob is the co-founder and a past president of CAPS Vancouver, an honorary founding member of CAPS Sask., an honorary member of CAPS Halifax, as well as being an active member of CAPS Edmonton. He served as CAPS National Director (2000-2002).

He would be happy to discuss how he can work with you to equip and motivate your leaders, their teams, sales teams, or volunteers to grow and to succeed.

Call him today at 1-780-736-0009 to explore leveraging his innovative Ideas At Work with your organization.

Ideas At Work!
10 Creativity Corner
Egremont, Alberta T0A 0Z0, CANADA