People often ask me where I get the creative sparks for my writing. Simple, I just keep my eyes open and ask questions.
For example, earlier this past week I mentioned to Irene that there was a wasp inside the hummingbird feeder outside our kitchen window. The hummers were gone but somehow this wasp (yellow jacket/hornet) had been able to crawl in. She said she had seen it the day before and it was dead. I told her, no it wasn't. I had just noticed it swimming on top of the sugar water.
Later that day I looked out and it was still swimming. I noticed the water level had dropped. My observation, the wasp continuing to swim was pushing the water out through the 4 'flower' openings. His fellow wasps were coming to take advantage of it. I checked back a couple more times that day and the levels were still dropping and the wasp was still swimming.
For the record, after being stung last year (Irene - twice and me -once) and being inundated with thousands of these nasty insects - I HATE WASPS! In fact I love to trap and kill them, as I did literally thousands last year. But, in spite of that, I had to admire this wasps determination to live and find a way out.
The next morning the wasp was gone and so was all the sugar water. Hmmmm!
Determination is a success trait and one we can acquire. For example, this is my 114th issue since we started so many years ago. I have to admit there have been times I wanted to quit, but then I would get a note from one of our readers and it would inspire me to continue.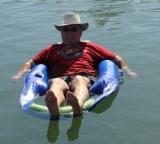 In yesterday's news
(Mon. Sept 2nd, 2013) I read that 64 year old U.S. endurance swimmer Diana Nyad waded ashore Monday in Key West, Fla and became the first person to swim from Cuba to Florida without the help of a shark cage. A 53 hour swim that I couldn't imagine even attempting. She is my age and she is a very courageous woman. I'm sure lots of people told her she was crazy to attempt this swim. However, I'm sure she had some, including those who helped her, who believed in her and encouraged her to swim. This was her 5th and final attempt.
As Diana said on the beach, "I have three messages. One is, we should never, ever give up. Two is, you're never too old to chase your dream. Three is, it looks like a solitary sport, but it is a team," .
I echo Diana's hard won words of wisdom. What can you do with your life, regardless of what age and what circumstances you face? When will you jump in and start swimming?
Until next month
---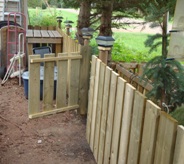 August was a productive month outside our place in the country. Finished the work under the back deck (will redo the uppers including a solarium and greenhouse next year), built and installed a portable garage, cleaned and regained most of the other garage (will finish it this weekend) as well as rebuilt a fence section. I built a new one along our driveway.

Nice to get some of these projects finished before fall. Whew!

I was even able to do some work on the business... smile.

Irene and I took 5 days off and went to Kelowna, BC for a 'longer' weekend and a peach run. Had breakfast with our friends Wayne and Brenda Cotton in Winfield and a coffee with friend Hugh Culver another day in Kelowna. I am blessed with some amazing people in my life. Also some 'floatie' time on the lake reflecting on ideas for the fall and forward. (Pictured above)


Took a couple of day breaks and tours this month. For example, we went to the Reynolds Museum the other day. Wow, some amazing vehicles and planes.

---
Last Minute News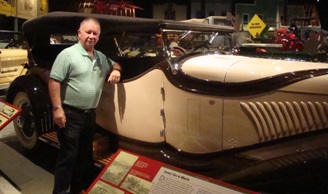 September is going to be a productive month. We have a Kindle promotion giving away free copies of our
Legacy of Leadership
planned for later this month.Stay tuned!
We have added a series of special leadership packages to the site and leadership development programs.
Also doing some promotion to associations about Bob's speaking services.Hey, if you know anyone who is planning an event, pass along my name.

I have been asked to run for School trustee and need to make that decision in next week or so. School district has gone from 7 trustees to 5, so it might be a challenge.

I have another book on the go and some client work including a closing keynote for 100 Outreach teachers who give students a second chance to finish high school at the end of this month.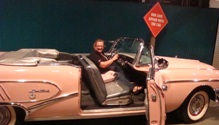 Bob 'Idea Man' Hooey
would be pleased to be a part of your success team and to work with you to help make your conference, meeting, or training event a larger success. For more information about customized keynotes, professional and personal leadership training and coaching, or seminars/retreats, please visit
http://www.ideaman.net
or call our Creative Office at: (780) 736-0009
Pic: Irene found a car to match her pink purse. Very nice one actually.
Ask about a customized conference, coaching or training package to suit your specific career, company, or organizational needs.


Ask about our innovative leadership and/or sales leaders' motivational training programs.
*****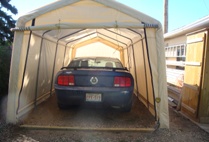 If you are new to our Ideas At Work! family, welcome aboard. We publish this monthly e-zine to share ideas and keep in touch with our friends, readers and audience members who wanted to remain in contact and share in the lessons we acquire along the way.
You are receiving this E-zine because someone (we hope you) subscribed. At any time, simply follow the To unsubscribe or change subscriber options visit: link at the end of this email. Please pass this issue along to anyone you think will gain some benefit from reading it. If you want to continue getting this on a monthly basis, simply do nothing.
Pic: finally got the portable garage built and anchored so we have a place to park the Mustang for the winter.
If you have gotten this copy as a forward from one of your friends and want a copy of your own, simply follow this link and give us your email address. Our service - aweber - automatically does the rest. You will need to confirm your subscription though a link from aweber to activate your subscription.
---
Follow link for Privacy, Copyright and Policies
What's New!
This is our 114th issue since we started this journey together. 114 Points to Ponder...hmm
Look for a special I@W with information later this month.
Bob on LinkedIn
Bob on Facebook
Watch Bob on YOUTube
---
About Bob

Bob is a professional speaker, author, leadership, sales, and business success expert
He is proud to be an active professional member of these amazing groups of people dedicated to polishing their craft and to better serving their clients and audiences.
Bob is the co-founder and a past president of CAPS Vancouver, an honorary founding member of CAPS Sask., an honorary member of CAPS Atlantic, as well as being an active member of CAPS Edmonton. He served as CAPS National Director (2000-2002).

Bob Hooey, DTM, AS, is one of only 65 speakers to earn this professional level accreditation from Toastmasters International; one of 5 in Canada. Visit our new Accredited Speakers website.


He would be happy to discuss how he can work with you to equip and motivate your leaders, their teams, sales teams, or volunteers to grow and to succeed.

Call him today at 1-780-736-0009 to explore leveraging his innovative Ideas At Work with your organization.

Ideas At Work!
10 Creativity Corner
Egremont, Alberta T0A 0Z0, CANADA