Point to Ponder
Thank you, thank you, thank you!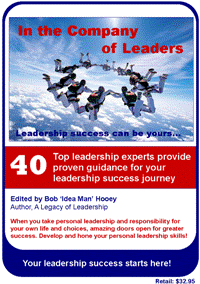 Well, the Toastmasters International convention in Calgary has come and gone and we have successfully launched In the Company of Leaders following my sold out leadership luncheon keynote on Friday, August 15th.
Toastmasters from around the globe are starting to download it. I hope it grows legs and goes around the world, as Toastmasters now has 235,000 members.

I would be delighted if the greater number of them found this e-publication and downloaded it as a tool to help them hone and enhance their leadership skills.

It was great to see a few of our authors in Calgary and to greet 10 fellow Accredited Speakers too. I think 11 is a record for attendance at the same event.

The Power of One! - leads to engaging the passion of many, and allows us to walk In the Company of Leaders. I am honored to be able to walk in the company of these leaders. My thanks to each of our amazing authors whose wisdom made this fly.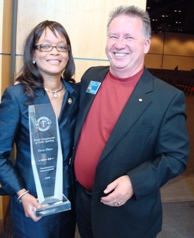 "When you speak the audience will listen...
When your heart speaks you can capture the world."
LaShunda Rundles,
2008 World Champion of Public Speaking
LaShunda emerged as the 2008 World Champion from a field of 10 speakers from around the globe. Her comments provide a lesson for us as leaders as well.
Hearts have spoken and we are capturing the world, one leader and one reader at a time.
All the best for the rest of the summer as we confidently move into fall.
Update: I headed south for a much needed break at the end of the month. Flew to Puerto Vallarta, Mexico Sat (Aug 30th), to do some sailing and generally be a beach bum with a few good books to keep my mind active and recharge.

I hope you enjoyed the September long weekend. This is what I hope to be seeing (movie clip) the day this ezine goes out to you...smile! I believe we need to take breaks to recharge, reflect, and refocus. And, I do attempt to practice what I preach! (Big 'on the beach' smile...)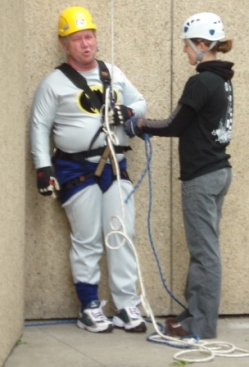 Then I travel back to Edmonton on the 7th for my rappel training that evening. With your help, I will be rappelling off the outside of a 27 story building at 9:45AM on Monday, Sept. the 8th in support of Easter Seals... each rappeler has to raise a minimum of $1500 to participate.

Pic: This is me as I rested (slumped) against the wall following my successful rappel last year. I hope it will be less terrifying and less of an emotional challenge this year...whew!

Visit: www.dropzonebob.com to see more about last year's rappel. If you would like to support this wonderful cause. Just visit the site to be able to 'safely' donate on-line.

I could 'really' use your help this year to help this amazing organization. Please make a donation this week and challenge your friends to join you in your support of Easter Seals.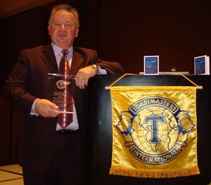 And then I dig back into working on projects and presentations for clients in the fall, including an upcoming speaking trip to Iran, with stop overs in Rome in November.

Final note:

Being able to keynote in Calgary to a sold out luncheon, being introduced by my friend and fellow Accredited Speaker and International President Jana Barnhill, spending time with fellow A/S Sheryl Roush and Ross MacKay, and thanking some of those who helped me grow as a speaker and as a leader, as well as creating and publishing The Power of One! and In the Company of Leaders allowed me to give back to my Toastmasters family... this was a rare privilege... and one I did not take lightly.

I paid to have it professionally filmed and we'll let you know how that turns out. Perhaps it will become available in whole at a later time. I will initially pull a couple of clips for the website from this film.

It has been an amazing summer and I look forward to an even more amazing fall.

(c) 2008 Bob 'Idea Man' Hooey

Archives of past issues are still available on our www.ideaman.net website.

---
How to handle the 'idea killers' in your life!
By Bob 'Idea Man' Hooey, Accredited Speaker
YOU have this great dream, or this fantastic idea bursts into your head. You're excited about the unlimited possibilities and can't wait to share it with your closest friends and family. Ever had that happen? Me too and all too often.
What is their reaction? All too often, their initial reaction is to ridicule the idea, to point out its flaws, to remind us about our lack of education, our lack of money, our lack of experience, or to point out how so and so tried it and it didn't work. The result ... too often, you let your dreams die, be minimized, or give up on your ideas. You let your friends and family rob you of your future and your potential for greatness!
Why do they do that? Well it might be for a variety of reasons, some of them with the best intentions. It might simply be their concern to see you avoid getting hurt or to side step what they see as a path to failure. It may be and often is based on their own fears projected to your action and life. It might be due to a personal failure on their part and a fear that, if you succeed, they will lose you. Or a fear they will have to deal with the reality that, just maybe, they could have done something about their "seemingly impossible" situation. Your potential for success scares them.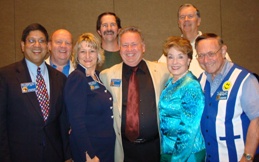 When I joined Toastmasters back in April of 1991, I had a small dream of one day being a professional speaker who would be able to challenge, inspire, and equip my audiences to pursue their dreams and to make them live. It grew and so did I!

Thousands of Toastmasters have dreamed and worked diligently to attain their Accredited Speaker designation since 1981 when the program was launched. To date, only 58 have successfully passed this professional bar, and only 8 of us are Canadians. But in both cases, the work is worthy of our investment and we needed to overcome the influence of those who would kill our dreams.

Pictured here are 8 of the 11 A/S in attendance at the recent Toastmasters International convention in Calgary. I was humbled to see each one in attendance as I spoke on Friday. Their kind words following that talk humbled me even more.
How do we handle these "helpers" or "idea killers" in our life? One of the best ways I know is to be aware of their existence and seek to avoid them in areas of vulnerability. I don't mean to cut them off completely ... just realize that they are not committed to or understanding of your dreams and desires. Make a conscious choice to keep these areas private, especially during the embryonic or incubation stages of establishing your dreams or ideas.
Maintain your focus and keep moving forward to see your idea or dream become a reality. As someone once wrote, "Show no regrets for the past, no fear for the future. Expect to win! It's a funny thing in life, if you refuse to accept anything but the best, you often get it."
We may not choose our family, but we do have full control over our friends and over the amount of time we spend with friends and family. This is where we make the decisions that help shape or determine our destiny. In life, there are those who would kill our dreams and those who would, if asked, help nurture our dreams. We can identify and choose each group in which to associate and invest our time.
One of the most effective ways of dealing with an idea killer is by doing your homework. If you have researched your dream and have done your due diligence, some can even be brought around to being at least a neutral observer, if not reluctant supporters.
Use feedback from these Idea killers as mirrors to show you your blind spots. Often, they see things that you might miss in the heat of passion. Keep in mind their input is for information only and check it for accuracy before you allow it to impact your decisions.
Demonstrate by your actions, that you're committed to seeing this project through to completion.
Often our past track record of starting and not completing projects may influence their support and enthusiasm. This is especially true with immediate family members.
Idea killers may occasionally become allies, but it takes massive work on your part to win them over to your team. Keep focused on your Dreams!
Don't let another person's critical attitude determine your worth or your future. You don't know how high you can fly until you spread your wings and take to the sky. Please don't let another person's limiting beliefs, no matter how well-intentioned, stop you attempting to dream big, to compete for the ultimate prize... to achieving your personal dreams.
In the mid 80's I belonged to The Entrepreneurs Association. Our Credo was:
"I do not choose to be a common man (or woman). It is my right to be uncommon, if I can. I seek opportunity, not security! I do not wish to be a kept citizen, humbled and dulled by having the state took after me. I want to take the calculated risk, to dream and to build, to fail and to succeed. I refuse to barter incentive for a dole. I prefer the challenges of life to the guaranteed existence; the thrill of fulfillment to the stale calm of utopia. I will not trade freedom for beneficence, nor my dignity for a handout. I will NEVER cower before any master, nor bend to any threat. It is my heritage to stand erect, proud and unafraid; to think and act for myself, to enjoy the benefit of my creations and to face the world boldly and say, 'This with God's help, I have done. ' All this is what it means to be an Entrepreneur." (Entrepreneur Magazine was initially our Association publication, it grew to become a force in publishing and business.)
It is too easy for those around you, who are hopelessly mired in their own mediocrity, to criticize you for trying to follow your dream or acting to implement your great idea.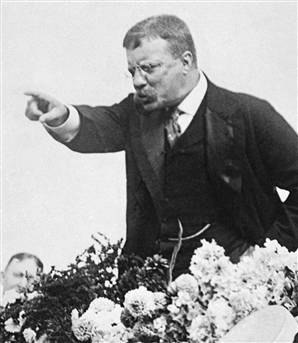 Theodore Roosevelt, who was often criticized wrote, "It is not the critic who counts, not the man who points out how the strong man stumbled, or where the doer of deeds could have done them better.

The CREDIT belongs to the man (or woman) who is actually in the arena, who strives valiantly - who knows the great enthusiasm, the great devotion ... and spends himself (or herself) in a worthy cause.

Who at best, knows the triumph of high achievement; and at the worst, if he (or she) fails ... at least fails while daring greatly, so that his (or her) place shall never be with those cold and timid souls ... who know neither victory nor defeat."
"Do not follow where the path may lead... go instead where there is no path and leave a trail,"writes an unknown scribe. I have used both statements as my guide in many of my activities and adventures as a leader and in my business. I challenge you to do likewise!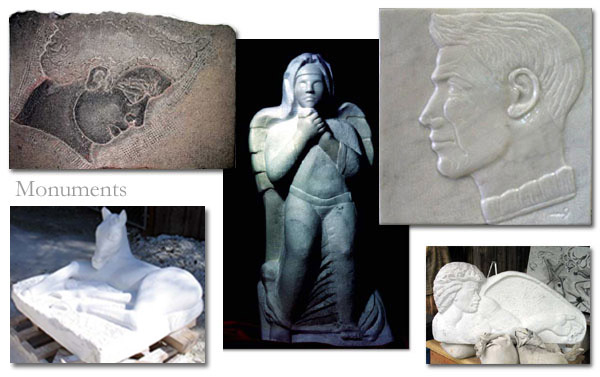 If you are to get criticism, and you will, let it be for following your own personal leadership and daring to build your own dreams. Couple that with a sage tip from me, "Remember, they don't build monuments to critics."

Good luck in your continued efforts to lead, to build your career, or your business. Don't let the dream killers succeed. We need you!

Your success is a beacon to the rest of us who also sail the seas of opportunity.

(c) Bob 'Idea Man' Hooey


---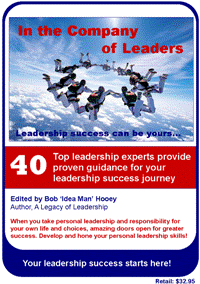 Here is a special offer to my Ideas At Work readers and my audiences... two actually:

1. Purchase your personal, 'printable' copy of our new e-publication, In the Company of Leaders- special I @ W price only $20 (Cdn)

plus GST

(e-book's introductory price is $32.95). Follow link (above) to gain access this amazing new leadership publication.

2. Or...smile: Please go online before Sept. 8th, at www.DropZoneBob.com and

make an online donation of

at least $25

and I will send you a direct link to be able to download it as my thanks for supporting me as I work to help Easter Seals.

You get a tax receipt for your donation e-mailed to you and I get a confirmation notification. All you have to do is send me an email following your on-line donation, so I know where to send your e-book reward.

---
Last Minute News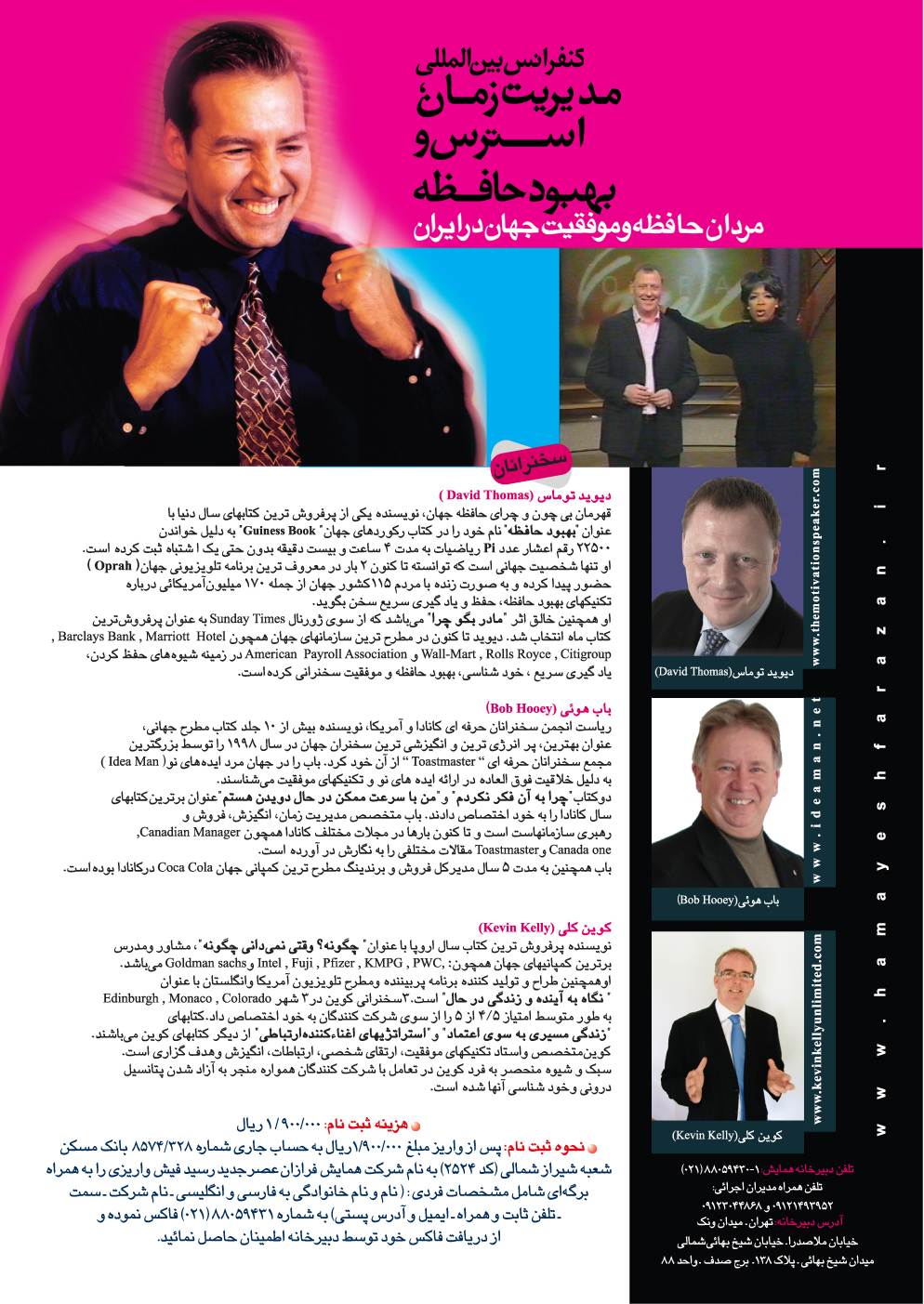 Lots to do this month...smile, as mentioned above including getting my passport to Ottawa Iranian Embassy and back in about 18 days.

A couple of holds for potential clients, working on client programs for October and November, finishing our new Secret Leadership Tips series, lots of website tweaks, working on another Pocket Wisdom product, Working on a couple of video products (Leadership and Selling), preparing for Iran, a number of writing projects already in progress, climbing down the outside of the Sutton Place Hotel, preparing for another working trip at the end of the month (Sept 28th a fun 3-day cruise from Vancouver to LA and then 4 days in Las Vegas).

Just got this promotion piece from the organizer of the one conference where I am speaking in Iran. How cool is that... hope they are saying nice things about me :0). And he says the other conference has a billboard up already with my picture on it in downtown Tehran... wow...I hope to get a picture of that and will, of course, include it here for you. I love this business...

---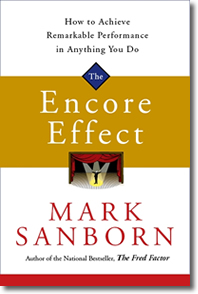 Late breaking news
You may have read The Fred Factor or You Don't Need A Title To Be A Leader, and now you can get Mark Sanborn's best book ever plus a whole set of bonuses!
Available as of September 2nd, 2008
I first met Mark at one of the NSA conventions. He has become a good friend, an encourager, and a role model for me. Mark was one of our Quantum Success authors and recently helped co-author, In the Company of Leaders. He is an amazing man and I encourage you to buy his, new book, "The Encore Effect, How to Achieve Remarkable Performance in Anything You Do" - today.
---
This book needs to be in your success library because the business community will be buzzing about it and because you will personally benefit from its encouraging message. It is quick, easy, and will show you how everyone can achieve an ENCORE performance in their personal and professional lives. Get your copy today! It will teach you how to make the important performances in your life memorable and remarkable.

Whether you buy The Encore Effect on Amazon.com, BarnesandNoble.com, or Borders.com, or directly from Mark's website, submit your receipt to encore@marksanborn.com. In return you will receive a coupon worth $9.97 for your choice of any of the valuable e-books in Mark's online store. You'll also get full Access to The Encore Effect Assessment (a $29.97 value) and other bonuses that will be available through the book's support site at www.theencoreeffect.com PS: If you order it from Mark's site you can get an autographed copy.

Thanks for reading

Bob 'Idea Man' Hooey would be pleased to be a part of your success team and to work with you to help make your conference, meeting or training event a success. For more information about customized keynotes, professional and personal leadership training and coaching, seminars/retreats, please visit www.ideaman.net or call our Creative Office at: (780) 736-0009 for availability.

Ask about a customized conference, coaching or training package to suit your specific career, company, or organizational needs.

Ask about our innovative leadership and/or sales leaders' motivational training programs.

*****
If you are new to our Ideas At Work! family, welcome aboard. We publish this e-zine to share ideas and keep in touch with our friends, readers and audience members who wanted to remain in contact and share in the lessons we acquire along the way.
You are receiving this E-zine because someone (we hope you) subscribed. At any time, simply follow the To unsubscribe or change subscriber options visit: link at the end of this email. Please pass this issue along to anyone you think will gain some benefit from reading it. If you want to continue getting this on a monthly basis, simply do nothing.
If you have gotten this copy as a forward from one of your friends and want a copy of your own, simply follow this link and give us your email address. Our service - aweber - automatically does the rest. You will need to confirm your subscription though a link from aweber to activate your subscription.
---
Follow link for Privacy, Copyright and Policies