Point to Ponder
Smart man, Albert!
Each of these tips can be relevant for us in various stages and situations in life. Each has a nucleus of wisdom we can use to power ourselves through whatever challenge we face.
I like #5: Make mistakes. Because I often do; bet you do too. However, I have learned to reflect on those mistakes and see what lesson I can extract and leverage to help me as I move along my journey. Often, my mistakes have given me something of real value to share with my readers, audiences, and colleagues.
I also like #7: Create Value. Value is what separates us from our competition. Perceived value is what allows us to profitably build and enhance our careers, companies, and communities.
How about #4: The imagination is powerful. Most of the amazing things in our world started in someone's imagination. Perhaps you imagined something, invested time to research and study it, and then went out and made it a reality. Wonderful to see it become real!

I figure you're all smart enough to draw your own conclusions on these 10 tips, but wanted to share a few ideas with you.
In case you can't read the caption, it says, "If a cluttered desk is a sign of a cluttered mind, then what are we to think of an empty desk?"
Have an awesome September and enjoy the nice days as they come along too.
Bob 'Idea Man' Hooey
Talk to you in October.
---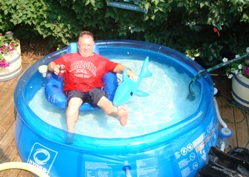 August was productive as well as allowing us some time to relax. Got a lot of projects finished this summer at our place here in Egremont. Fed the recycle bin load after load of paper, etc... and a couple of loads to the dump with my little trailer.
We took an unexpected weekend trip to the coast for another visit with Irene's Aunt Eva, who is now in a Surrey Hospice. It was a surprise for her and lifted her spirits.
It gave Irene a chance to spend a bit more time with her and say her goodbyes. I am speaking in BC on the 13th. Fly in on the 12th, and hope to drop in and see her on the 12th and the 13th if we are blessed to still have her with us.
Life is precious and way too short. Remember that. Tell those you love, that you do love them.
---
Last Minute News
September, as you can see by the notes under
What's New!
, will be fairly busy and see me off to the airport a few times.
I love what I do, even the travel. I have the privilege of sharing ideas and encouragement with people across the globe. However, it is very cool to be able to do so close to home in Edmonton.
Have been busy de-cluttering here in Egremont so I can finish Irene's workspace. I'm gaining momentum.
On Sunday she walked downstairs and said, "Hey, there's actually a room in here!" The Old office is now storage as well as a place for all her jams, jellies, salsa, etc that she is creating from our garden.
Her new workspace will be right outside; across from my Think Tank (ok, that is what I call my hot tub downstairs). Nice when you start seeing some real progress.
Sept 11th: Just home between trips... e-zine will go out today... I had a great CAPS Leadership Summit in Toronto with our National Board and my fellow Chapter Presidents and their President elects. Off tomorrow to BC where I hope to visit Aunt Eva enroute to speaking to the BC CEO Network in Harrision Hot Springs on Thursday.
Then home late that evening until the 21st when I head to London, Ontario and then Toronto again. Will be speaking at MPI Greater Edmonton on the 19th... just to keep me from being lazy. Smile!
Get home from TO on the 25th and speak for EPCOR's electrical services - with all their senior leaders on the 27th.
Update: Sept. 14th: For some reason this did not go out on Tues... so here it is. Just back from BC... good trip... spoke to a great group of people in Harrison Hot Springs, saw my cousin and another friend and was able to visit Aunt Eva twice. She is fading fast, but it was good to hold her hand one more time and tell her how much we loved her.

---
Thanks for reading
Bob 'Idea Man' Hooey
would be pleased to be a part of your success team and to work with you to help make your conference, meeting, or training event a larger success. For more information about customized keynotes, professional and personal leadership training and coaching, or seminars/retreats, please visit
http://www.ideaman.net
or call our Creative Office at: (780) 736-0009
Ask about a customized conference, coaching or training package to suit your specific career, company, or organizational needs.

Ask about our innovative leadership and/or sales leaders' motivational training programs.
*****
If you are new to our Ideas At Work! family, welcome aboard. We publish this monthly e-zine to share ideas and keep in touch with our friends, readers and audience members who wanted to remain in contact and share in the lessons we acquire along the way.
You are receiving this E-zine because someone (we hope you) subscribed. At any time, simply follow the To unsubscribe or change subscriber options visit: link at the end of this email. Please pass this issue along to anyone you think will gain some benefit from reading it. If you want to continue getting this on a monthly basis, simply do nothing.
If you have gotten this copy as a forward from one of your friends and want a copy of your own, simply follow this link and give us your email address. Our service - aweber - automatically does the rest. You will need to confirm your subscription though a link from aweber to activate your subscription.
---
Follow link for Privacy, Copyright and Policies
What's New!
CAPS Leadership Summit in Toronto, ON Sept 8-10th
BC CEO Network in Harrison Hot Springs, BC Sept 13th
MPI Greater Edmonton September 19th
CAPS SWO (London, ON) Sept 21st
Motivational Mondays in Toronto, On Sept. 24th
EPCOR leadership
Edm, AB Sept. 27th

Bob on LinkedIn
Bob on Facebook
Bob on Plaxo
Watch Bob on YOUTube
---
About Bob - 2011 Spirit of CAPS recipient

Bob is a professional speaker, author, leadership, sales, and business success expert




He is proud to be an active professional member of these amazing groups of people dedicated to polishing their craft and to better serving their clients and audiences.

Bob is the co-founder and a past president of CAPS Vancouver, an honorary founding member of CAPS Sask., an honorary member of CAPS Halifax, as well as serving as CAPS Edmonton President. He served as CAPS National Director (2000-2002).

He would be happy to discuss how he can work with you to equip and motivate your leaders, their teams, sales teams, or volunteers to grow and to succeed.

Call him today at 1-780-736-0009 to explore leveraging his innovative Ideas At Work with your organization.

Ideas At Work!
10 Creativity Corner
Egremont, Alberta T0A 0Z0, CANADA