Point to Ponder
"Life is what we make it, always has been, always will be."
Grandma Moses
Did you know that Sept. 7th was Grandma Moses Day? Grandma Moses, born in 1860, first picked up her brush when she was 78. She created more than 1,600 original works of art before she put down her brush and died at the age of 101.
Moses was one of the most successful and famous artists in America and possibly the best known American artist in Europe. Featured on radio, television, and in mass-market publications, she was arguably the first artist to become a media superstar. Grandma Moses invented a unique style that proved enormously popular, and its influence may be seen in art and illustration to this day.
You know, today is a great day to start something new or to renew: a new career, a comeback, a new success, a hobby, a sport, a relationship or... whatever you desire and dreamed of doing.
Life is short at best! We may not all live to be 101, but we can choose to live each day that we are given. Each is a gift, which is why they are called the 'present'.
When I was growing up, we used to go on driving vacations and primarily we visited 'relatives'. I have to admit, I didn't always enjoy them, which might be part of my motivation for more exotic or beach based trips as I got older. Mom and Dad used to look forward to them and I wondered why? Now that I am older and perhaps a bit wiser, I am beginning to understand. It is about nurturing the relationships with the people in our lives.
Irene and I just returned home from a 10 day road vacation. Along the way we made the time to visit with friends and family and to renew relationships. Each moment we shared with our friends and family added to our trip and to our lives. Each one inspired me in not so obvious ways.
Our friends Wayne and Brenda have gone through many challenges together and have chosen to allow those challenges to make them stronger and to bind them more closely as a couple. I cherish the times we spend as friends and Irene has grown to love them too.
My CAPS friend Hugh Culver is looking for ways to enhance his business and his ability to attract new clients. Our coffee and conversation sparked my mind with some new ways that I can try.
Irene's aunt Eva (a die hard Canucks fan) showered us with her gracious hospitality and love and we were made better for our time together.

My cousin Ann just came back from a trip to Costa Rica with her two half sisters. She was able to find them and has built new relationships with them in the past couple of years.
My cousins Betty and Pete (from Sidney) shared part of their day with us... Betty is in her early 80's and Peter is nearly 90 and, yet, they still have fun together. They made us laugh and made my eyes leak a bit when they mentioned how much they missed my folks. Hmm.... I have a 30 year contract with Irene that comes up when I am 89. (SMILE)
My long time NSA friend and encourager Bonnie Dean and her husband David have had a very challenging year (health and family) but you'd never know it from their positive outlook and confident manner. Definitely worth the trip down to Bellingham for a visit. Irene is going to help her with her websites and that is pretty cool.
Each inspired me to push ahead, to try new things, and to follow the passion that stirs my soul. Each reminded me how precious each day is and that I have someone special to share it with now. Each is living their life by their own set of guidelines and handling the challenges it gives them with dignity and delight. I am privileged to have been able to spend brief moments with them.
I love the career I am learning and living, even with its challenges. I love the involvement with the people it has brought into my life which have made me better and made my life richer. My clients, my colleagues, my audiences and readers, and of course my extended family. Each of you have enriched my life and I thank you.
My challenge for you this month:

As the kids return to school... what new thing will you undertake to learn in the next month?
Bob 'Idea Man' Hooey


Archives of past issues are available on our www.ideaman.net website.

---
I'm doing a Global TeleClass on Sept. 28th at 9PM ET
Below are the details of the GlobalTeleClass you might be interested in.
How to Survive and Succeed in Business or Sales, Even in Tough Times
Led By: Bob Hooey
Teleclass Description:

Success in business or sales is still possible, even in tough times. Explore proven sales secrets and innovative marketing ideas to help you successfully grow your business and client base. You can profitably move to the next level while, other timid souls, hide from the current economic challenges. This is a great time to invest in your future by investing in expanding and honing your business success and sales skills. This is a great time to move ahead while your competitors play it safe. This is a time for you to win!

A few areas we'll cover:

- Cost effective marketing ideas and tips to help capture prospective client's attention and keep you fresh in their minds. Out of sight often means out of business!

- How to leverage social media for business and sales promotion and building profitable connections. Who knows you? If they've never heard of you, they will hire or do business with someone else!

- How to unleash your business and sales potential with use-it-now ideas and techniques. Out-think, out-market, and out-sell your competition.

- How to keep your motivation and focus in spite of external pressures and events.

- How to apply sales secrets, ideas, and techniques which equip you to increase your business and client base, even in tough times.

- How to productively expand your client referral network and gain repeat business.

- How to get your clients to teach you how to best serve them and gain their trust and continued business.
Tuition: No Cost
Return to the list of GlobalTeleClasses They have classes on many subjects and each of them is available at no cost.
---
The Power of Choice
by Sam Silverstein, CSP
We become what we become because of the way we choose and will ourselves to think. Our choices affect our thoughts and our thoughts affect who we are, what we stand for, and the footprints we leave on this planet.
Throughout our lives, we are faced with a myriad of choices. We may not always recognize their presence, but, like it or not, we are constantly faced with the responsibility of choosing. There is no escaping this responsibility. Not deciding what to do or how to act in a given situation is, in itself, a choice.
Making choices also means accepting the idea that we are part of a bigger picture. We are not alone in our choices. Our choices affect not only ourselves, but the people around us. Our choices shape our actions. Our actions are received and interpreted by those around us. These actions shape the opinions and feelings of those individuals and, ultimately, the actions they take for or against our behalf.
Some choices we make, like our financial well being, will ultimately affect the members of our immediate family. As we grow financially, we are in a position to provide on a different level for those we love. We make choices regarding our values and how we balance our lives. These choices will certainly impact our family and friends. How you treat others professionally will impact the results your business team achieves. As you can see, the choices we make can affect a wide array of people in our lives.
To a great extent, our beliefs about ourselves and our own capabilities, as well as how we see the world and the forces at play in it, affect what we will find possible. These beliefs will impact our choices. Our choices will shape our actions and our actions will determine our results.
Our choices not only affect us today, but affect our abilities and our choices in the future. For instance, if you feel out of control in a given situation, you may choose to withdraw or avoid the problems at hand. This choice leads you to escape from a challenge instead of confronting and possibly overcoming it. The degree to which you avoid or escape from problems today impairs your ability to face, deal with, and grow from various challenges in the future. Choices you make today will prepare you for choices you will be faced with in the future. As the complexity of life evolves, one choice will build on another, enabling you to handle increasingly difficult situations.
An awareness of choice is the first step towards growth. It is critical that we understand the importance of our choices and also the value of the present. By focusing on our current actions, living in the moment, we develop a certain mindfulness and can apply ourselves to do the very best job possible right now! Clarity of mind allows us to recognize the choices at hand and deal with them in a positive and proactive manner. You can create the future you desire based on the choices you make today!
Copyright © 2004 - 2009 Sam Silverstein Enterprises, Inc. All rights reserved. Entrepreneur, author and speaker Sam Silverstein has a solid track record of building million dollar results. The numbers speak for themselves- his companies have sold over 100 million dollars of products and services and he has successfully sold one of his businesses to a Fortune 500 company. Sam works with business professionals who want to sell more, build their business, and increase income. He focuses on accountability, authenticity and abundance. Sam is the Immediate Past President of the National Speakers Association, and is a co-author of Foundational Success. For a copy of his free BuildaBetterBiz ezine or more information on Sam Silverstein, please call 1-888-MOTIVATE (888-668-4828) or check out BuildaBetterBiz or SamSilverstein.com.
---
Last Minute News and Views
August was our month to get things done at the place in the country. Every year we do a bit more and we have a few things to do yet before winter. Hopefully the weather will cooperate.
As I mentioned above, we also had a great trip through Alberta and BC visiting friends and family.
September will be fairly active:
'Official' cross-Canada launch of our Foundational Success ebook with an email blast going out to all of our CAPS members and as many NSA members as we can reach.
September 8th: Spoke for the International Association of Administrative Professionals. What a wonderful group and what a fun evening.
Sept. 10th: My friend, birthday twin, and mentor Patricia Fripp is in Edmonton to do a session for our CAPS Edmonton Chapter that evening. Irene and I will both attend.
Fripp will be doing the CAPS Sask Chapter in Regina on Sept. 12th.
Sept. 16th: Reaching New Markets / Beyond Borders seminar in Calgary.
Sept 19th: Keynoting the Rotary Institute with leaders from across Canada, Northern USA, Alaska, the Russian Far East, Siberia, St. Pierre and Miquelon. Hmmm...wonder if I will get invites to visit some of these places?
Sept. 28th: Online Sales Success TeleClass
Lots of other web stuff to do, working on a new book, a new DVD, and a few other projects to keep me busy. Hope to get into the film studio later this month to do some more work.
Irene and I are planning a return trip to Las Vegas to celebrate our first year together. October 4th is the official date, but we'll have to be back early.
October 5th: I am keynoting for the
Business Analyst World
conference on Oct. 5th at 8:45 AM in morning here in Edmonton.
Working on a couple of overseas trips for next year. Have been invited to speak in Amsterdam in March and we are chatting with the people in India about a return trip next year as well.
Going to see if we can book a few more engagements this fall as we are planning to visit our daughter Amanda (teaching in Australia) during her summer break. They break from Dec. 15th to the end of January. Be a nice time for a visit.
---
Late breaking news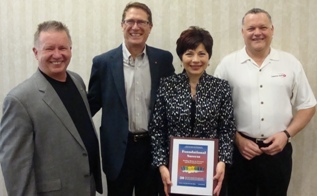 We will be 'officially' launching our Foundational Success publication this week.
We've mentioned it before and now is the perfect time to invest in yourself.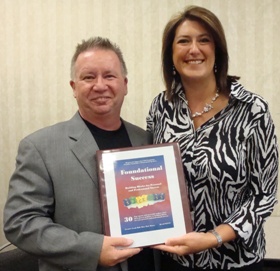 We'll be doing an email blast to all of our CAPS members as well as any of our NSA and Global Speakers colleagues.
And if you go online and purchase one during this launch you'll get a surprise package of $300 in bonus ebooks and recordings from some of our authors and friends. Offer ends Sept. 30th at midnight.

Visit our website at:
www.foundationalsuccess.com
to safely purchase your own e-copy and to download the special bonus gifts. Bonus page comes down Oct 1st.
We've added a table of contents so you can see the authors and their respective topics. We've also added some excepts from some of the chapters for your reading.
Pictured top: Authors Bob, Terry Pithers and Joanne Blake and Kelley Robertson. Pictured above right: Authors Bob Hooey and Michelle Devlin.

---
Thanks for reading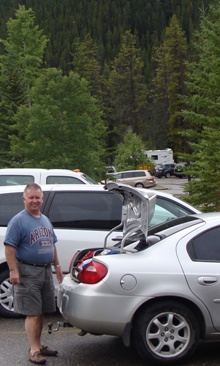 Bob 'Idea Man' Hooey would be pleased to be a part of your success team and to work with you to help make your conference, meeting, or training event a success. For more information about customized keynotes, professional and personal leadership training and coaching, or seminars/retreats, please visit http://www.ideaman.net or call our Creative Office at: (780) 736-0009 for availability.

Ask about a customized conference, coaching or training package to suit your specific career, company, or organizational needs.

Ask about our innovative leadership and/or sales leaders' motivational training programs.

*****
Bob caught in the Miette Hot Springs (by Jasper) parking lot on Mon. Sept 7th.
If you are new to our Ideas At Work! family, welcome aboard. We publish this monthly e-zine to share ideas and keep in touch with our friends, readers and audience members who wanted to remain in contact and share in the lessons we acquire along the way.
You are receiving this E-zine because someone (we hope you) subscribed. At any time, simply follow the To unsubscribe or change subscriber options visit: link at the end of this email. Please pass this issue along to anyone you think will gain some benefit from reading it. If you want to continue getting this on a monthly basis, simply do nothing.
If you have gotten this copy as a forward from one of your friends and want a copy of your own, simply follow this link and give us your email address. Our service - aweber - automatically does the rest. You will need to confirm your subscription though a link from aweber to activate your subscription.
---
Follow link for Privacy, Copyright and Policies


11 months and still having fun... how cool is that?
Bob will be doing an online Teleclass on Sept. 28th at 9PM EST.
Click on link
to find out how to enrol at no cost.
---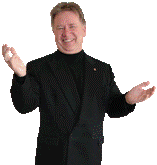 About Bob

Bob is a professional speaker, author, leadership, sales, and business success expert

He is proud to be an active professional member of these amazing groups of people dedicated to polishing their craft and to better serving their clients and audiences.

Bob is the co-founder and a past president of CAPS Vancouver, an honorary founding member of CAPS Sask., an honorary member of CAPS Halifax, as well as being an active member of CAPS Edmonton. He served as CAPS National Director (2000-2002).

He would be happy to discuss how he can work with you to equip and motivate your leaders, their teams, sales teams, or volunteers to grow and to succeed.

Call him today at 1-780-736-0009 to explore leveraging his innovative Ideas At Work with your organization.

Ideas At Work!
10 Creativity Corner
Egremont, Alberta T0A 0Z0, CANADA