---
Inspirational Quotes


---
---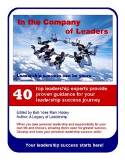 Bob's new book - In the Company of Leaders with 40 top leadership experts and best selling authors.
We'd like you to be able to get one for your own personal leadership growth and success. Here is how you can do that:
Purchase your personal, 'printable' copy of our new e-publication, In the Company of Leaders- special price of only $20 (Cdn) plus GST (e-book's introductory price is $32.95).
Success in the insurance field is simple, but not easy... "Help enough people get what they want!" Achieving that goal can be a challenge. The right training can equip you to succeed and enhance your sales.
We offer training accredited by the Alberta Insurance Council
Bob spoke to 3200 students (grades 3-7) earlier this year at a Rise Up against bullying rally.
Bob spoke recently in Toronto at Motivational Monday's - view his performance here.
---
Alberta Insurance Council
Continuing Education Reporting Periods
Life, Accident and Sickness (February of each year)
General Agents (October of each year)
Adjusters (May of each year)


According to the Alberta Insurance Act of Sept. 1, 2001, 15 hours/credits are required to renew your certificate of authority for each certificate class.

WE can help!

Scheduling training time can be a challenge – More so when the requirements are 15 hours/credits per certificate class per year.

Whether you are looking for a one-hour executive, sales or breakfast briefing, lunch and learn, half-day workshop, full-day workshop, or a series of accredited leadership and success training programs; we can assist you and your team.

Profitably move your career, sales, customer service, or leadership to the next level.

Call Bob 'Idea Man' Hooey today!

Bob can arrange training for small teams if needed. Call for further information on Bob's AIC accredited CE programs
Two upcoming courses: 6.5 hours each.
Speaking for Success Boot Camp - accredited by the AIC for 6.5 hours
Edmonton: Saturday, January 12th, 2013. Visit: www.SpeakingforSuccess.org to register
Grande Prairie: Wed. February 13th, 2013. Visit www.speakingforSuccess.org/GrandePrairie.htm
---
Ideas At Work! training courses presented by Bob 'Idea Man' Hooey, have been accredited for Continuing Education Credits by the Alberta Deputy Superintendent of Insurance and Financial Institutions and the Alberta Insurance Council. Effective April 1st, 2003 Our professionally designed and led programs have been revised and updated each year as needed.
Ask about our customized, in-house training programs. Training available across North America. Check your local licensing for accreditation.
---
Bob 'Idea Man' Hooey has earned international recognition as an inspirational author, motivational leader, facilitator, corporate trainer and motivational keynote speaker on association, community or business innovation, inspirational leadership, enhanced team profitability, motivation, as well as personal performance and success.
Bob is the inspirational author of ten business, career, and leadership success books, a mini-book series, four success systems and a series of new e-books. He is a motivational columnist and frequent contributor on sales, teamwork, employee motivational and inspirational leadership, innovation, and success to North American consumer, association, on-line, corporate and trade publications.
---
Foundational Success - Building Blocks for Personal and Professional Success
(Just released)

Whether you are planning on building a house, a successful career, or a profitable business, starting with a strong foundation ensures whatever you build is better equipped to stand the test of time and storms that might come your way. In this inspiring and helpful eBook, 30 top experts and authors share their proven guidance as building blocks for your personal and professional success.

Click here to purchase your own copy for only $20 (CDN) plus GSt. Proceeds to the CAPS Foundation.