Point to Ponder

"In Hawai'i we greet friends, loved ones or strangers
with Aloha, which means with love.
Aloha is key word to the universal spirit of real
hospitality, which makes Hawai'i renewoned as the world's
center of understanding and and fellowship.
Try meeting or leaving people with Aloha.
You'll be surprised by their reaction.
I believe it and its is my creed.
Aloha to you."
Duke Paoa Kahanamoku
On our recent adventure to Australia, I mentioned our side trip to Hawaii where we had the un-expected privilege of walking down the Waikiki beach, shopping; and finally, as the sunset filled the sky, sharing a meal with Bob and Rauna May at Duke's Restaurant & Barefoot Bar on the beach, off Kalakaua Avenue.
This un-scheduled side trip was Irene's 1st taste of the Hawaiian magic and my 20th official trip to the islands. Been there a few more times than that... but only count the times I actually get out of the international holding area for a tour or check in somewhere.
I have enjoyed every single trip to the islands and this day was no different, other than the pleasure of sharing it with Irene. We had a great time exploring together and flew on to Sydney, Australia about midnight later that day with a touch of Aloha spirit in our lives. Perhaps we will get there again next January for a few weeks of sun and fun and a bit of writing along the way. Perhaps I can write a few of our Ideas @ Work issues adjacent to one of the beaches...hmmmm.
Duke Paoa Kahanamoku
was an amazing man who in his later years became Honolulu's official greeter and Hawaii's Ambassador of Goodwill & Aloha. He is best known for his exploits in the sport of surfing and helped catapult that sport into the spotlight around the world. But there is more to him than just one of the sports he loved and and at which excelled.
Duke Paoa Kahinu Mokoe Hulikohola Kahanamoku was born into an old Hawaiian family and was one of the last full-blooded Hawaiians. His grandfather was a Hawaiian high chief. His father was a policeman.
With the world's eyes most recently on BC and the 2010 winter Olympics, I thought I would share some interesting background on the Duke. You may not know that he was an Olympian for more than 20 years. He won his 1st gold at 21, as well as a silver medal swimming in the 1912 Olympic games in Stockholm; he won 2 more gold medals in the 1920 Antwerp Olympics; he won a silver medal in the 1924 Paris Olympics; and, finally, at 42, he won a bronze medal at the 1932 Los Angeles Olympics.
He also swam in exhibitions in 1918 to raise money for the 1st World War. He was inducted into the Swimming Hall of Fame in 1965; the Surfing Hall of Fame in 1966; and posthumously inducted into the US Olympic Hall of Fame in 1984. In his spare time (1922-30) he played parts in 28 movies while he lived part time in LA. He served the people of the City and County of Honolulu as their Sheriff (1934-59) and was elected 13 times. (Like father, like son.)
He has statues honoring his excellence in swimming and surfing, as well as his role as the Ambassador of Aloha in California, Australia, France, Hawaii and elsewhere.
Not bad for a beach boy
who grew up with the ocean as his playground and spent hours doing what he loved most
-
swimming, canoeing, surfing and body surfing.
Doing what you love can lead you to creating an amazing legacy that will outlive you and continue to touch people you've never even met. My first Aloha experience happened after Duke had passed away. And I still remember it with fondness.
Why not live your life with enthusiasm and embrace each day as an adventure?

Why not meet each person with Aloha in your heart and your actions?
Why not be an Ambassador of Aloha in your community and your career?

You'll be glad you did and so will your family, your friends, your colleagues, your clients, and potential friends you encounter along the way.

Until next month when I share some of my Hooey in Holland stories.

Bob 'Idea Man' Hooey

Archives of past issues are available on our www.ideaman.net website.

---
Communication is really a part of the 'sales' process
By Bob 'Idea Man' Hooey
People buy or say 'yes' to something, for emotional reasons in relation to the benefits 'perceived' and sometimes received. They use facts to back up or justify their purchase or decision.
In your communication with people, it would be wise to keep in mind that people will react 'emotionally' to what you say or write. You are 'selling' your ideas, your position, your services, your products, and most importantly yourself when you communicate.
Perhaps it would be beneficial to take a moment and discuss the basic reasons we've found that people buy or say 'yes' to something. These emotional needs underlie the reason they buy into your programs, buy your products, or buy you as a person to work with or deal with; why they can be persuaded to say 'yes' to something.
Psychologist Abraham Maslow did exhaustive research and concluded that all people had a hierarchy of needs. He ranked them from the most basic to the loftiest: physiological (sheer survival), security, social, self-esteem, and self-actualization (highest).
In 'Secrets of EFFECTIVE Customer Service' we covered the top ten as they relate to giving people more reasons to engage you, trust you, or buy from your company. I have included all 25 for your consideration (and there are undoubtedly more not catalogued here). In 'Thinking Beyond the FIRST Sale' we actually explored 51 reasons.
These can be helpful in your interpersonal skills and dealings with family, friends, employees, managers, co-workers, clients, and suppliers as well. Remember when you communicate effectively, people want to be involved in your life and become actively committed to helping you succeed.
Here are the 25 Emotional needs:
To make money
To save money
To save time
To avoid effort
To gain comfort
To improve health
To escape pain
To be popular
To attract the opposite sex
To gain praise
To conserve our possessions
To increase our enjoyment
To satisfy curiosity
To protect our family
To be in style
To satisfy an appetite
To emulate others
To have beautiful things
To avoid criticism
To avoid trouble
To take advantage of opportunities
To be individual and unique
To protect our reputation
To gain control over aspects of our lives
To be safe
Whether you are talking one-on-one, selling or leading, presenting to a group of people, or communicating in writing, your audience or readers will be evaluating and reacting to your words and 'filtering' them through one or more of the above emotional needs.
Tough sell isn't it? But if you have done your homework and know a little bit about the needs, background, and thought processes of those you want to reach, it will be much easier. You can enhance your chances of success by carefully crafting your communication to touch on or draw upon the emotional needs of your audience or readership. But, be cautious in its use.
Some would ask, isn't this manipulation? My gut reaction would be to say no! On the surface it might appear that way, but only you know your 'true' motives.
If your 'true' motive is to communicate more clearly, more effectively and your desire is to serve them by giving them all the information they need in a way that makes it easier for them to relate to it - then I say go for it! Having an honest desire to help people is what builds a foundation for success under your career or business and helps ensure both longevity and success. Presenting it in the most positive manner that would help them relate and respond is good leadership.

Update: Close friends of ours just told us they were expecting. I am so happy for them.
I'm reminded that this concept works for kids too! We want our kids to grow up healthy and make wise decisions that will be good for their future. We need to find ways to appeal to them at their level. This applies to working with family and friends, as well as clients, co-workers, management and staff.
So, remember that communication, especially effective communication, is really a process of selling - selling your ideas, your desires, your dreams, and your future. How effective will you be in persuading people to buy in? How successful will you be in inspiring them to help you successfully reach your dreams?
© Copyright 2010 Bob 'Idea Man' Hooey www.ideaman.net All Rights Reserved. Used with permission of the author.
Bob's innovative, profitable Ideas At Work! have been successfully applied by thousands of professionals across North America. He is the author of 10 leadership, sales, and business success books and his articles appear in North American consumer, on-line, and trade journals. Visit www.ebusinesssuccess.biz for additional articles.
---
Last Minute News
February has been amazing.
Working on new ideas for websites and joint venture promotions. Figuring out how to fit in side trips and working on my visit to Russia for June. Writing and researching ideas for a new book. Set up a CAPS Foundation Mentorship package offer for an upcoming Speakers Helping Speakers fund raising campaign. Irene is working with me on this one as we are including the creation and hosting of a website as part of our donation package.
March will be moving fast for sure.
March 6th: Presenting at CAPS Edmonton's 2nd session in their 6th Profit from Speaking Series on content and structure.
March 13th: Fly to Amsterdam, via Minneapolis, to keynote the 3rd annual Professional Speakers Association (PSA) Holland convention with speakers coming from around Europe and across the globe. I am going early to acclimatize and explore.
March 18th: Global Speakers Network meeting and then PSA Holland starts this evening.
March 19th: My keynote is in the afternoon just prior to NSA President Phil Van Hooser and their black tie that evening.
March 20th: 2nd day of the convention - I get to listen to some amazing speakers and hang out with speaking colleagues from around the globe including a few that have been co-authors of some of our publications.

March 22nd: Head out to explore The Netherlands for another couple of days.
March 24th: Fly to Detroit to work with a new client and help launch Secret Selling Tips for their 780 sales staff.
March 25th: Spend part of the morning helping 31 store managers understand how this sales motivational tool can be best used to help them equip their sales teams to grow and succeed.Then we launch Secret Selling Tips for their teams when I get home.
March 26th: Follow up work with senior management and then dinner that evening with close friends who recently moved there.

March 27th: Fly home to Edmonton.

And somewhere in all of this find time to keep working on websites, coaching clients, articles, and your April issue of Ideas @ Work. I will definitely be taking my small laptop with me on this trip.
---
Thanks for reading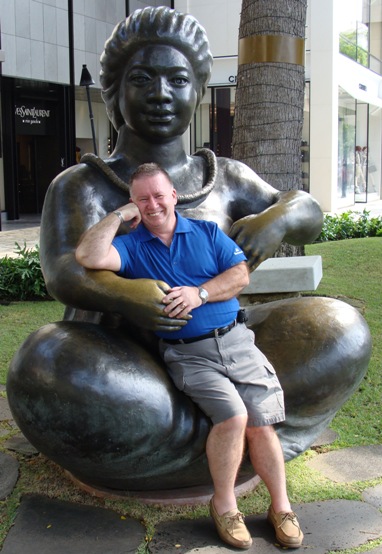 Bob 'Idea Man' Hooey
would be pleased to be a part of your success team and to work with you to help make your conference, meeting, or training event a success. For more information about customized keynotes, professional and personal leadership training and coaching, or seminars/retreats, please visit
http://www.ideaman.net
or call our Creative Office at:
(780) 736-0009
for availability.
Ask about a customized conference, coaching or training package to suit your specific career, company, or organizational needs.
Ask about our innovative leadership and/or sales leaders' motivational training programs.
Pictured here: Bob Hooey with Ha'i Mo'olala (Storyteller by Shige Yamada)
If you are new to our Ideas At Work! family, welcome aboard. We publish this monthly e-zine to share ideas and keep in touch with our friends, readers and audience members who wanted to remain in contact and share in the lessons we acquire along the way.
You are receiving this E-zine because someone (we hope you) subscribed. At any time, simply follow the To unsubscribe or change subscriber options visit: link at the end of this email. Please pass this issue along to anyone you think will gain some benefit from reading it. If you want to continue getting this on a monthly basis, simply do nothing.
If you have gotten this copy as a forward from one of your friends and want a copy of your own, simply follow this link and give us your email address. Our service - aweber - automatically does the rest. You will need to confirm your subscription though a link from aweber to activate your subscription.
---
Follow link for Privacy, Copyright and Policies