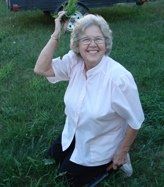 Aunt Eva is now doing her gardening in Heaven. No doubt making it look even better. She completed her journey in the early morning of Sept. 17th. Rest in Peace Aunt Eva.

I was fortunate to be able to visit with her when I flew into BC to speak for the BC CEO Network on the 13th. She was heavily sedated and opened her eyes briefly on my second visit on the way back to the airport. I had the chance to tell her again how much she meant to me and Irene and to remind her that we loved her and would cherish her memory.
She was an amazing woman who thought of others a lot. Imagine my surprise when we got a card from her that she had her daughter create prior to her passing. A card that included a favorite poem of hers and a brief handwritten note. Her instructions to Brenda were to mail the cards after she was gone. I cried and warned Irene that she would cry when she came home. She did. We miss this beautiful soul who loved us and encouraged us whenever we were lucky enough to either chat with her in person or on the phone.
I thought it only fitting to dedicate this month's ezine to this powerful influence in my life. Her influence lives on in our lives and I hope in yours. It is called the ripple effect and Aunt Eva proved it every day as she loved people, simply loved them.
Here is the poem that Eva loved and wanted to share with us...
To the Ones I Love And Those Who Love Me
When I am gone, release me, let me go...
I have so many things to see and do
Please don't tie yourself to me with tears
Be happy that we had these precious years.
I gave you my love, you can only guess
How much you gave me in happiness
I thank you for the love you each have shown
But now it's time I travelled on alone.
So grieve for me if grieve you must
Then let your grief be comforted by trust.
It's only for awhile that we must part
So bless the memories within your heart.

I won't be far away, and life goes on
So if you need me, call me and I will come.
Though you won't see me or touch me, I'll be there
And if you listen with your heart, you'll hear
All my love around you soft and clear.
And then, when you must come this way alone,
I'll greet you with a smile and say
"Welcome Home".
Papyrus, the makers of the blank card that Brenda used to create Eva's final words, included a card which said, "Legends say the hummingbirds float free of time, carrying our hopes for love, joy and celebration. The hummingbird's delicate grace reminds us that life is rich, beauty is everywhere, every personal connection has meaning and laughter is life's sweetest creation." They must have known Eva.
So, next year when the hummingbirds return to our garden, I will be reminded again of this beautiful woman who was a gift in my life. We will remember you Aunt Eva.
Until next month

---

September was a productively busy month with lots of travel. My car now knows the way to airport from Egremont by heart. Average time to the Park and Fly by the airport is only 70 mins.

Tremendous time with my fellow CAPS leaders at our annual leadership summit in Toronto. This year we did our 3 year strategic plan with lots of input from leaders across the country. I thought this was the best summit we've had to date.

Flew home, slept and repacked for a quick trip to BC to speak to the BC CEO Network and share a few ideas with their members. On this trip to Harrison Hot Springs I rented a car and was able to take a side trip back into Surrey to visit Eva in the hospice. She was highly medicated to help her with the extreme pain. I spent time with her both days I was in BC. She passed peacefully the following Monday.

Got to stay home for a whole week before flying off to London, ON to spend the day with my colleagues at CAPS South Western Ontario. We invested the day talking about how they too, could bring the books and other ideas into reality to better serve their audiences. Had the chance on Saturday evening to have dinner with my friend Doug Vincent and his new wife Grace. Doug and I both spoke in Russia for Rotary International a few years back. I hope to return next May 2013.


Took the train over to Toronto to spend a day with my brilliant friend Michel Neray and his family. Michel invited me to be one of the September speakers at his new adventure.

MoMondays

- Motivational Mondays is held each month with 7 or 8 speakers each given a brief 10 minute slot. Doing 10 mins was a challenge - to keep it short. It was so much fun and the audience was truly amazing. 3 of us were CAPS members and either serving or having served as Chapter Presidents. (I mention that as my friend Helen Wilkie who is the current CAPS TO president mentioned it, and the rest of us did touch backs to her comment.)

I also spoke to the senior leadership for EPCOR (regional electrical company) at their electrical services leadership summit.

Did the last cuts for the season at all 3 places. Lawn mowers can now be put away. Checked the snow blower for Irene's folks yesterday; just in case we need it. Irene dug the remainder of the potatoes. So, just need to give the garden a quick rototil and we are done for fall, other than putting all the summer stuff away.

Still working on Irene's workspace. Hope to get at the floor this week and then I can run an electical circuit (for computers) and put in more lighting.
---
Last Minute News
October will be a little less hectic and I get to stay closer at home. Whew! We still have lots of work to get both places (Egremont and Mundare) ready for winter.
I have our CAPS Edmonton AGM to prep for on the 13th (Agenda, reports, etc), and another presentation on October 9th
which can be viewed online
. Registration is only $20. Also have some writing projects to catch up on. I thought I would have time last month but ended up putting them off until I could focus.

Irene has lots of meetings and a convention this month as well. So, we decided to not travel this week for our anniversary. Not sure yet what we will do the celebrate. We'll let you know next month.
October 4th will be our 4th year as husband and wife. I am very blessed in having this amazing woman in my life. She has done more than complete me, she has made me better!
Asking Irene to marry me was the best request I ever made. Having her say yes was the best gift I could ever receive.
---
Thanks for reading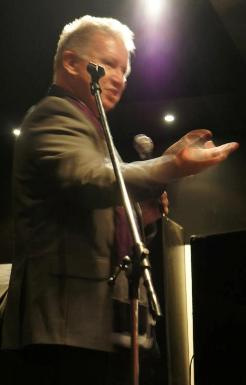 Bob 'Idea Man' Hooey
would be pleased to be a part of your success team and to work with you to help make your conference, meeting, or training event a larger success.
For more information about customized keynotes, professional and personal leadership training and coaching, or seminars/retreats, please visit
http://www.ideaman.net
or call our Creative Office at: (780) 736-0009
Ask about a customized conference, coaching or training package to suit your specific career, company, or organizational needs.
Ask about our innovative leadership and/or sales leaders' motivational training programs.
Bob, caught at MoMondays in Toronto, live at the Pilot Travern.
*****
If you are new to our Ideas At Work! family, welcome aboard. We publish this monthly e-zine to share ideas and keep in touch with our friends, readers and audience members who wanted to remain in contact and share in the lessons we acquire along the way.
You are receiving this E-zine because someone (we hope you) subscribed. At any time, simply follow the To unsubscribe or change subscriber options visit: link at the end of this email. Please pass this issue along to anyone you think will gain some benefit from reading it. If you want to continue getting this on a monthly basis, simply do nothing.
If you have gotten this copy as a forward from one of your friends and want a copy of your own, simply follow this link and give us your email address. Our service - aweber - automatically does the rest. You will need to confirm your subscription though a link from aweber to activate your subscription.
---
Follow link for Privacy, Copyright and Policies