2011 Spirit of CAPS recipient Bob 'Idea Man' Hooey
The Spirit of CAPS may be awarded to one CAPS member each year who demonstrates the spirit of sharing, leading and inspiring other professional speakers, trainers and facilitators within the mission, vision, and values of CAPS. This member will have demonstrated the qualities of generosity, spirit and professionalism over many years and reflected outstanding credit, respect, honour and admiration in the Association.
The Canadian Association of Professional Speakers
Vision - The association of choice for experts who speak professionally
Mission - To raise the profile and professionalism of our members
Values - Connection * Continuous Improvement * Professionalism
"The Spirit of CAPS is what sets this organization apart from so many others. It is that spirit of selfless service to each other to help us all improve and be better at our game.
This year's recipient has lived and demonstrated this spirit for longer than CAPS has been around, starting to serve the closest NSA chapter, and was one of the charter members of both CAPS and the Global Speakers Federation.
This year's recipient has served on the boards of not one, but two chapters as well as the CAPS national board and numerous CAPS and NSA committees and several CAPS convention committees over the years.
This person was the first Canadian attendee at Camp NSA, and is now helping new chapter leaders pave the way forward as a member of the NSA Chapter Leadership Council.
This individual has previously been recognized as a Lamplighter with NSA and with the CAPS President's Award, presented by Patricial Katz, CSP, HoF.
He is a Trustee of the CAPS Foundation, the incoming president of CAPS Edmonton, and always there to help if you ask for help.
Please help me in welcoming this year's Spirit of CAPS winner, Bob Hooey."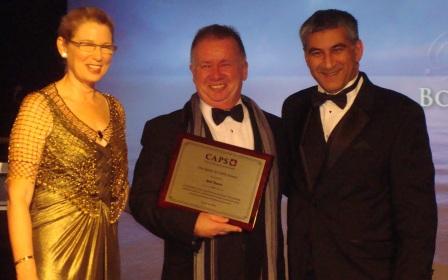 Past CAPS President Patricia Katz, HoF and 2011 CAPS President Ravi Tangri, CSP presented the 2011 Spirit of CAPS award to a surprised Bob 'Idea Man' Hooey on Tuesday evening November 29th, 2011. This was the last award presented during the 2011 Presidential Ball and Awards evening at the Toronto Convention.
Here is the introduction as given by CAPS President Ravi Tangri, CSP as he presented this award to Bob.

Bob's acceptance speech.

To date, these CAPS Speakers have been awarded this prestigious honor
Warren Evans, CSP, HoF
2002

Betty Cooper
2003

Peter Urs Bender, HoF (deceased)
2004

Tom Stoyan, HoF
2005

Kit Grant, CSP, HoF
2006

Dave Kemp (retired)
2007

Rhonda Scharf, CSP, HoF
2008

Val Cade, CSP
2009


Patricia Morgan
2010

Brian Lee, CSP
2010

Bob 'Idea Man' Hooey, A/S, CKDE
2011

Jeff Mowatt, CSP, HoF
2012

Sid Ridgley, CSP
2012

Beverly Beuerman-King, CSP
2013

David Gouthro, CSP
2014

Michael Hughes
2015
2015 Spirit of CAPS recipient was Michael Hughes who has chaired the CAPS Foundation for many years.
---
Note from Bob: I have to admit I did not see this award coming. I am grateful for this privilege and honor and to be in the company of so many great CAPS speakers and friends.
I am also very conscious that this is not really a singular honor. It is, in my case, one shared with the hundreds of fellow CAPS, NSA, and GSF speakers and colleagues who graciously said yes when I asked for help. Some of those who said yes are in this prestigious list. To my NSA friends, The Spirit of CAPS is our version of The Cavett. CAPS does not have one person who was instrumental in its start as Cavett Robert was for NSA, it has many. I am priviledged to be one of them.
I share it as well with the leaders in both CAPS and NSA who have contributed to my growth and to the success and growth of our respective organizations. I share this also with my wife Irene, who has been way 'beyond' supportive as I have taken on these various roles. This award was not won in isolation, but with the willing and sometimes sacrificial help of others. I remain fully in their debt. I accepted it on their behalf and will cherish it. Thanks so much!
Bob 'Idea Man' Hooey
2011 Spirit of CAPS Recipient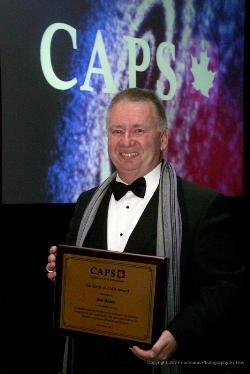 Bob 'Idea Man' Hooey,
2011 Spirit of CAPS recipient
Picturewas taken by my friend Dov Friedmann who is an amazing photographer.
This award was renamed the Warren Evans, Spirit of CAPS in 2014 to honor Warren after he passed away.
Additional Photos from the awards night, courtesy of my friend Dune Nugyen: 01, 02, 03, 04, 05
---
on Twitter

Connect on Facebook

Connect on LinkedIn

Bob's YouTube Channel
---
Contact us:
Contact us by: Email

Creative Offices: 780-736-0009

Client Toll Free: Canada & USA: 1-888-848-8407