Clients and testimonials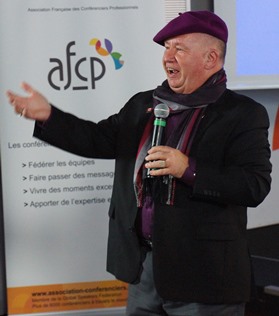 Bob 'Idea Man' Hooey in Paris 2015
Note from Bob:
Over the past 20 plus years, I've had the privilege of travelling the globe sharing my ideas and encouraging my audiences and clients to profitably grow and to succeed in their lives and careers. I believe life is an adventure to be embraced and lived to fullest. Career success and business involvement is a part of that adventure. I have been blessed with some amazing audience interaction and their kind words have both encouraged and humbled me at times.
I've included a few comments and clients on this page as a representative sampling of the types of groups I have addressed. I love what I do and the people with whom I get to share this adventure in life.
I would love to chat with you about your needs and where I might be of value to your leaders and your teams. Give me a call 1-888-848-8407 or drop me an email.
"On very short notice Bob cleared his schedule and graciously presented at our meeting when the original Speaker was unable to attend. Last week Bob set the tone for our two-day leadership meeting and gave us all a motivational lift. His compassion and true interest in people was clearly evident, making him very credible. He shared some great stories, has a wealth of experience and knowledge and it was a pleasure listening to him. His down-to-Earth style makes it easier to retain the information presented. He also followed up with additional info and handouts, cementing his message of building bridges, not walls. Fantastic job, Bob, and thanks again!" Barbara Afra Beler, MBA, Senior Specialist Commercial Community, Alberta North, BMO Bank of Montreal
---
Bob 'Idea Man' Hooey was named the 2011 Spirit of CAPS recipient.


"As the International President of the Global Speakers Federation I have seen many speakers present in the last 12 months around the world. Bob "Idea man" Hooey is one of the most outstanding speakers I have seen and worked with. He truly walks his talk and is a fountain of ideas and innovation in his presentation on stage and in his dealings off stage. I recommend Bob to anyone who is seeking a dynamic speaker who will bring something interesting, thought provoking and fun every time he gets up to speak."
Lindsay Adams CSP Global, President, Global Speakers Federation 2009-2010
---
A few of Bob's audiences...
Q: What do innovative leaders, professionals, managers and sales professionals from SUBWAY, Bank of Montreal, The Brick, Indigo/Chapters Bookstores, United Furniture, Saputo Foods (Dairyworld), Art Van Furniture, Acushet/Titleist, BCAA, SimplexGrinnell, Southex, CN Rail, EPCOR, Home Depot, TD/Canada Trust, Chevron Canada, NAPA, OK Tire, ICBC, Intuit Canada (Quick Books), London Drugs, Enterprise Rent A Car, UPS, Mail Boxes Etc, SKF Canada, Canadian Blood Services, CSAE, CGA's; and a host of independent professionals, community non-profit, Chambers of Commerce, professional, and government agencies, colleges, and educational organizations around the world have in common?
A: They've each had successful, idea-rich, encounters with Canada's motivational Bob 'Idea Man' Hooey and seen his inspirational Ideas At Work! to profitably enhance their performance! They've experienced Bob's creativity first-hand at a motivational conference keynote or seminar, leadership training event or retreat, or from reading one of his many inspirational, career leadership and business building publications or motivational articles.
Bob continues to hone his skills and see his IDEAS AT WORK!with a wide range of audiences. He has had the privilege to share the platform and work with some of the world's most sought after platform presenters and authors, such as Peter Legge and the late Dr. Norman Vincent Peale and Dr. Wayne Dyer. His conversational, humorous and sometimes provocative style continues to challenge and inspire his audiences across North America and around the globe. Whether he is facilitating or coach a small group of leaders, conducting idea-rich educational workshops or breakouts, or addressing thousands as a main stage inspirational keynoter, he brings his passion for your success to the stage.
On behalf of the ideas Arabia sub group I would like to thank you for taking part in our ideas Arabia 11th international conference 2016. This conference has been in existence for over 10 years and it is because of dedicated experts such as yourself that it still continues to be such a success. Your talk on "Why Didn't I THINK of That" was well attended and it was an honor for the audience to be able to hear your experience and knowledge in field of innovation, suggestion and employee happiness. Looking forward for further cooperation between us in future events and conferences.
Sincerely, Feryal Tawakul, Ideas Arabia Sub-Group Chair
---
Business and Professional Associations:
"Not only Bob is a trustful and highly professional expert, not only he is a fabulous and engaging speaker, Bob is also one of the nicest man I have ever met. He combines the wisdom of the experience with an astounding vigor and charisma. I highly recommend him.
Elizabeth Grimaud, 2015-16 President AFCP (French Speakers Association)
AFCP (French Speakers Association) Paris, France
New Zealand Speakers Association, Auckland, New Zealand
PSA-Ireland, Dublin
PSA-Scotland, Glasgow

PSA SA (Southern African Speakers Association) Cape Town, SA
PSA Holland (Netherlands Speakers Association) Amsterdam, The Netherlands
Alberta Muncipal Supervisors Association, Edmonton
Business Analyst World conference, Edmonton, AB
Industrial Management Organization
BC CEO Network, BC
Indira College of Engineering and Management, Mumbai, India
Alberta Senior Citizens Housing Association. Edmonton, AB
Canadian Institute of Management - Edmonton, AB and Vancouver, BC
Applied Science Technologists & Technicians - Vancouver, BC
Post Tensioning Institute - Phoenix, AZ
Canadian Association of Professional Speakers, Vancouver, Calgary, Edmonton, Halifax, Winnipeg, Regina, Ottawa, Sask, London, and Montreal Chapters
National Speakers Association, Florida, California, Hawaii
BC Association of Professional Engineers - New Westminster, BC
CSAE - Canadian Society of Assn. Executives - Whistler, Vancouver, BC, Edmonton, AB
National Door Manufacturers Association - Vancouver, BC
BC Heart & Stroke Association - Vancouver, BC
Canadian Restaurant Association - Toronto, ON
Consortium of Community Skills Centers - Richmond, BC
New Westminster Community Skills Center - New Westminster, BC
Entrepreneur Management Association - Calgary, AB
National Kitchen and Bath Association - Seattle, Detroit, Petoskey, Chicago, Bangor,
San Francisco, Edmonton, Calgary, Milwaukee, Baltimore, New Jersey, New York
American Institute of Kitchen Dealers - Seattle, WA, Vancouver, BC, Las Vegas, NV
Various Chambers of Commerce and Boards of Trade
Certified General Accountants Association - Burnaby, BC
Nebraska/Iowa Floor Covering Association - Omaha, Nebraska
Capital City Executives Association - Victoria, BC
Dispensing Opticians Association of BC - Burnaby, BC
Housing & Urban Development Association of Calgary, AB
Inland-Northwest Professional Speakers - Spokane, WA
Connecticut Association of Realtors ® - Hartford, CT
NAOSH CSSE Calgary, AB
Trans Canada Yellowhead Association, Edmonton, AB
Growth Alberta, Edmonton, AB
IAAP, Edmonton, AB
PMI, Edmonton, AB
Executive Women International, Grande Prairie, AB
---
Corporate, Commercial, Organized Labour, and Government:
"I have been so excited working with Bob Hooey, as he has given inspiration and motivation to our leadership team members. Both at the Brick Warehouse – Alberta and later, here at Art Van Furniture – Michigan; with his years of experience in working with business executives and his humorous and delightful packaging of his material, he makes learning with Bob a real joy. But most importantly, anyone who comes in contact with his material is the better for it."
Kim Yost, CEO Art Van Furniture, former CEO The Brick
The Brick, HO – Edmonton, AB
BMO - Bank of Montreal - Commercial Sales Team Leaders- Edmonton, AB
11th Annual Ideas Arabia Conference, Dubai, UAE
SKF Canada - Mississauga, Ontario
SimplexGrinnell, Montreal, PQ
AUPE (Alberta Union of Provincial Employees) - Edmonton, Canmore, AB
EPCOR Electrical divisions, (senior Executive) -Edmonton, AB
Fortis Alberta - Red Deer, AB
Carmacks Construction - Edmonton, AB
Morgan Construction and Environmental Ltd. - Edmonton, AB
Art Van Furniture - Warren, Michigan
The Canadian Society of Club Managers, Ottawa, ON
Indigo/chapters bookstores -Vancouver, Toronto
BehPaksh Distributing Company
3rd annual Strategic Management Conference
Time, Stress & Memory Management
Agrium Fertilizers - Redwater, Ft. Sask, AB
Canadian Resource Valuation Group - Edmonton, AB
Arbour Memorial - Ontario, Alberta
Alberta Transportation - Hinton, AB
Grand & Toy, Edmonton and Calgary, AB
OK Tire - Cancun, Mexico
Northlands Park (Klondike Days) – Edm, AB
All-West Glass - Edmonton, AB, Prince George, BC
Steinhafel's Furniture - Waukesha, WI
CN Rail - Safety Leaders - Edmonton, AB
AWG Northern Industries - Prince George, BC
Atlantic Subway Ltd. - Charlotte, PEI
Intuit Canada - Edmonton, Calgary, AB
City of Edmonton, Employee Development
Saputo Foods Limited - Calgary, AB
City of Edmonton, Transportation
The Business Link, Edmonton, AB
Edmonton Tourism - Edmonton, AB
Alberta Association of Municipal Districts and Counties - Edmonton, AB
St. John Ambulance BC Management Team - Vancouver, BC
Chapters Bookstores - Toronto, Downsview, ON & Vancouver, Burnaby, BC
Indian and Northern Affairs - Vancouver, BC
Community Futures - New Westminster, BC
Community Futures - Quesnel, BC
Community Futures - Westlock, AB
Community Futures - Peace River, AB
Community Futures - Grande Prairie, AB
County of Thorhild, Thorhild, AB
Town of Bon Accord, AB
Town of Redwater, AB
Camasco Group-The Camera Expert - Montreal, PQ
Yukon Territorial Government-Economic Forum - Whitehorse, Yukon
Yukon Tourism Education Council - Whitehorse, Yukon
Yukon Territorial Government - Whitehorse, Yukon
Insurance Corporation of British Columbia - Victoria, Kamloops, Kelowna, BC
Southex Exhibitions - Vancouver, BC & Edmonton, AB
Wilshire Publishing - LA, Cancun, Mexico & Vancouver, BC
Champions in the Workplace - Vancouver, BC
Y.W.C.A. Management Team - Vancouver, BC
State Insurance Fund - Boise, Idaho
Corporate Communications - Vancouver, BC
Logos Journal, Plainfield, NJ, New York, New York
Canadian Free Paper - Switzerland, Germany, Guelph, Toronto, Vancouver, Calgary, Edmonton, Saskatoon, Regina, Winnipeg, Thunder Bay, Sault St. Marie, Halifax, Montreal, Ottawa, Hamilton, Seattle, Spokane, San Francisco, LA, Burbank, Berkley, Chicago and many more...
---
Educational Organizations and events:
"What a great educational conference. It was a great pleasure meeting with you at the Ritz Carlton, Cancun and I shall look forward to hopefully welcoming you and your family in Dublin, Ireland someday."A. Paul Ryan, Petronva Corporation, Dublin, Ireland
UofA, School of Business - Edmonton, AB
UofL, Management Student's Society - Lethbridge, AB
UofL, Faculty of Management - Lethrbidge, AB
Alberta 4-H Ambassador Program
Tofield Health Centre, Tofield, AB
Mount Royal College - Calgary, AB
Southern Alberta Institute of Technology - Calgary, AB
Northern Alberta Institute of Technology - Edmonton, AB
Rotary Leadership Institute - Edmonton, AB
BCIT - Vancouver, BC
UCLA - Berkley, CA
CAPS Chapters: Vancouver, Calgary, Edmonton, Sask., Winnipeg, London, Toronto, Montreal, Halifax, Ottawa
NSA Chapters: Florida Speakers Association
University of BC - Vancouver, BC
University of Alberta - Edmonton, AB
Universities of Toronto & Waterloo & Guelph, ON
Open Learning Agency - Vancouver, BC
Outreach Educators, Edmonton, AB
BC Institute in Proprietary Care - Vancouver, BC
Capilano College - North Vancouver, BC
Langara College - Vancouver, BC
Lakeland College, Vermillion, AB
Douglas College-SEA Program - Coquitlam and New Westminster, BC
Toastmasters International - Perth, Bisbane, Australia, Honolulu, Seattle, Sioux City, Yakima, Salt Lake, San Diego, St. Louis, Palm Desert, Vancouver, Prince George, Victoria, Kamloops, Whitehorse, Kelowna, Vernon, Trail, Edmonton, Calgary, Red Deer, Saskatoon, London, Iowa, Las Vegas, Glasgow, Dublin, Belfast, Perth, Cape Town, Copenhagen, Holland, Beijing, and more...
and many more...
---
Community/Service/Christian Organizations:
"Attention Training Providers: I want to take this opportunity to let you know that Bob Hooey has utilized his talents, energy and considerable public speaking experience to provide communications clinics for our BC Works! clients. They have been very successful...reporting dramatically increased confidence and self-esteem! In addition to being a highly skilled facilitator, Bob has shown himself to be a great team player with a comfortable manner and a great sense of humor."
Vicki Austad, Manager, New Westminster Community Skills Centre
President Consortium of BC Community Skills Centers (1997-1999)
United Nations Association of BC - North Vancouver, BC
Canadian Blood Services - Edmonton, AB
BC Crime Prevention Association - New Westminster, BC
Micro Enterprise Association of BC - New Westminster, BC
New Westminster Community Development
Toastmasters International - various Districts around the globe, Regional conventions, and keynoting the 2008 International convention
Toastmasters D42 Executive leadership training (2002-2007)
Rotary International - Edmonton, AB and later Vladivostock, Eastern Russia
Billy Graham Evangelistic Association - Rochester, NY
Youth With A Mission - Switzerland, Germany, Jamaica, Haiti, NJ, Florida, Hawaii, Edmonton
Basic Youth Conflicts - Chicago, IL, Detroit, MI
And many more...
---
"Dear Bob Hooey, Thank you for your participation in the first annual SOHO-SME Business Conference and EXPO in Calgary. Your presentation was very informative and interesting. We look forward to working with you at future events."
Best Regards, SOHO TEAM
"I watched Bob Hooey deliver a speech in Cape Town, SA when he was feeling far less than 100%. The audience never knew. That's what a pro does. Shows up and delivers!"
Shep Hyken, CSP, CPAE, Past President NSA, professional speaker and customer service expert
Bob 'Idea Man' Hooey is a master of public speaking, not only in Canada, but internationally. Not only has he motivated, inspired, and energized tens of thousands of people in his audiences worldwide, he also takes the time to work with aspiring and developing speakers to help them hone their skills and perfect their craft so they can be their very best on the platform and in the business. If you are interested in public speaking, or you are developing a career as a professional speaker, trainer or keynoter, Bob's wisdom will help you get there.
Sarah Elaine Eaton, Ph.D.
"We were thrilled when we secured Bob Hooey to speak at our annual convention in April this year (2015). Having heard so much about him over the years, I found him true to his reputation - an absolute professional, keeping the client in contact and informed, sending through requirements early and confirming all that we needed from him. And then on the day, delivering a wonderful, fun and engaging presentation that both communicated Bob's message and fit in with our theme brilliantly. And not only did Bob do all he promised to do, he also helped us to promote our event with his connecting with relevant people and social media posts and engagement. Should I have the opportunity in the future, I would love to work with Bob again."
Charlotte Kemp, Convention Chair PSA SA 2015 Convention in Cape Town, SA
---
"We greatly appreciate the energy and effort you put into researching and adapting your keynote to make it more meaningful to our member councils. Early feedback from our delegates indicates that this year's convention was one of our most successful events yet, and we thank you for your contribution to this success."
Larry Goodhope, Executive Director (since retired) Alberta Association of Municipal Districts & Counties
"Thank you Bob, it is always a pleasure to see a true professional at work. You have made the name "Speaker" stand out as a truism - someone who encourages people to examine their lives and make adjustments. The personal stories you shared with your audience made such a great impression on everyone. The comments indicated you hit people right where it is important - in their hearts. Each of those in your audience took away a new feeling of personal success and encouragement."
Sherry Knight, Dimension Eleven Human Resources and Communications
"You are a dynamic speaker and you provided us with many ideas for making our business's more successful with your presentation of "Unlock Your Business Potential." The comments we received from the meeting were very positive. Many especially found it useful to record some key points on the postcard and will look forward to receiving it prior to your next session."
Barb Nicholl, Woman's AM
"I've known Bob for several years and follow his activities in business with interest. I originally met Bob when he spoke for a Rotary Leadership Institute and got to know him better when he came to Vladivostok, Russia to speak to our leadership. When you spoke I thought you were one of us because you talked about our challenges just like yours. You could understand the others, which makes you a great speaker!" Andrey Konyushok, Rotary International District 2225 Governor 2012-2013, far eastern Russia
"...thank you for your significant contribution to our Annual Life Long Learning for a Changing World conference. It was one of our most successful both in terms of response and to the session offerings. Comments from Conference participants indicated they were very pleased."
Madeleine Butschler, Professional Engineers and Geoscientists of BC
"Bob 'Idea Man' Hooey is one of the best public speakers I know, and I have seen and heard many over the years. His style will educate, entertain, and inspire any audience. I very strongly recommend the 'Idea Man' for any organization that needs to hear a positive message, and wants that extra bit of help moving the ship in the right direction!"
Paul Holmes, President, Transitional Media Inc.
"Now that the Active Minds session for Chapters has drawn to a close, I want to thank you for all you have done to help make the program such a success. Feedback from the store Managers, and directly from customers, was entirely enthusiastic. Their remarks and words of appreciation have made it obvious that everyone who participated in your courses benefited enormously from your intelligence and insights. Your energy, creativity, and ability to communicate effectively - especially with such a diverse audience and under conditions that are so noticeably less than ideal -make your efforts all the more impressive and praiseworthy. I know, as do all I work with at Chapters, just how indebted we are to you. My thanks are double-barreled... you have made it possible for me to provide a program that is of real value to the public - and you have made the task of organizing and implementing this program pure pleasure."
Suzy Okun, National Coordinator, Chapters Active Minds Series
---
"Congratulations on the Spirit of CAPS Award. You have worked long and hard on behalf of CAPS…helped many speakers including me and richly deserve this award. Well done my friend."
Peter Legge, CSP, Hof, CPAE
"Congratulations on winning the Spirit of CAPS award. I can think of no one who more richly deserved the award. Your acceptance speech moved us all of reminding us what's it's all about. Your humility and graciousness was inspiring. Congratulations again my friend".
Michael Bayer, CSP, 2012 President CAPS Winnipeg
"Bob 'Idea Man' Hooey is a mentor to many and has done great things for CAPS Edmonton. Bob has also provided me with innovative ideas to help grow my business. His commitment to CAPS, the speaking profession, and professional speakers is admirable! It is a pleasure to recommend Bob."
Charmaine Hammond, Hammond International (3 time best selling author)
"Wonderfully done! Very interesting, lots of practical ideas along with a number of ideas to get me thinking, not just about time management, but about Life Management."
Deborah Black, YWMC
"I still get comments from people about your presentation. Only a few speakers have left an impression that lasts that long. You hit a spot with the tourism people."
Janet Bell, Coordinator Yukon Economic Forums
"Dear Mr. Hooey: I think I can say this on behalf of the audience that we have learned a lot during this seminar and that we're grateful for the opportunity. Here are some of Iranian snacks we're proud of and I hope you find them something pleasant to share with your family as a souvenir. Best regards..."
one of the audience members
"We would like to take this opportunity to thank you for your significant contribution toward the 3rd Annual Liberty Health Small Business Summit in Edmonton. Your participation was critical to the success of the event."
Wally Thompson, Assistant VP Marketing and Communications
---
"Bob 'Idea Man' Hooey is an exceptional speaker and facilitator who helps businesses and organizations grow profit and create effective teams. This leadership and sales expert has written nearly a dozen books, travels the globe speaking to managers, corporations, and non-profits, increasing morale as well as profits. Bob is a leader within the speaking industry and is beloved by his peers for his mentorship, warmth and high skill. I highly recommend Bob as a speaker. He'll be the one your employees and conference attendees talk about."
Shawne Duperon, PhD, CEO, ShawneTV (3-time Emmy award winner and 2016 Nobel Prize nominee)
"Bob has coached the Senior Executive members of the District 42 Toastmasters for several years, serving as a Trainer & Mentor at our annual experiential training event. In addition to sharing his knowledge and experience with the leaders in our organization, he has been very helpful & influential to me personally. Bob is worth every penny of your investment in his services... and then some! But let's not tell him that!!"
Troy Wruck, DTM, Past District 42 Governor, Toastmasters International
"I have known Bob Hooey for many years through the Canadian Association of Professional Speakers organization. He has been an inspiration to our members and has received international recognition. I guarantee that when you work with Bob you will never be disappointed".
Vera Goodman, President, Reading Wings, CAPS member
---
"I have found Bob's attention to detail and his ability to fine tune his seminars to match the time frame and needs of the audience to be a valuable asset to our educational program."
Patsy Schell, Executive Director Surrey Chamber of Commerce

"I am pleased to recommend Bob Hooey to any organization looking for a charismatic, confident keynote speaker and seminar leader. I have seen Bob in action on several occasions, and he is ALWAYS on! Bob has the ability to grab his audience's attention and keep it. Quite simply, if Bob is involved - your motivational keynote program or corporate training seminar is guaranteed to succeed."
Maurice Lavigne, Coordinator Training and Development, London Drugs

"Bob is one of those rare individuals who knows how to tackle obstacles in life to reach his dreams. He takes each as a learning experience and stretches for more. His compassion and genuine interest in others, make him an exceptional coach."
Cindy Kindred, Training Manager, Silk FM Radio

"'I'm already running as fast as I can!' was both informative and entertaining. It reinforces the ideas of goal setting and effective time management as it applies to one's business and personal life. The information given strengthens the perspective that it's all-important and productive to lead a balanced life, so work does not dominate our life. The culminating problem-solving activity was enjoyable and beneficial, and showed that through networking with business associates, problems can be readily resolved. Keep up the good work!"
Jeffery Miller, CKD NKBA Arizona Chapter

"I'm happy to report the BC Fall Home Show hit record attendance figures of over 46,000 attendees. Feedback from your sessions was overwhelmingly positive. Attendees were very impressed with the visual presentation. I would like to thank you for all your time and expertise in making this year's BC Home Show such a great success."
Rob Haynes, Show Manager, Southex Exhibitions, Vancouver, BC

"Just a note to say thanks so much for running our recent seminar for employees on strategic planning. Everyone still talks about how much help it was to all of us. The wealth of information you gave us in the handbook was a great help also, and something we couldn't have done on our own."
Chuck & Joan Guild, Uni-Pro Printing & Design, Burnaby, BC
---

"If your company needs new and creative ideas, I highly recommend Canada's Ideaman, Bob Hooey. He has sincere passion for helping others to succeed and guiding them to reach their highest potential. You are leaving a legacy. Thank you."
Debra Kasowski, Author of GPS Your Best Life

"Good news is always good! Congratulations on this wonderful achievement (Spirit of CAPS) - well deserved, I'm sure! And how gracious of you to "share" this award with so many others - you're a true leader and a real gentleman!"
Chris Ford, DTM, Past International President (2007-2008) Toastmasters International

"Without doubt, I have gained immeasurable self assurance. Bob, your patience and your encouragement has been much appreciated. I strongly recommend your course to anyone looking for self-improvement and professional development."
Jeannie Mura, Human Resources Chevron Canada

"Great seeing you in Cancun, and congratulations on a job well done. The seminar was a great success! Your humorous and conversational style was a tremendous asset. It is my sincere hope that we can be associated again at future seminars."
Donald MacPherson, Attorney At Law, Phoenix, Arizona

"You are a wonderful speaker and did a great job at drawing the audience in with you as you shared some of the stories about the women who made a difference in your personal and professional life."
Pavala Michaela Polcarova, Event Coordinator, The Special Women in Our Lives

"Bob, just a short note to thank you again for your efforts on behalf of BCAA, and our contractors. Your presentation at our Penticton conference was very entertaining, and has sparked some very thoughtful reactions among our contractors - exactly the type of response we were looking for." Thanks again
Paul Nash, Manager, BCAA ERS Contract Services, BC Automobile Association
---
Bob would love to chat with you about your needs and how he can provide idea-rich inspirational presentations and/or educational, innovative, engaging training for your leaders and their teams.
Call or email him today to check his schedule and to engage his Ideas at Work!
"I attended Speaking for Success in Edmonton. The mark of a true leader is someone who will lay down their own pride to teach all they know to their potential successors.
To be taught by a man of his caliber was an honor whether you're a beginner like myself or a professional; the experience is well worth it! To Bob - it truly was an honor to meet you. Stay humble and enjoy the great success." Samantha McLeod
---
"Dear Mr. Hooey: Thank you for elevating my Sales Team's knowledge during your sales management seminar in Tehran, Iran. I look forward to meeting you in person during your future seminars. Warm regards." Mendi Ghaemi, Managing Director, Bidar Group
---
on Twitter

Connect on Facebook

Connect on LinkedIn

Bob's YouTube Channel
---
Contact us:
Contact us by: Email

Creative Offices: 780-736-0009

Client Toll Free: Canada & USA: 1-888-848-8407