Bob's Inspirational Education Programs
PROGRAM DESCRIPTION: (call to discuss your special needs)
Make ME Feel Special!: Idea-rich customer service strategies to move your career or company profitably to the 'next' level
Business success, long-term profitability and survival in the 21st century increasingly depend on your ability to define, anticipate and exceed changing customer needs. A novel idea! Your ability to recruit, service and retain your customers will determine your sustainable success. Transform customer complaints into innovative new business and long-term growth opportunities. Easily convert customers into loyal fans, evangelists, champions, and repeat buyers!
Explore exciting new ideas to build customer loyalty and provide for continued profitable growth. Apply field-proven, innovative ideas on customer service, product development, leadership and staff training and effective promotion to grow your career, sales and service team or company profitably to the next level.
Engaging educational program is based on "Make ME Feel Special - Idea-rich customer service strategies," by Bob 'Idea Man' Hooey – Order your personal copy now!
Make ME Feel Special
Idea-rich customer service strategies
6th edition
"Above all, we wish to avoid having a dissatisfied customer. We consider our customers a part of our organization, and we want them to feel free to make any criticism they see fit in regard to our merchandise or service. Sell practical, tested merchandise at a reasonable profit, treat your customers like human beings - they will always come back." - L.L. Bean
We are committed to working with serious leaders and business owners to focus on the critical components of long-term profitable success. Our focus is to help you build your long term, repeat business by focusing on attracting clients as well as customers.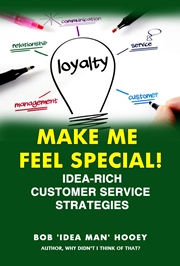 Order your own copy now!
TIME FRAMES:
Keynote or general session: 45-60 minutes
Breakout sessions: up to 2 hours
Workshops: half day up to 3.25 hours, full day up to 6.5 hours
Series: We can arrange to do a series customized for your organization (multiple days)
PURPOSE:
To change the way your people view and treat their business, their fellow workers, their customers, and what you pay them to actually accomplish.
To help them realize their profit potential, while teaching them the fun of exceptional service.
To help you rethink and position your company for continued 21st century success.

KEY COMPETENCY:
Refocus and refine business and attitudes to more effective long-term service of customer needs.
WHAT AUDIENCES LEARN (topics available - customized for each client):
Anticipate and minimize customer problems.
Maximize the positive shopping experience for your clients.
Harness new methods of enlisting your customer's experience in keeping your business fresh, viable and in step with their needs.
Breathing life into your mission statement and vision.
Creating your own personal mission statement and vision.
Identify and 'spoil' both internal and external customers.
The true purpose of business - make life better for people.
The "stove and wood" story: be loyal to your customers first!
Applying the difference between Profit and Cash Flow.
Integrity audit - would you buy from you?
What image are you portraying to your buying public?
Sending the right message to your customers - the one that works for you!
Customers "sell" customers - the truth behind referrals.
Empowerment to solve problems doesn't cost - it makes dollars and sense.
So you have a problem - that's great!
Killing the 'termites' of bad or ineffective service.
Learn to listen - secrets of long term sales success.
How to gain an edge over your competition.
Adjust the subtle sales differences in thinking to dramatically increase your sales and service results.
How to sell naturally, comfortably, and with out stress or pressure.
Partnering with your clients for long term relationships.
How to keep your sales hopper full.
How to get your suppliers and staff to give 'exceptional' service.
Design and develop effective after sales service and follow up programs.
Transform turn customer complaints into new business and growth opportunities.
Convert customers into loyal fans and raving champions.
Explore exciting new ways to build customer loyalty and provide for continued growth.
Teach to reach -- how to find, target, and attract the clients you need.
Apply field proven tips on customer service.
Accentuate new methods on staff training to increase customer satisfaction.
Acquire new techniques in product development to expand your ability to serve.
Apply Kare Anderson's secret of 'Cross Promoting' by forming beneficial strategic alliances and partnerships.
More effectively promote your business.
Achieve cost effective methods of getting your message out to potential clients.
Explore cost effective methods of keeping your clients involved and informed.
INSTRUCTOR:
Bob "Idea Man" Hooey is a charismatic, confident seminar leader and corporate trainer, teaching real life principles personally mined from 29 years of rich experience. Bob's humorous, conversational, and sometimes-provocative style continues to inspire and challenge North American audiences.
Bob is a motivational leadership, business and association keynote speaker, author of 30 plus books and publications. He is a frequent contributor to North American consumer, corporate, association, on-line and trade publications. He has earned international recognition for his professionalism in public speaking and became the 48th person in the world to earn Toastmasters' coveted professional level Accredited Speaker Designation.
PRESENTATION APPROACH:
Conversational lecturettes, humor, entertaining personal stories and specific how-to examples, props and audiovisuals, interactive discussion, group and individual exercises. The mix depends on your goals for the program. The amount of group involvement varies, but can expand with larger groups with specific exercises to reinforce the learning points.
ALTERNATIVE TITLES:
How to Get and Keep Customers
Customers for Life!
More Than... "May I help you?"
Business Survival and Success in the 21st Century
Turning Customers into Champions and Cheerleaders
Positioning Your Business to Thrive in the 21st Century
"Create customers for life by focusing on profitably serving their needs." Bob 'Idea Man' Hooey

Clients vs. customers?

Treat each with respect

Save testimonials
---
on Twitter

Connect on Facebook

Connect on LinkedIn

Bob's YouTube Channel
---
Contact us:
Contact us by: Email

Creative Offices: 780-736-0009

Client Toll Free: Canada & USA: 1-888-848-8407